May 30: Reykjavik & The Golden Circle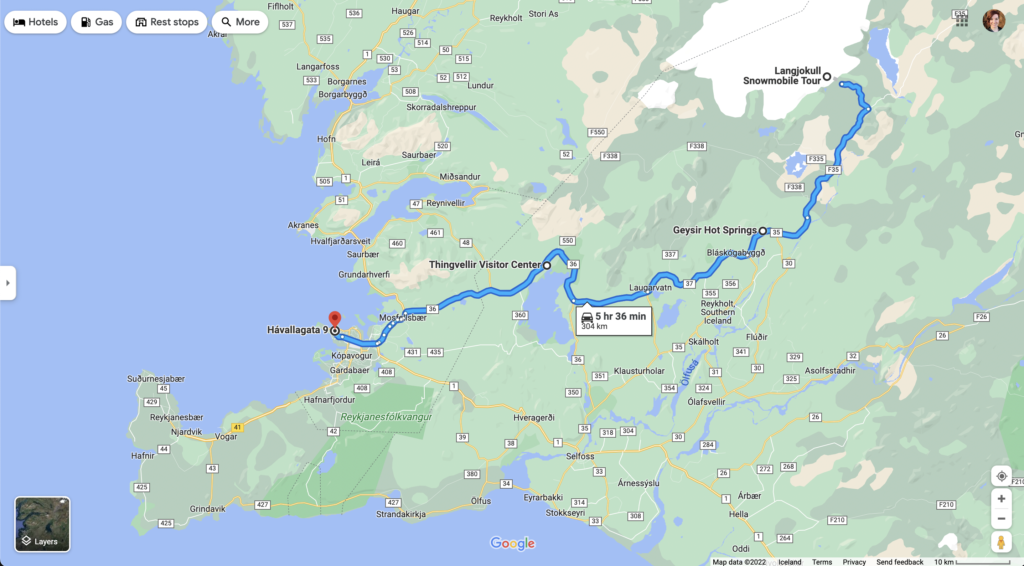 Last night, Trish and I figured out how to use the local bus app to buy tickets to get us to the meeting point for today's tour. It was our only early wake-up call for the whole trip, but we had to pry ourselves out of bed at 6:15 AM to get there on time. And we successfully took public transportation without being able to read the signs!
Unfortunately, when we arrived at the meeting point, there was much confusion over the tickets I'd booked, which included a tour of Iceland's "Golden Circle" and a snowmobiling adventure.
The first guy who checked us in said, "Great! You're in the right spot."
Then, at boarding time, the tour guide said, "Wait a minute… We don't offer a Golden Circle & Snowmobiling combo."
So we did not get on that bus. We went back inside and a third guy said, "Oh, don't worry. We're having you picked up by a different tour operator… in an hour. We just have to call them and tell them to come get you."
It would have been nice to know our early morning didn't have to be quite so early! Oh well.
The tour I booked was for a 50+ person group on a bus with an audio guide and tablet in every seat. The tour we got was just 10 people in a massive Ford Explorer with offroad tires. It was nice to get the small group, but our driver didn't have much to contribute in terms of commentary.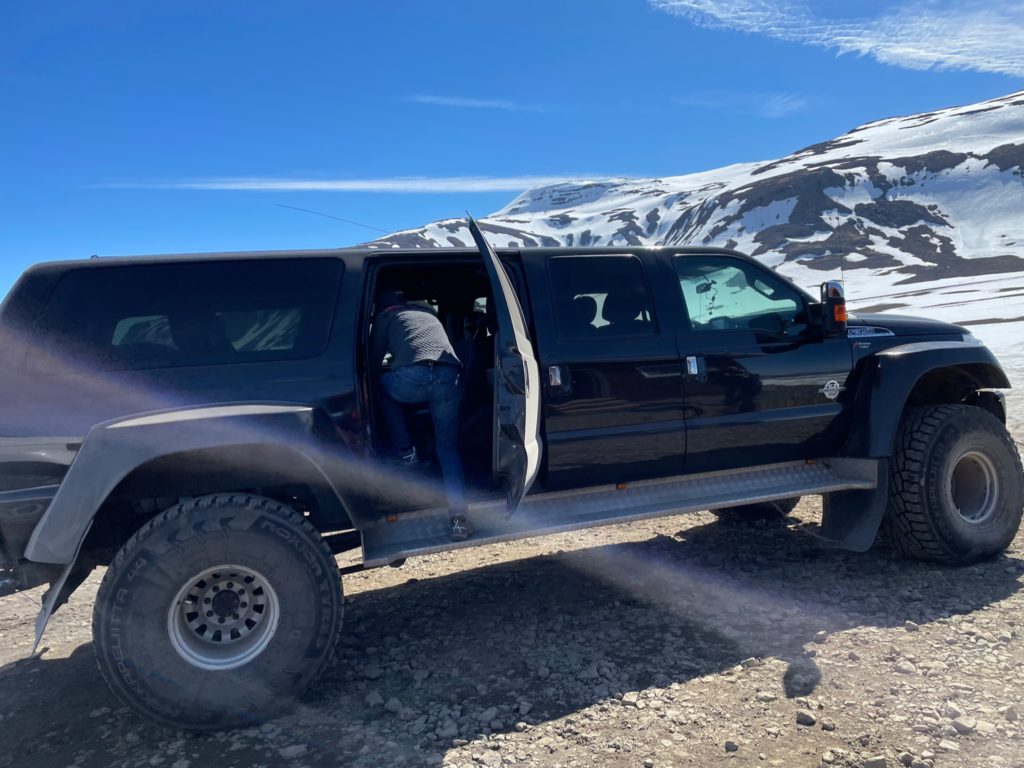 Unlike yesterday, the weather in Reykjavik was foggy and visibility was low. I feared we'd picked a bad day for a scenic tour, but as soon as we got past the city limits we drove out of the fog and into another beautiful, clear day.
Our itinerary today took us significantly inland. The Golden Circle is certainly well-paved and tourist-friendly, but getting to the snowmobile base camp took us into the outskirts of Iceland's true interior highlands and I'm *really* glad someone else was driving. Roads (and I use the term loosely) in Iceland's interior are rugged, pitted, bumpy, gravel affairs. The driver joked that "in the UK they drive on the left side of the road. In Iceland, we drive on what's left of the road!"
Our first stop of the day was one of the sights on the Golden Circle: Þingvellir National Park. "Þingvellir" roughly translates to "fields of parliament." The world's first democratically elected parliament, the Alþingi, was formed here in 930 AD. The ~30 Viking clans in the Alþingi met annually at Þingvellir.
Visible today are the exposed North American and Eurasian tectonic plates. It's one of the only places on land where you can see such a sight.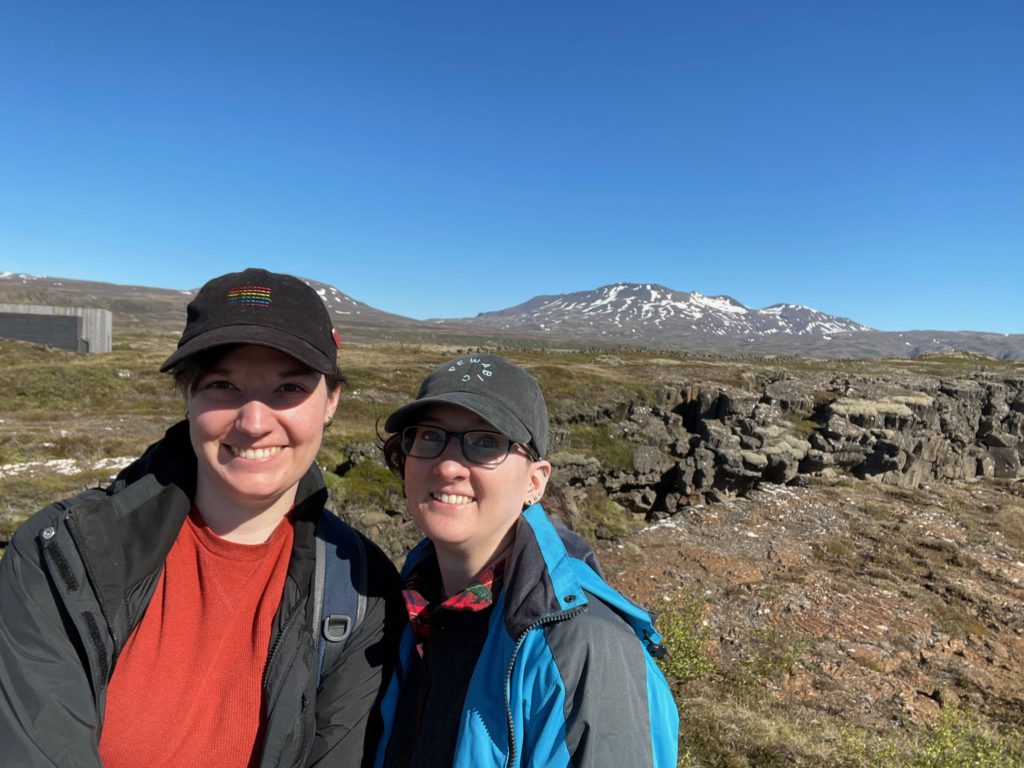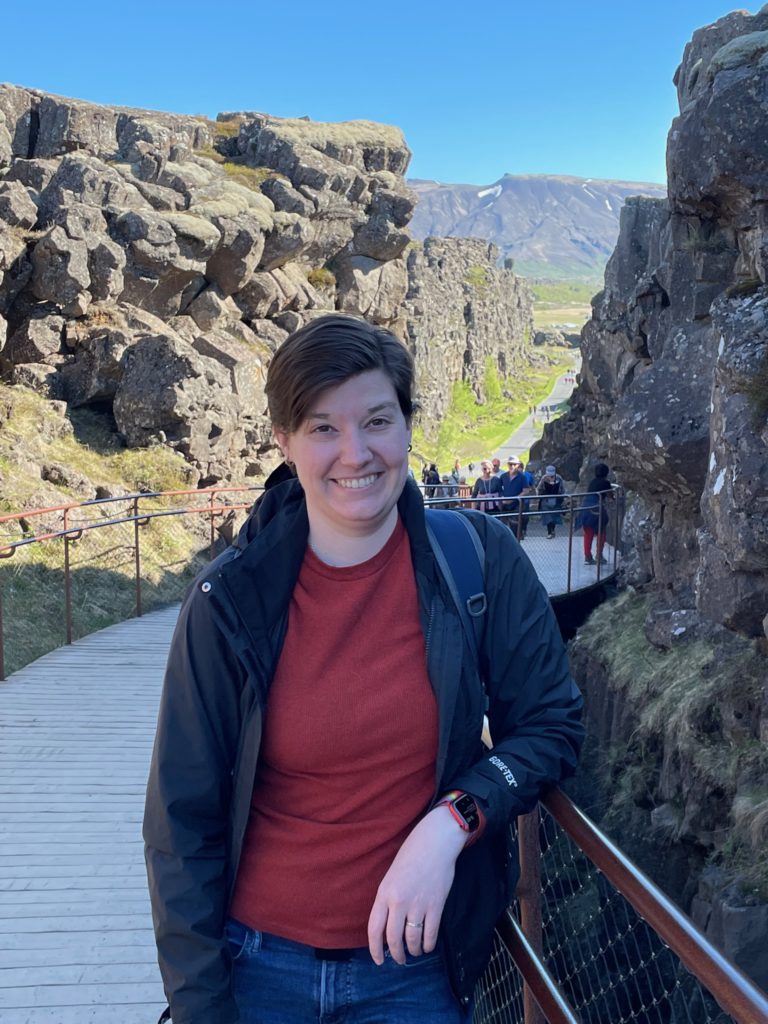 We drove past stop numbers 3 and 4 on our way to the snowmobile base camp for Langjökull Glacier. It's the second-largest glacier in Iceland and the name translates to the "Long Glacier," because it's long and skinny.
The road to the base camp was rough! It felt like sitting in a washing machine on wheels. Fortunately, Trish's magic anti-motion sickness zapper-thingy worked wonders.
Getting ready to snowmobile was a two-step process. First, we stopped at the lower cabins to get geared up with snowsuits, gloves, and helmets. The weather was so balmy (almost 60 degrees F!) so most of us actually stripped off all the extra layers we'd brought to keep warm. Once we looked like astronauts, we crammed ourselves back into the Escape to reach the actual snowmobiles.
We got a quick lesson on how to use a snowmobile and then set off! It was two people per snowmobile. One person drove 25 minutes out and the other person drove 25 minutes back.
I drove first and snowmobiling is a lot harder work than it looks! You really have to shove on the handlebars to steer the front skis. The slower you go, the harder it is to steer. I was trying very hard to stay in line with everyone so I only got up to 35 km/h a handful of times. You also have to lean your whole body into the turns so you don't overbalance and tip over.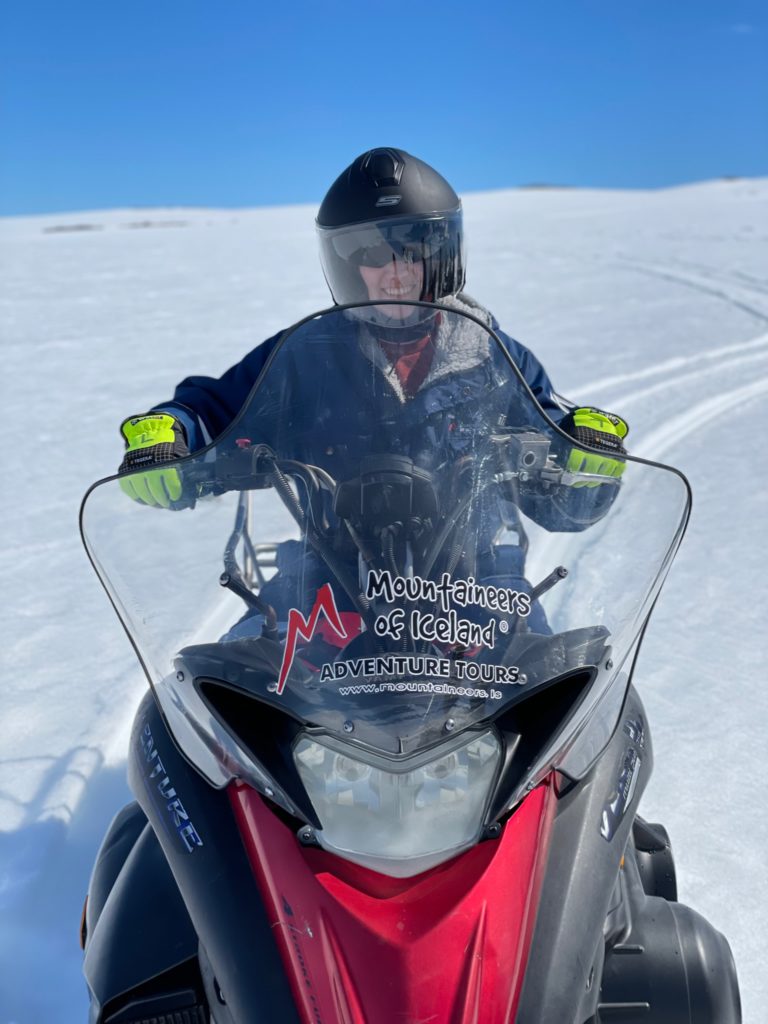 We had a 10-minute break to play in the snow, take pictures, and switch drivers.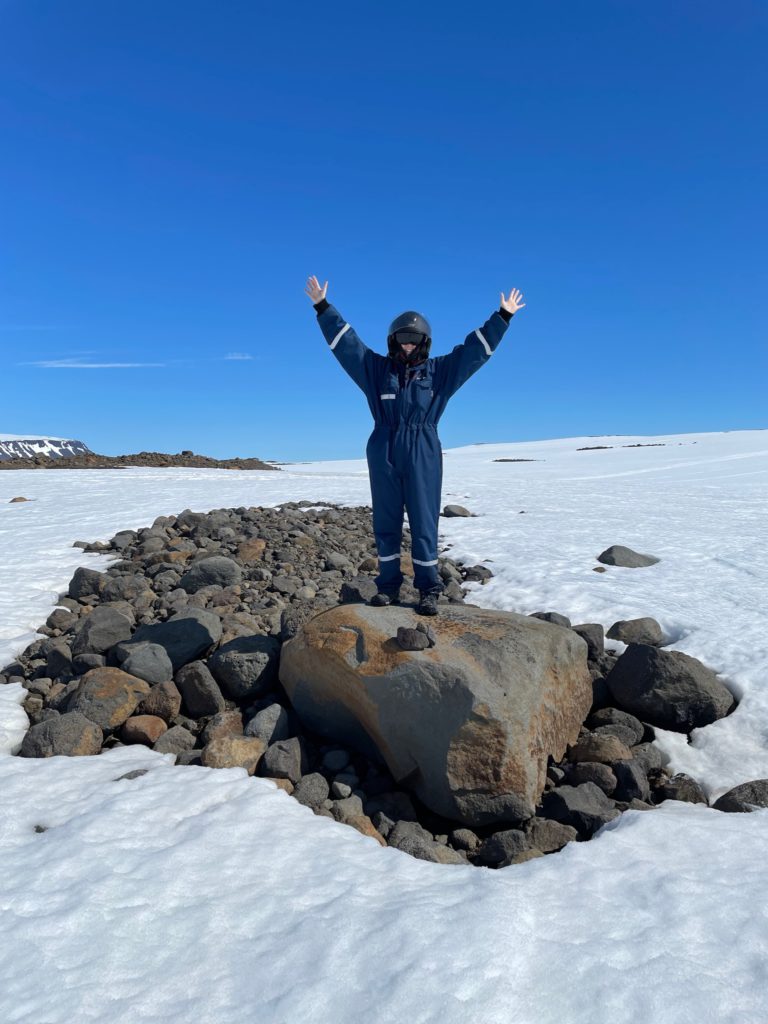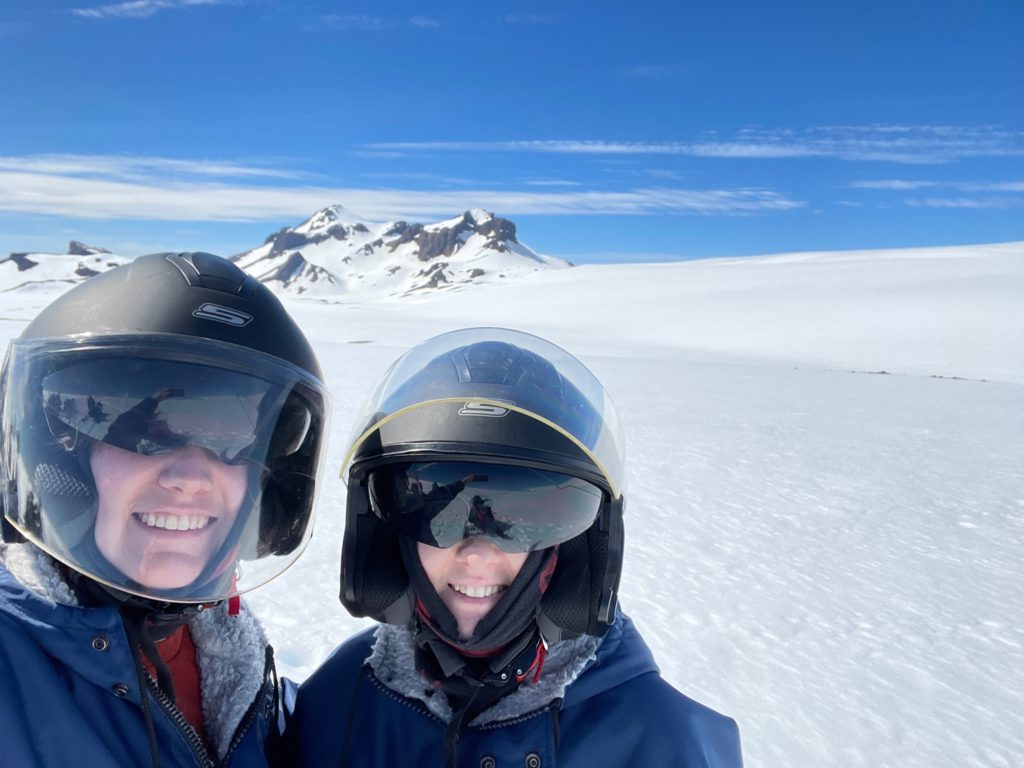 Trish was much more of a natural than me! We were the last snowmobile going back and the person in front of us was going very slow. Trish actually used this to her advantage because she'd slow down and let them get ahead, then zoom to catch up. She got up to 52 km/h and really enjoyed making big S curves!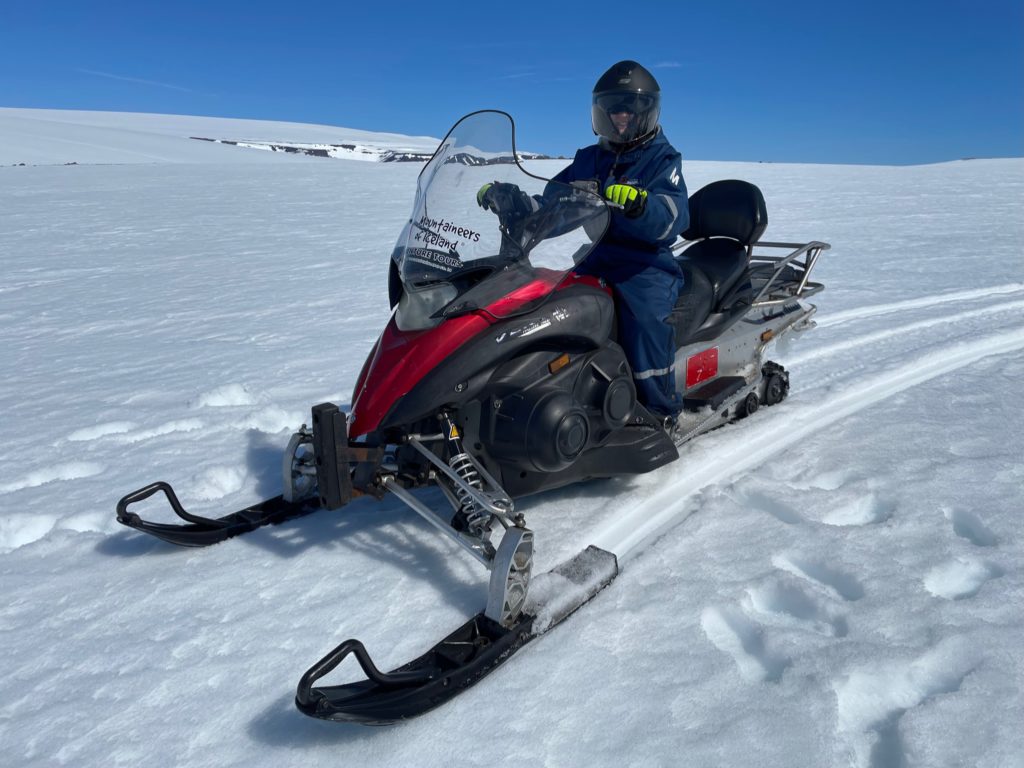 If our kids ever want to go snowmobiling, she's on deck. I enjoyed the experience and am happy I can check it off my bucket list, but I don't think I need to do it again!
We returned our gear and backtracked along the Golden Circle. Stop #3 was Gullfoss ("Golden Falls"). Water from Langjökull plummets down two separate cascades (the first 11 meters, the second 21 meters).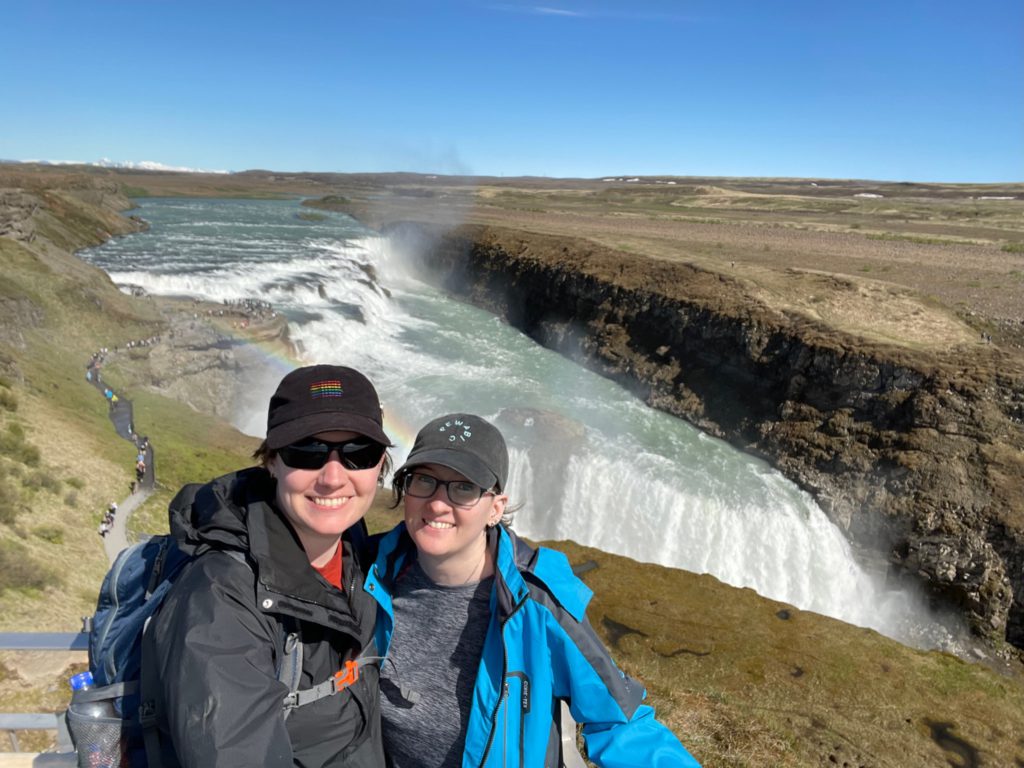 We are able to enjoy Gullfoss today thanks to an environmental activist, Sigríður Tómasdóttir, in 1907. She stopped an English businessman from turning the falls into a power plant.
You can look down on the falls from an observation point above them. You can also take a trail through the waterfall's misty spray to get a closer look. Our waterproof pants finally came in handy!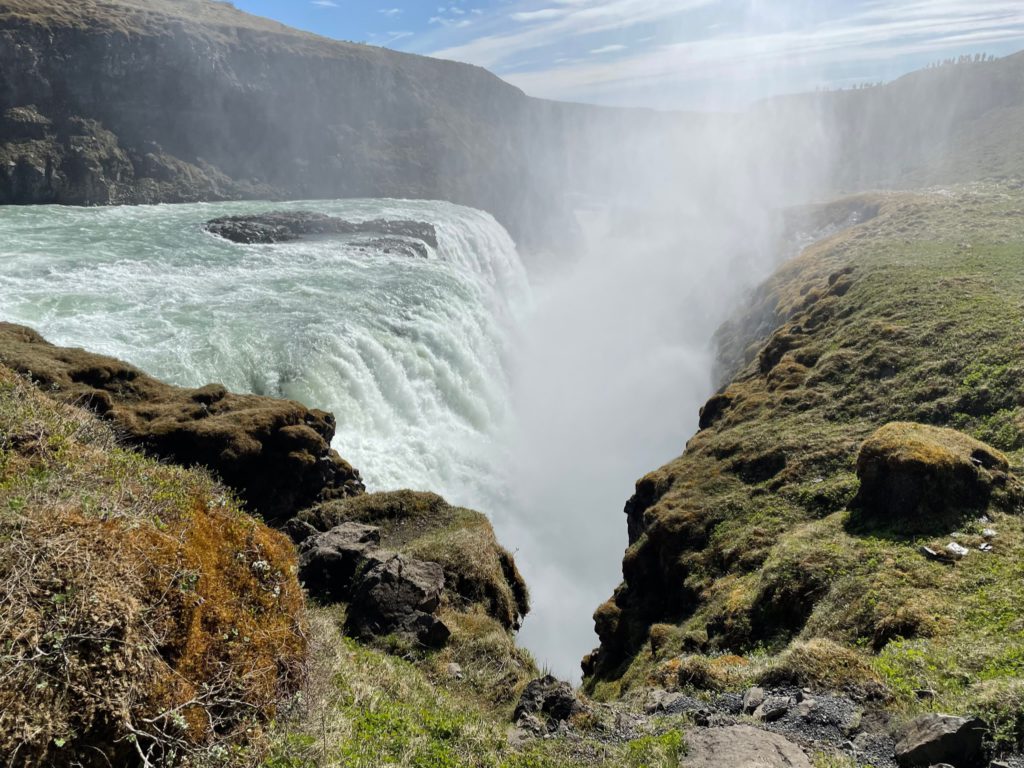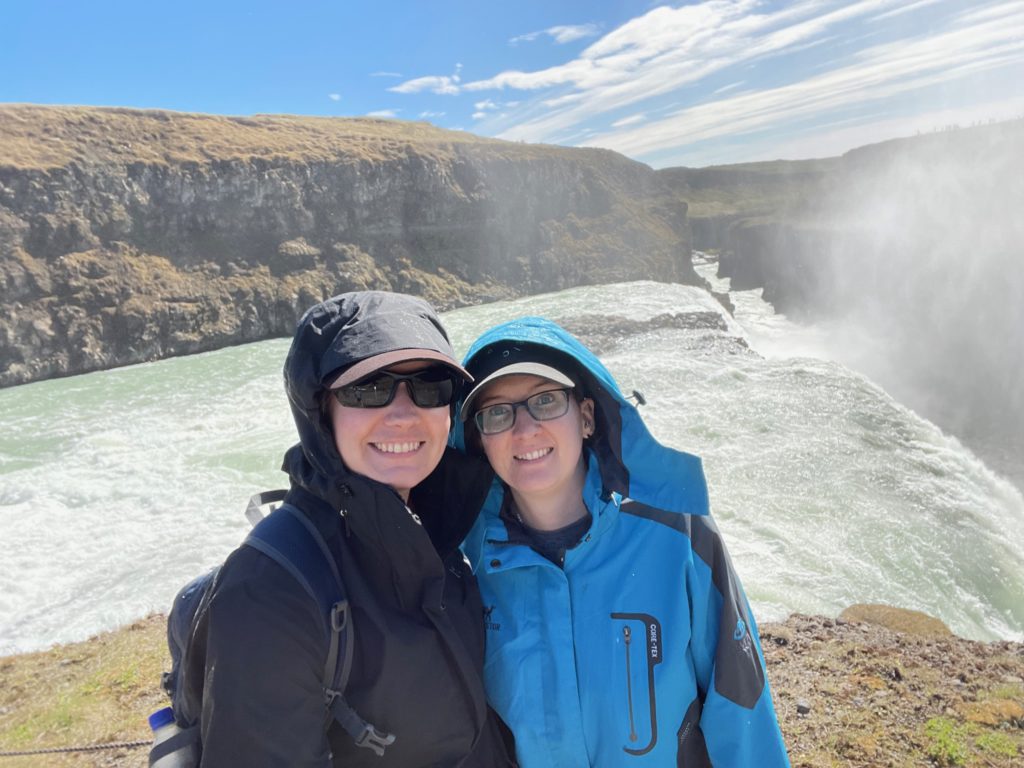 We packed some hearty Icelandic bread and jam for (late) lunch and accompanied it with an orange and an Egils Appelsín orange soda (I guess Icelanders really like their orange soda!).
Our last stop of the tour was Geysir Geothermal Area. Geysir (which gave its name to other erupting water features around the world), is dormant now. It hasn't erupted since ~2000. Only one geyser, Strokkur, is active now, but it goes off every 4 to 8 minutes.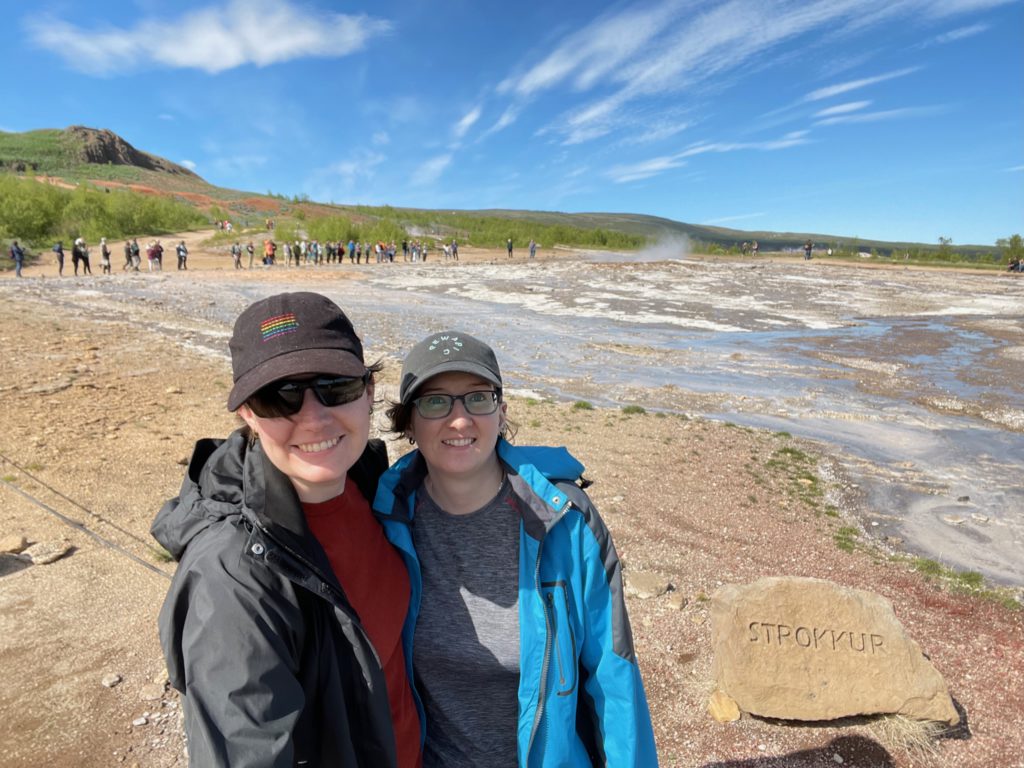 With our half-hour stop, we managed to watch it erupt 5.5 times (one was just a little burp).
Trish also decided to take in the sight from a unique angle…
The drive back to Reykjavik took about 90 minutes and I admit I dozed off for part of it. By the time we got dropped off near our AirBnB, we were both starving. Hearty as the bread was, we'd worked up an appetite! (My apple watch is so proud of me–I've closed all three activity rings for the first time since COVID and I've done it two days in a row!)
We decided to try Sæta Svínið (Sweet Pig) Gastropub. We ordered and devoured a bread basket with fresh-baked sourdough and beer-date butter with Icelandic sea salt. We also inhaled bacon-wrapped dates with chili-honey sauce.
We both opted for burgers. Mine was a little dry but still hit the spot after a long day. We also treated ourselves to a couple of Icelandic beers. Trish had an Einstök Icelandic Toasted Porter and I had a Víking Krummi Stout.
The Google Translate app is coming in very handy on this trip!
Also, I'm reminded that I neglected to mention yesterday that, until 1989, beer was illegal in Iceland. I knew that, and just assumed all alcohol was illegal until 1989, but no! Stephen told us that prohibition went into effect in 1915. But, Europe was pissed about buying Icelandic fish if they weren't buying European wine. So, in 1922, they lifted the ban on wine (that didn't last long!) and on spirits in 1935. But beer stayed illegal until 1989!