June 2: Waterfalls & Vik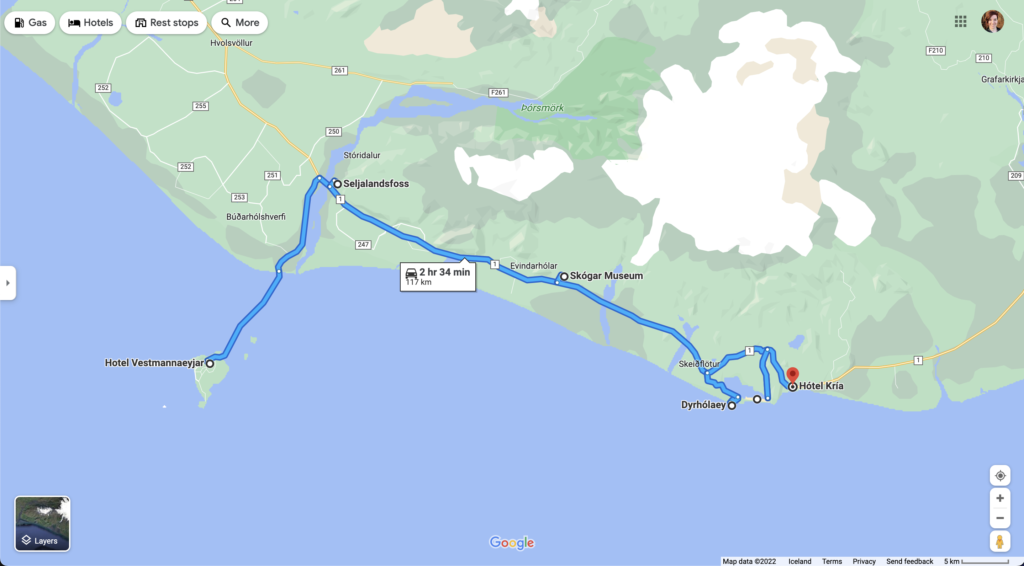 I woke in the wee hours of the morning and snapped a picture of the dead of an Icelandic summer night: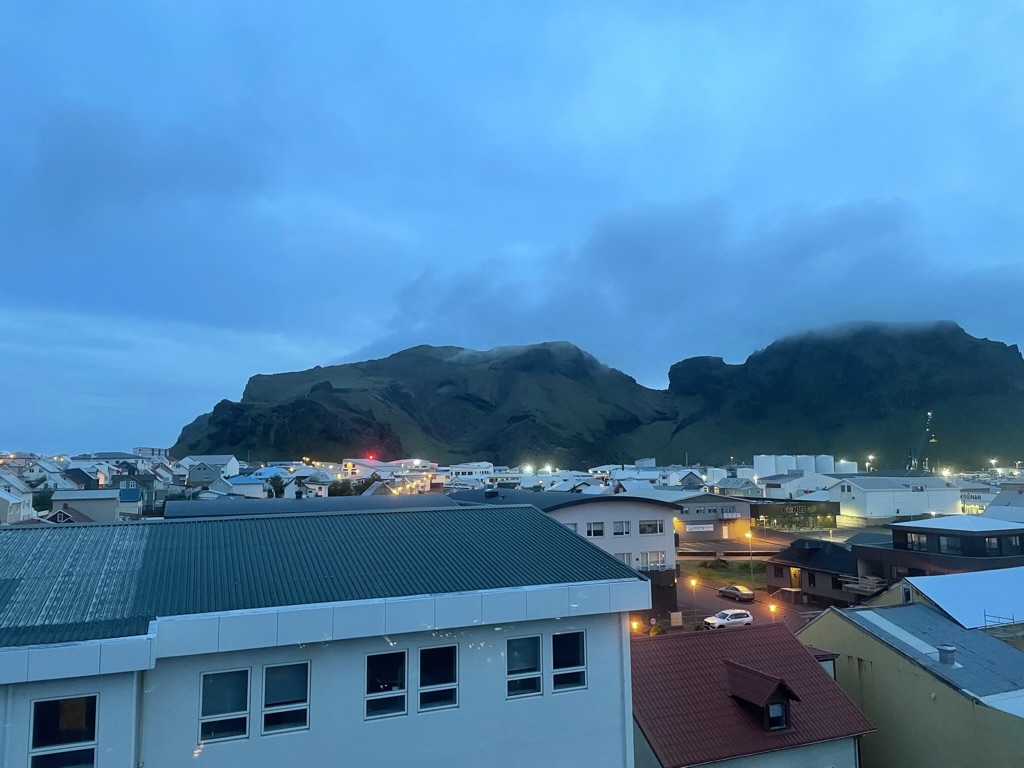 Trish was poking around yesterday and saw there is a short(ish) hike up to the top of Eldfell. Even though it meant getting up earlier, she wanted to climb it! We had breakfast with the other early risers (mostly retirees) and drove to the trailhead.
We were surprised to be the only car in the parking lot but it was nice to have the entire mountain to ourselves!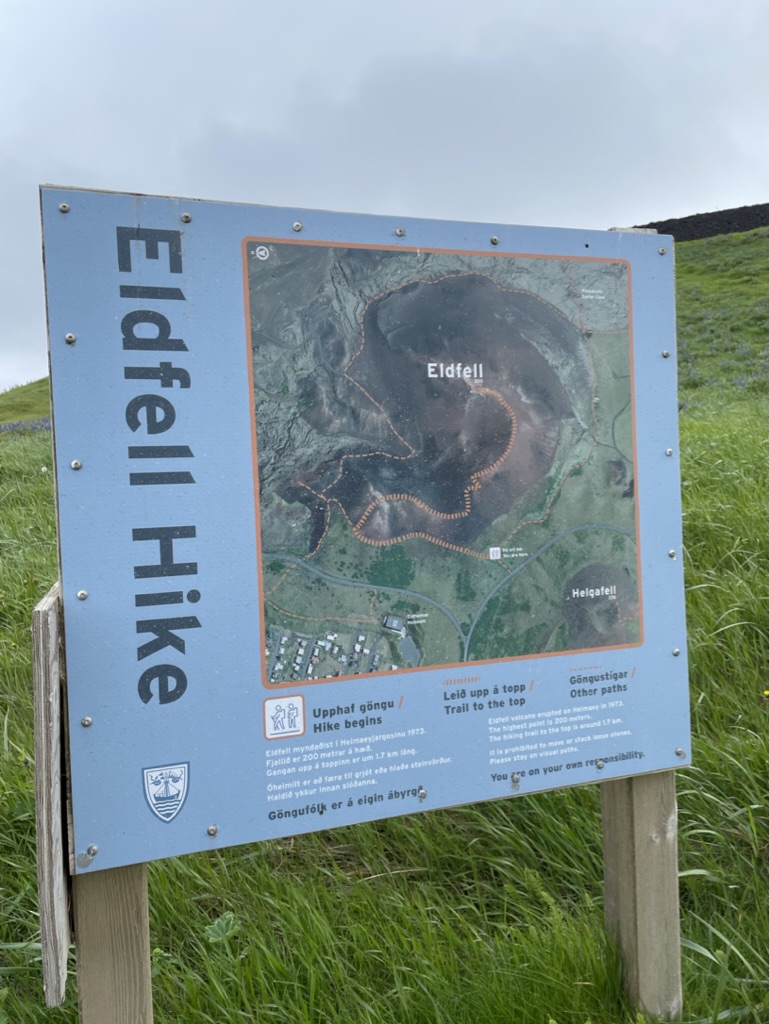 The trail is only 1.3 km but it goes up 87 m (~285 ft or a 28-story building). Google claimed it would take 21 minutes, and they must be calibrated for out-of-shape hikers because we managed to do it in about 25 minutes.
The terrain was surreal. The mountain is so young there are basically no plants growing on it. The base looks like the moon and then, about halfway up, the soil turns red and you'd swear you were on Mars (if only we could have initiated Martian gravity!).
Trish lead the way and only lied to me once about being at the top.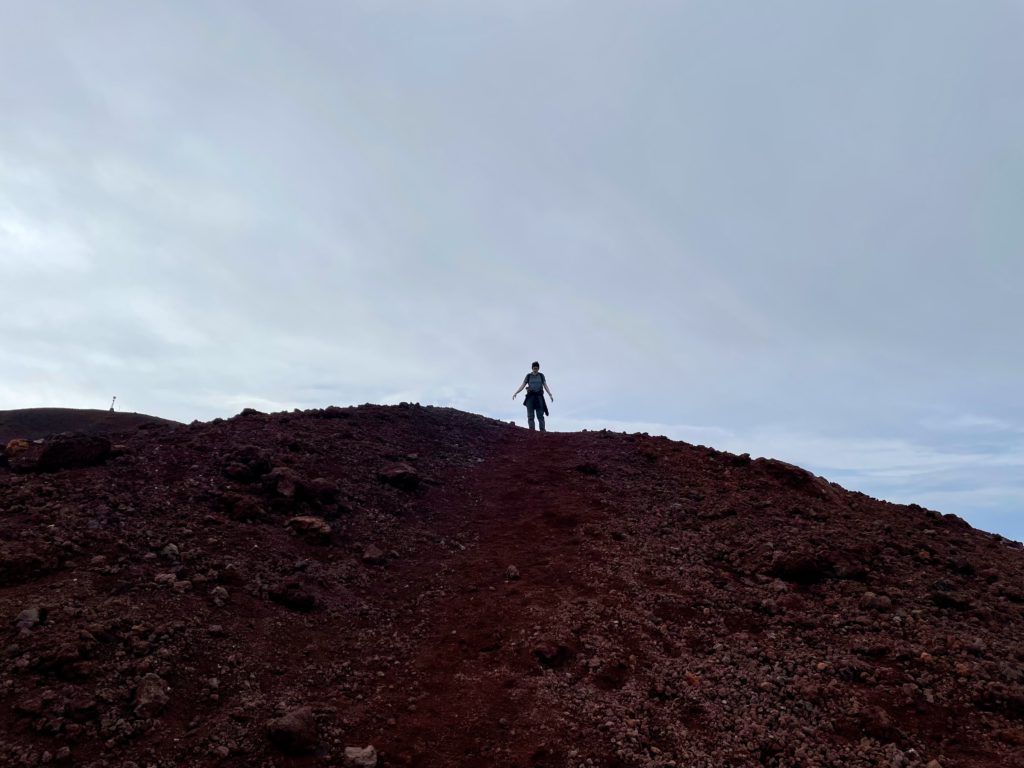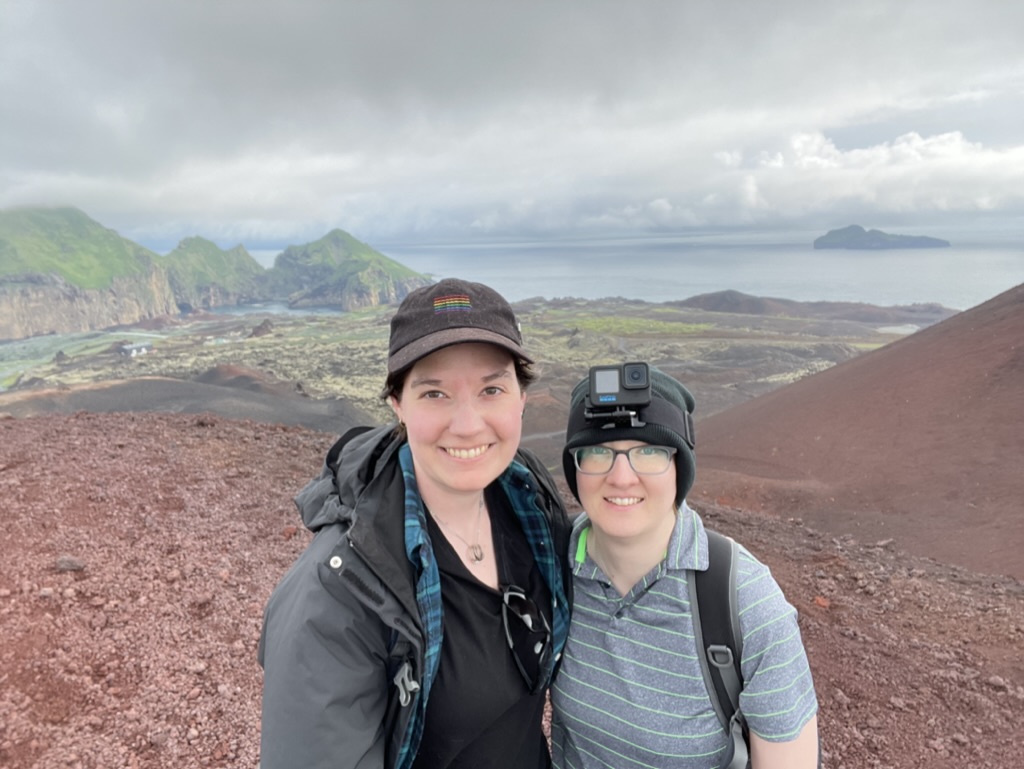 The view was absolutely worth the climb, however.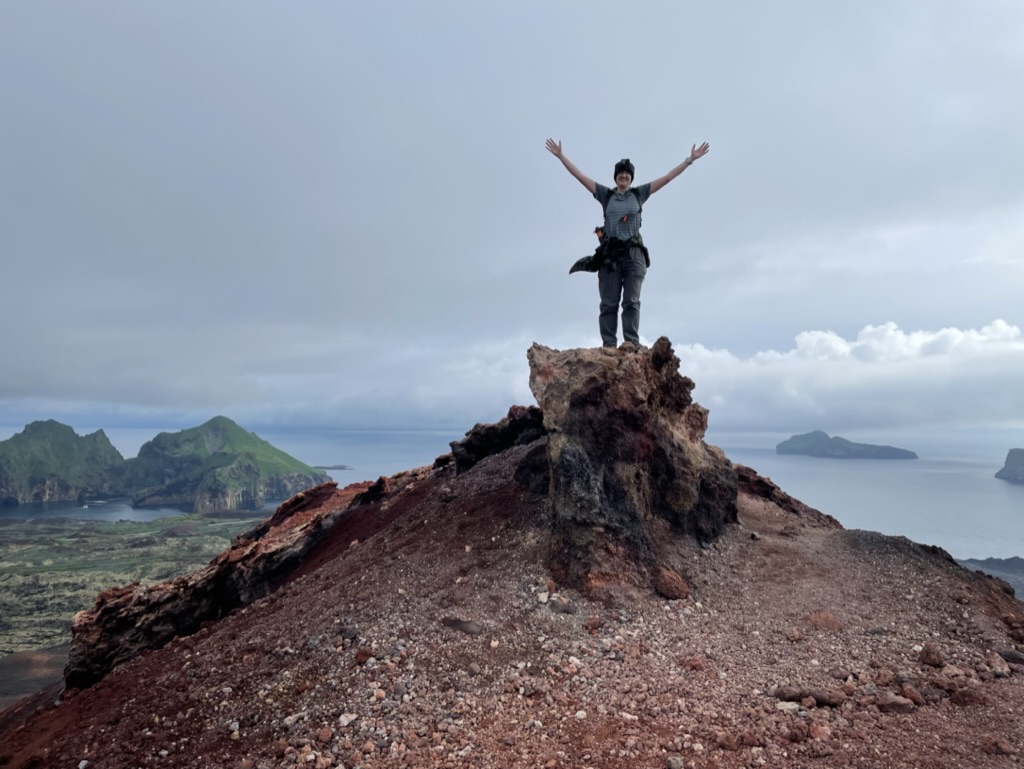 I wore the GoPro on the way down and followed Trish. Down was a lot easier (and faster!) than up 🙂
We made such good time at Eldfell that we had time for another stop before returning to the hotel to shower before checking out. I saw a video of this yesterday and instantly knew Trish would want to try it.
The sport most characteristic of Icelandic islands is "sprang" a form of miniature cliff rappelling.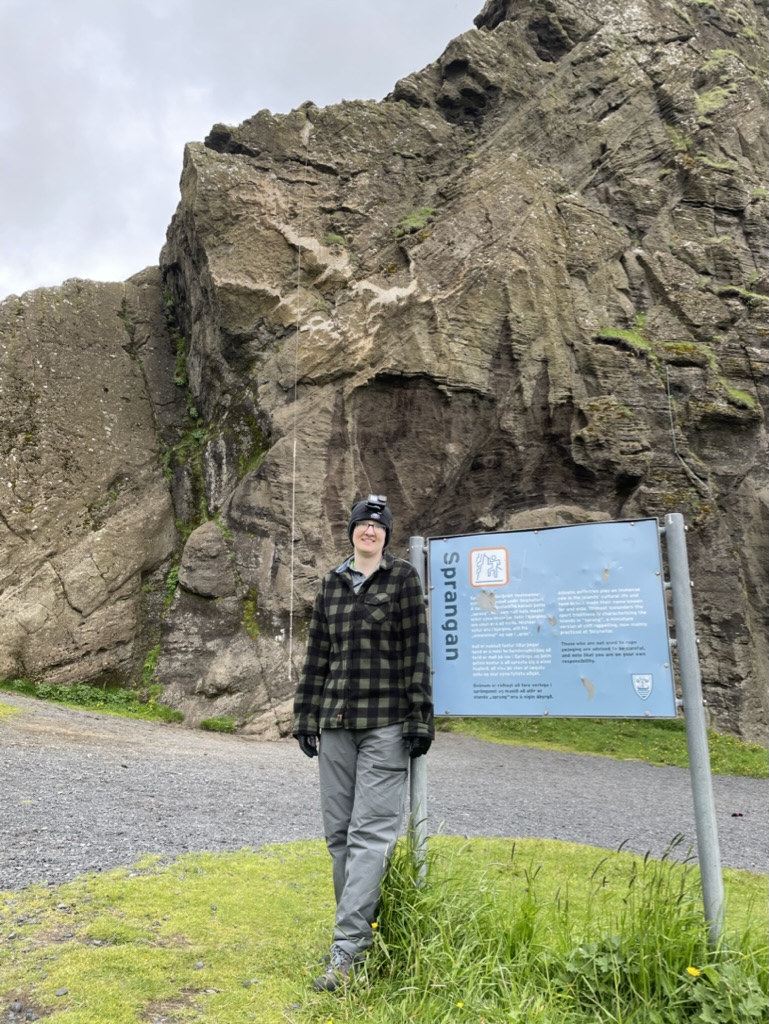 I could explain it to you, but I think in this case a video is worth a thousand words. Here's Trish's first attempt:
She actually did quite well. She says if she'd had her sneakers on and could have gotten a better grip on the rope she would have done even better.
I, on the other hand, have weak noodle arms…
I realized I neglected to mention the tragedy that struck leaving Hveragerði… I left my hand sanitizer at the restaurant! I had to go through all of yesterday hand sanitizerless. The horror! (OK, we still had the big bottle in the car, but my pocket-sized bottle has been sacrificed to the Norse gods.)
We tried to replace it at the grocery store last night but had no luck. Trish thought to check at a gas station and success!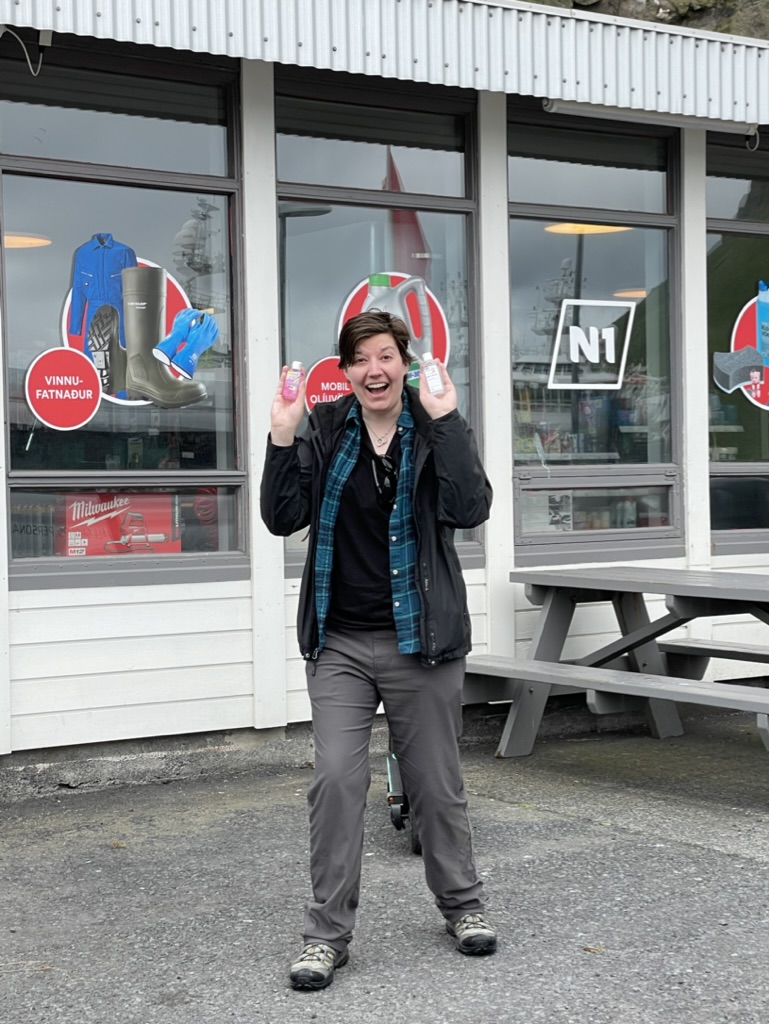 We returned to the hotel, showered (well-earned), and still had half an hour to kill before queuing for the return ferry. It started to drizzle as soon as we got in the car, so we just took a short drive up to Puffin Outlook. We didn't get out of the car but this family of toasted marshmallows greeted us.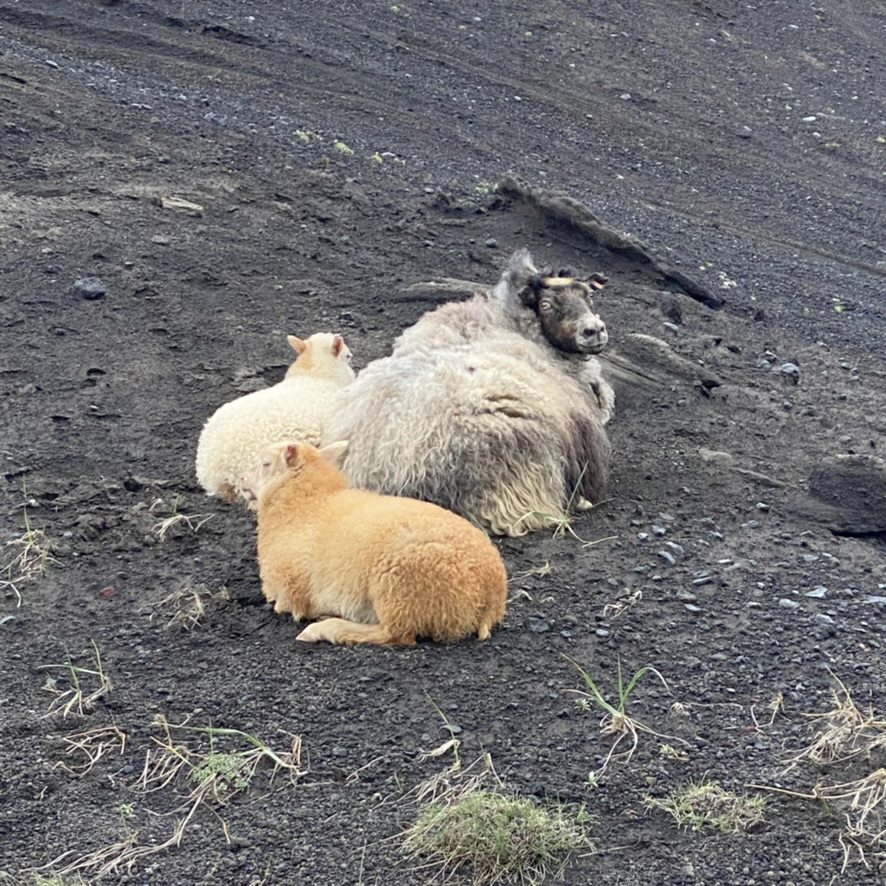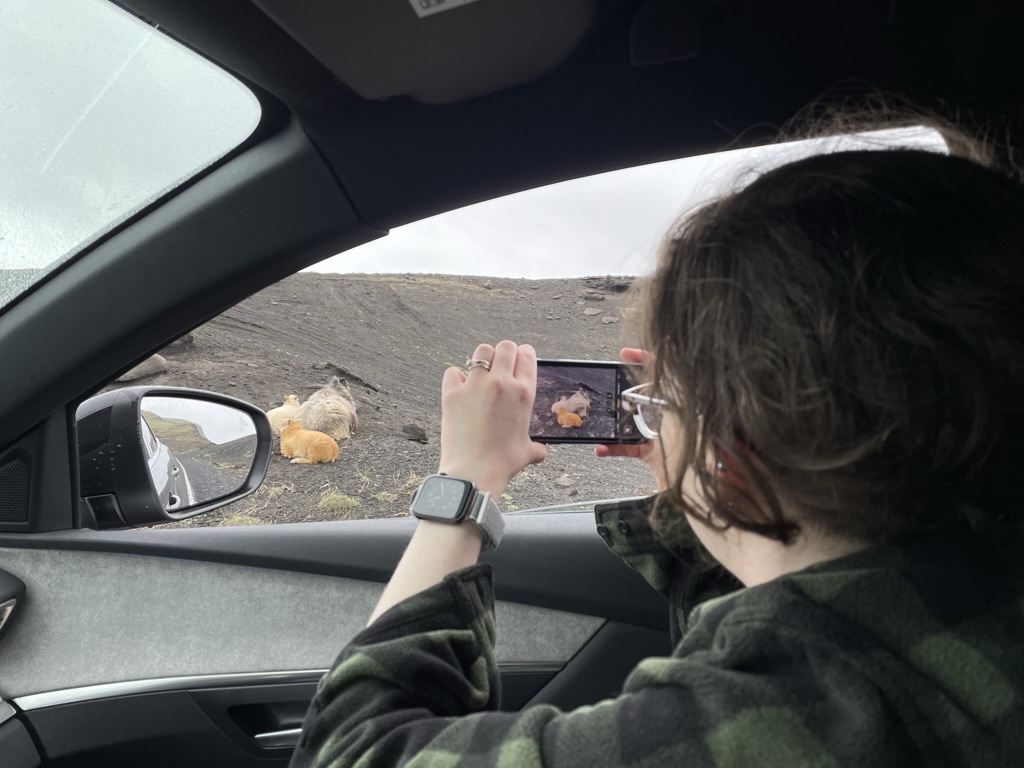 A persistent drizzle kept us inside on the ferry, but the seas were even calmer today (0.5 m swells) so it was a pleasant trip. Back on the mainland, the drizzle was more intermittent, but if we were going to get a rainy day, this was a good one because we planned to spend most of the day in waterproof gear exploring waterfalls!
Our first waterfall was Seljalandsfoss, one of Iceland's most visited and photographed destinations. It's beautiful, 60 m tall, AND you can walk behind it. But do be aware, you WILL get wet. Very, very wet. Definitely wear rainproof everything. My iPhone stayed safely inside the waterproof gear and I used the GoPro to capture some memories.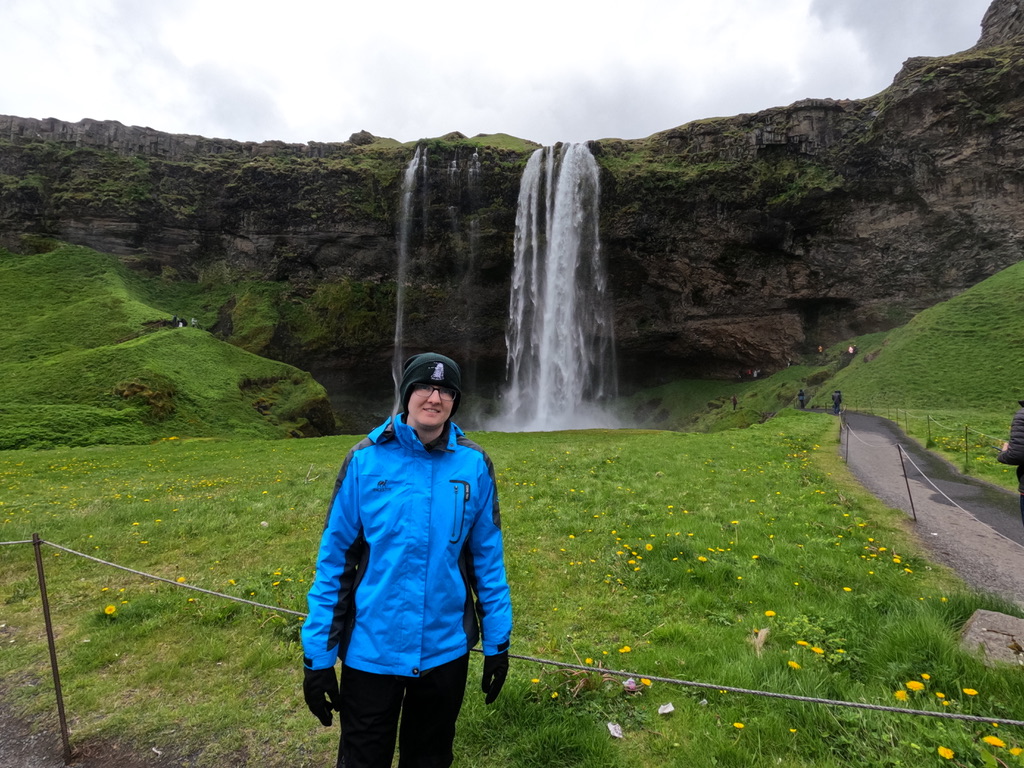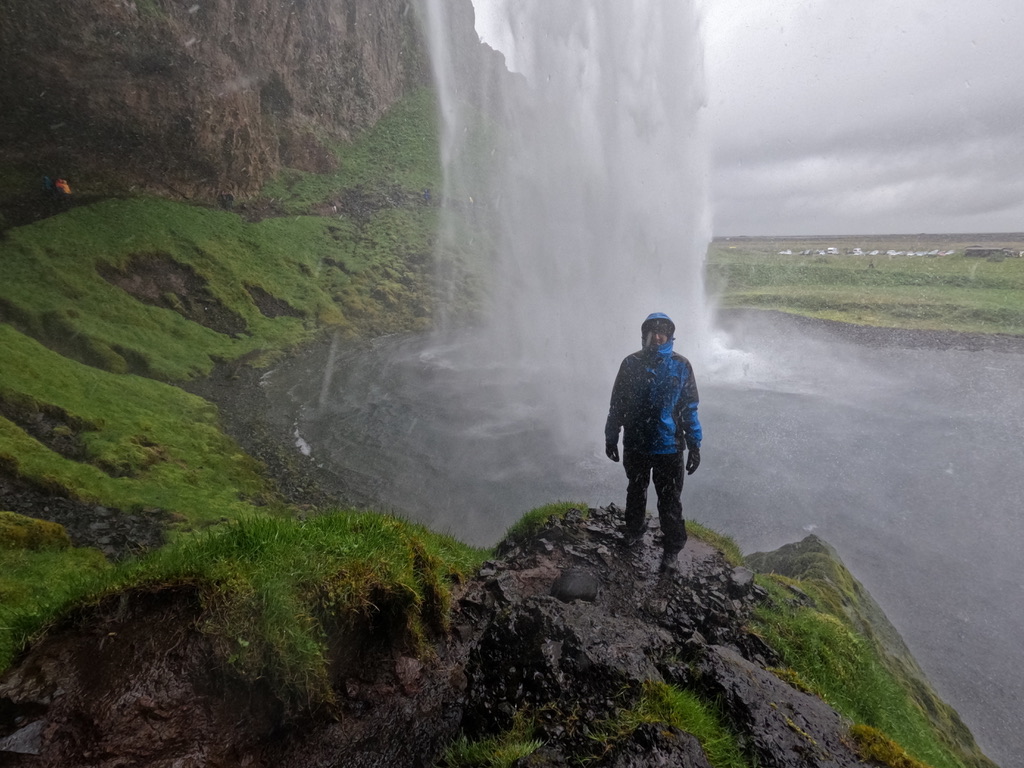 Getting behind the falls requires going up and down some slippery and rock-studded slopes, so it is definitely at your own risk.
About a 10 minutes walk away, there is another waterfall, often less visited, Gljúfrabúi. Personally, I found it to be even more spectacular because it is hidden between the rocks. The walk to catch a glimpse of it through the passageway is easy.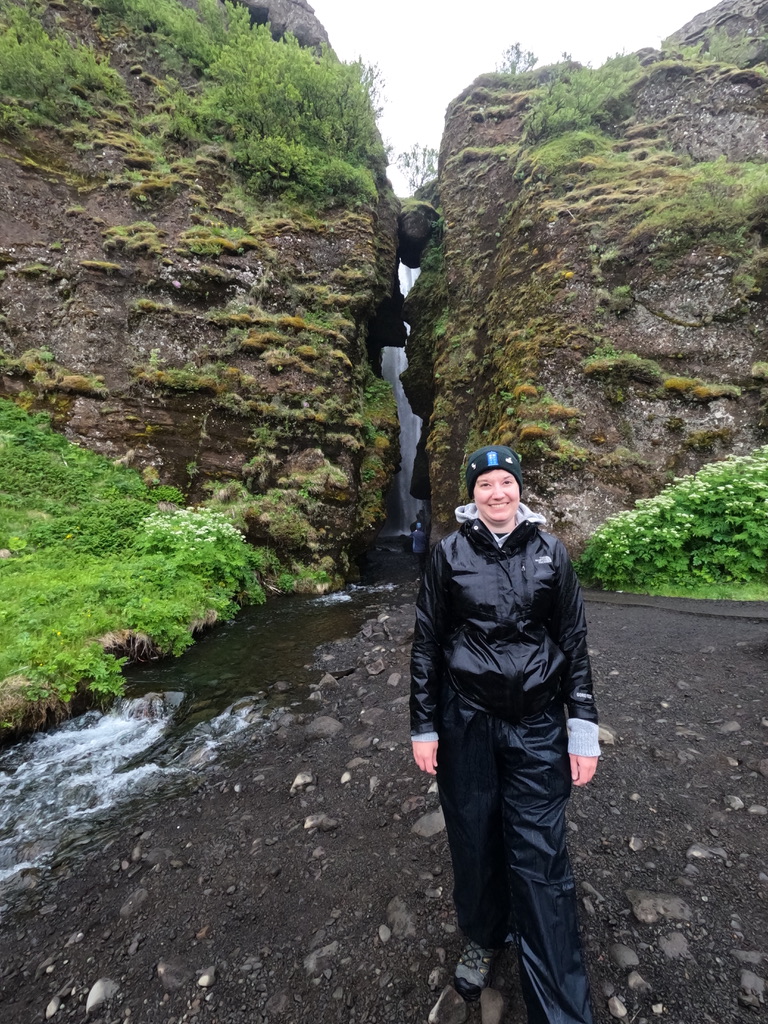 But the really cool part is working your way back to the actual falls. Unfortunately, my GoPro recording didn't work, but you're using rocks (not particularly flat) as stepping stones through the river and the canyon wall as support. Once you're back there, it is again very wet but breathtaking.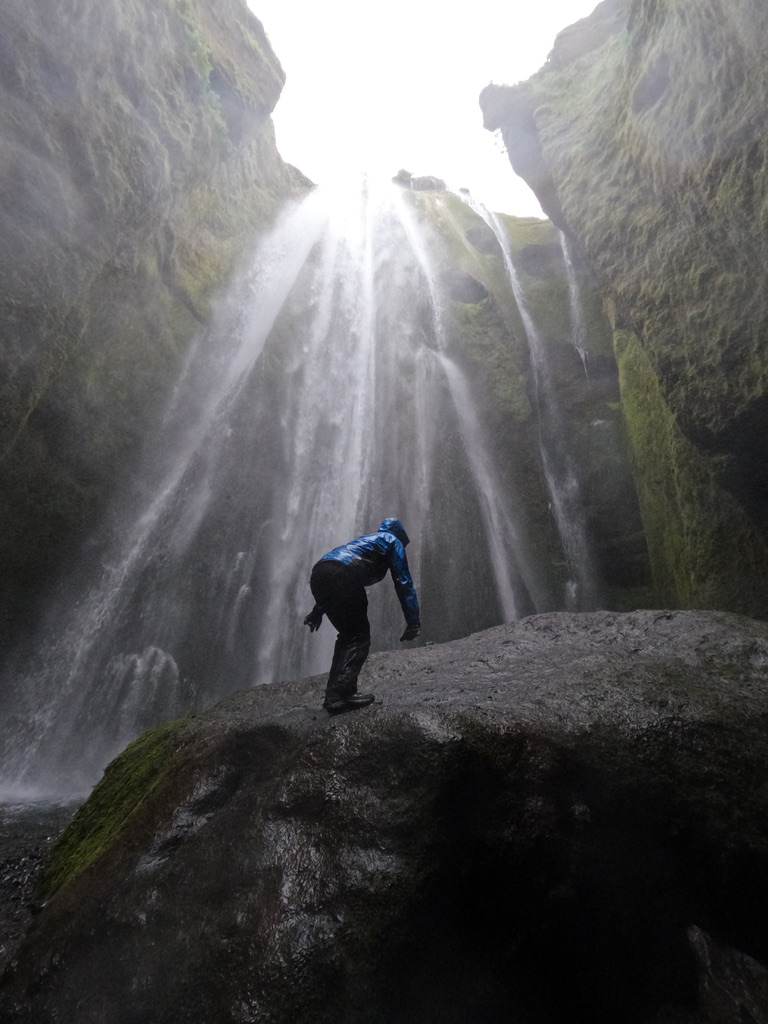 The drizzle started up again as we walked back to the car. Honestly, it wasn't very much of a problem because we were already waterproofed from head to toe.
Next, we headed to Skógar, about 25 minutes away. The main attraction is Skógafoss, another impressive waterfall that can be seen from the Ring Road.
We stopped for a picnic lunch with our goodies from yesterday. The drizzle kept us in the car, but we had a nice view of some sheep.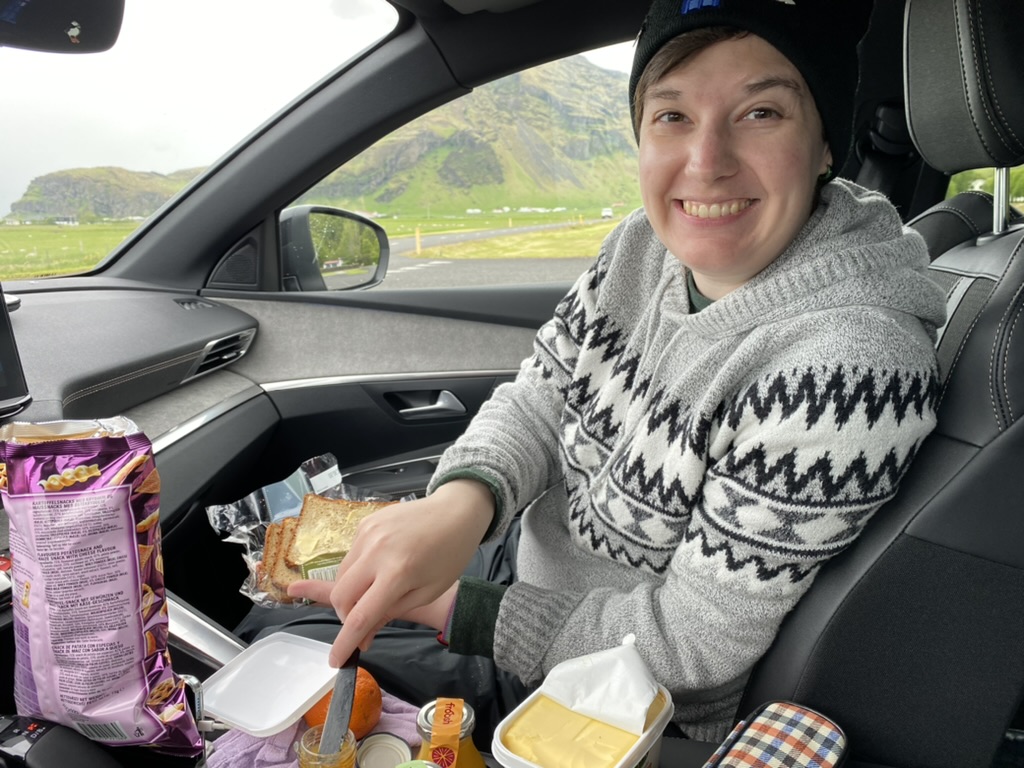 I was very interested in the highly recommended Folk Museum, which is based on a collection put together by an Icelandic man over 72 years! He finally retired at the age of 92.
So far, this was my favorite museum of the trip because the signage contained interesting, brief facts. Most of the items dated from the 1800s and early 1900s.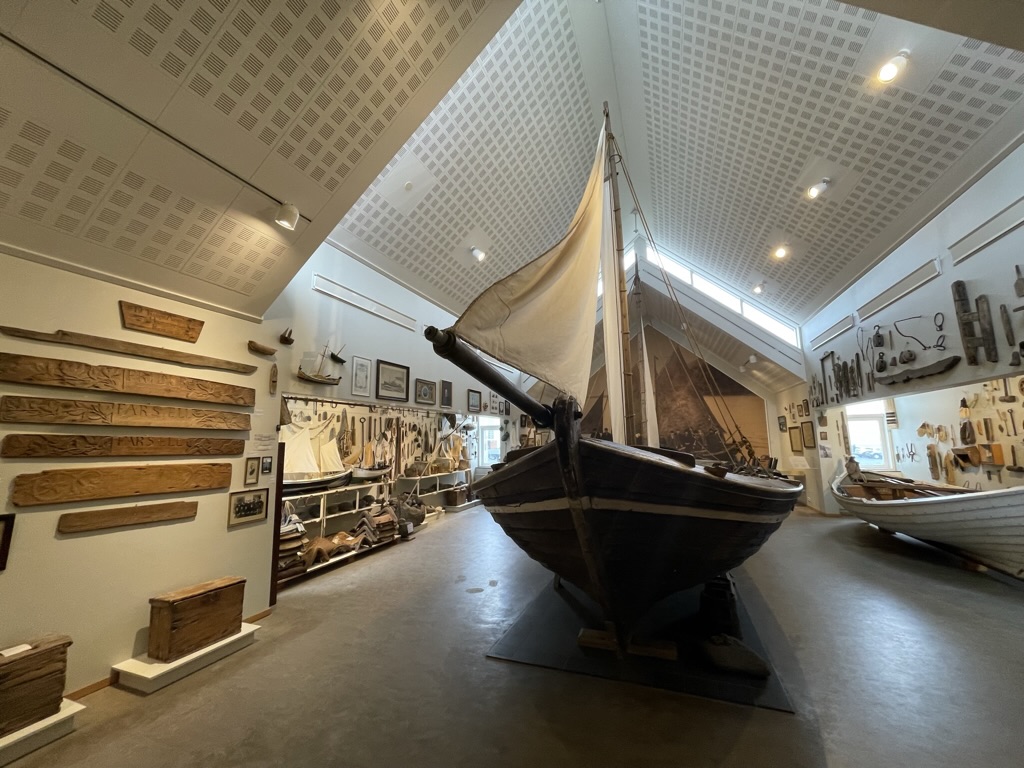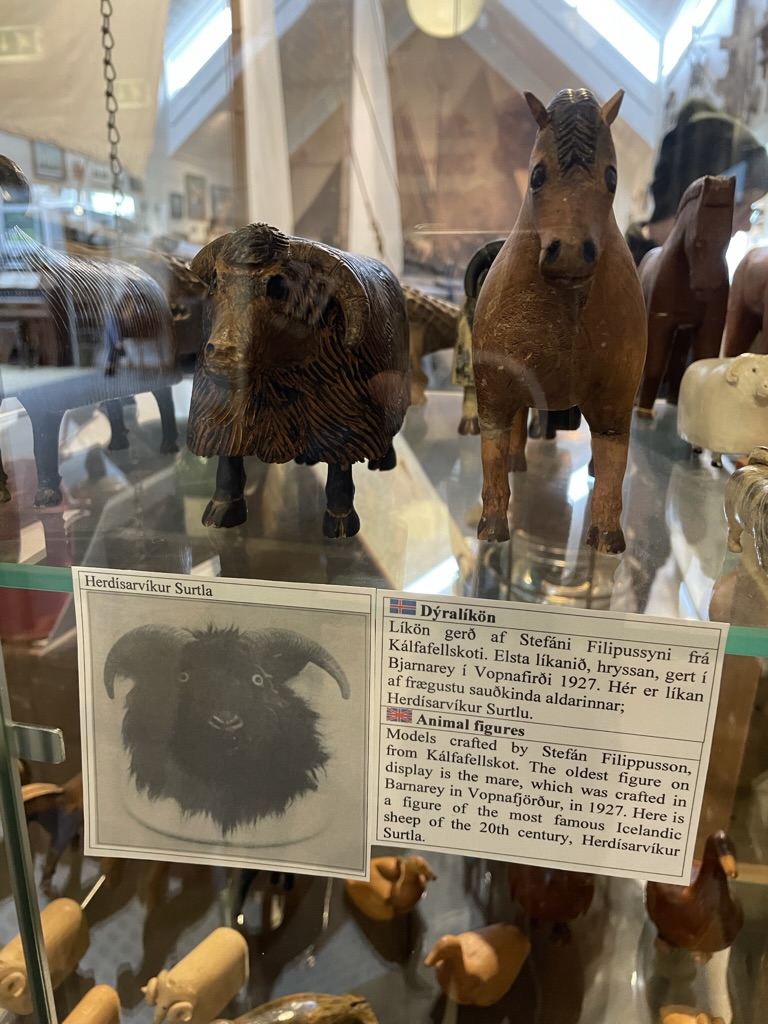 Again, we timed the weather well. It rained pretty hard while we were inside the museum, but cleared off by the time we wanted to explore the outside portion. Over the years, several old buildings from various places around Iceland have been disassembled and reassembled at this museum, including some turf dwellings, a school house, the first wooden house from a particular area, and a church.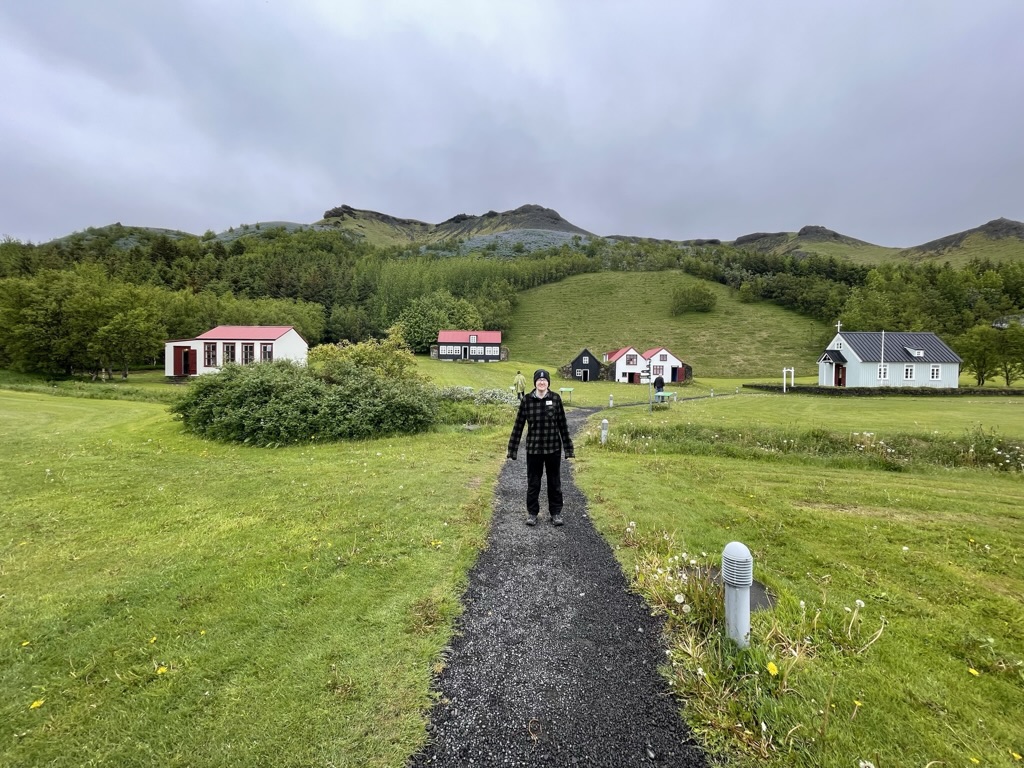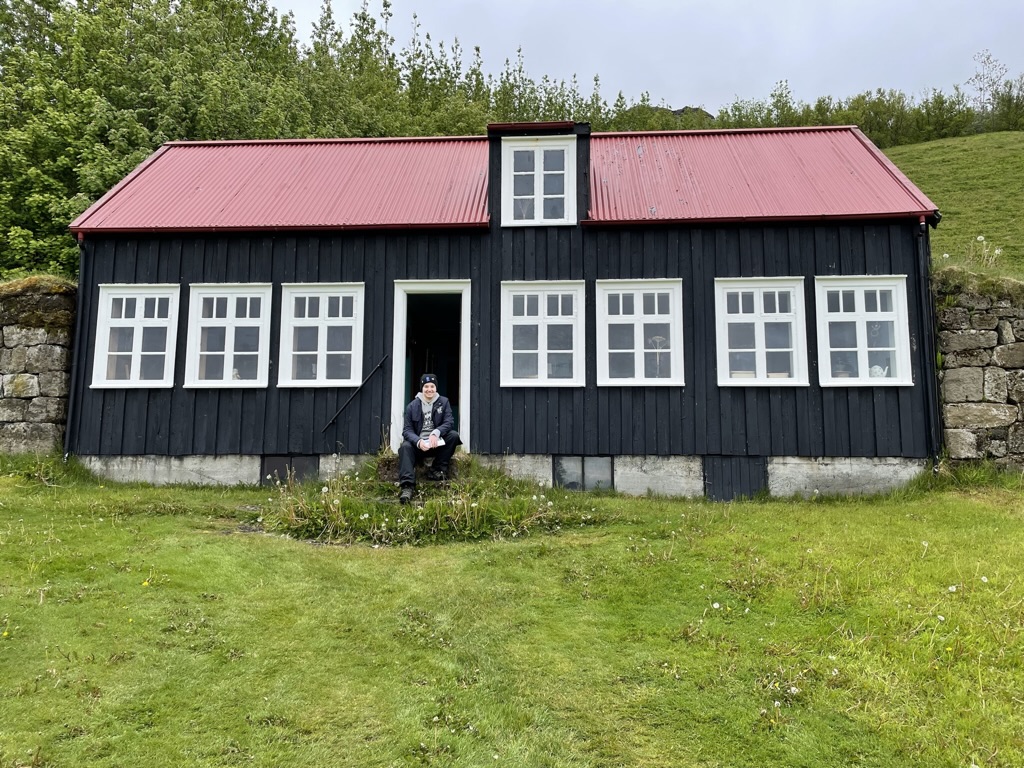 A common theme is very short doors.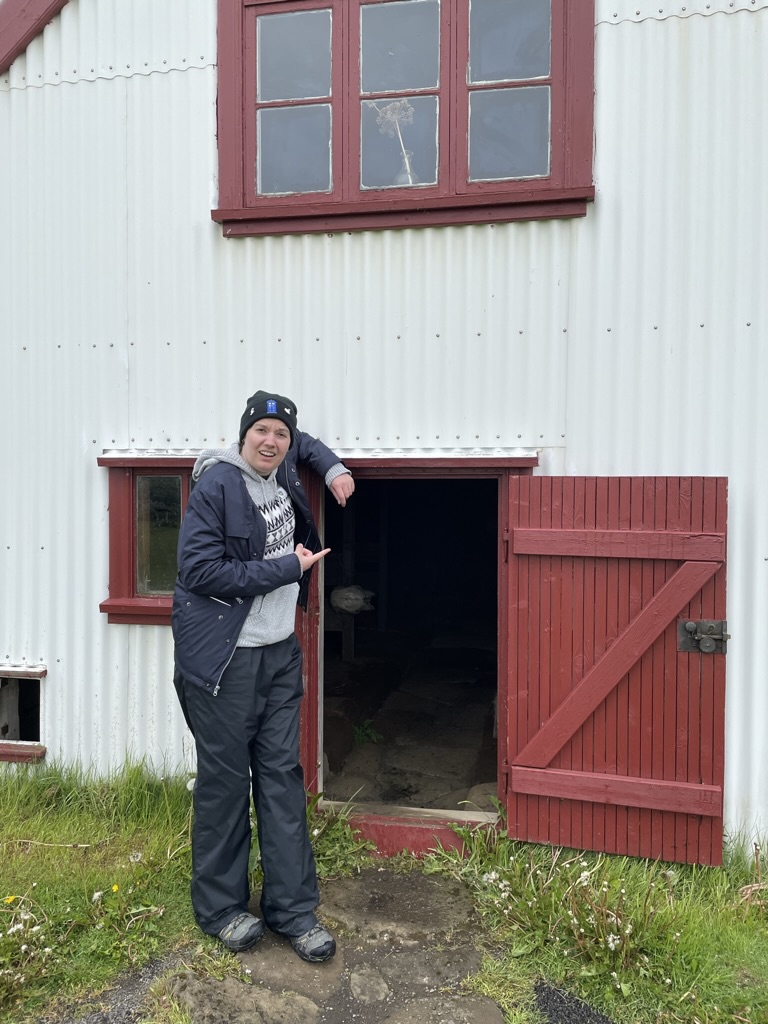 With the break in the weather, we prioritized Kvernfoss, a hidden waterfall off the tourist radar, over Skógafoss. The path to Kvernfoss starts behind the museum and involves climbing a ladder over a fence (I assume there may be sheep in the field you cross, though I didn't see any). If anyone (*cough* parents *cough*) is worried we were trespassing, don't worry! The museum actually does have a map of the route that explicitly tells you to hop the fence.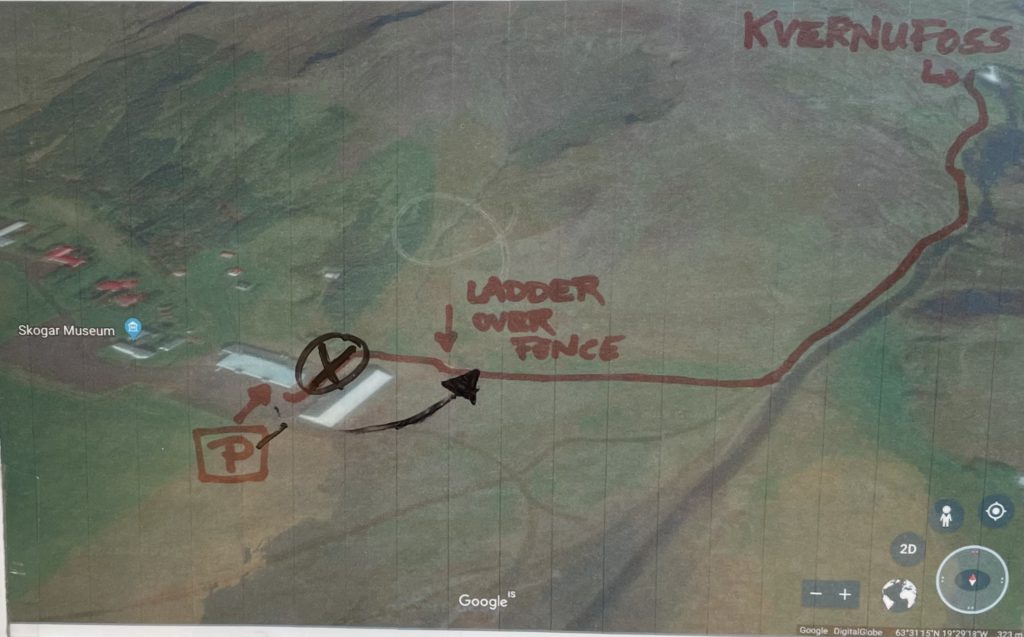 The transition from the flatlands to the mountains is abrupt all along this area of the coast. In fact, Seljalandsfoss used to be at the coast. The landscape is just staggeringly beautiful.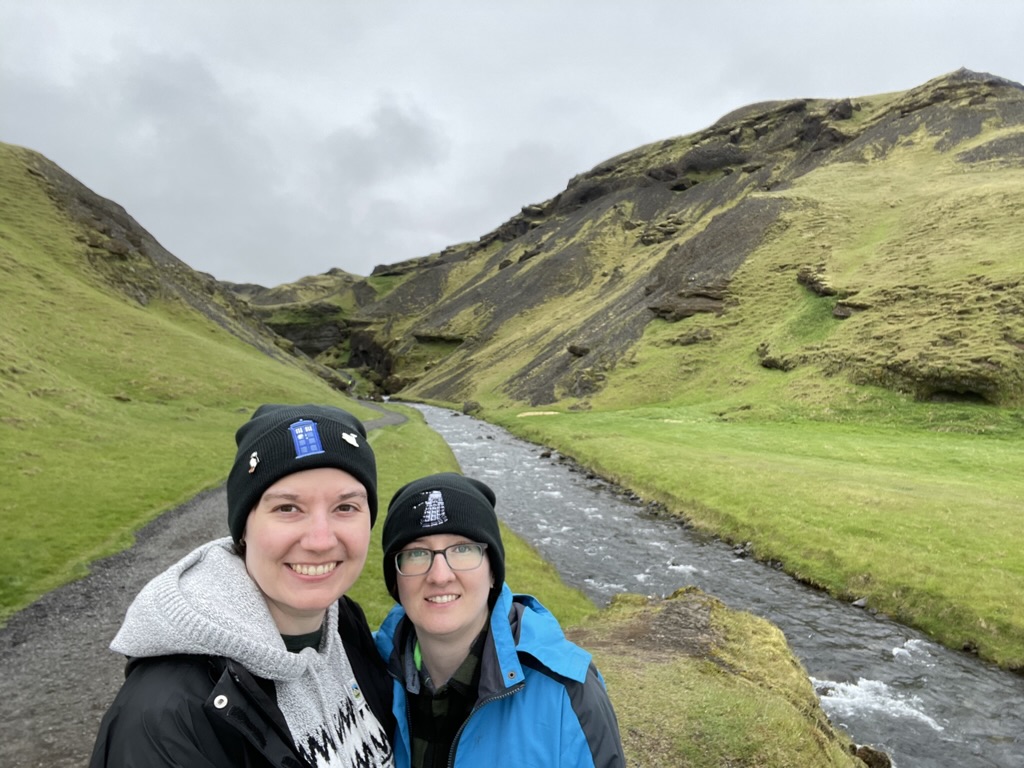 Trish found more things to climb down on our approach to the falls.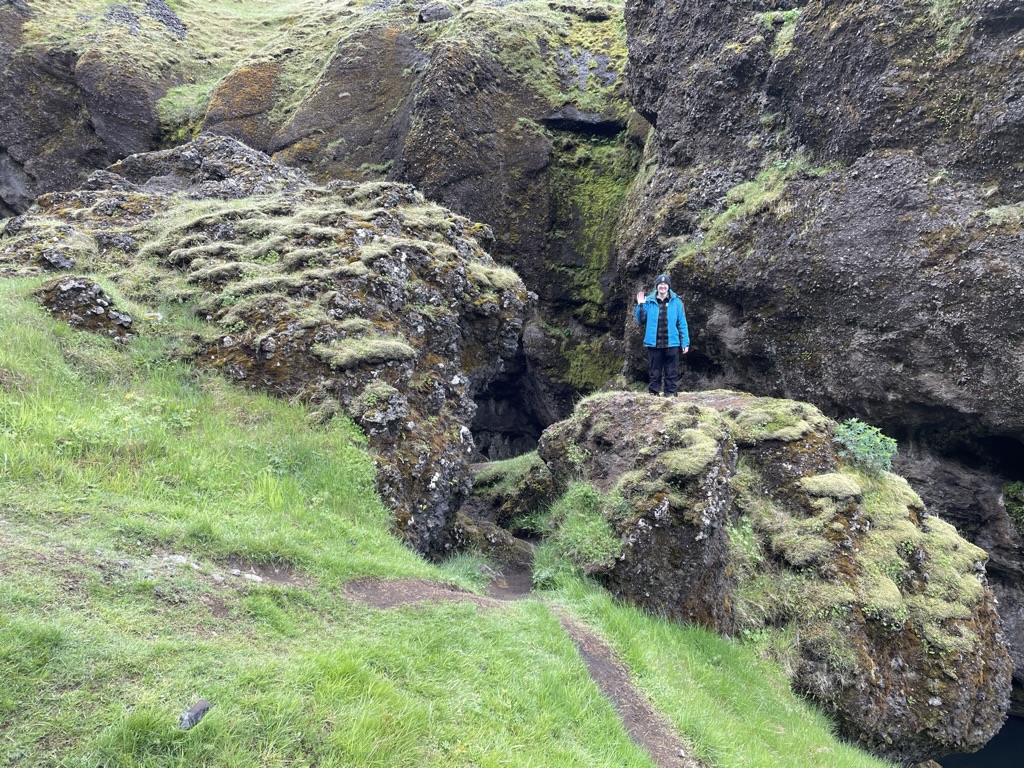 Just after this spot, we turned and got our first glimpse of the Kvernfoss.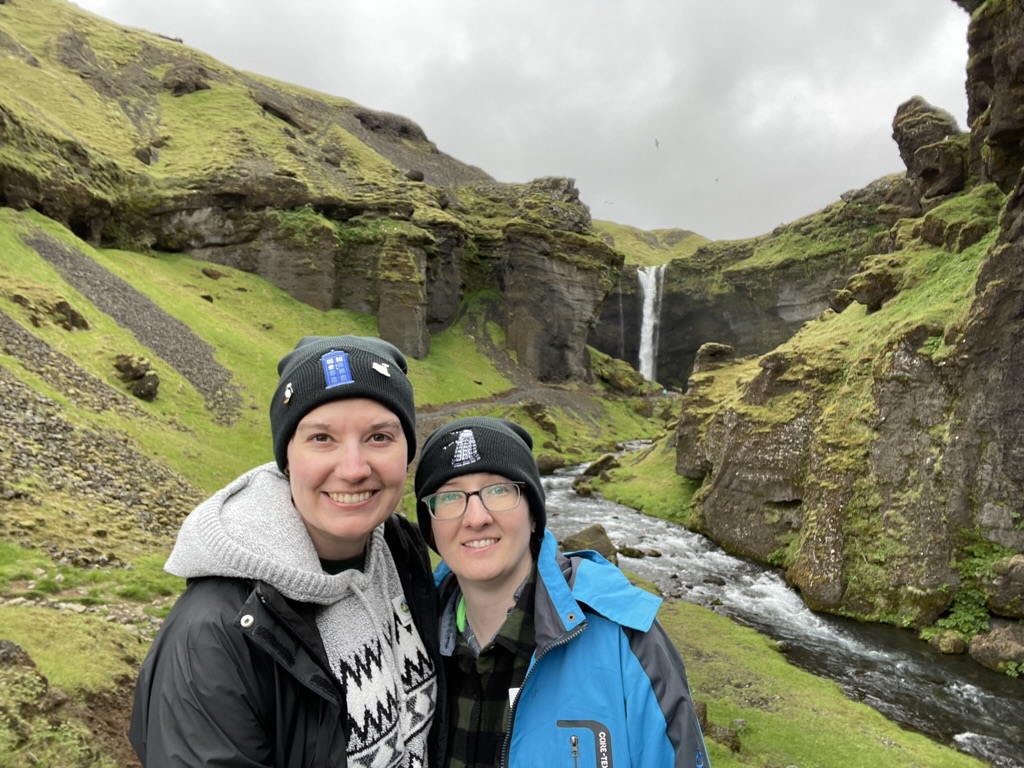 You can also walk behind these falls! It's possible to get less wet than at Seljalandsfoss, but Trish didn't choose that path.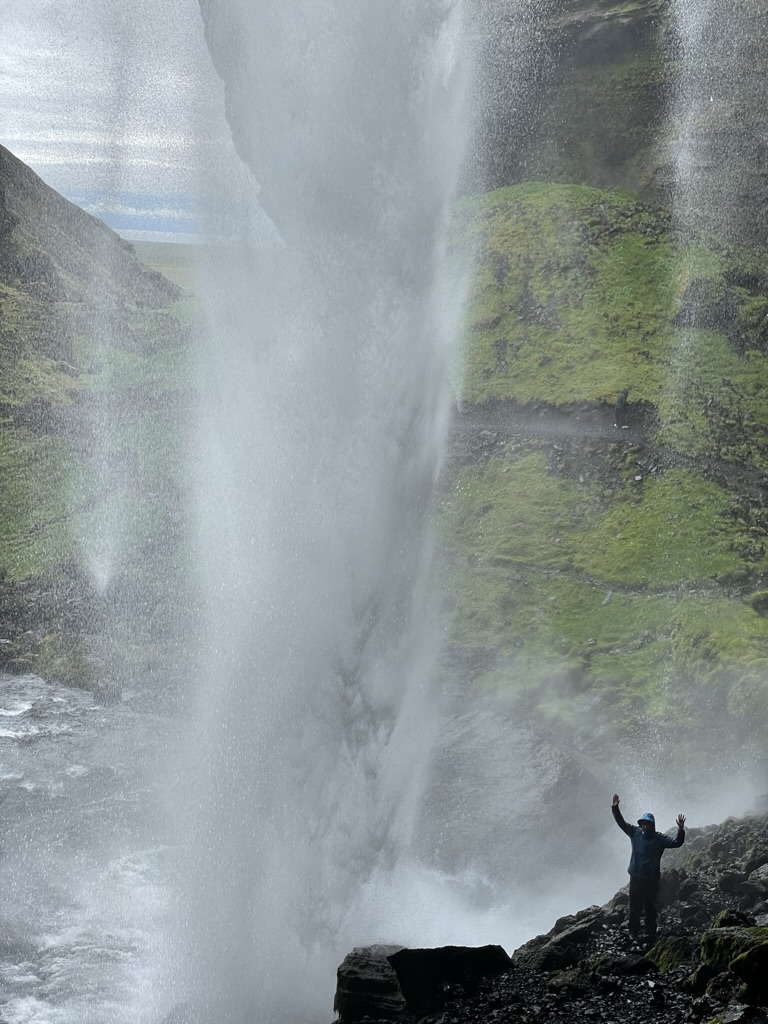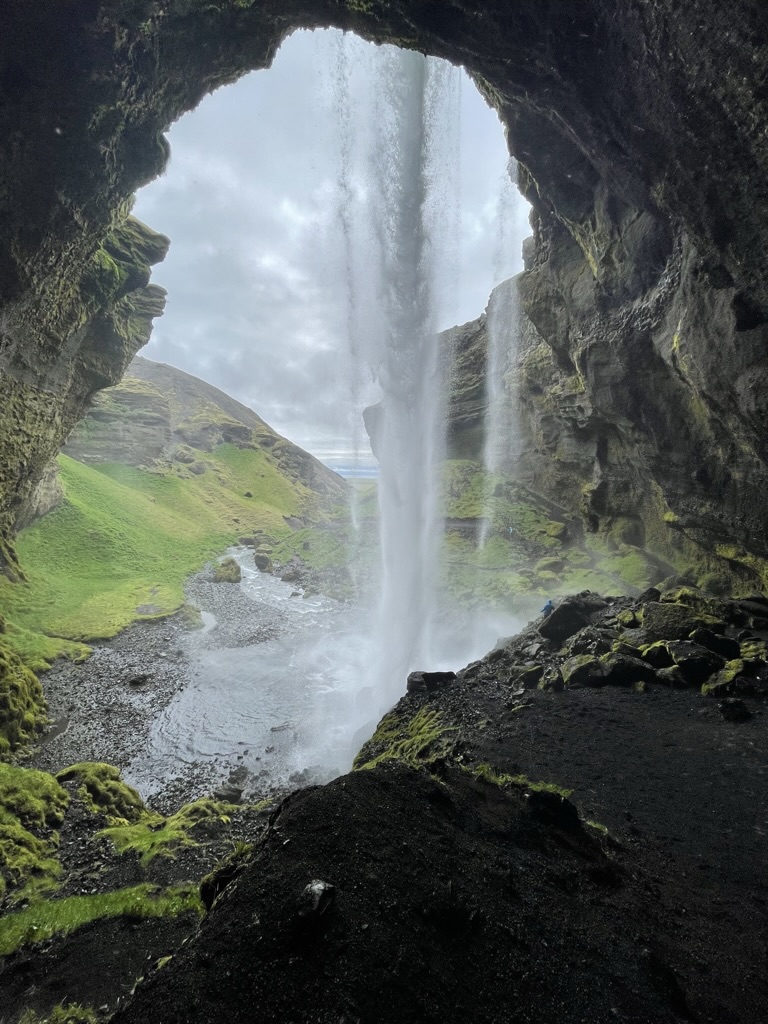 Even after all of that, Trish decided she still wasn't wet enough, so she approached the front of the falls as well.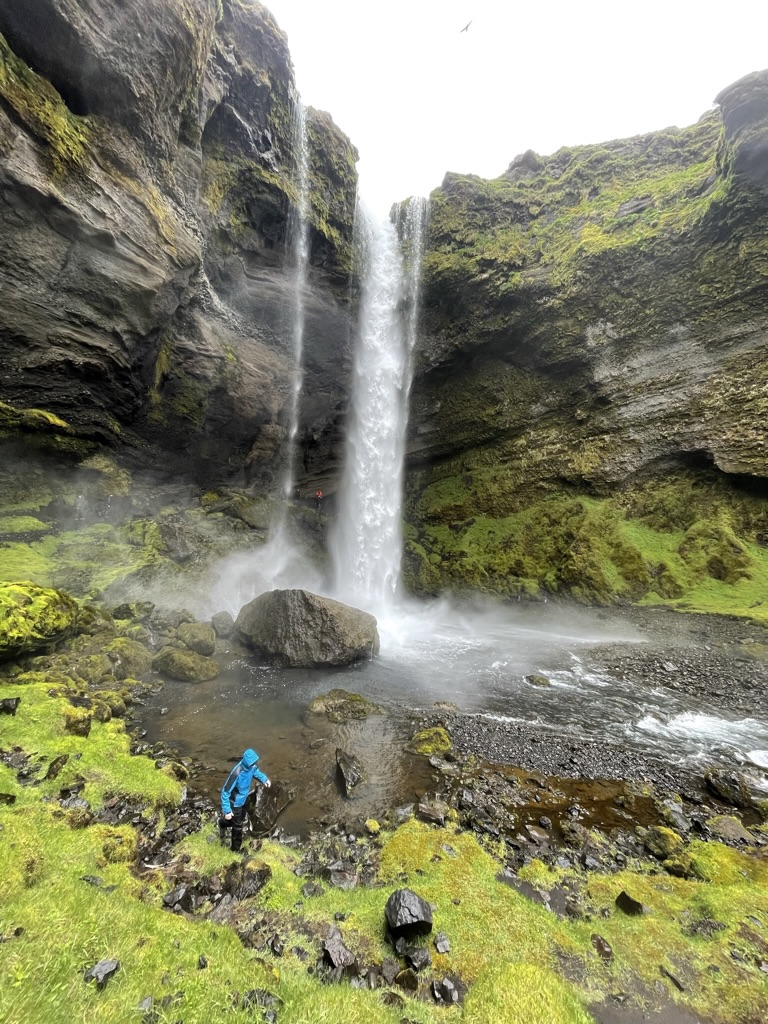 We headed back to the car and I made her pose with some of the lilac (we assume) that carpets much of the countryside.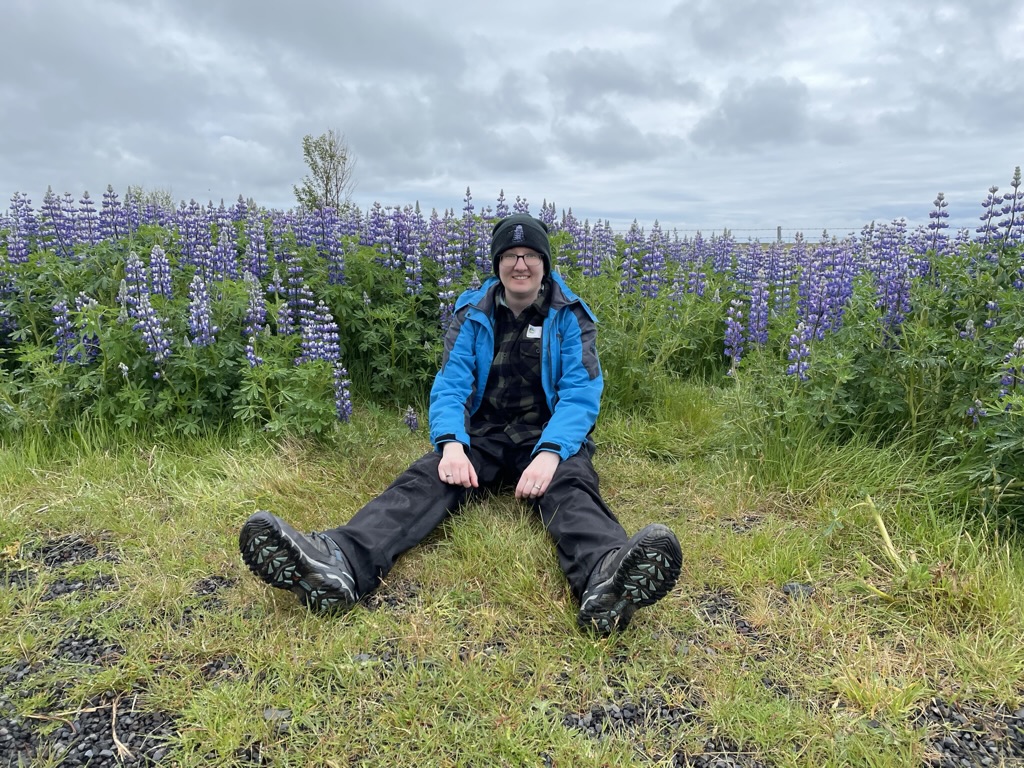 Back at the car and very damp, we decided to skip going to the base of Skógafoss since we got a good view from the road. However, our path was temporarily blocked by a family of sheep!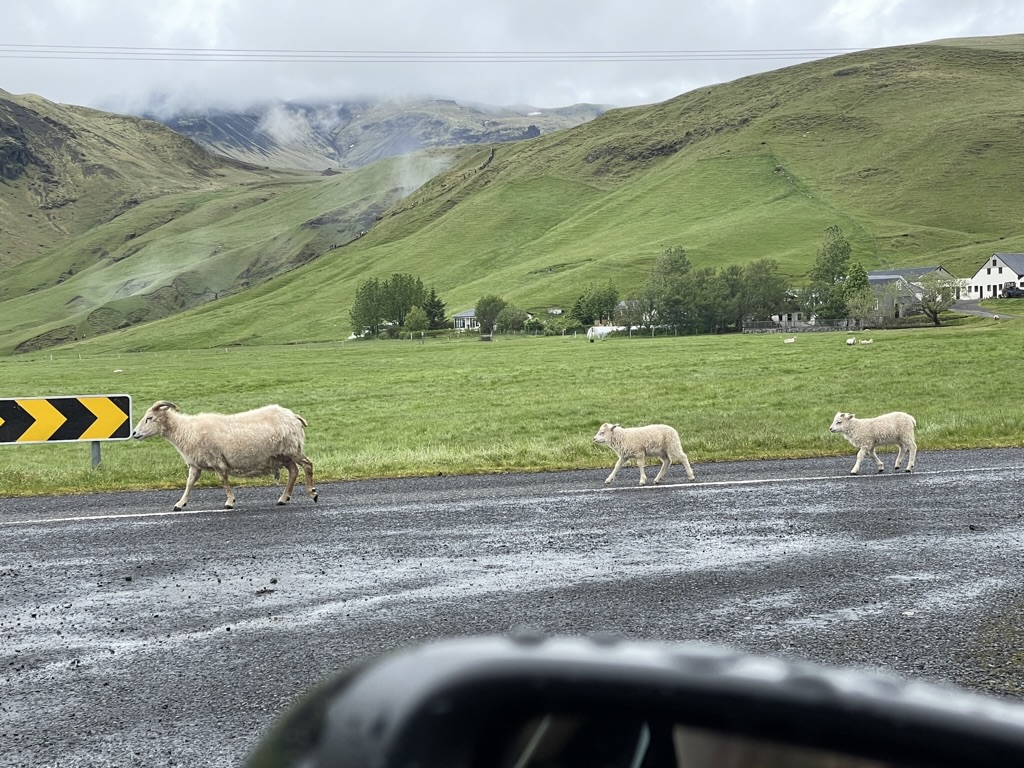 We pressed onward to Dyrhólaey Nature Reserve and got an aerial view of Iceland's famous black sand beaches.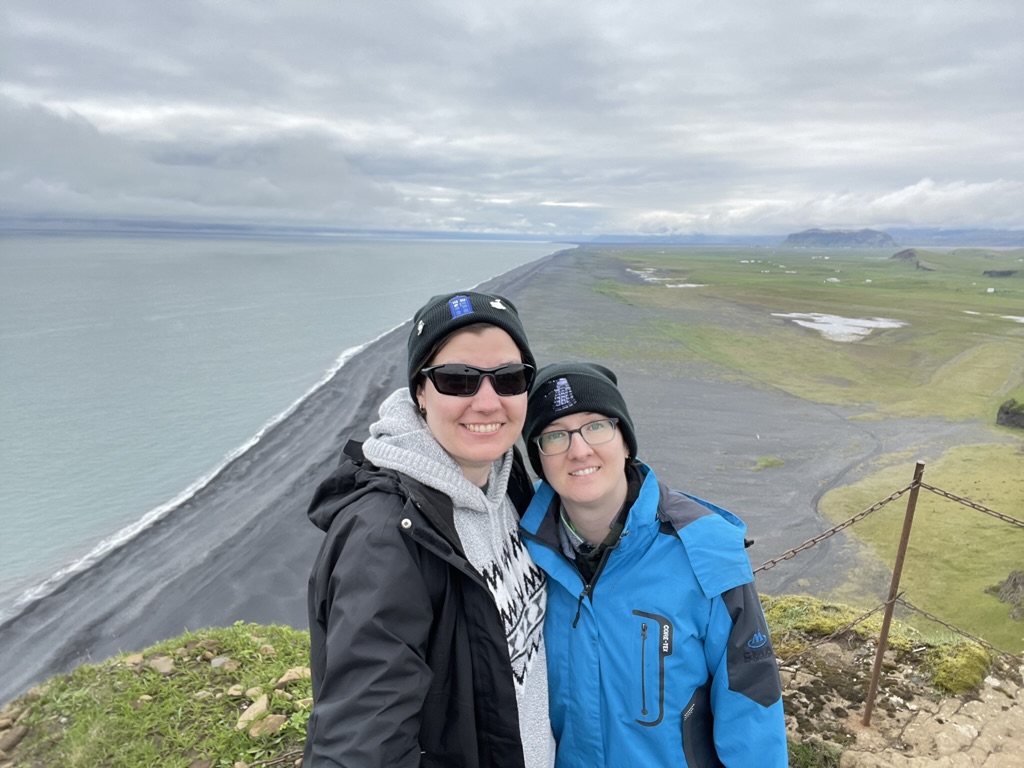 We also got a look at the Dyrhólaey sea arch.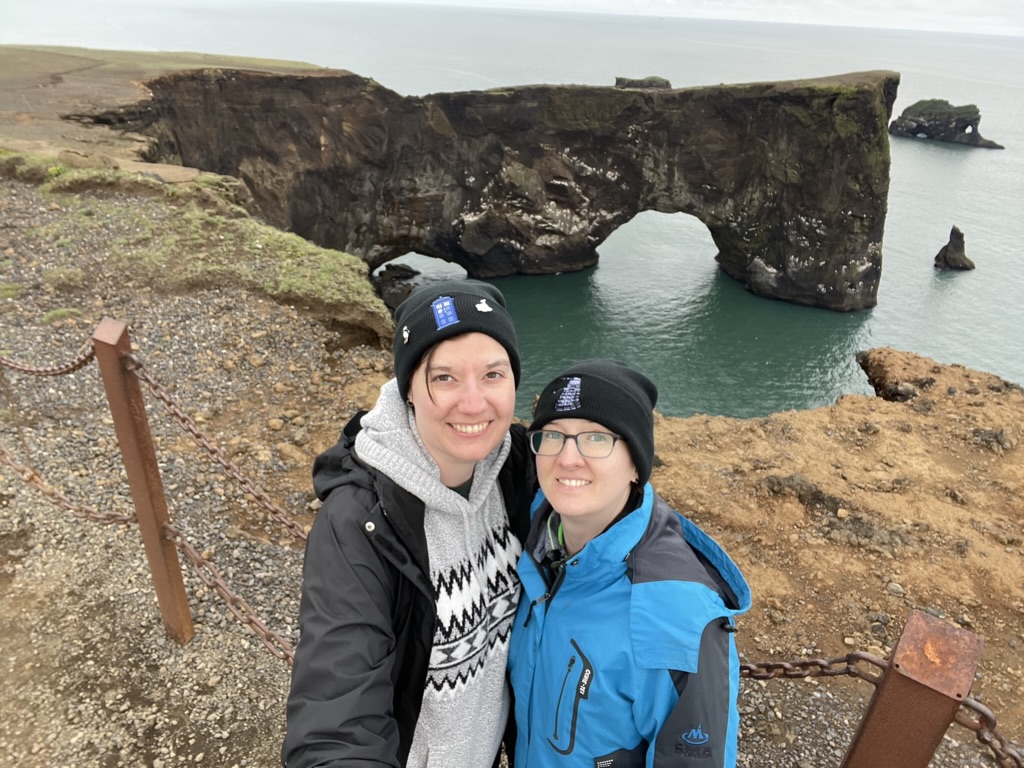 Our final sightseeing stop of the day was Reynisfjara, one of the most photogenic beaches in the world. There are stunning basalt columns, worn somewhat smooth by all the hands scrabbling to climb them.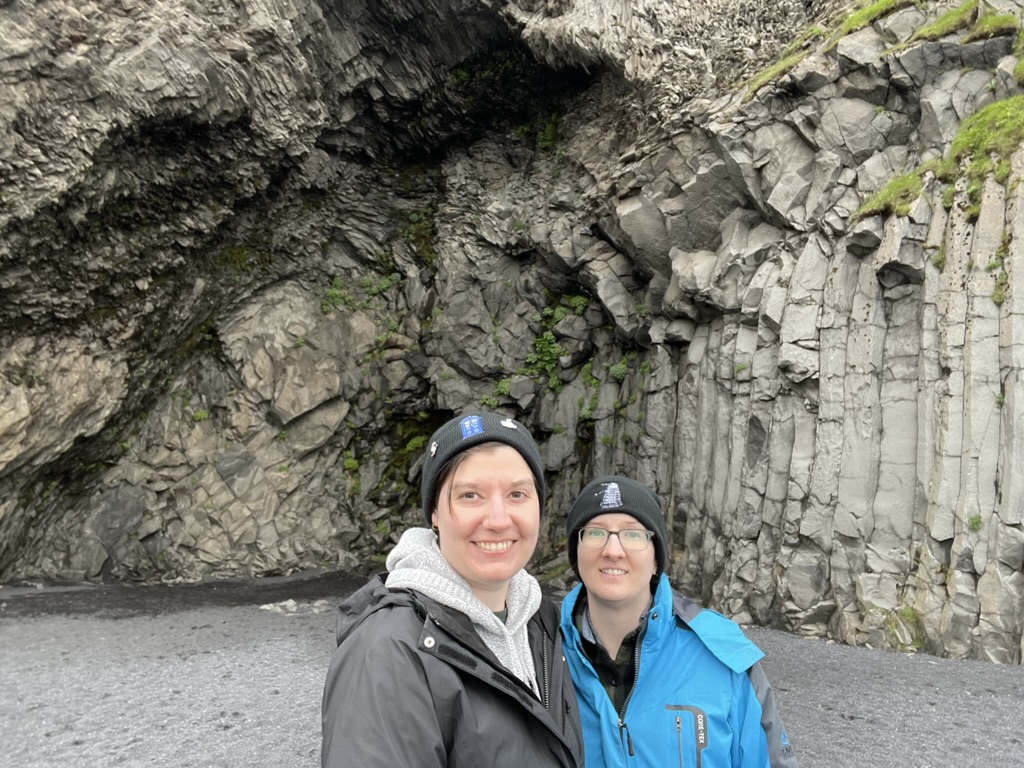 More things to climb!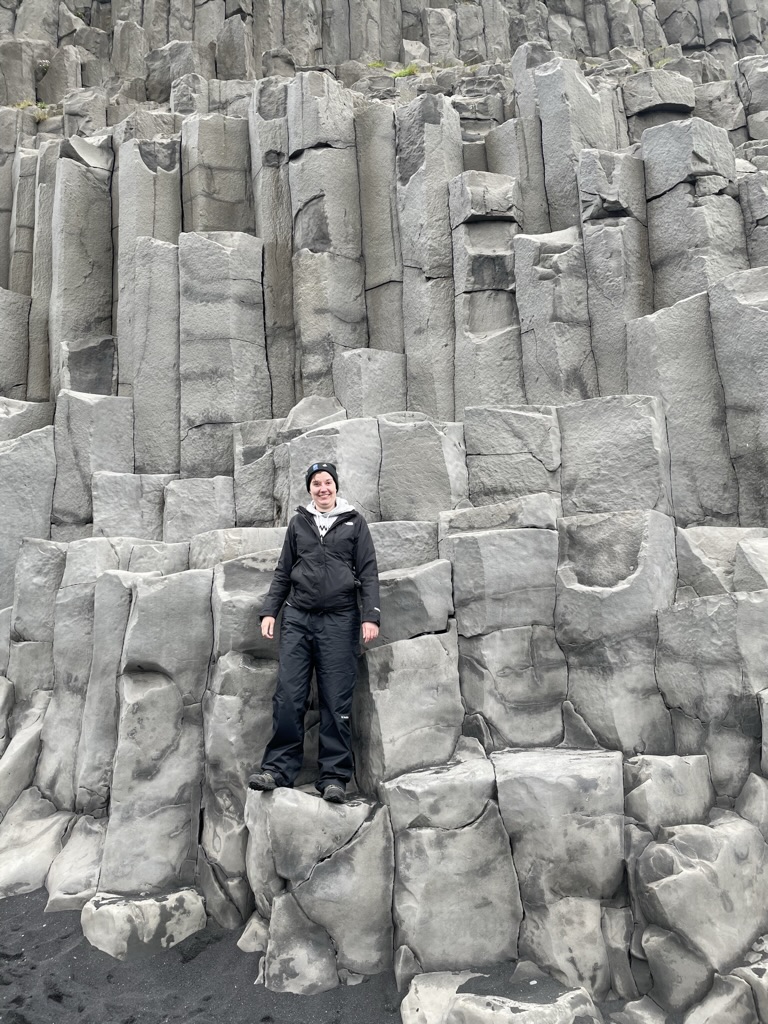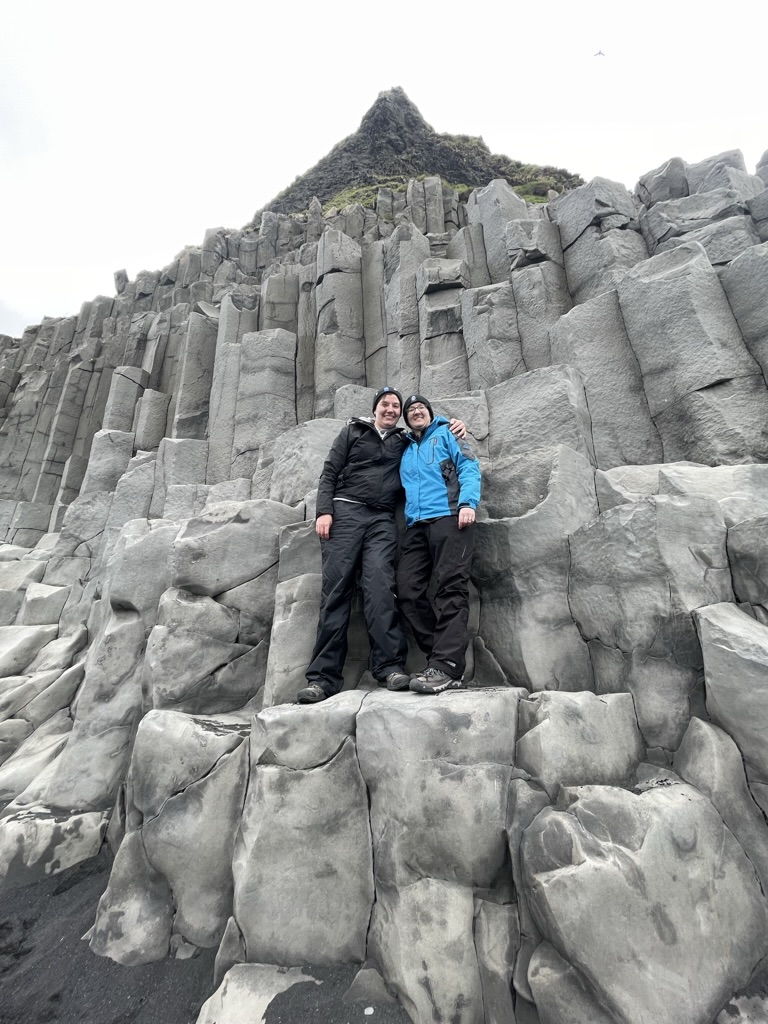 The beach is beautiful, but visitors need to be aware of "sneaker waves," unusually large waves that appear without warning.
I'm glad we stopped here because it was like a geological playground for Trish to indulge her love of climbing things.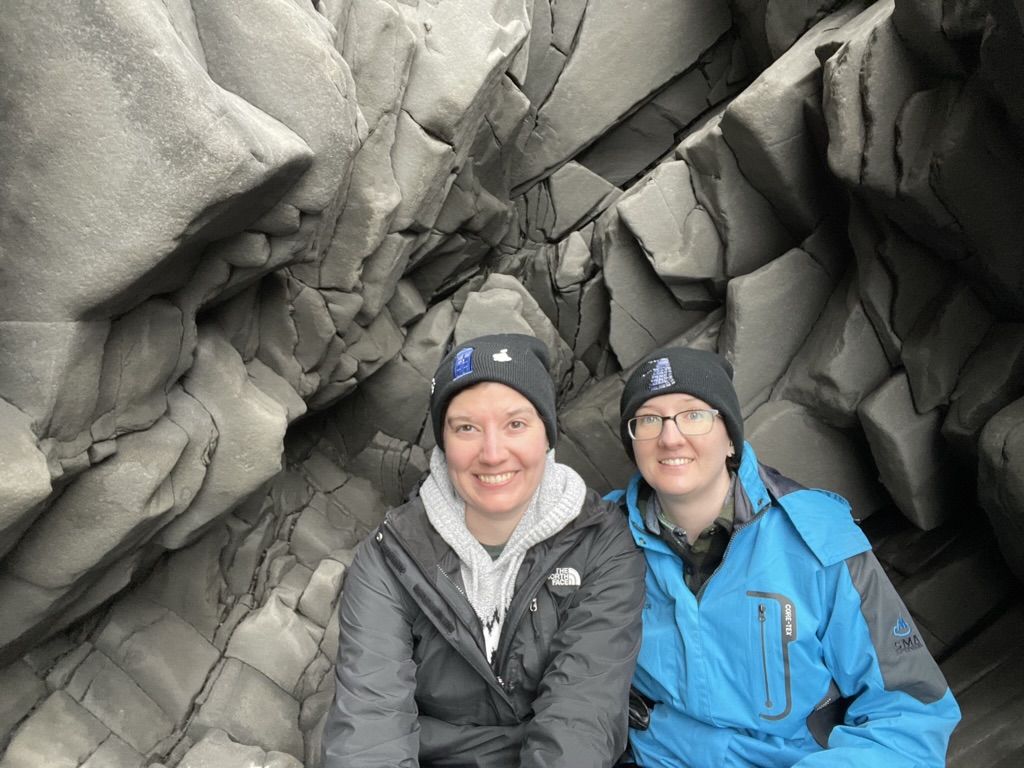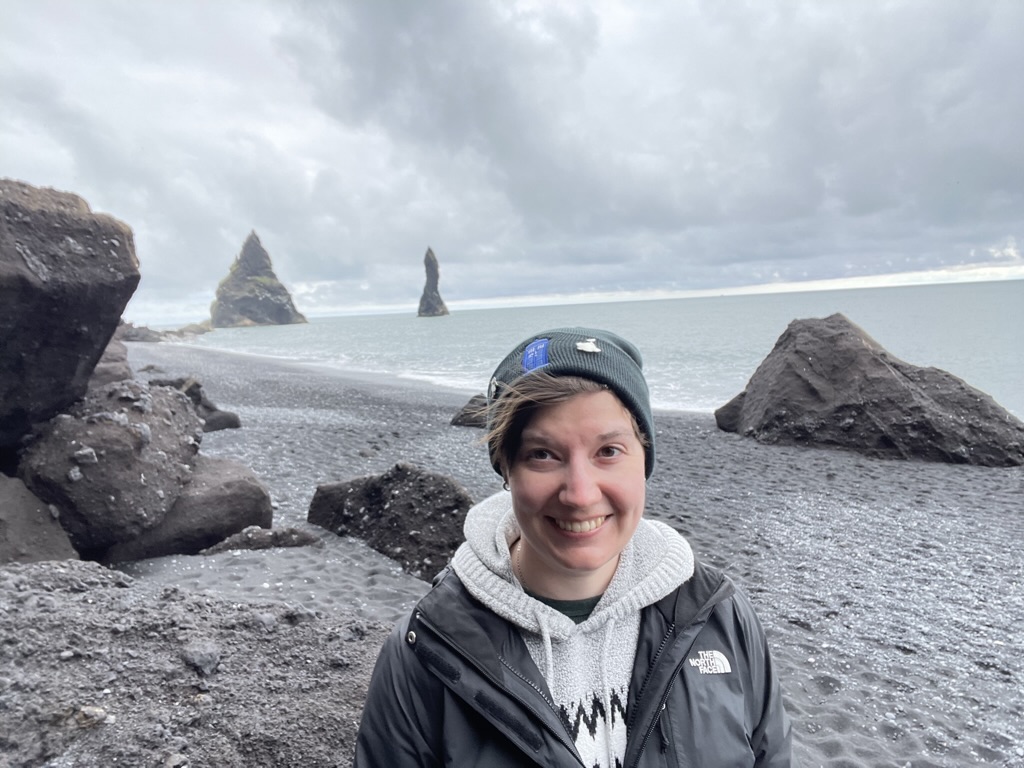 After LOTS of hiking (Trish broke 20,000 steps – either due to the climbing or her short legs), we checked into our hotel in Vik, Hotel Kría. We'll spend two nights here.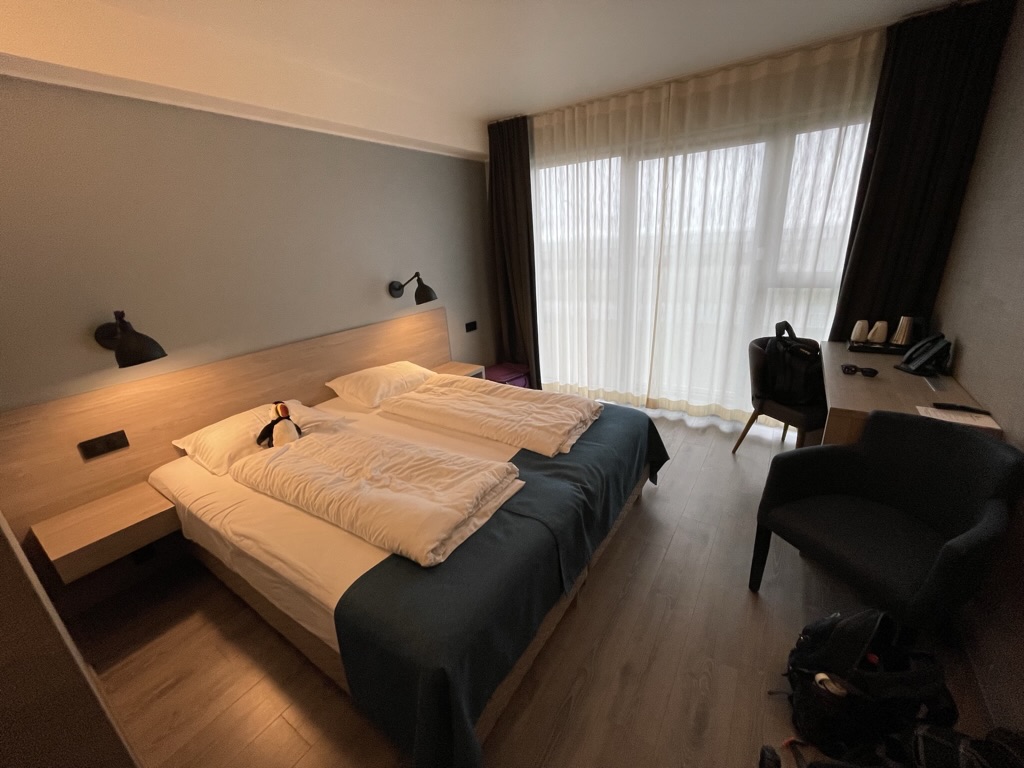 Before we lost steam, we changed out of our damp clothes and went to Smiðjan Brugghús, for dinner and Icelandic beer (we earned it!).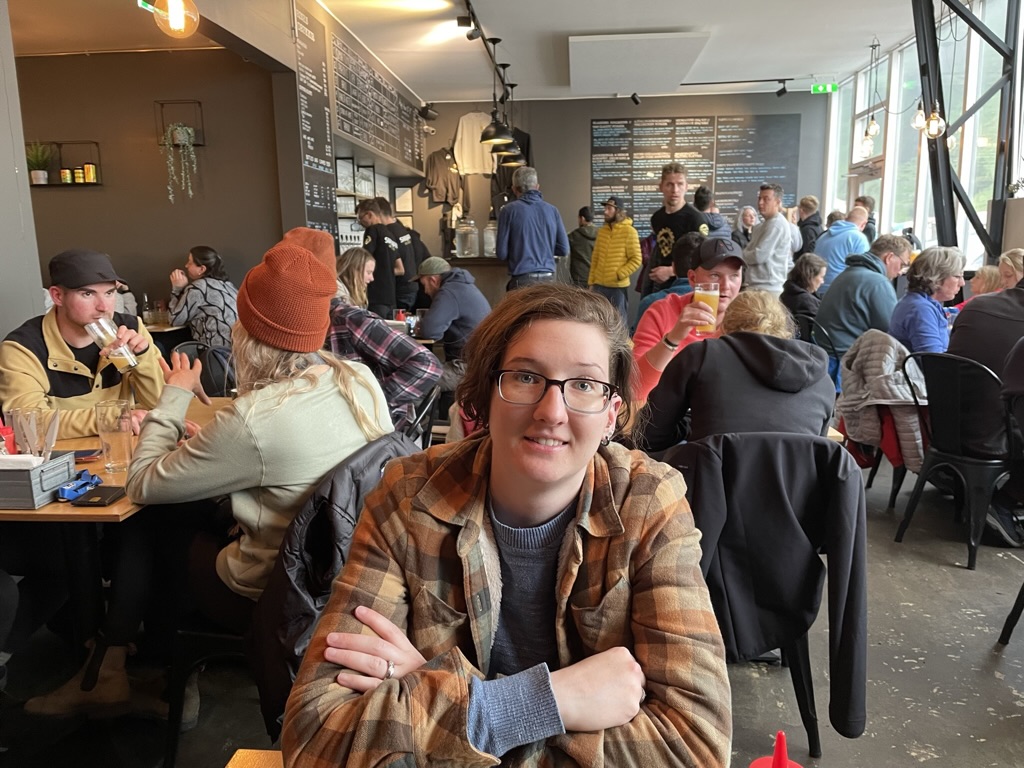 They have 10 Icelandic beers on tap and offer tasting flights. Unfortunately, they were out of a few, so there were 7 total to sample.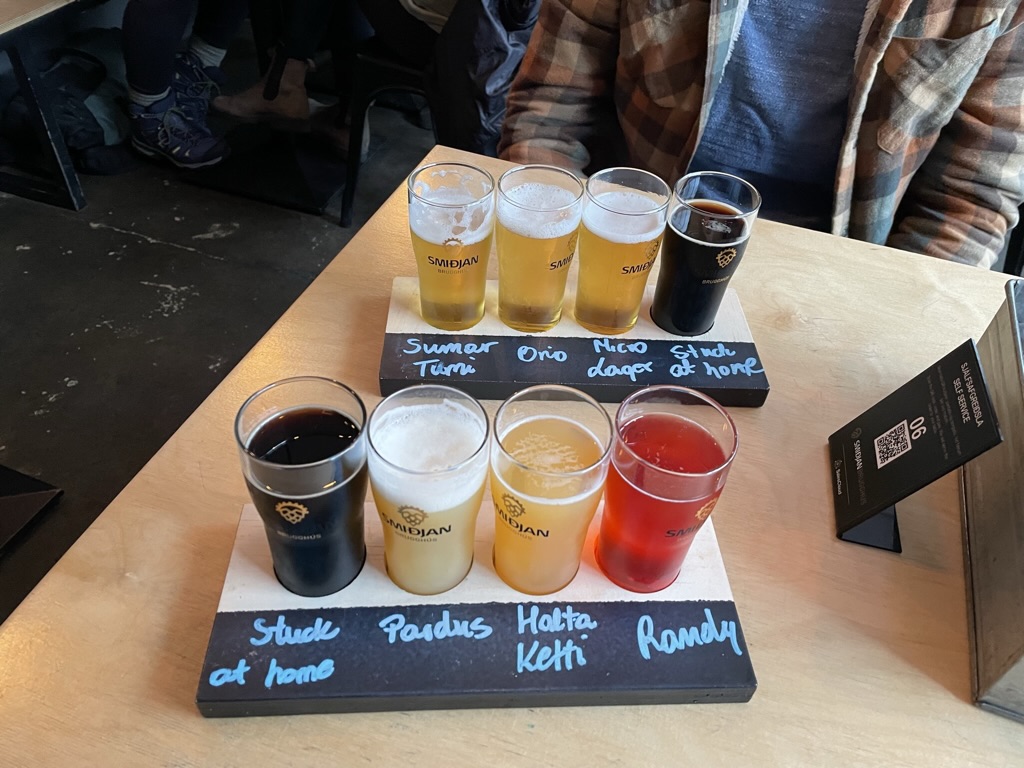 The darkest beer they had available was the "Stuck at Home" Stout, so we got two of those.
Here are my rankings/notes:
Stuck at Home – Stout – coffee grounds
Micro Lager – Gæðingur – hint of bitterness, kind of like root beer
Brio – Lager – a lot like Sapporo
Paradus – IPA – spritz, citrusy, milky/creamy texture/finish, surprisingly pleasant
Summer Tumi – IPA – more malty than hoppy
Haltá ketti – lemony
Randy – Böl – fruity, like berry cider (not what I'm looking for in a beer)
Dinner was appropriately hearty. Trish was really into this Chicken and Waffle preparation and the BBQ sauce on the ribs was made with Stuck at Home.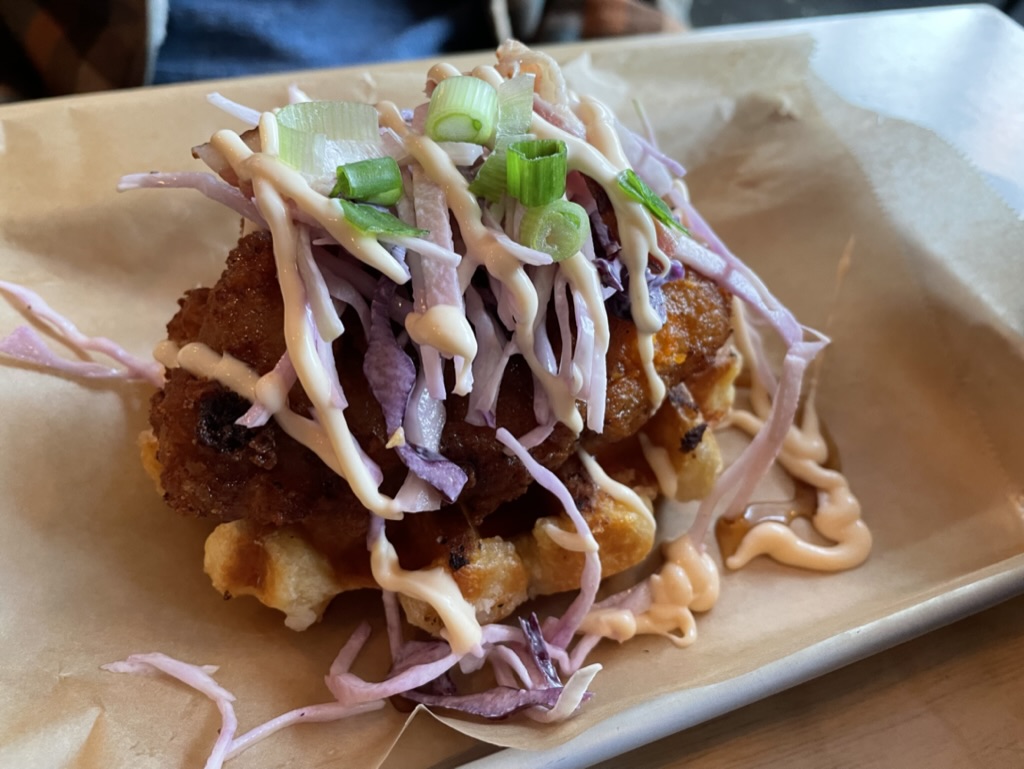 After dinner, we walked back to the hotel and collapsed into bed.