June 3: Vik
This morning we had breakfast in the hotel. So far, all the hotel breakfasts have been pretty similar. There are breads, skyr & granola/cereal, meats & cheeses, fruit, and eggs, bacon, and waffles. The fish liver oil migrates around. At the Frost and Fire Boutique Hotel it was next to the coffee. At Hotel Vestmannaeyjar it was next to the skyr. Today, it was above the meat & cheese. Maybe no one knows what you're supposed to put it on or in…
Most mornings I've had bread and skyr, but this morning I decided to try the hot dishes which were very tasty.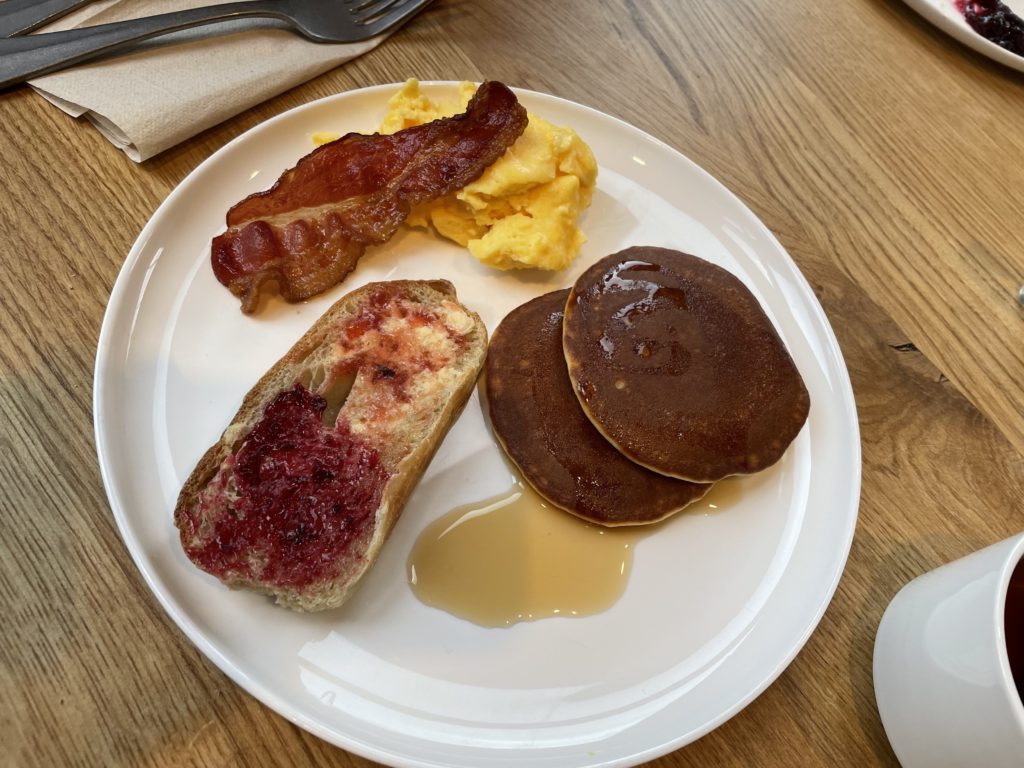 After breakfast, we were supposed to go paragliding. The weather didn't look exactly delightful, but they didn't call to cancel, so we went to the meeting place. No one was there! It turned out there had been a mix-up and our reservation was accidentally marked as canceled by us. It was a moot point because flights were indeed canceled for the day, but that's why they hadn't called us.
The tour guide was very apologetic and asked if we'd be around tomorrow because they were planning to do flights around Seljalandsfoss (which they rarely do). We told him we had to be somewhere at 4 PM the next day. He said that should be plenty of time but, to play it safe, he said we could start half an hour earlier than they normally do. Fingers crossed the weather holds!
That left us with almost a whole day of leisure. Since we were already up and dressed, we decided to return to Dyrhólaey Nature Reserve to do some bird watching.
We did get to see puffins! And actually, they were closer than we saw on the boat tour. Puffins prefer cloudy/rainy weather, so more were out. I packed binoculars, which gave us pretty good views of their ungainly flapping and hopping. Puffins are very graceful in the water, but on land and in the air, they are not exactly ballerinas.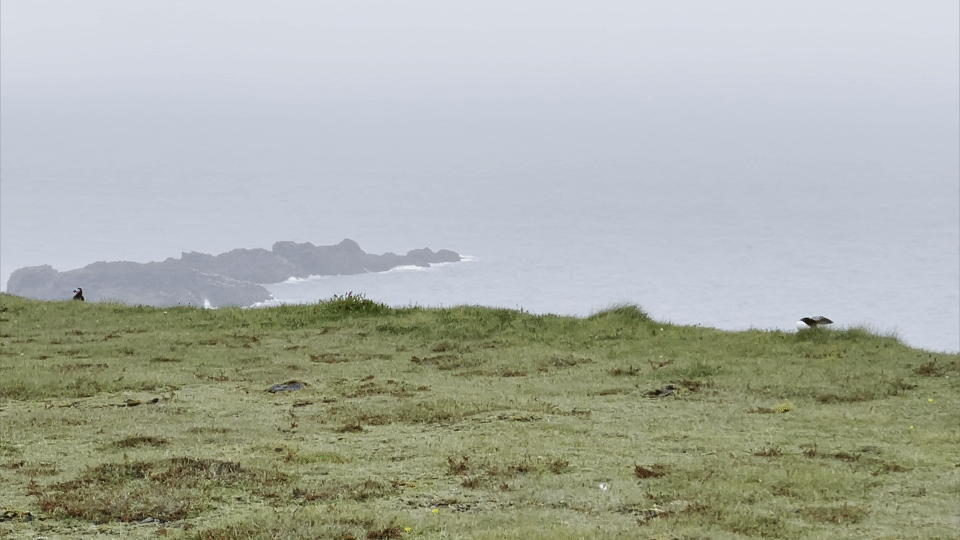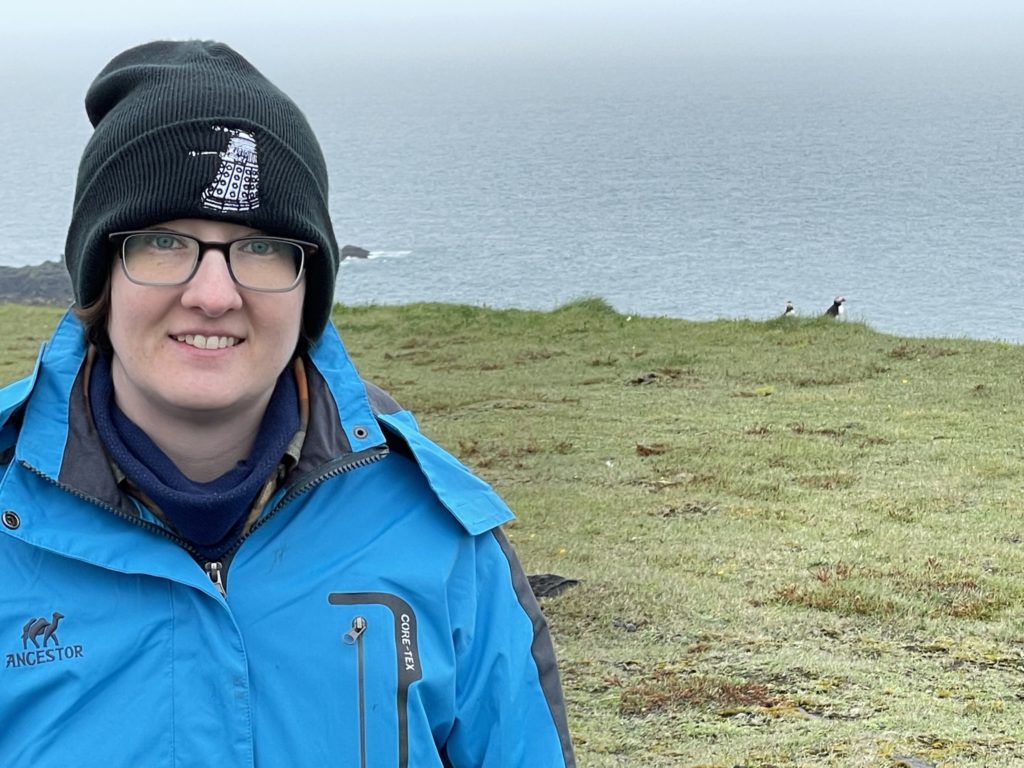 After puffin-watching, we took one of the paraglide guide's recommendations for what to do today and stopped at a cafe that's been built inside an American school bus. It's Skool Beans!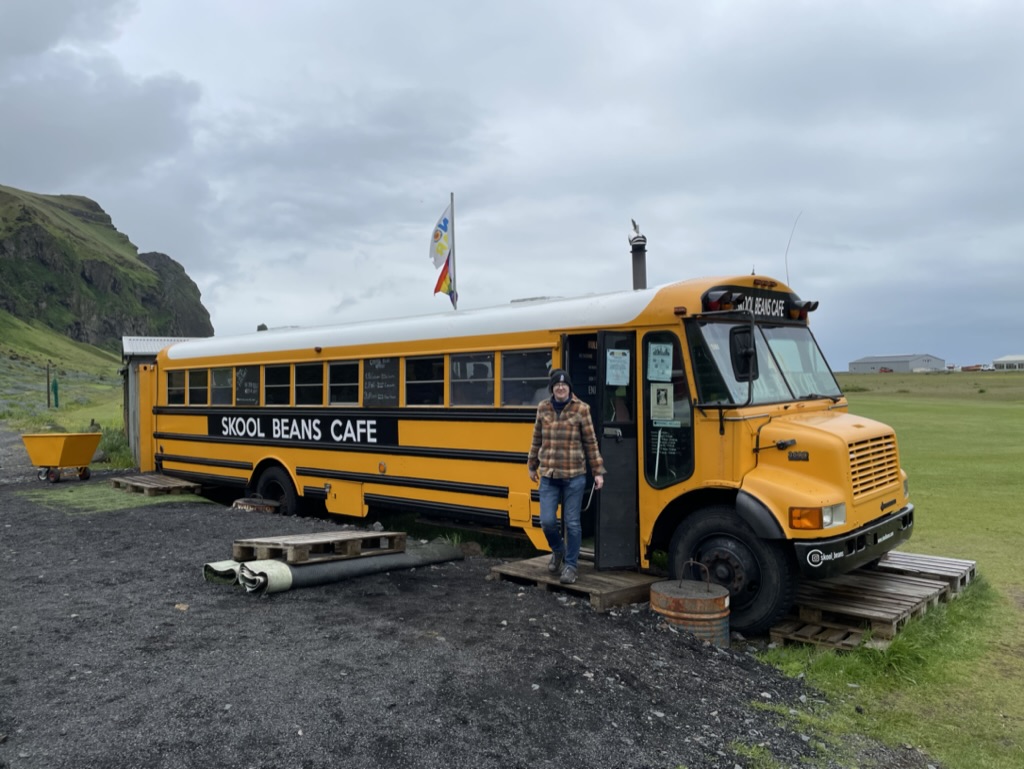 There's even a little fireplace inside!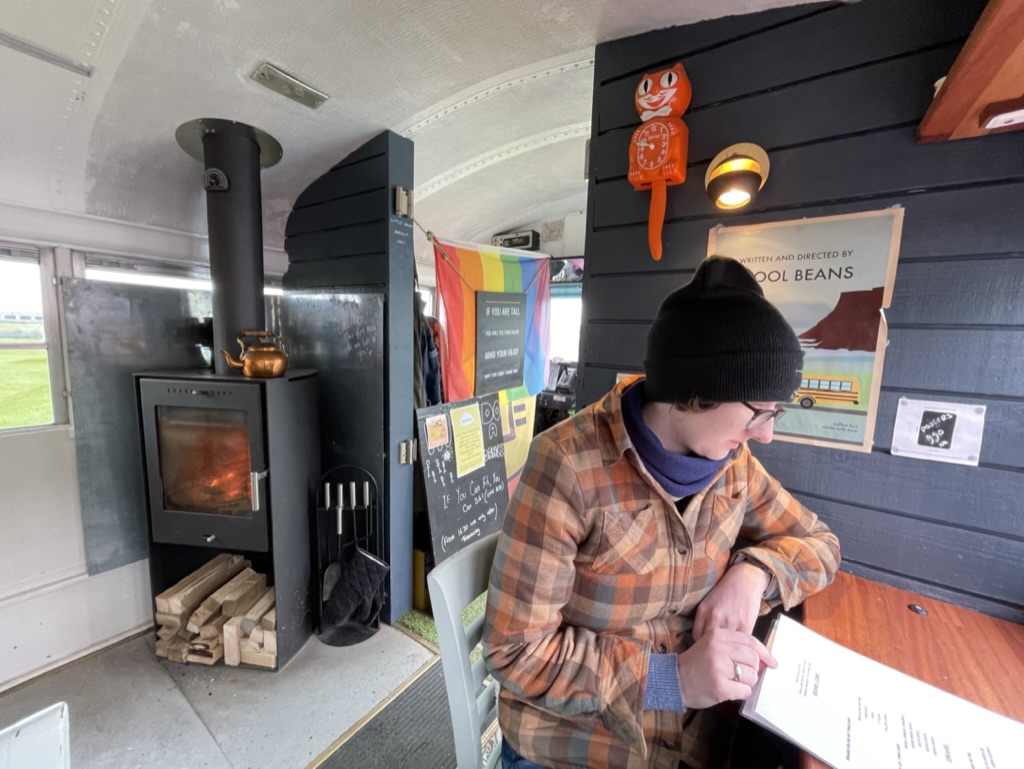 The menu of house-roasted coffees, artisanal teas, and decadent hot chocolate creations punched way above its weight.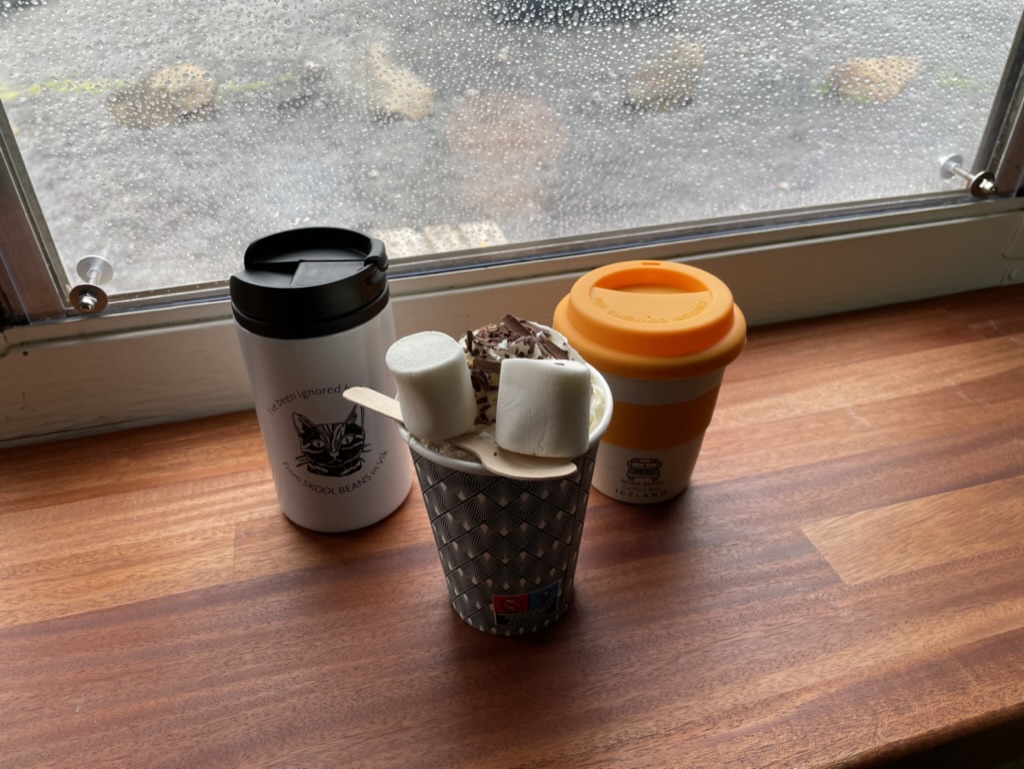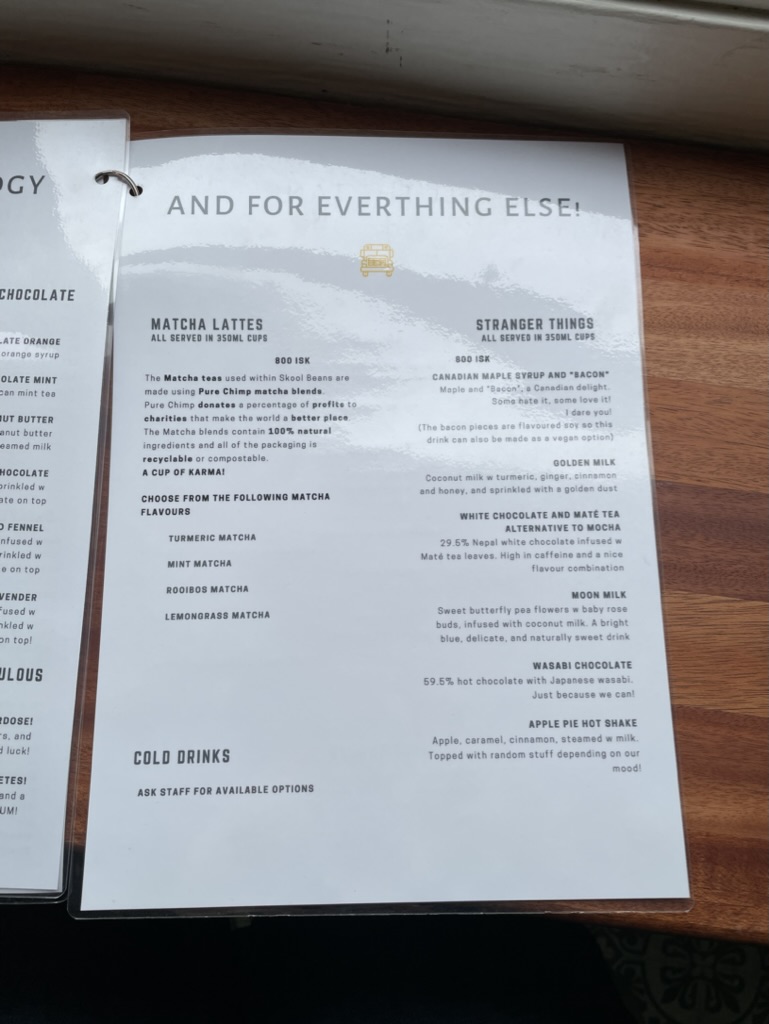 Sadly, Jeffrey, the resident cafe-cat, was at home in a cone of shame after getting into a fight with a neighborhood bully.
We spent the afternoon relaxing at the hotel. We tried on some hand-knitted Icelandic sweaters but haven't found the ones that make our hearts sing.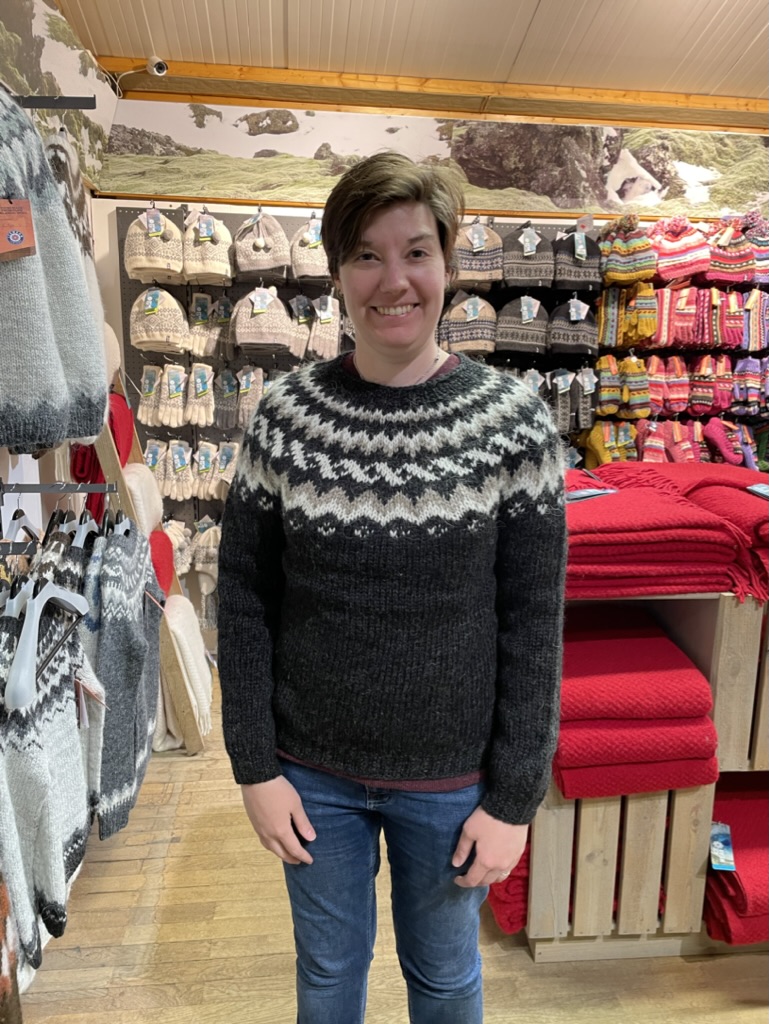 This evening, we went to The Icelandic Lava Show. This is the Land of Fire and Ice, but the ice is a lot easier to find reliably than the fire. To solve that issue, an enterprising descendant (great-grandson) of a survivor of the 1918 eruption of the volcano Katla, has created lava indoors! They melt stone from the 1918 eruption (found in abundance in the black sands around here) and release it into a trough.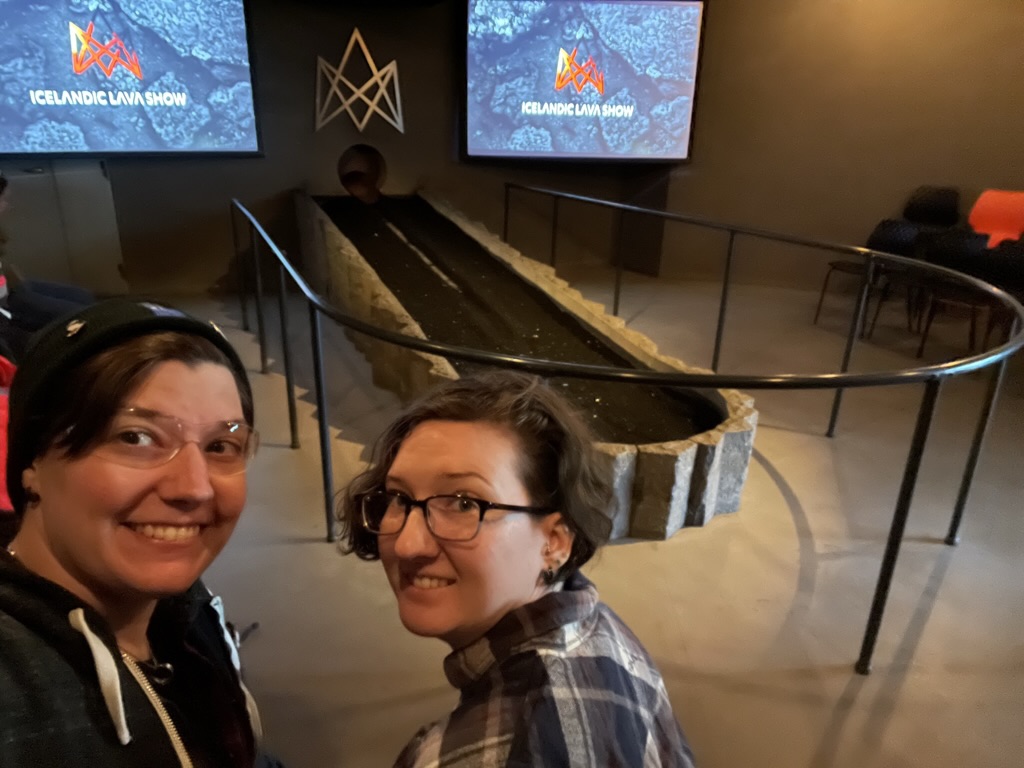 Originally, I dismissed this as a gimmicky experience, but then I read a review that called it an unexpected tour highlight, and I have to concur. The presentation was very informative about why Iceland is so seismically active, what the evacuation plans are in Vik when Katla erupts (it's 50 years overdue), and about the different types of lava and the types of rocks/formations left behind when it cools. Plus, it's neat to see really, really hot rock!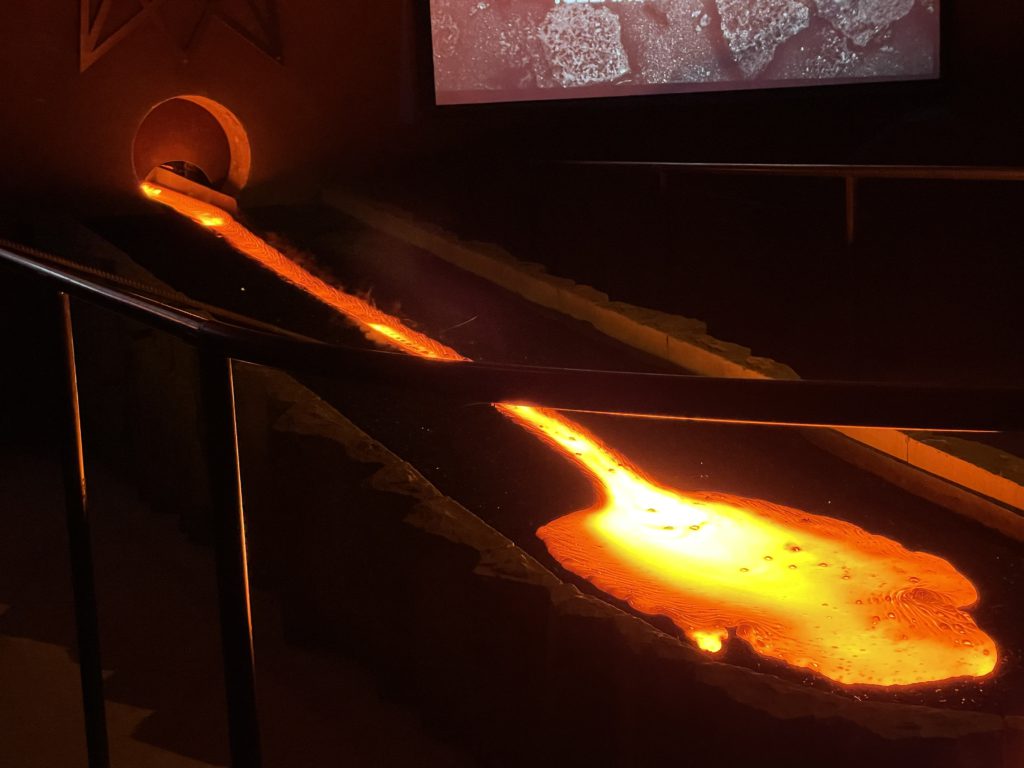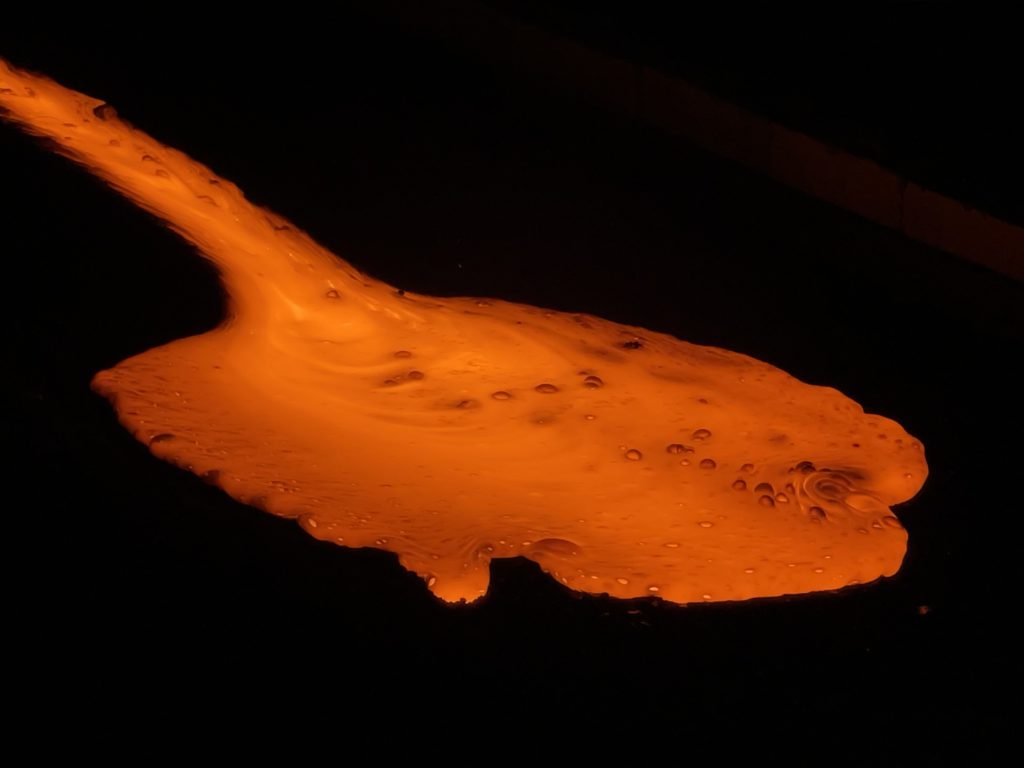 I splurged and got us backstage tickets to see behind the scenes at the furnace.
They have to replace the crucible after 40 shows. Right now (shoulder season) that means about every 3 weeks. In peak season, they have to replace it every 10 days!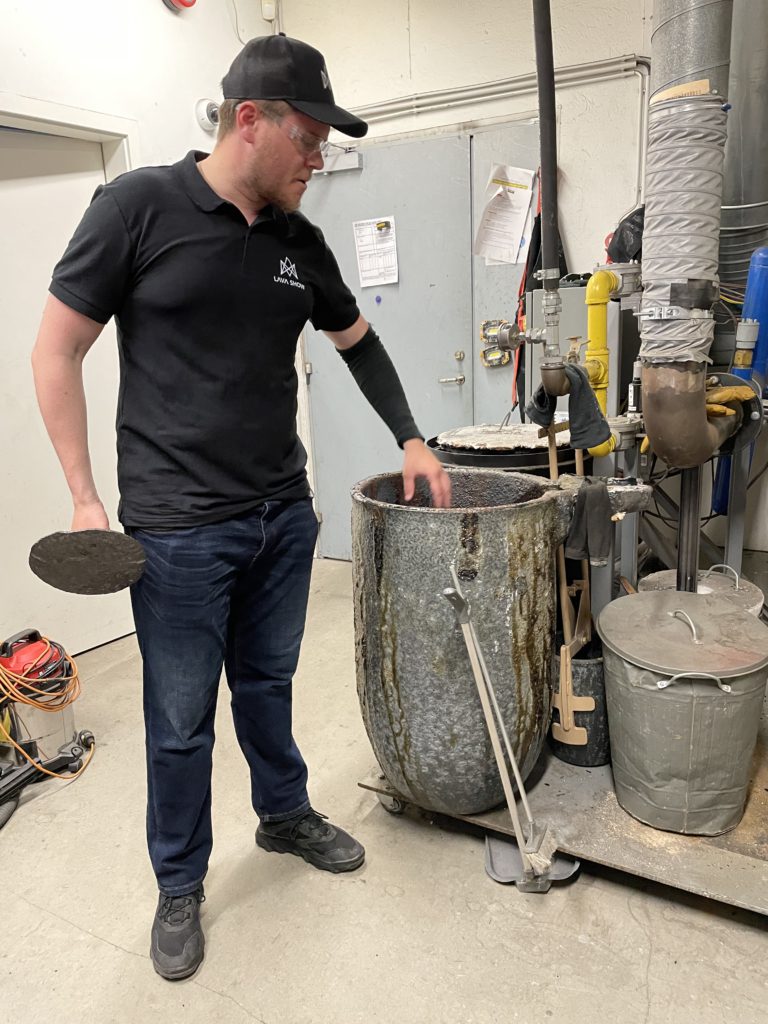 We each got a piece of basalt glass as a souvenir (it's different than obsidian – more fragile).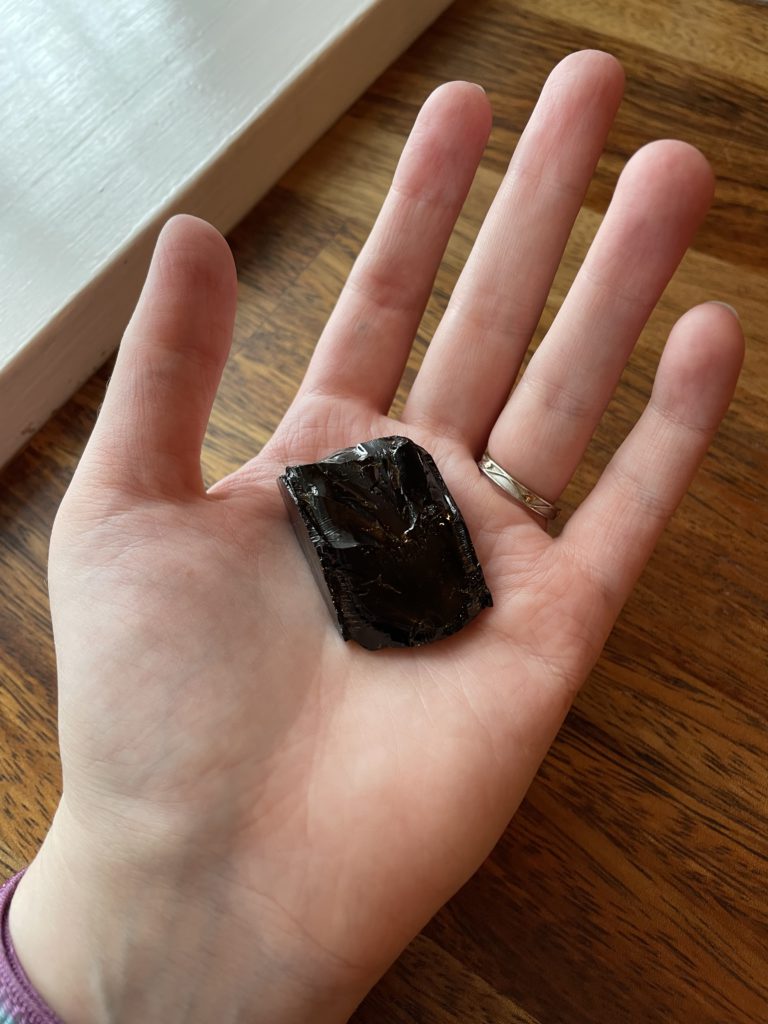 We had dinner at Suður-Vik, another paragliding guide recommendation and a place I had identified in my research. They have an eclectic menu of local dishes, pizza parlor fare, and, incongruously, Thai curry.
We had smoked char, a fried app assortment, and a pizza (the "Númer tvö" with pepperoni, onions, bacon, mushrooms, pineapple, fresh chili, and cream cheese). Dessert was strawberry skyr cheesecake.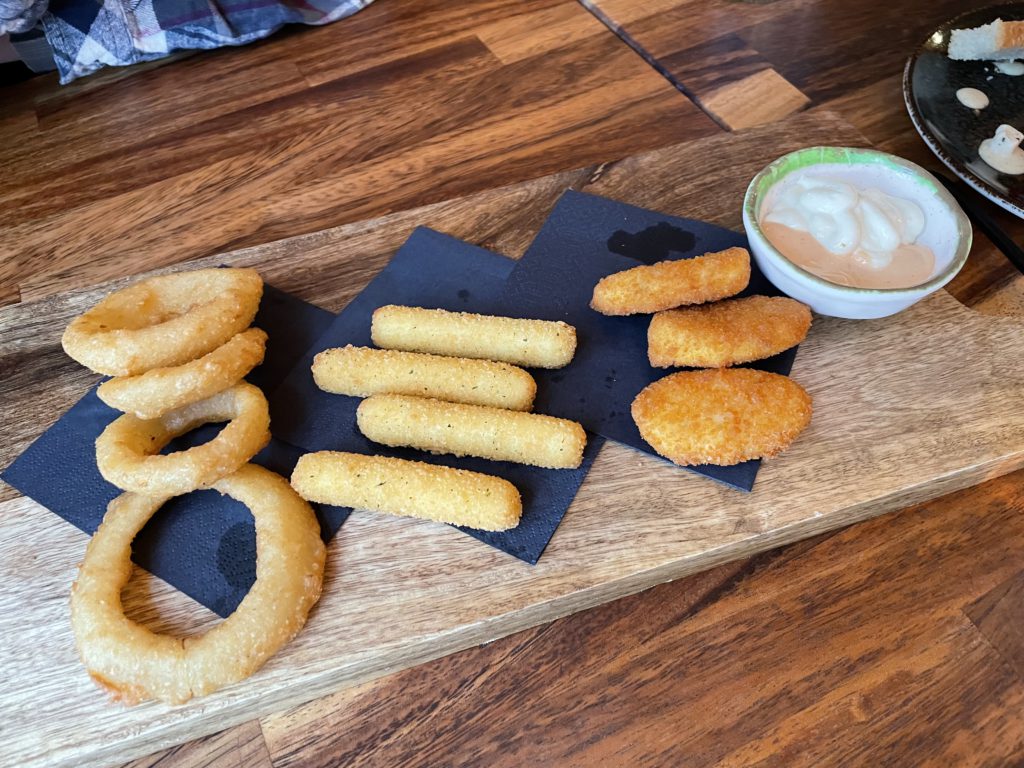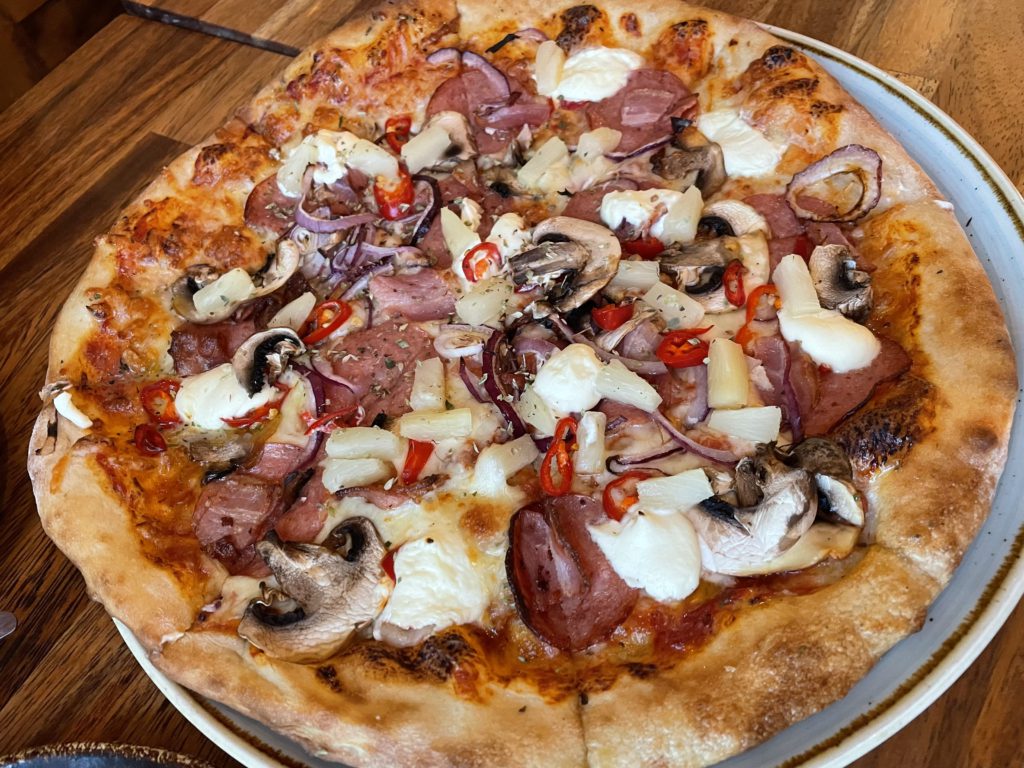 We tried a couple more Icelandic brews. Trish was very taken to discover that her Borg porter was number 7(0f)9.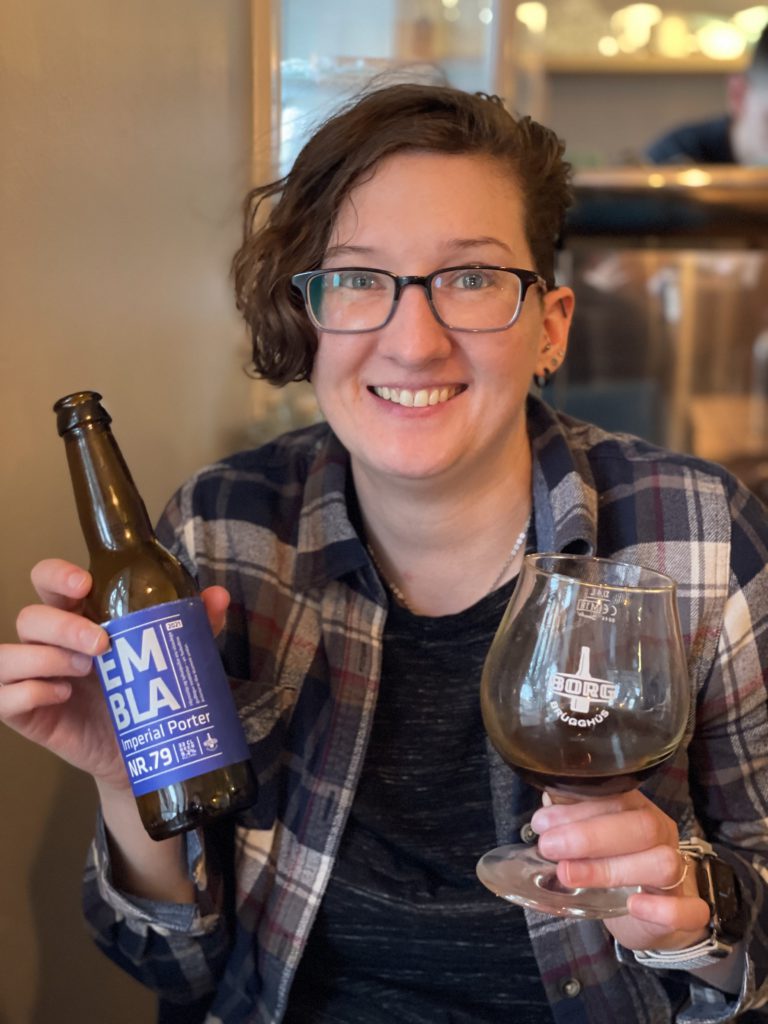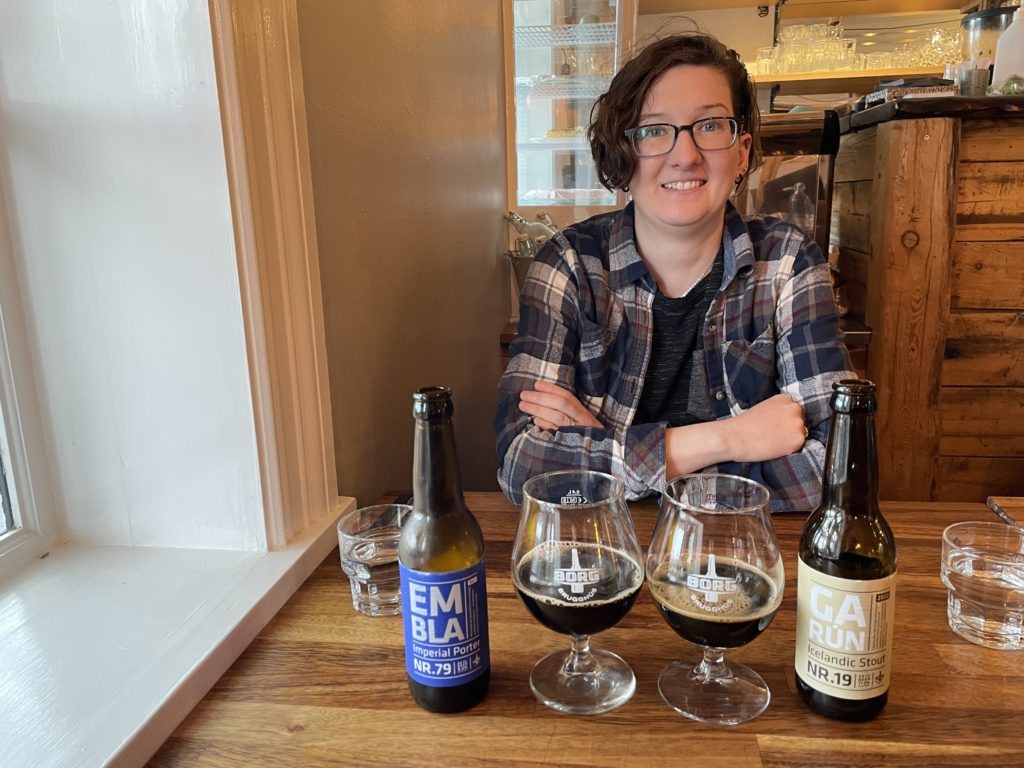 I had the Borg Icelandic Stout. It was very good and dark. but Trish's porter was so complex! It smelled like caramel and tasted like toasted marshmallow. The flavor went on and on.