June 6: Húsavík & 2/3 of The Diamond Circle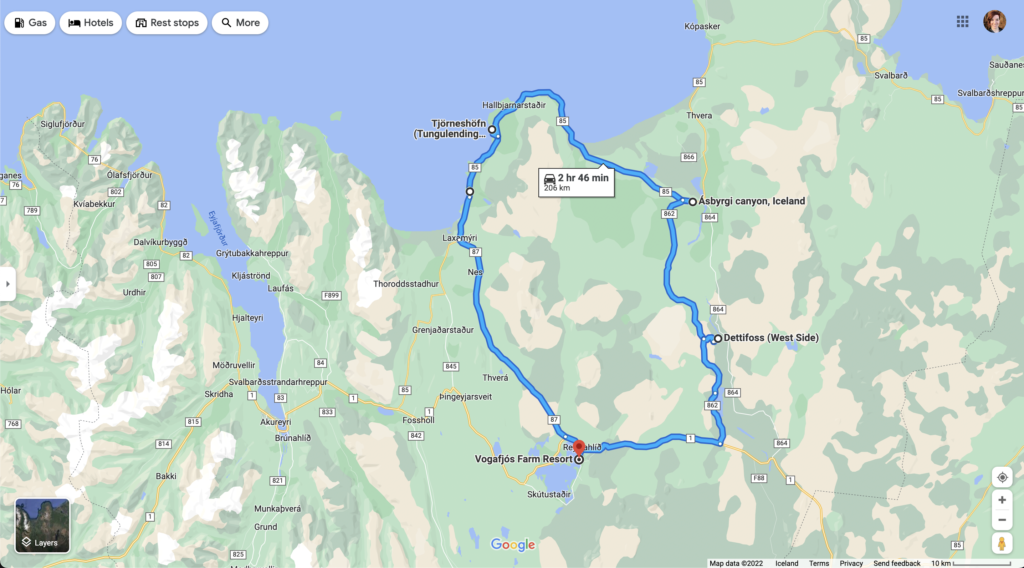 Trish has apparently seen many a cow milked in her day. Last night I thought perhaps I would get up to see the 7:30 AM milking… I did not.
After breakfast, we headed north to Húsavík, the whale-watching capital of Iceland. We were a bit early, so we stopped for gas and to clean the bugs off our windshield. Not every gas station has these, but they mean business!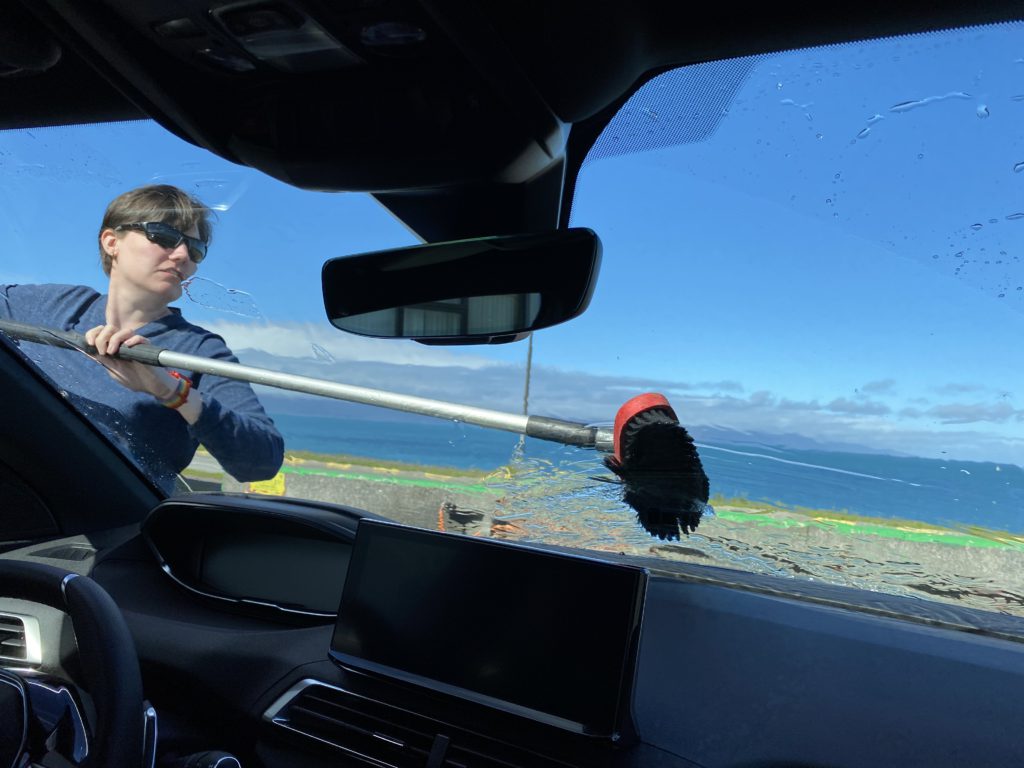 When we checked in for our whale-watching tour, the woman behind the counter warned us the weather hadn't been great that morning, so the tours had been skipping Puffin Island and were adding ponchos in addition to the floatation overalls. However, despite the inauspicious start, the weather cleared up beautifully.
I was also on a mission to get us the best seats in the boat and I strategically positioned us to be first in line (pats self on back).
We got to stop at Puffin Island (the second largest colony of Puffins in Iceland). The puffins were everywhere! They're so ungainly in the air. Their wings are too small for their body so they have to flap them 400 times per minute to fly. Also, their feet kind of stick out to either side like propellers. Underwater, it's a totally different story. They are excellent divers. When our boat approached any floating in our path, they would dive into a wave rather than take flight.
The main event, of course, was a humpback whale who put on quite a show for us. He must have been feeding because he kept surfacing around us for almost an hour.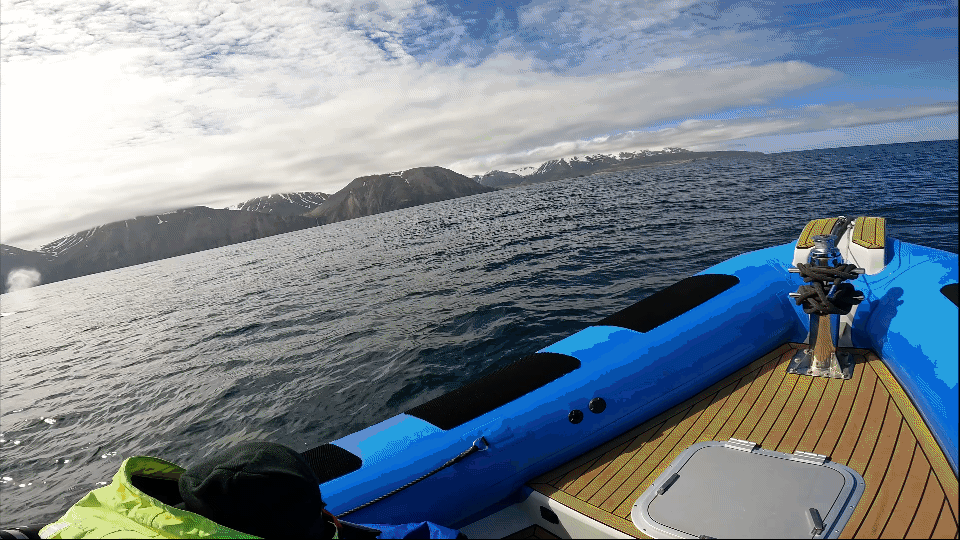 At one point, he even came right up to the boat!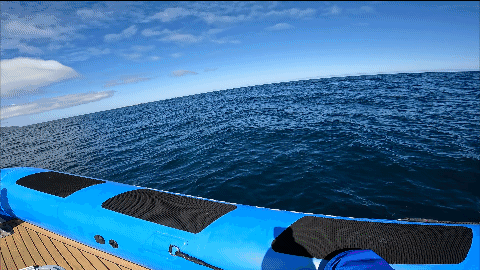 It was so cool how sometimes, when he was close enough to the boat, you could see the white of his fins appear in the depths and predict where he would surface.
Incidentally, I love this head mount for the GoPro so much. It allows me to capture POV video without spending my vacation staring at a screen! My head is the tripod.
It was much colder on the water than on land, so we did not mind the extra layer of poncho. By the time we made it back to land, we were frozen and in search of a hearty, warming lunch. We went to Naustið.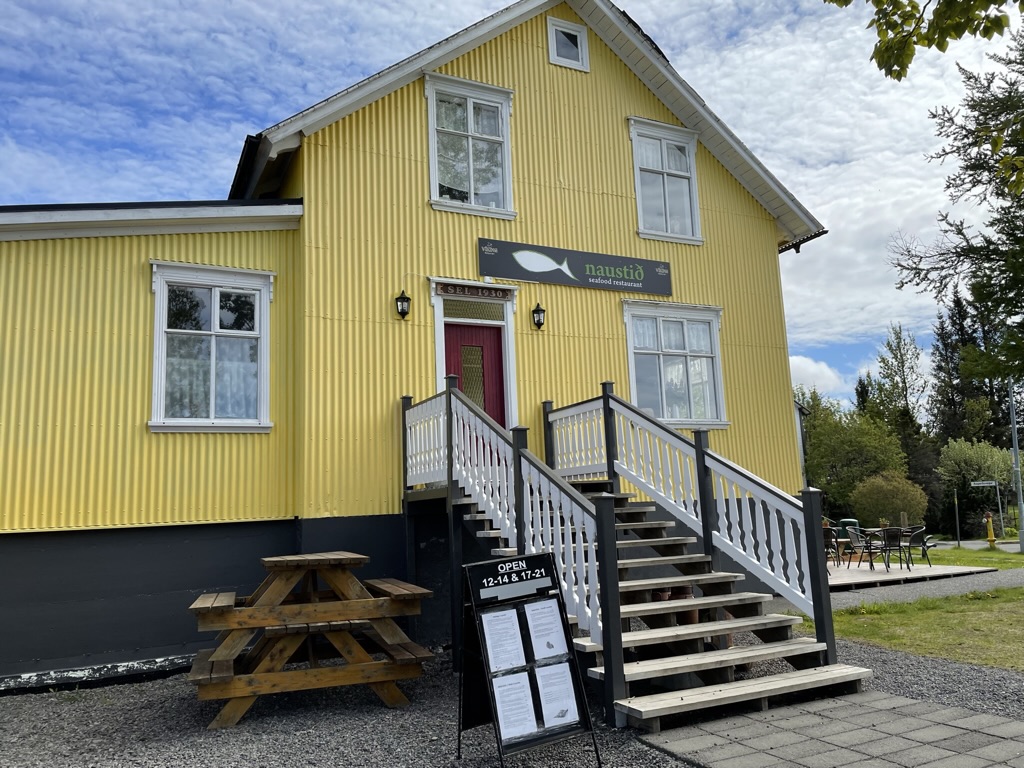 The first thing we both ordered was hot tea. It smelled good (Golden Chai) but also it steamed some feeling back into my face.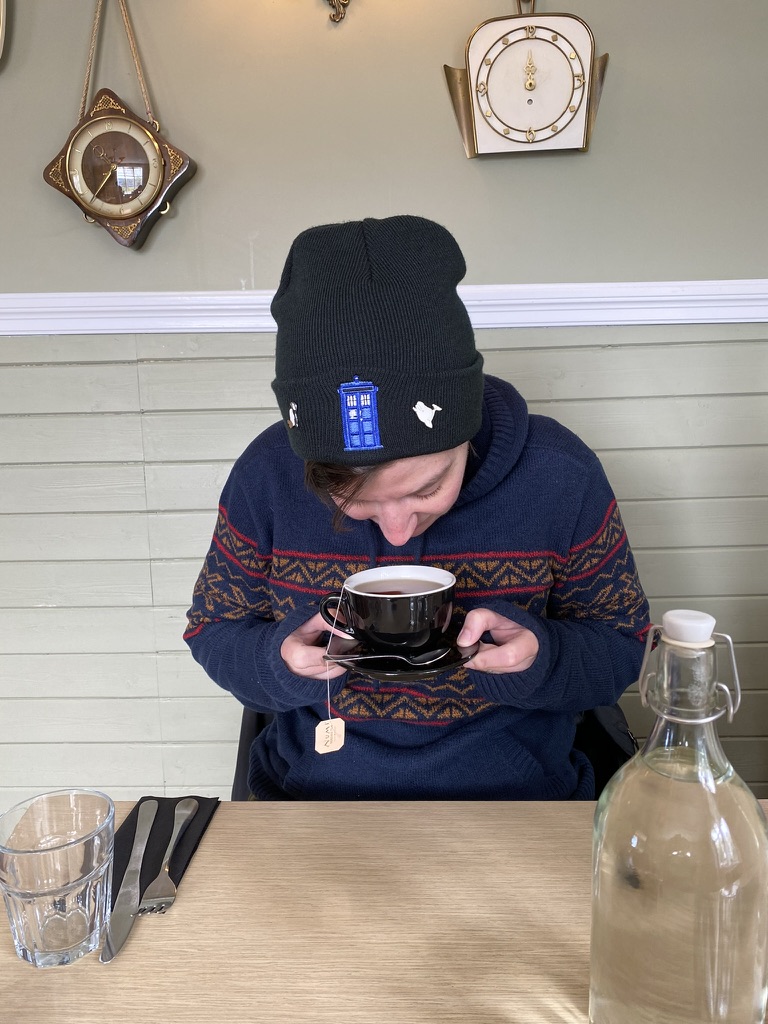 I decided to have Plokkfiskur (fish mash) with potatoes, salad, and more Geysir bread (seriously, I can't get enough of it). Trish had flatbread with grilled vegetables.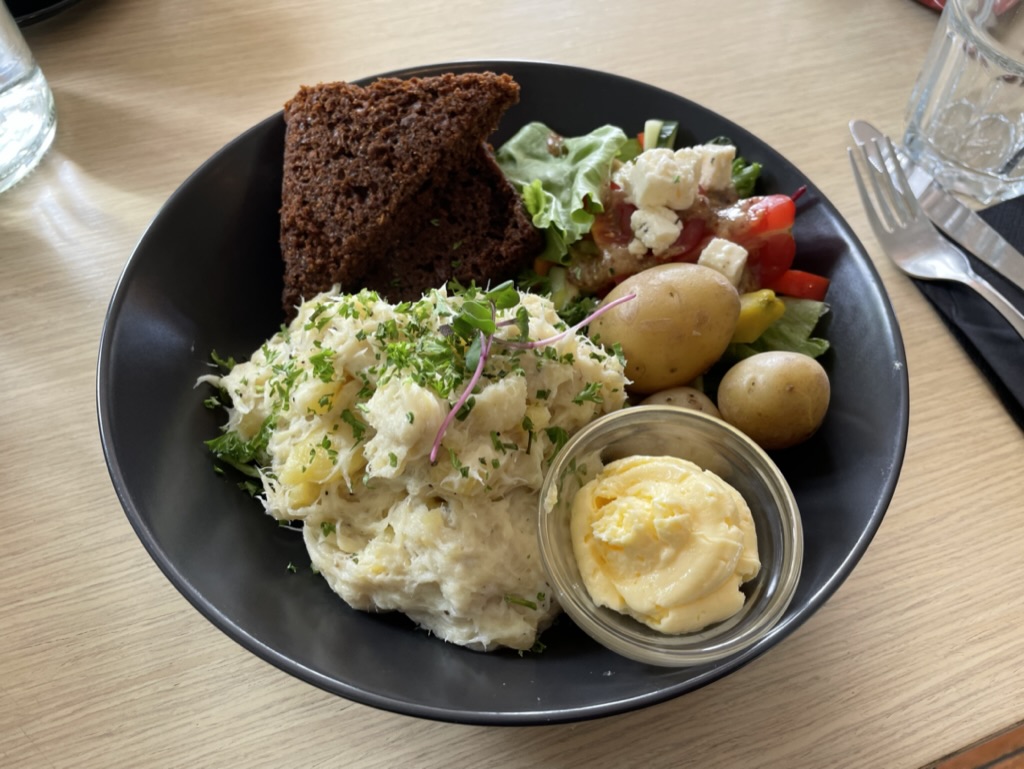 Fortified, we set off for our afternoon hiking adventures. Our first stop was definitely off the beaten path. We continued north from Húsavík about 15 minutes along the Tjörnes peninsula and turned off on a road with a gate you had to open and close. After driving through a field, we reached a steep dirt road down to the sea and Tjörneshöfn Guesthouse.
The reason for the stop was fossils! This peninsula is famous for fossil layers that show the different warm and cold phases during the Tertiary period. I thought we might have to squint to see any fossils but the cliffs are chockablock full of them!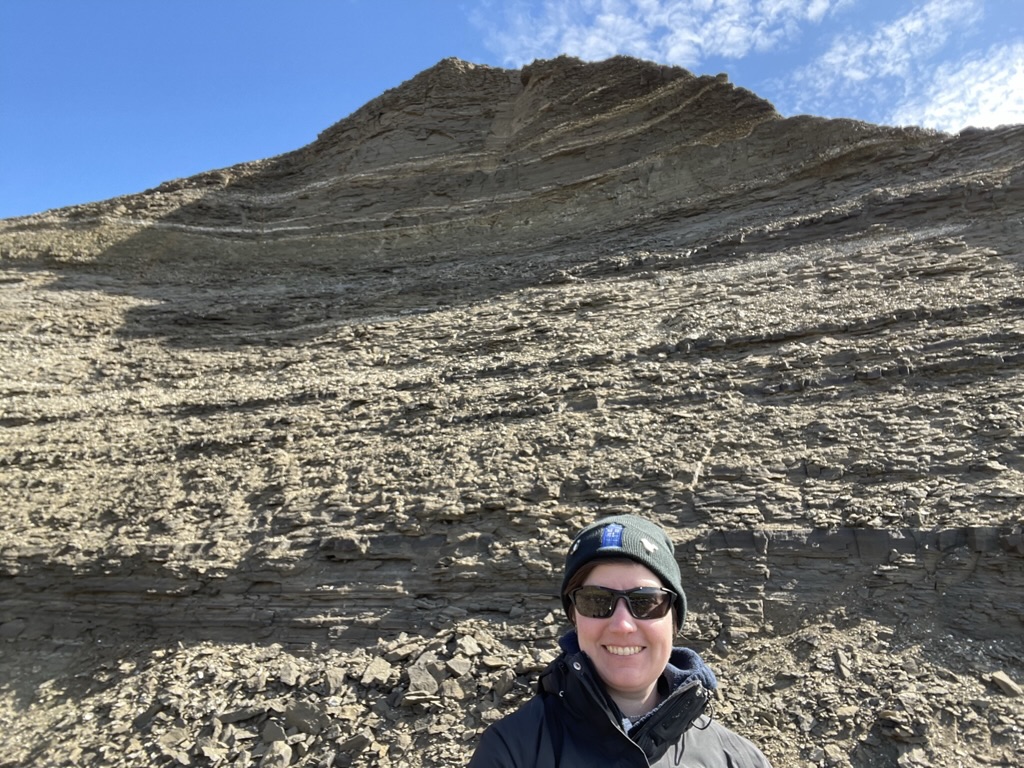 You can't take any with you because the area is protected, but things like this are just lying all over the place.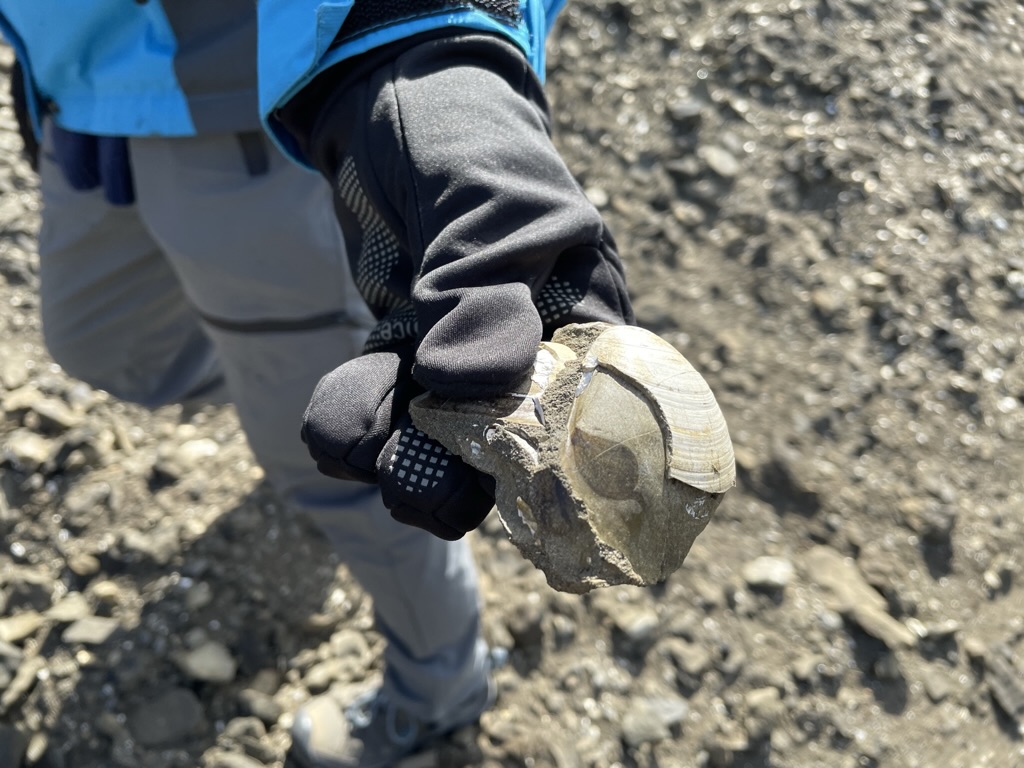 Trish also found local poultry and made friends.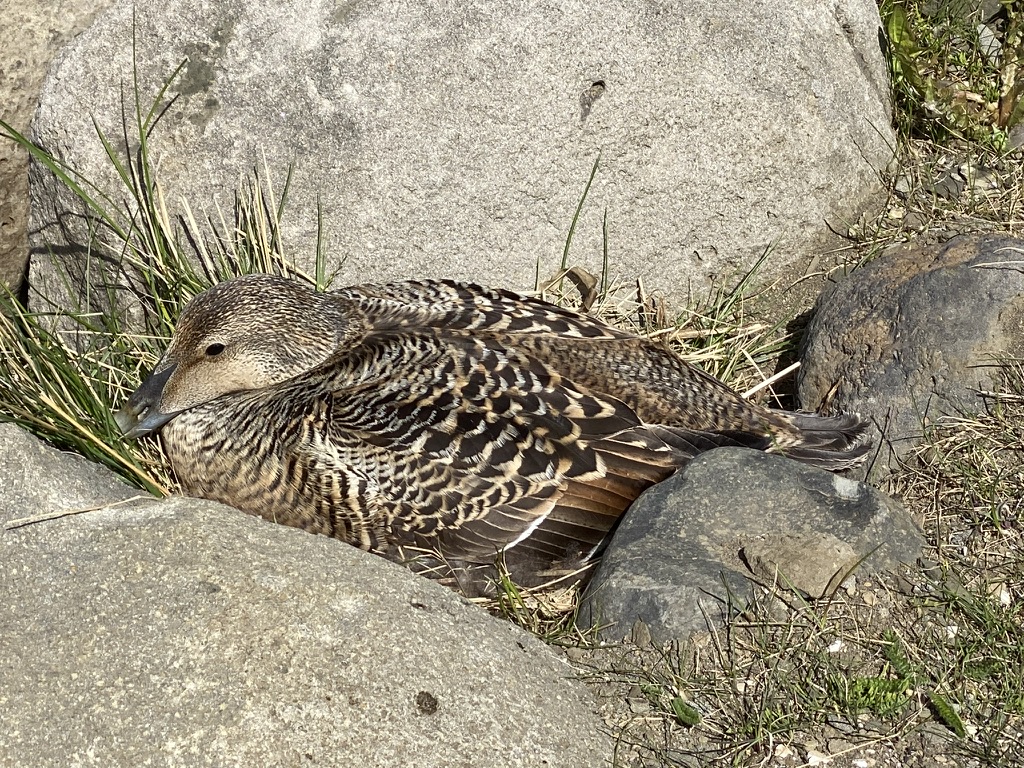 She also spotted some type of golden-colored rodent, but we couldn't get a good picture.
The beach also has a few blocks of soapstone, which isn't found in Iceland. The assumption is it hitched a ride over from Greenland on an iceberg.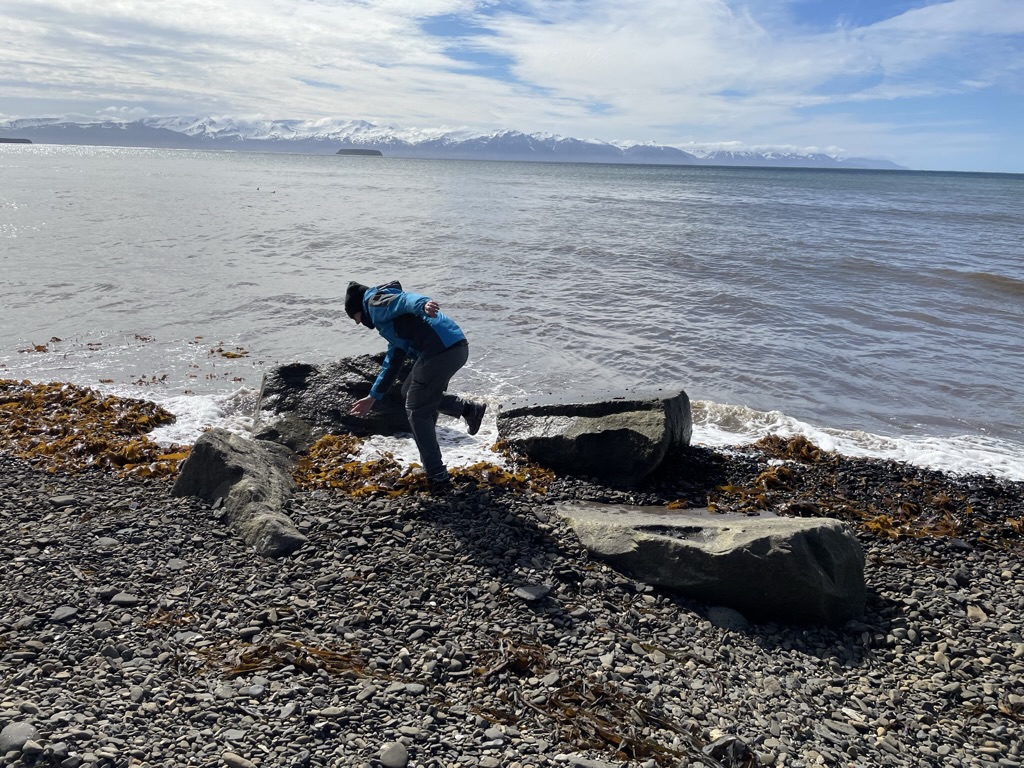 Our next stop was one of the wonders of the Diamond Circle: Ásbyrgi Canyon. It's a horseshoe-shaped canon and legend says it was left by Odin's eight-legged horse, Sleipnir.
We took a pleasant 3.5 km hike around the inside of the hoofprint (it was my kind of hike, we only had to go up about 10 meters and then it was flat!). The path was a very interesting texture. It was a bit springy, like a playground made out of recycled tires.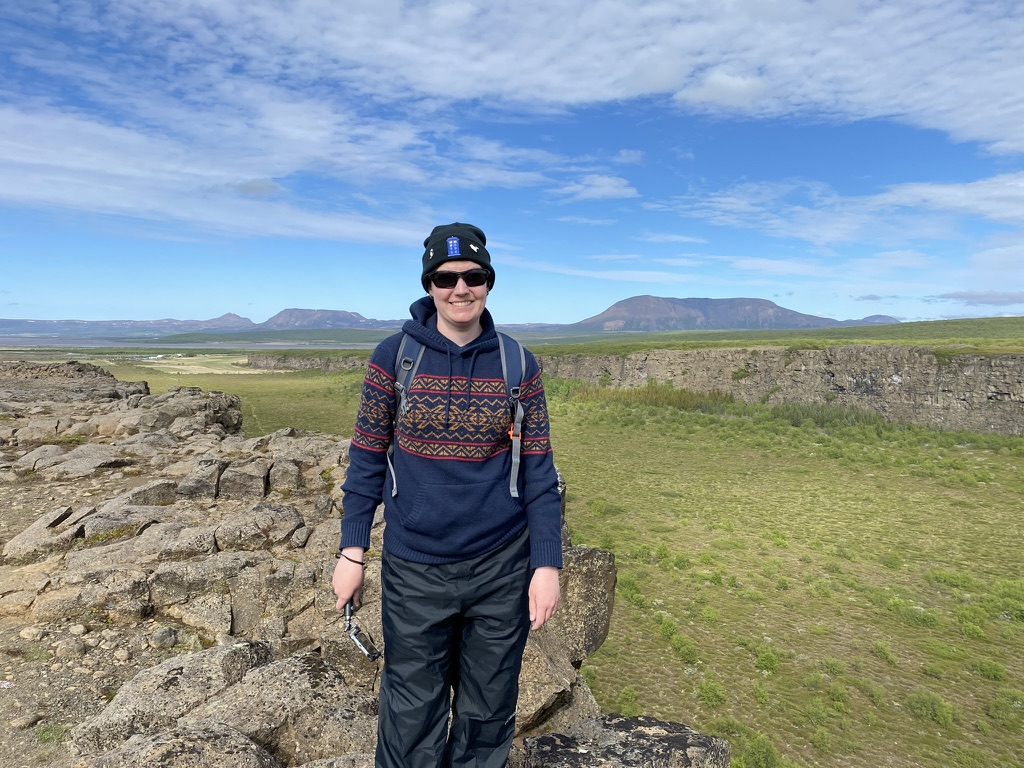 After that, we traveled to the west side of Dettifoss, the most powerful waterfall in Europe, another stop on the Diamond Circle. The waterfall is accessible from the east or west sides but the west side is more developed (aka it has trails and a paved access road).
We decided to save Dettifoss for last and hiked out 0.6 km to see nearby Selfoss, a v-shaped waterfall above Dettifoss.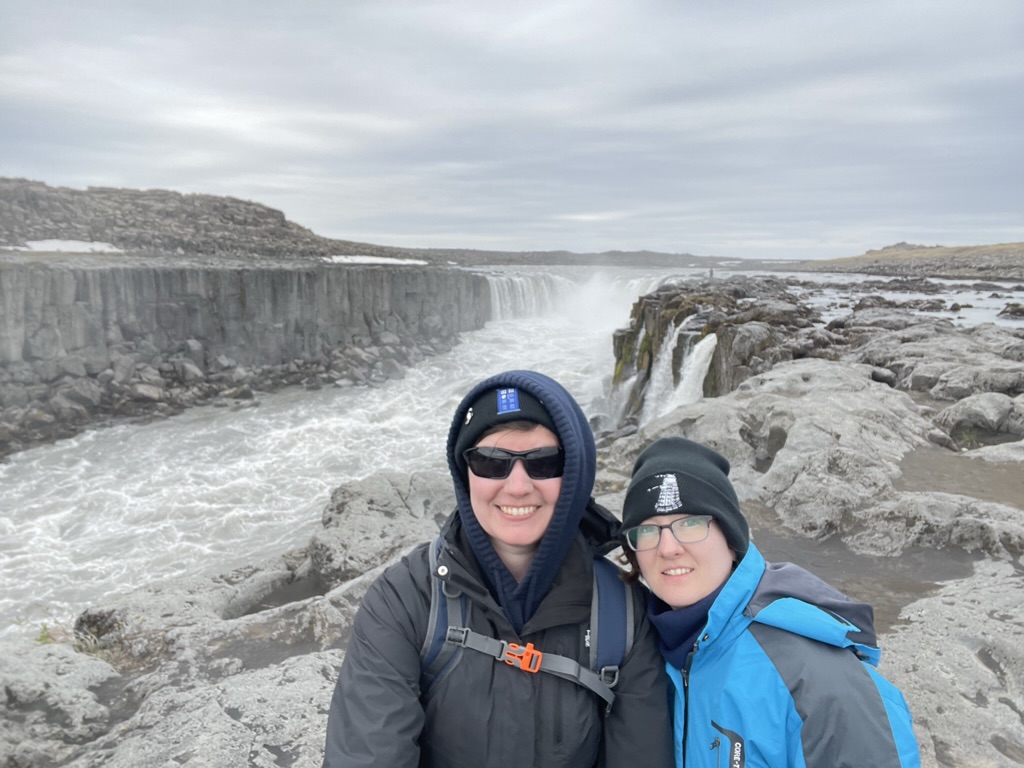 The area you can hike on now looks like it floods during the spring melt.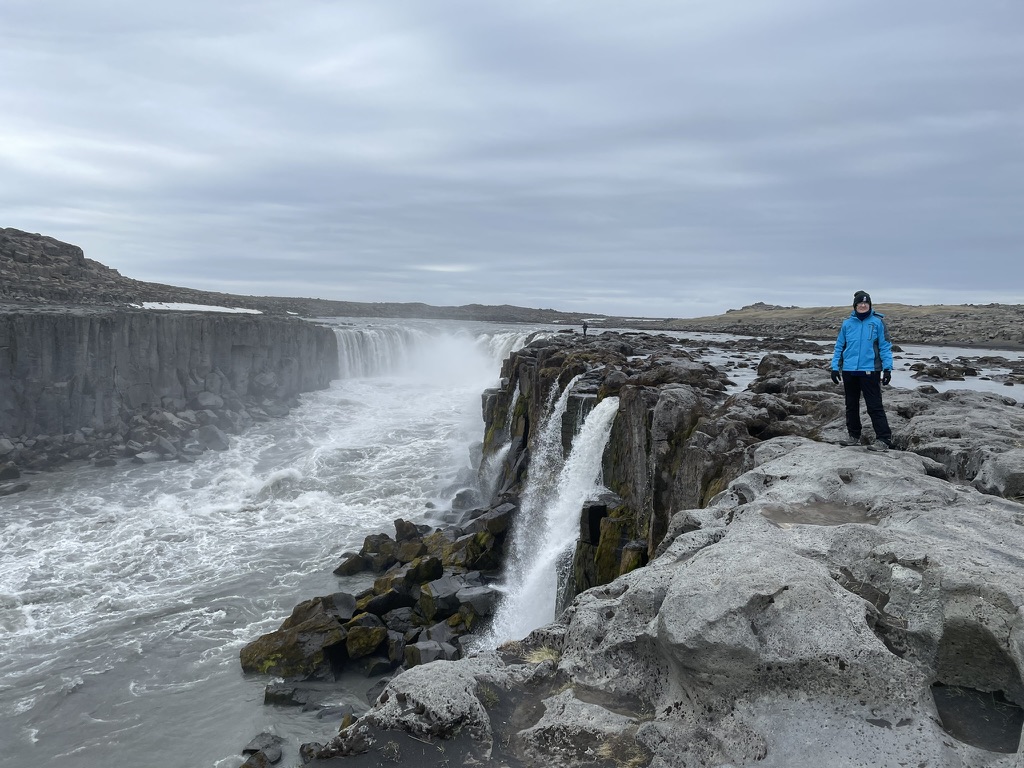 We made it to Dettifoss, which was, as advertised, very big.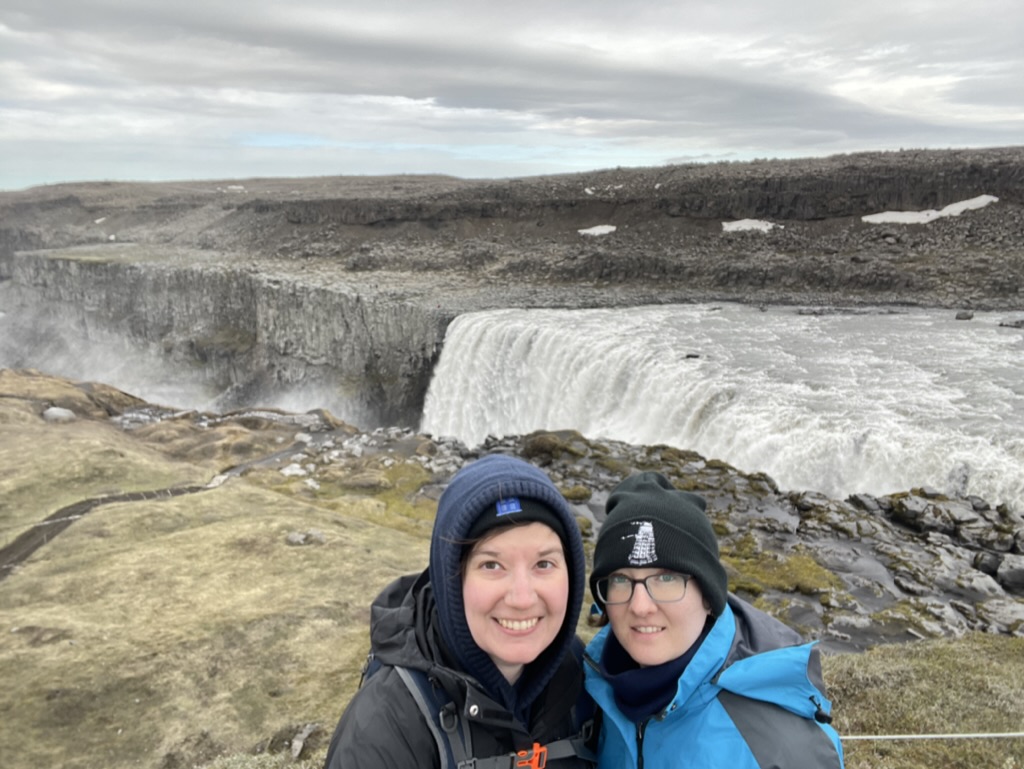 I'm glad we chose the west side because I don't think my feet would have liked hiking down what you can see on the other side!
We headed back to the hotel for dinner and a well-deserved drink! After all the hiking, we both opted for burgers and rye bread ice cream (tasty, but not as good as what we got in Reykjavik).