Our hosts at the B&B served breakfast at 8 AM, which felt a bit early after the disturbance last night! I took one for the team and got up to claim it and chat with our hosts while Trish slept in. They served a selection of fresh fruit, muesli, and freshly baked croissants. I ate my fill and fixed a plate for Trish. I caught up on blog posts until she woke up.
Our activity today was at Te Puia, a geothermal region and Maori culture arts center. We opted for a guided tour including a Steambox Lunch.
Uber isn't in Rotorua (yet) so we had to do things the old fashioned way and call a taxi. He dropped us off outside Te Puia with plenty of time to spare. We met our guide, Ngaio, at the front of the park and she told us a bit about what we'd be doing for the next couple of hours.
Our first stop was the cafe to put together the makings of our traditional steambox lunch. A traditional way of cooking for the Maori is to dig a large pit in the ground, fill it with stones, and heat them. Then, ingredients are layered inside. The whole contraption is covered with a cloth and has dirt piled on top. Everything is left to cook for 4 to 6 hours.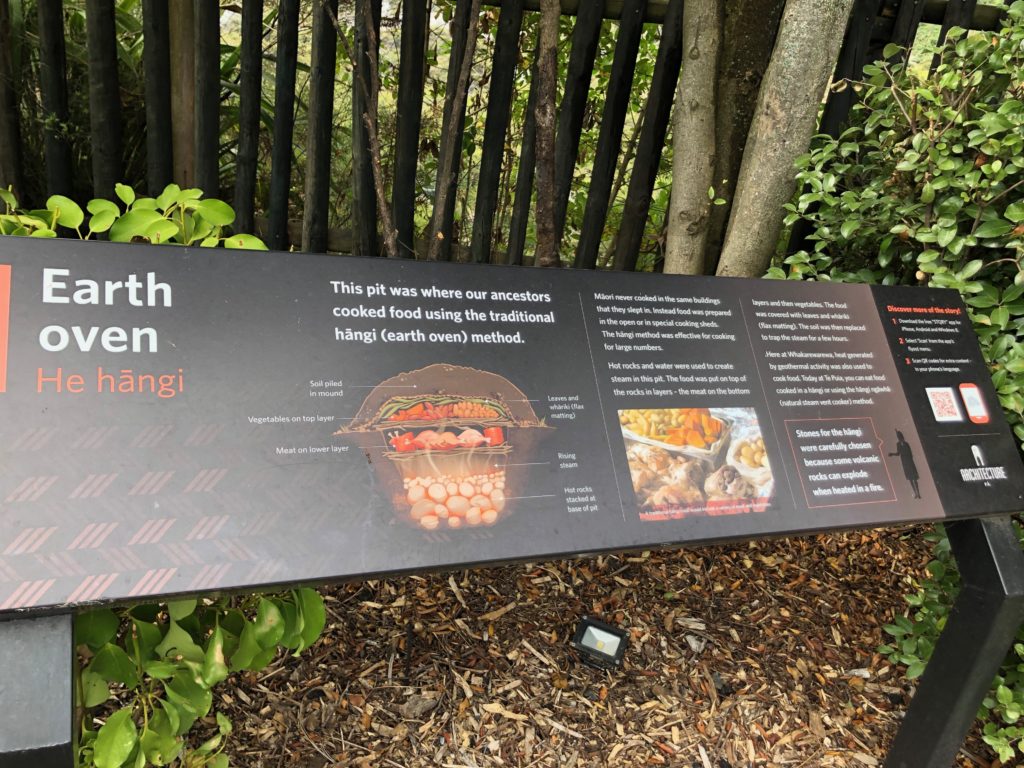 The Maori tribes around Te Puia have an added advantage: geothermal steam. They use the same principle but seal their meals into a steam vent, which is exactly how ours was cooked. They also use an aluminum lid which cuts the cooking time in half (since this is a tourist attraction).
We started our lunch by putting the raw ingredients into a box.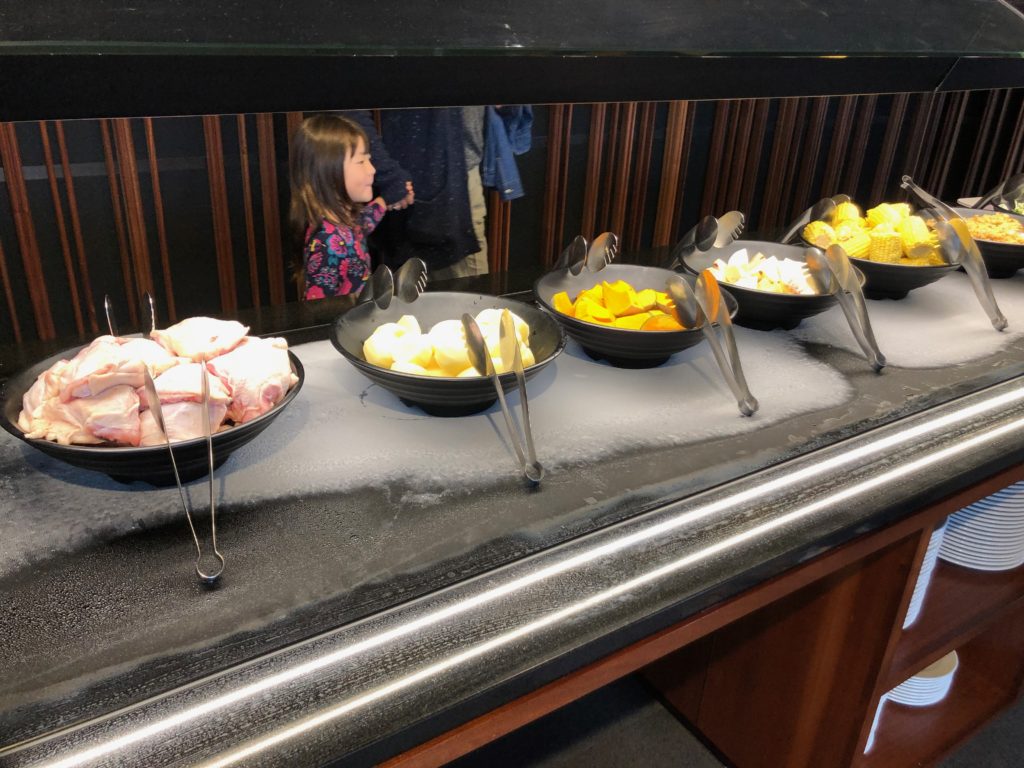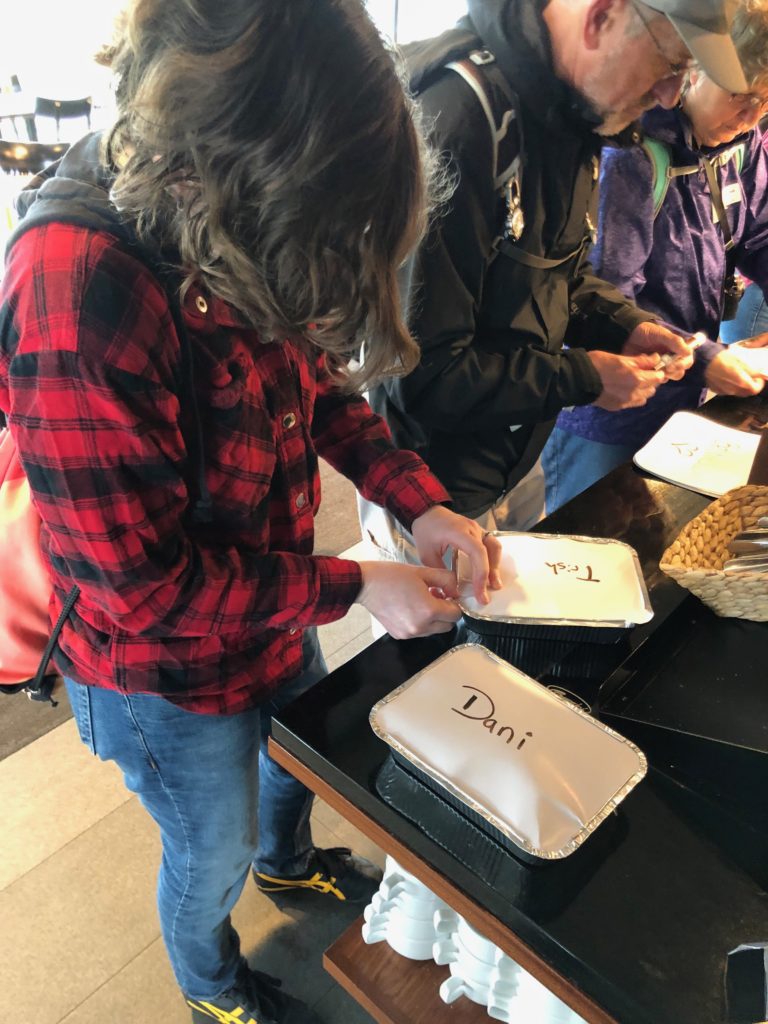 We put all the boxes into a wire basket that got carted off to the steam oven. We'd see them again in about 2 hours when they were ready for lunch!
Next, Ngaio took us over to the craft school, which is a premier institution for passing on traditional Maori art forms. They offer scholarships as craftsmen must stay for two to four years!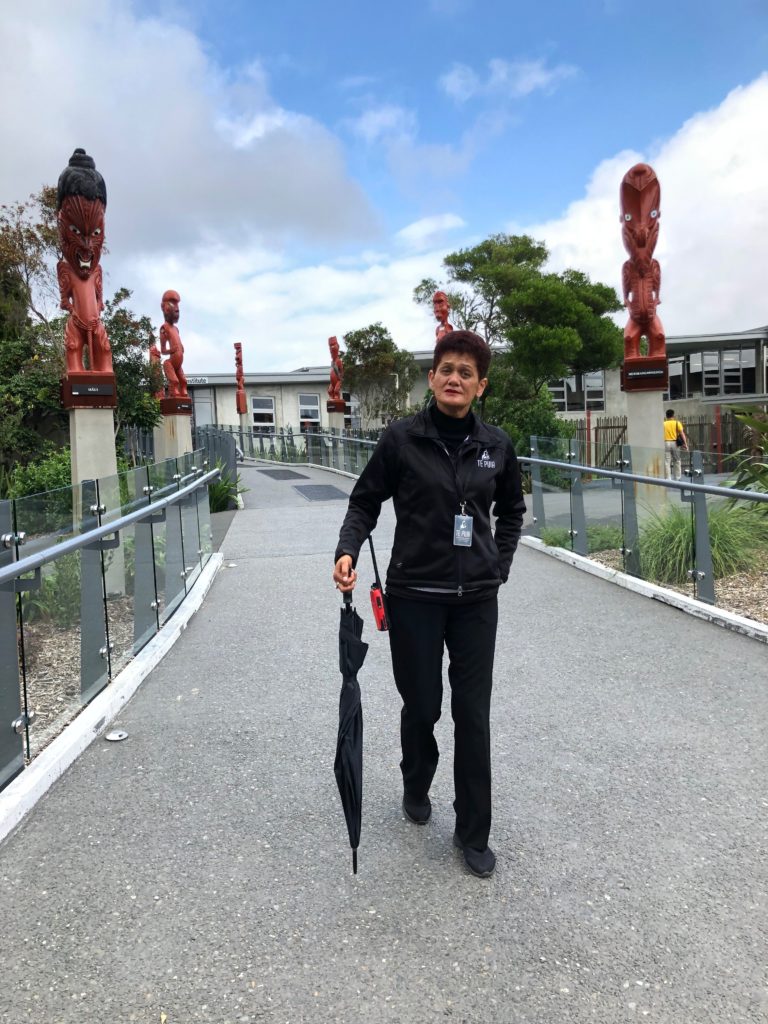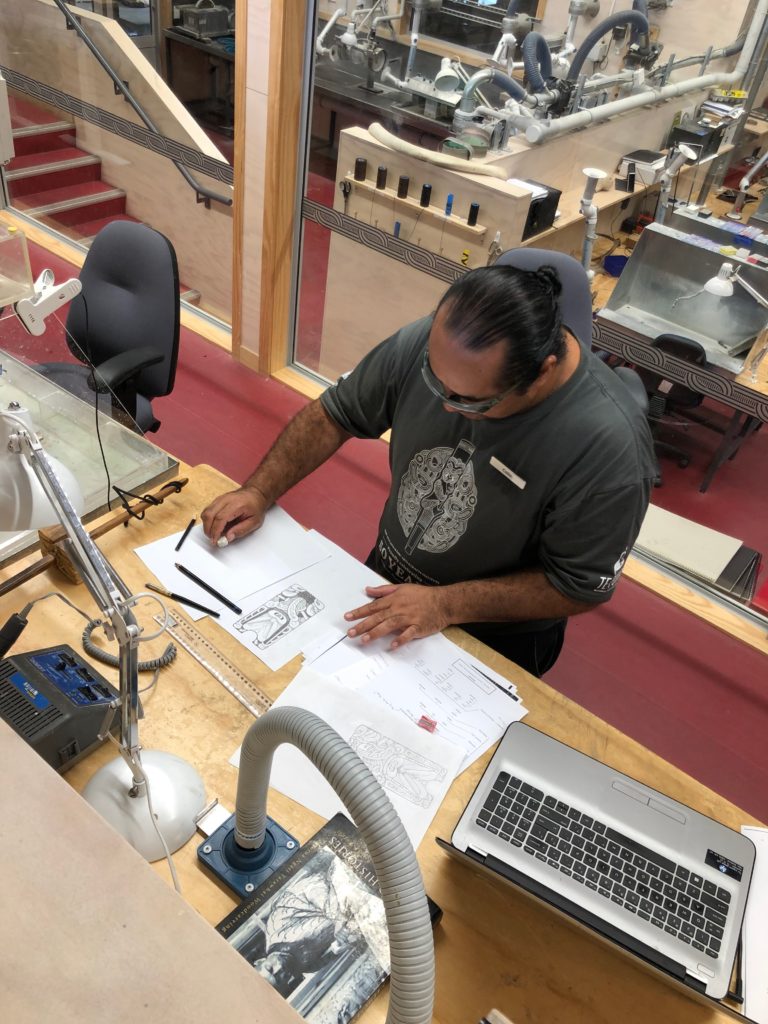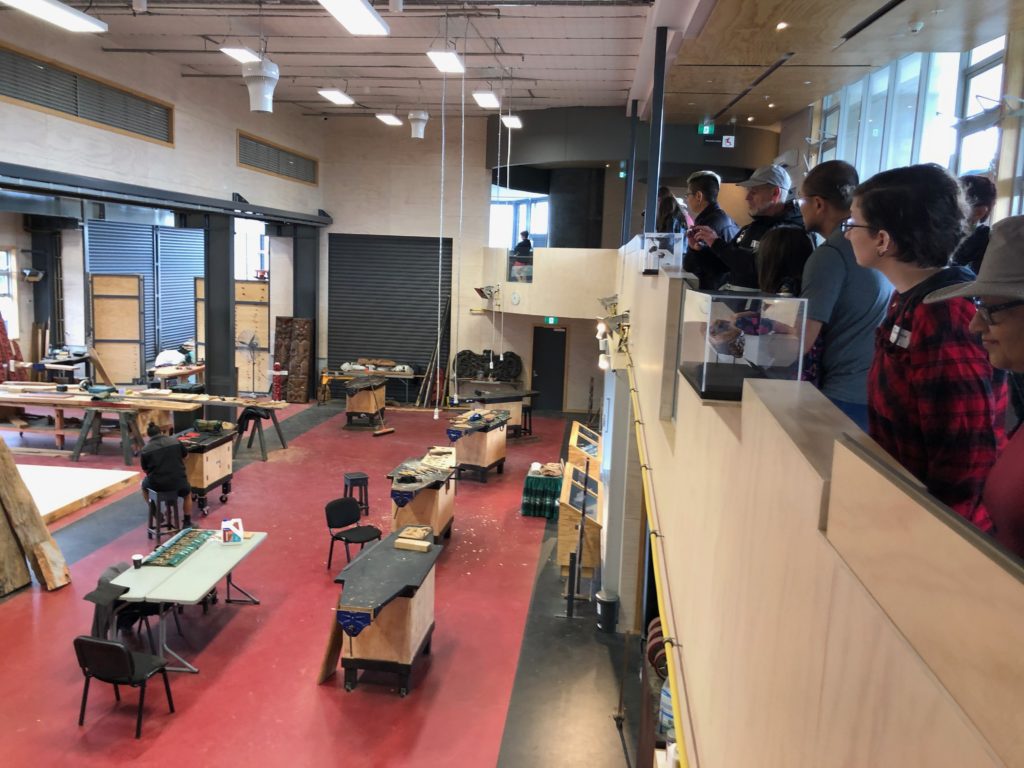 Next, we watched the traditional Maori welcome ceremony and saw a group of tourists welcomed into the ceremonial house for a concert. We sat on the steps outside and learned (with varying degrees of success) to weave a flower out of flax.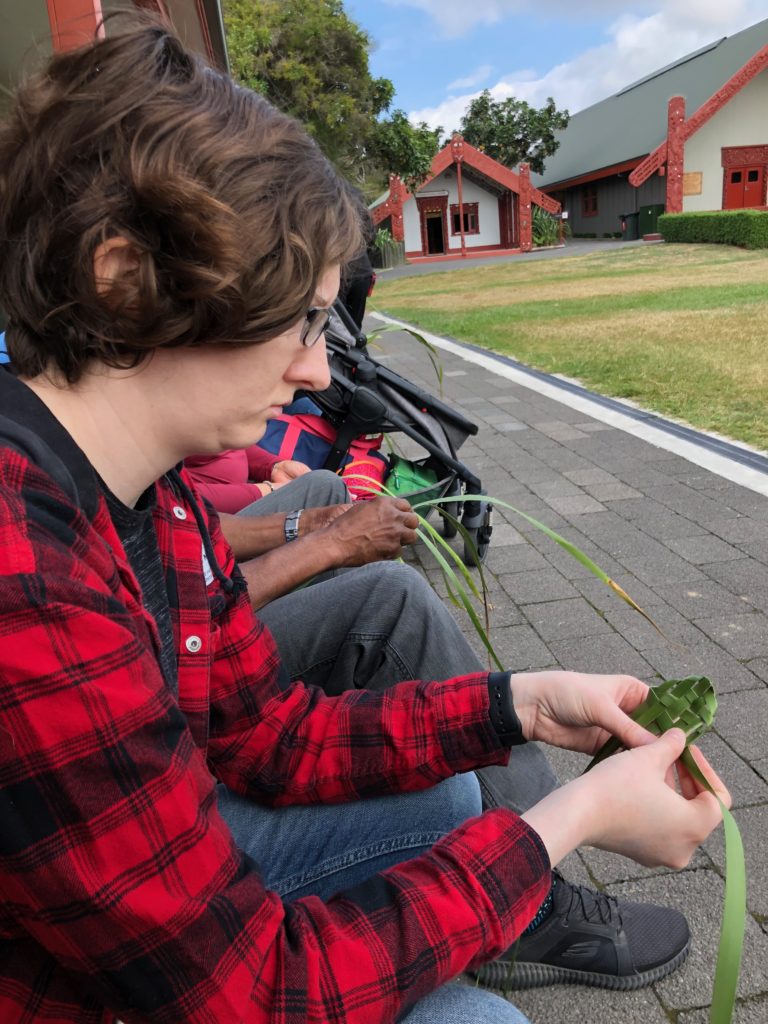 Trish and I both did pretty well! Trish's turned out especially nice. She might have a future as a weaver. I'll stick with my day job but at least I can follow a pattern.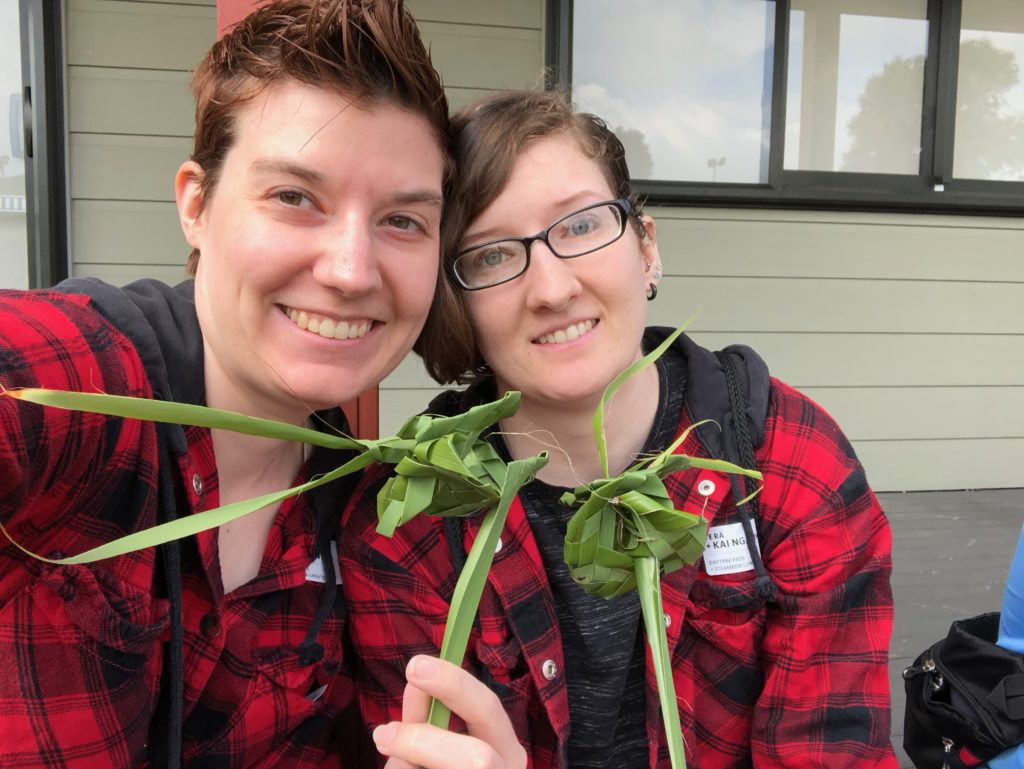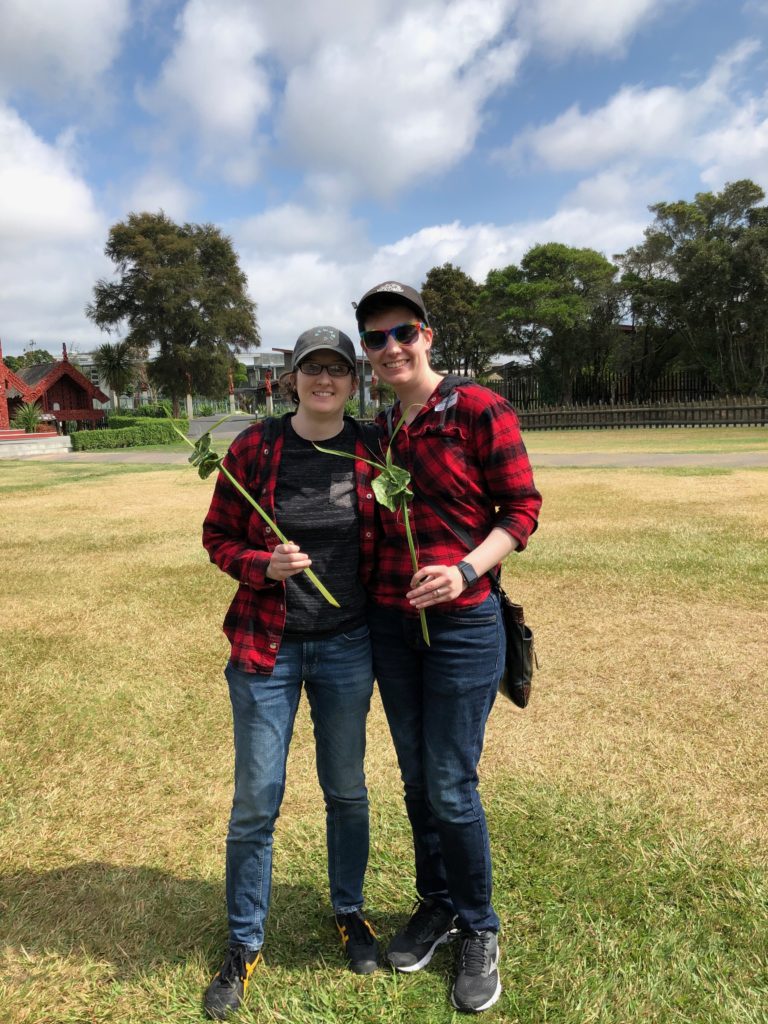 The couple next to us… well… they struggled.
Flowers completed, we continued our tour journeying further into the park. Our next stop is what we've been waiting for the whole trip: Kiwi Birds!!!!
We both prepared for the occasion by wearing our TomboyX kiwi bird print undies. It's the little things.
Kiwi birds are nocturnal, so no lights or photography is allowed in the enclosure. It's illuminated with dim red lights. The girl slept in her box, but the male ran around by the front of the glass showing off for us. We learned they can breed up to four times a year and the egg takes up about 20% of the female's insides. For reference, that's equivalent to giving birth to a two year old. Yikes! At least the male incubates the egg after that.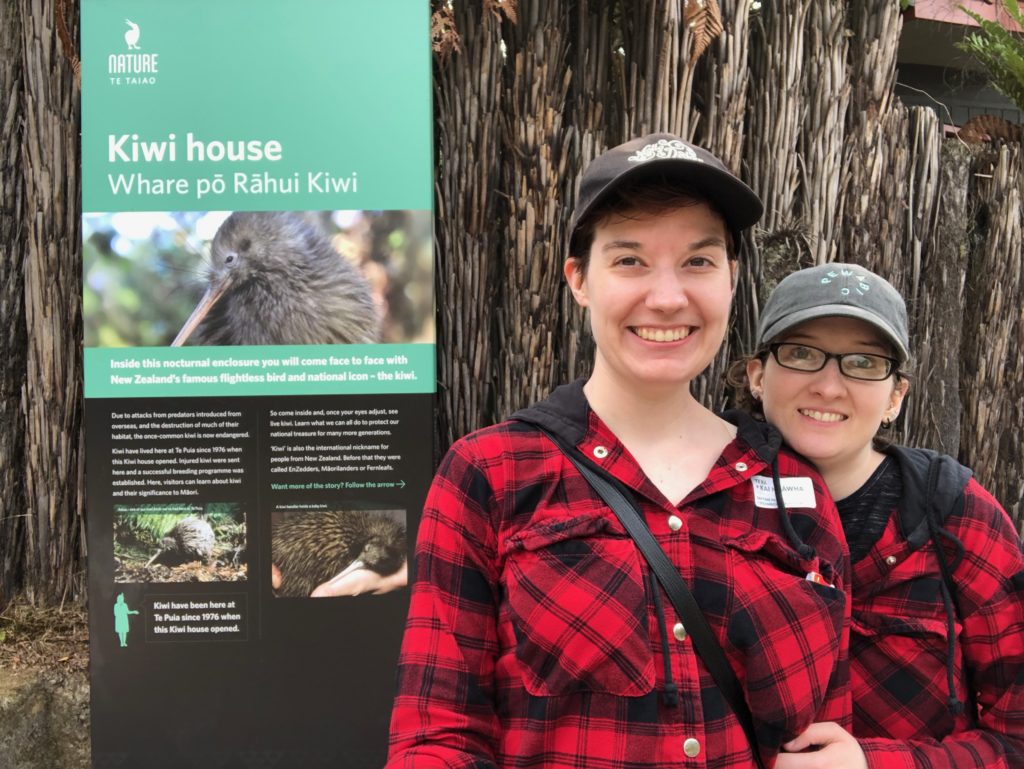 After the kiwi birds we worked our way towards the geothermal sights, including boiling mud pits…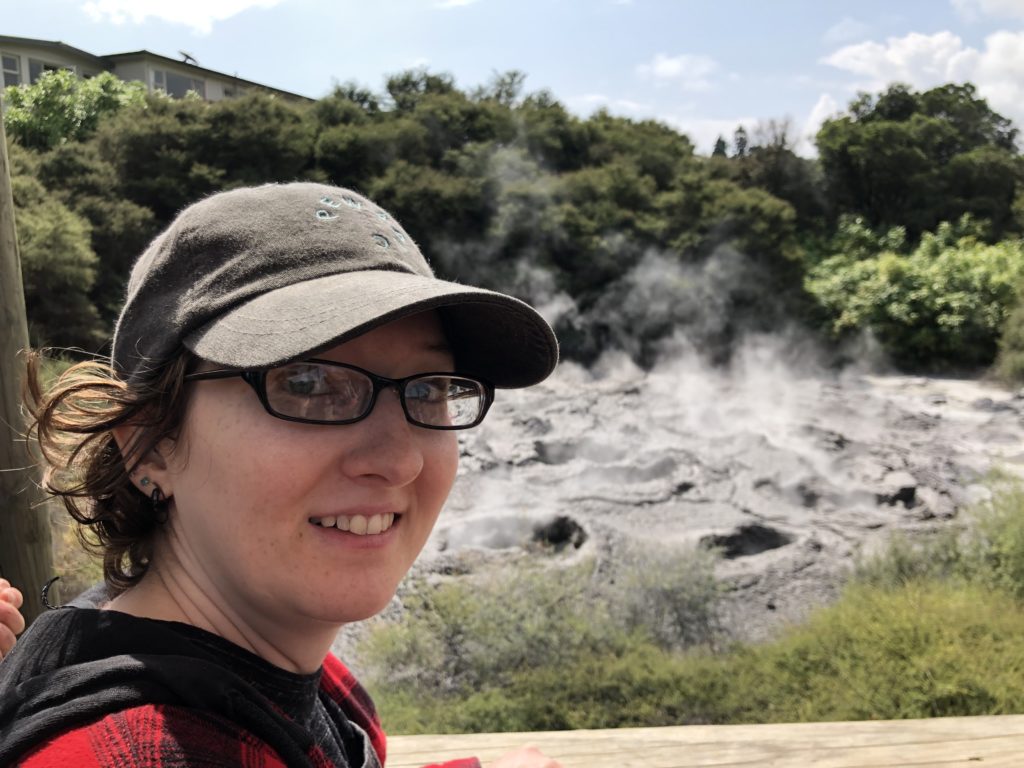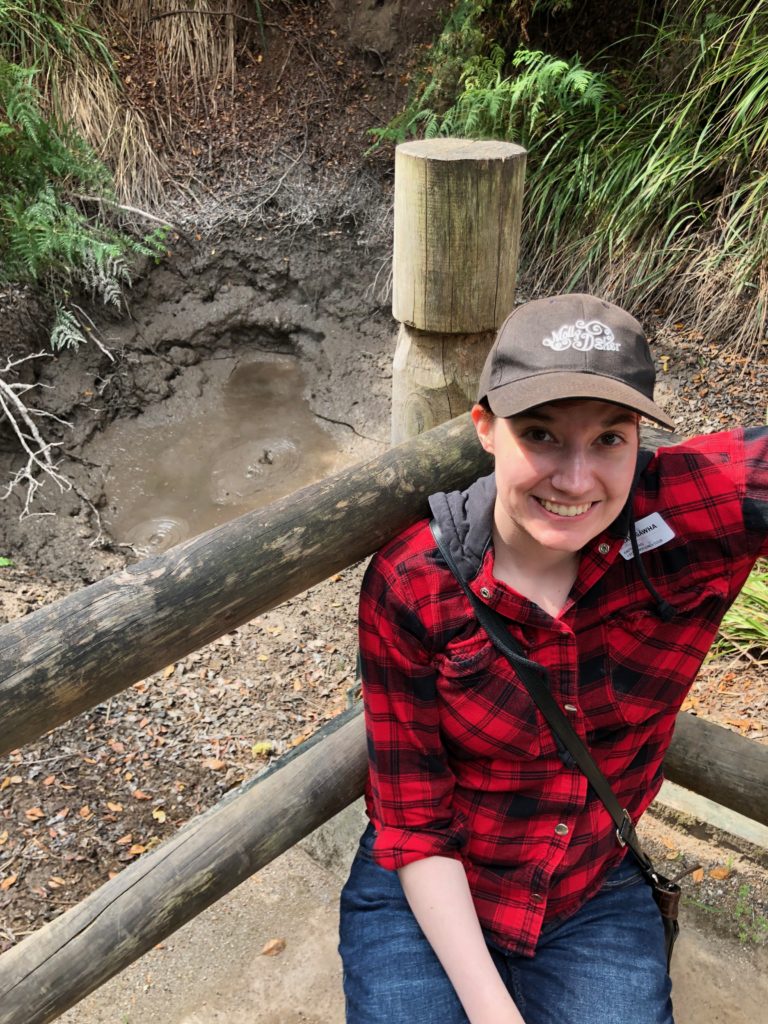 An the famous geysers. We saw three. One just squirts little bursts that only last a few seconds. The Feathers is an indicator geyser that goes off before the large Pōhutu geyser.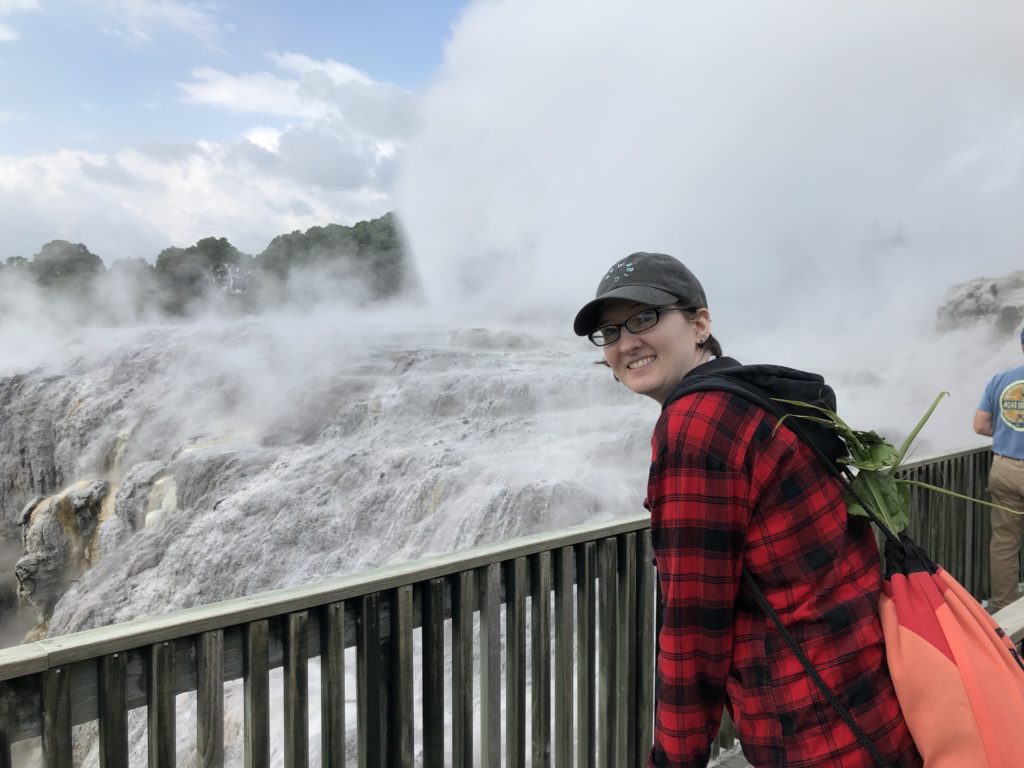 The weather was a bit cool which resulted in even more steam than usual. It was a little hard to see the geyser through it, but we saw it peak up above the steam as it erupted.
At the conclusion of the tour, we went to see our lunch boxes lifted out of the steam oven.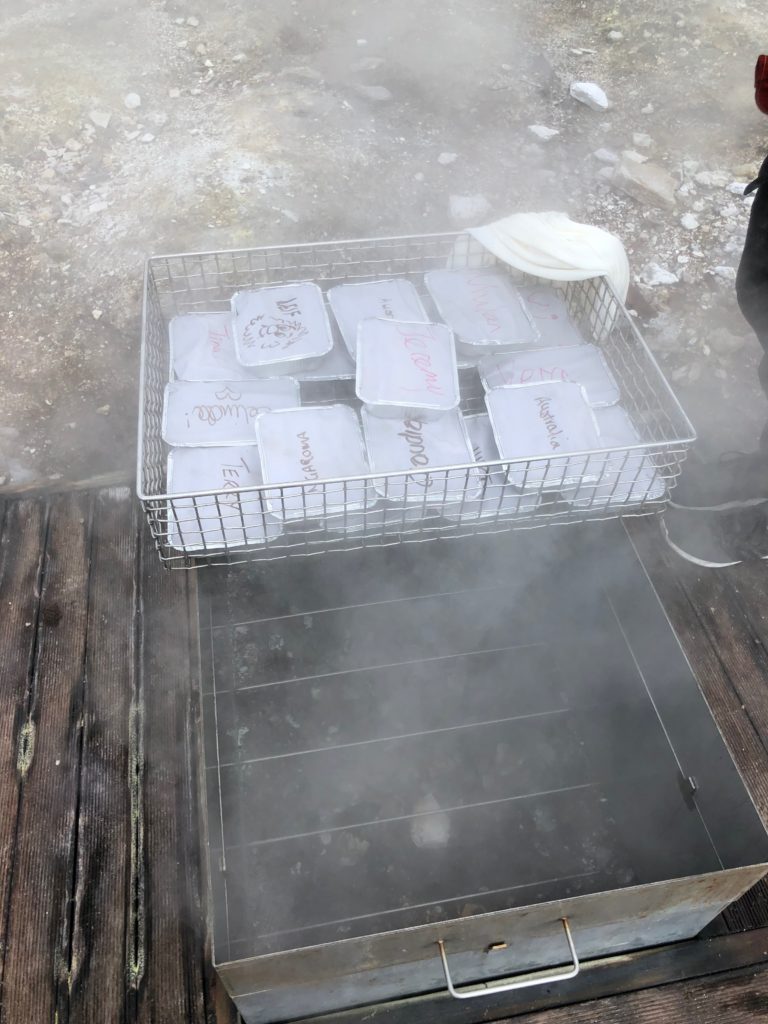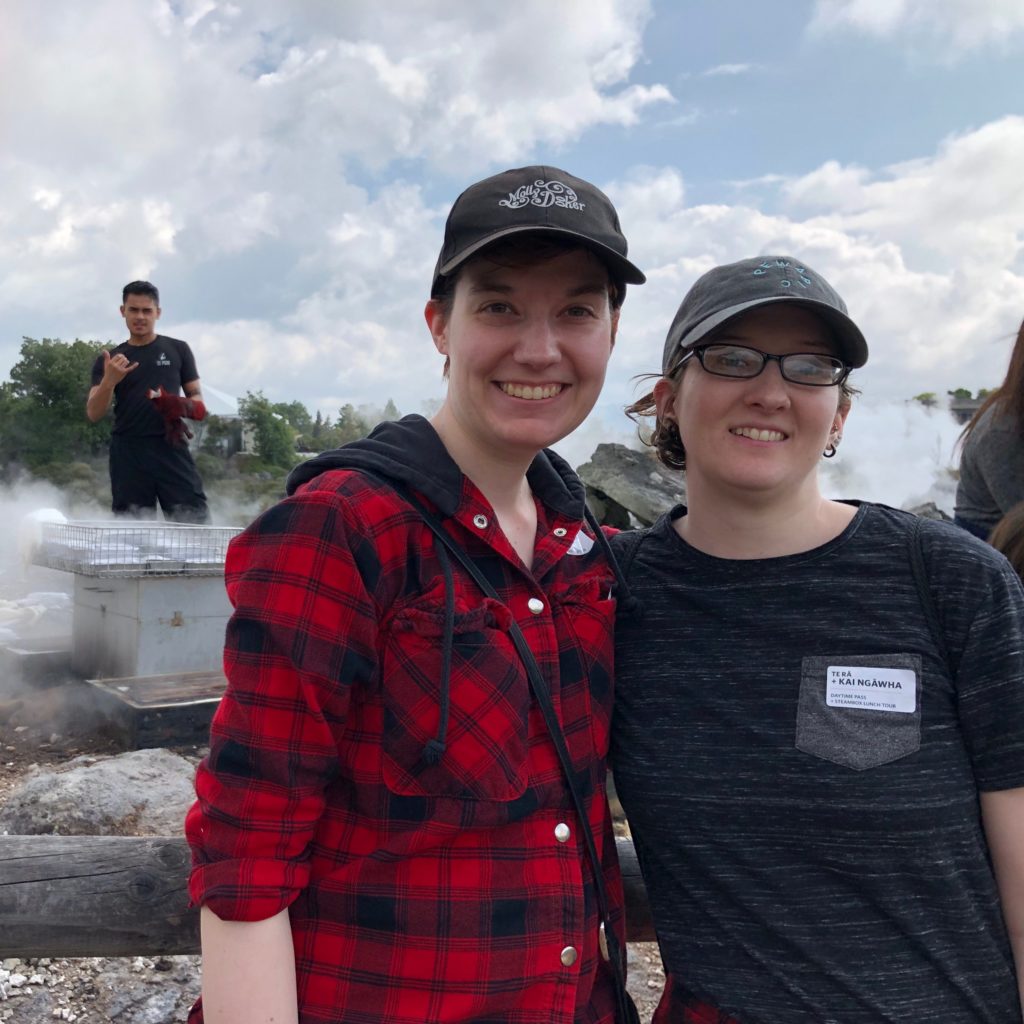 They trucked our lunches back to a tented area overlooking the geysers and we saw the fruits of our labors.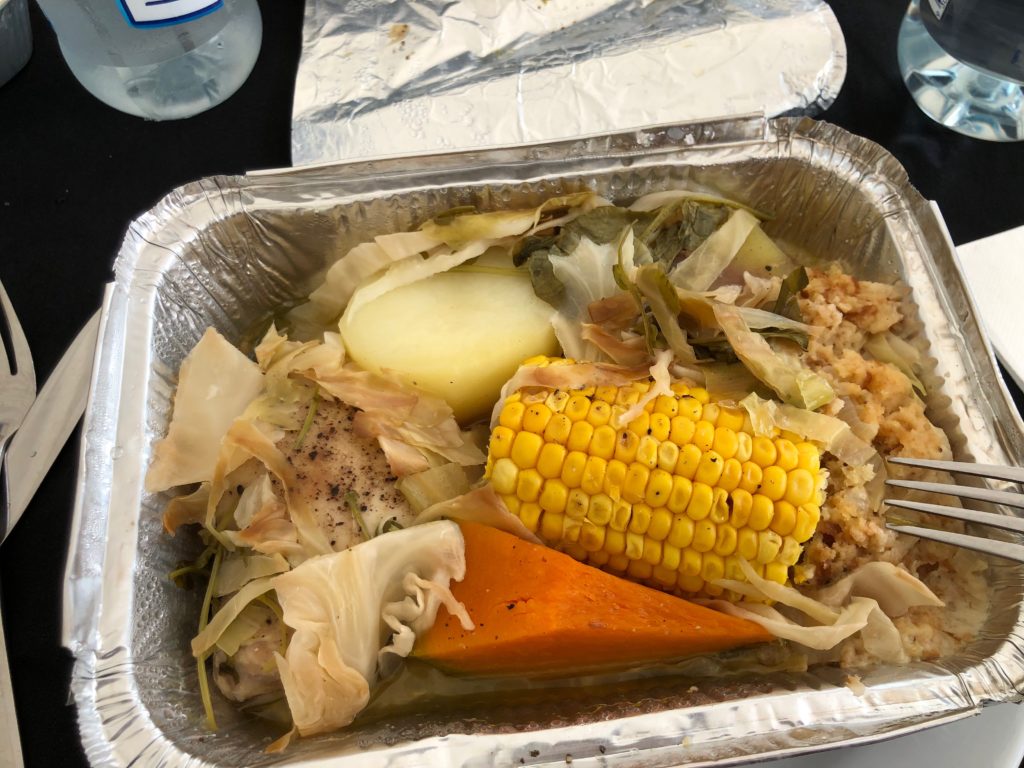 Honestly, I expected it would turn into a soggy mess, but it was delicious! The meat was so tender and the starchy vegetables were perfectly cooked. I particularly liked the kūmara (a white-fleshed sweet potato). There was a lot of juice in the bottom of the box but it had basically turned into a chicken jus, seasoning everything. I thought we'd way overstuffed our boxes but Trish and I both ate the whole thing!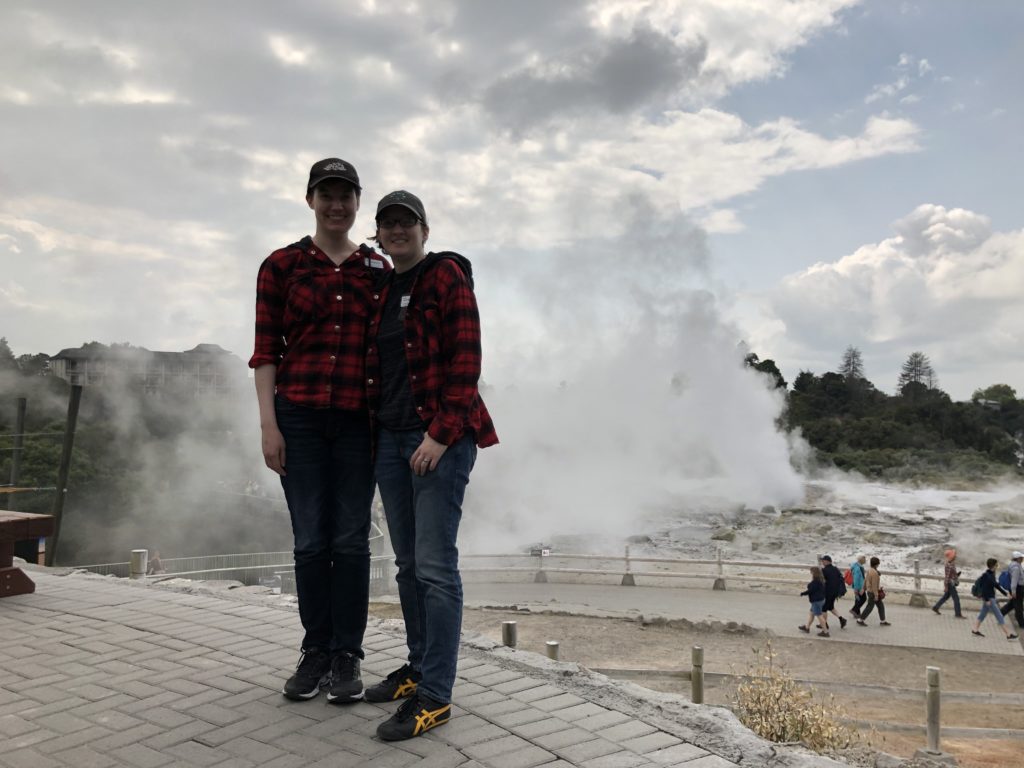 Lunch concluded our tour. We went back for another look at the kiwi birds and caught a brief glimpse of the female outside her box.
Then, we called a taxi back to the B&B. It was an odd call because when I told the dispatcher I wanted to be picked up at Te Puia I expected some name brand recognition… but nope! It felt like calling a cab in Orlando asking for a Disney pickup and having the person on the other end of the line draw a blank. Fortunately, he figured it out and we made it back.
We had a quiet afternoon to rest up for our tour and flight home tomorrow. We really weren't hungry, so we just went to the local grocery store to stock up on Tim Tam varieties to bring home. We also got a deal on a jar of super-duper graded manuka honey.
I also experienced a great personal triumph!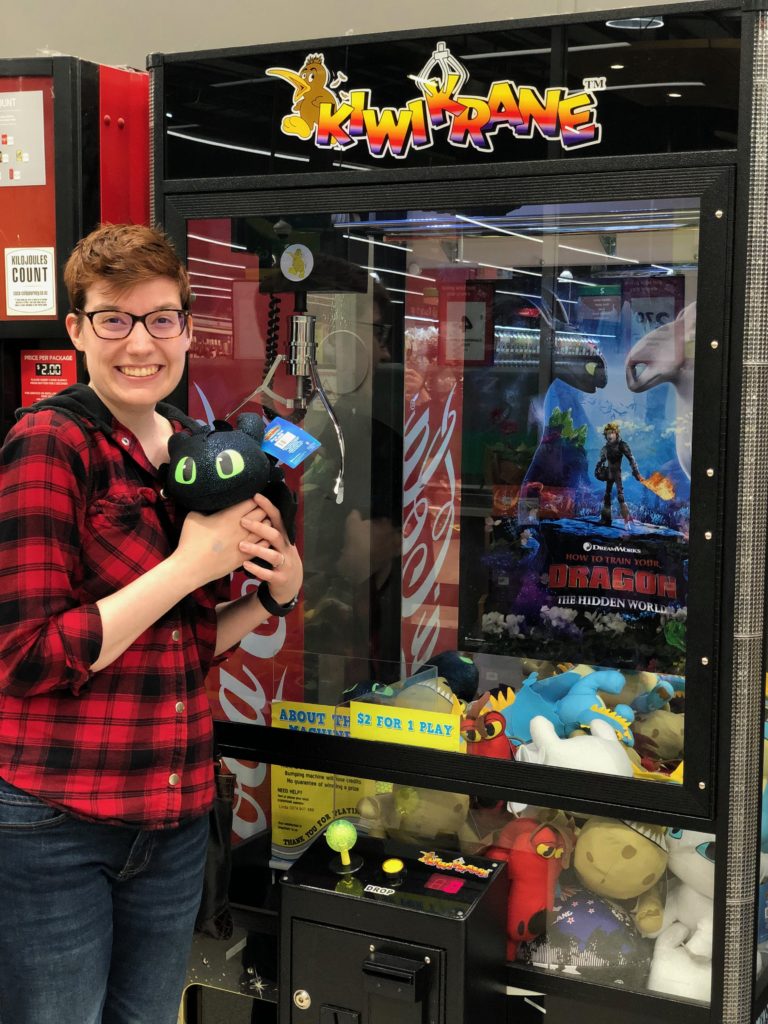 We ate our leftover pizza from the night before and some peaches for dinner. We showered and then completely repacked our bags for our immanent departure from New Zealand.