We started our day with a leisurely breakfast upstairs and debated what we should do for the day. Yvonne warned us Sunday would be very crowded. Despite that, we briefly considered going up to The Peak, however it started to pour while we were still at breakfast so we thought better of that plan.
Instead, we decided to relax and hang out in the room for a bit before venturing out for lunch.
Originally, I was interested in visiting a rabbit cafe, which is exactly what it sounds like: a cafe where you can hang out with rabbits. But a quick Google search revealed they were currently engaged in a legal battle over their lack of having a food license. So we scrapped that plan too.
Finally, we settled on The Cat Store, a cat cafe located near a part of town called Times Square. The rain stopped around lunchtime, so we grabbed a cab and headed out. The cab driver said that since it was Sunday some of the streets around our destination were closed to vehicular traffic, but that he could drop us of nearby and point us in the right direction.
The drive took us east into Wan Chai, which didn't seem dramatically different from Central. The Times Square area was quite busy with tourists and locals alike, but the cab got us within spitting distance.
The Times Square neighborhood was fascinating. It was different than any city we've been to because, block by block, it fluctuated between high end designer stores in sleek modern buildings and much more modest (even decrepit) buildings with a mix of commercial and residential.
The address of the cat cafe led us to a six-story building in the middle of a short block. Having learned our lesson at Yum Cha, we realized the address was on the 3rd floor, though it was strange that the building seemed to be mostly apartments.
The entryway to the building, the hallway, and elevator did not inspire much confidence. They were somewhat less than glamorous. Seedy is the word that came to mind.
But we persevered and found the door to the cat cafe, which turned out to be a charming little shop. It was cozy, tidy, and packed with people. All the tables were taken but the hostess said we could come back in about an hour and a half and she'd reserve us a table.
To kill time, we wandered around the shops nearby for a while, ultimately ending up in a mall across the street. We could actually see the cat cafe's window from over there, so when it looked like there were empty tables we repeated the journey through the world's strangest elevators and returned to get our dose of fur therapy.
We only saw one cat curled up asleep when we arrived. Understandably, the cafe has signage requesting that patrons refrain from bothering sleeping or eating kitties. Patience was required.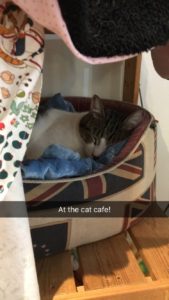 We ordered some food, again the criteria was cute things shaped like cats. I chose garlic toasts, toast with chocolate sauce and sweetened condensed milk, and cat-shaped butter cookies. I mean this as a complement, but Mom grills leftover hot dog buns in butter and the garlic toasts bore a remarkable resemblance to that. The butter cookies were excellent.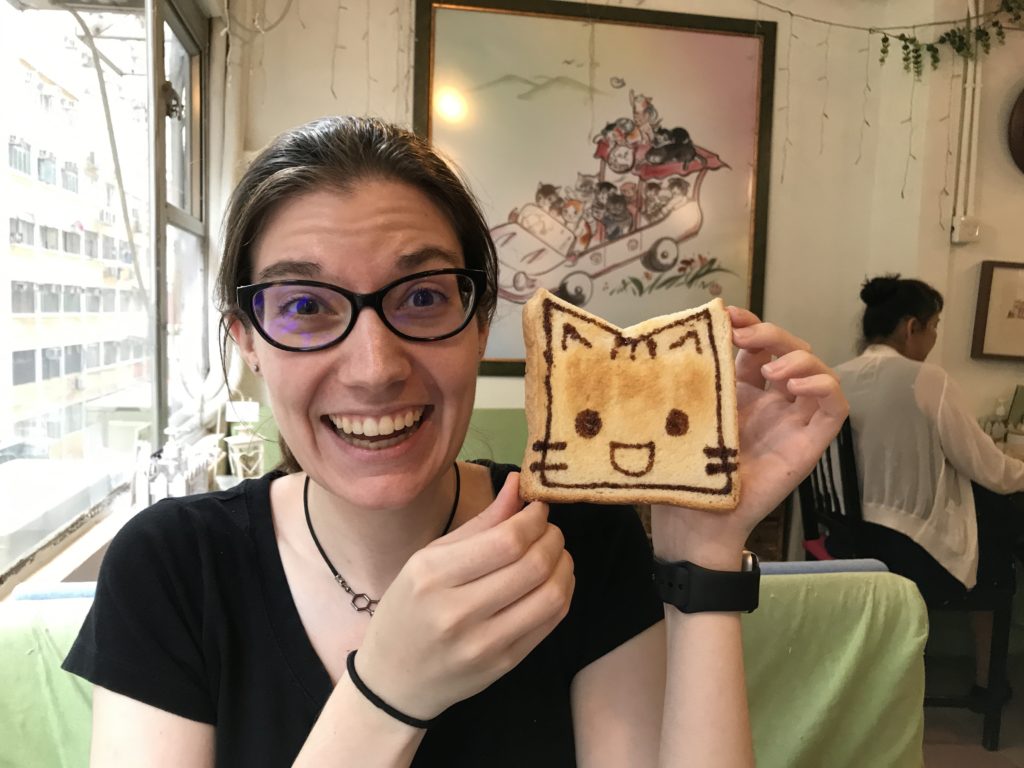 Dad had homemade caramel ice cream with apple and graham cracker dust.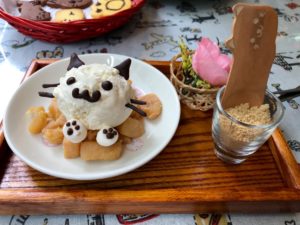 Mom had a smoked salmon pizza (with corn?!).
While we waited for the cat to wake up, we enjoyed going through the literature on the table. All but one of the cats were rescues, and in case you'd never seen a cat before, there was a handy-dandy guide about how to pet them.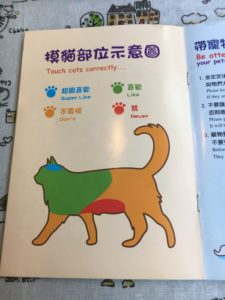 Most of the other patrons were families there with their daughters, so we fit right in. Of course, the other girls were all about 6 years old, but so what?
At long last, a cat emerged from slumber and joined the party. His name was JJ and he liked to talk. He had a raspy little mew and though complained a lot was very patient with the little girls (including me).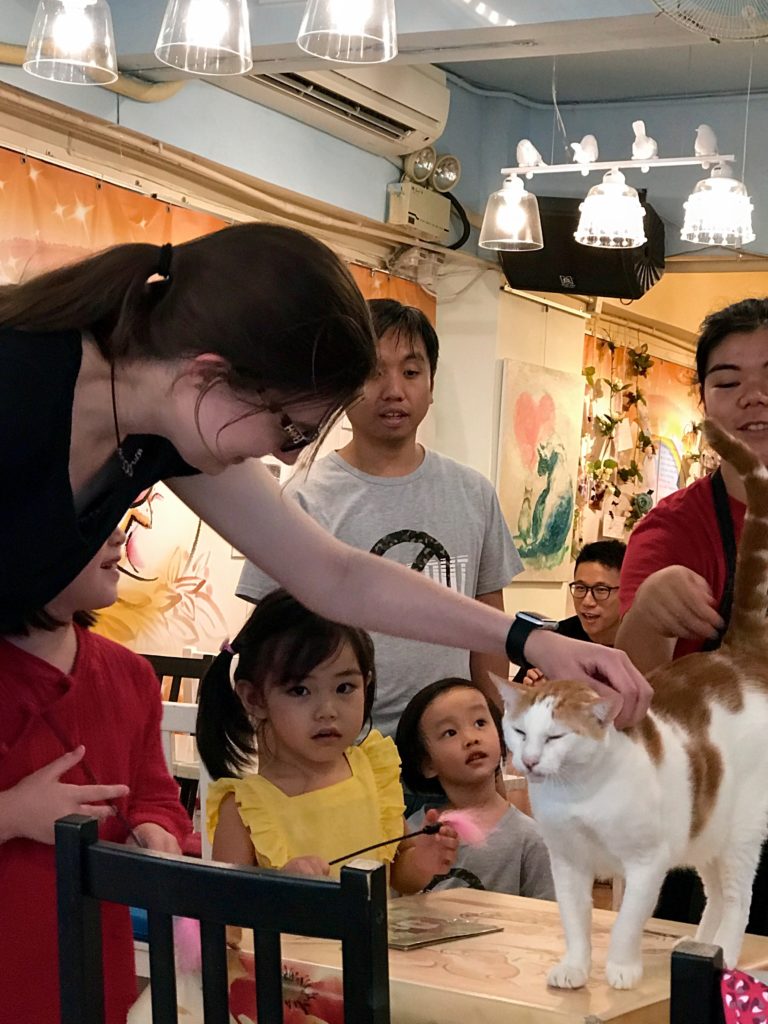 His activity spurred lunch time and the opening cans woke two other cats.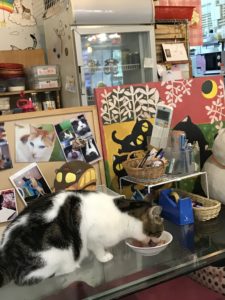 The cats are permitted in the kitchen, which horrified one table of guests, but I figure there's been at least one cat in the kitchen at home my whole life and it hasn't killed me yet. Plus I got to pet kitties.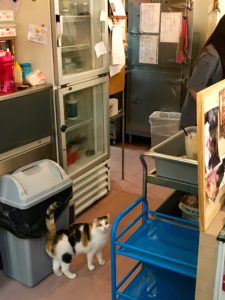 We headed back to the hotel for the rest of the afternoon. Though it wasn't raining anymore, the clouds continued to whiz by. I took the opportunity to film some time lapse of Victoria Harbour.
After a couple hours we dressed for dinner and headed to Amber, which was recently ranked the 24th best restaurant in the world. It lived up to the hype!
Our table was lovely, nestled in the back corner of the restaurant with plenty of elbow room.
The food was exquisite and the wine pairing was incredibly educational. It included six wines, all from Burgundy.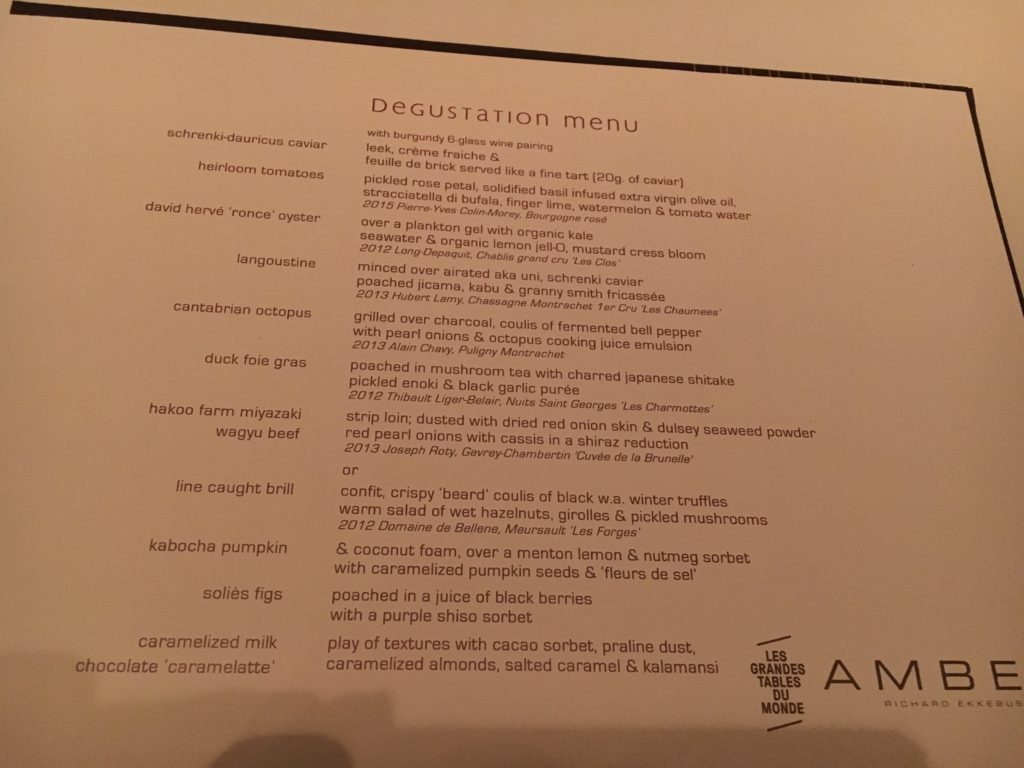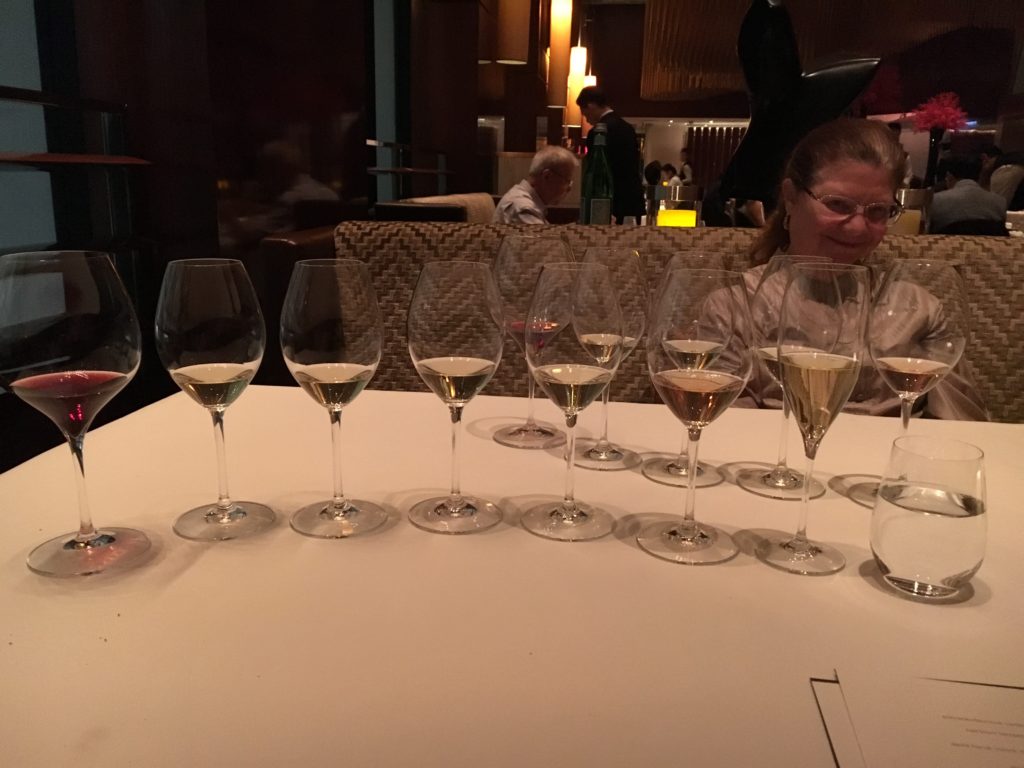 The only problem is I never finish a wine pairing, and apparently in this culture leaving wine on the table is even worse than leaving food on your plate. But since all six glasses totaled up to more than a bottle of wine, I would have been on the floor if I tried to drink it all. Other than the worried looks that caused the staff, it was a lovely meal and managed to top L'Atelier (which I wasn't sure was possible).