May 27-28: Chicago – Reykjavik
After three years of planning stalled by one pandemic, Trish and I finally headed out on our long-delayed honeymoon to Iceland. We [I've] planned a 16-day itinerary around the Ring Road that will hopefully show us all the incredible scenery, wildlife, and culture Iceland has to offer.
Trish is very impressed with the interconnected Google Sheet and Google Doc I've been using to keep track of everything. I also made a map.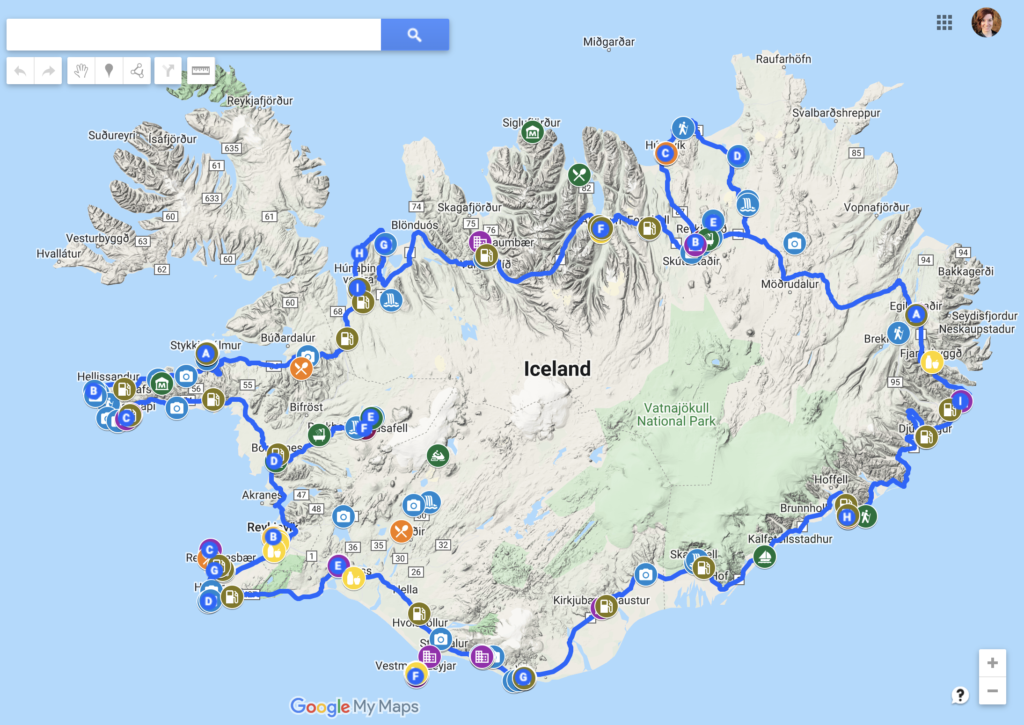 Fun fact: Iceland is about the size of Kentucky but is way more interesting! (Apologies to any Kentuckians.) This route will take us through geothermal hot spots, glaciers, islands, national parks, barren wastelands, and cultural centers.
Day 1 started with our flight to Reykjavik, which actually departed Chicago at 11 PM.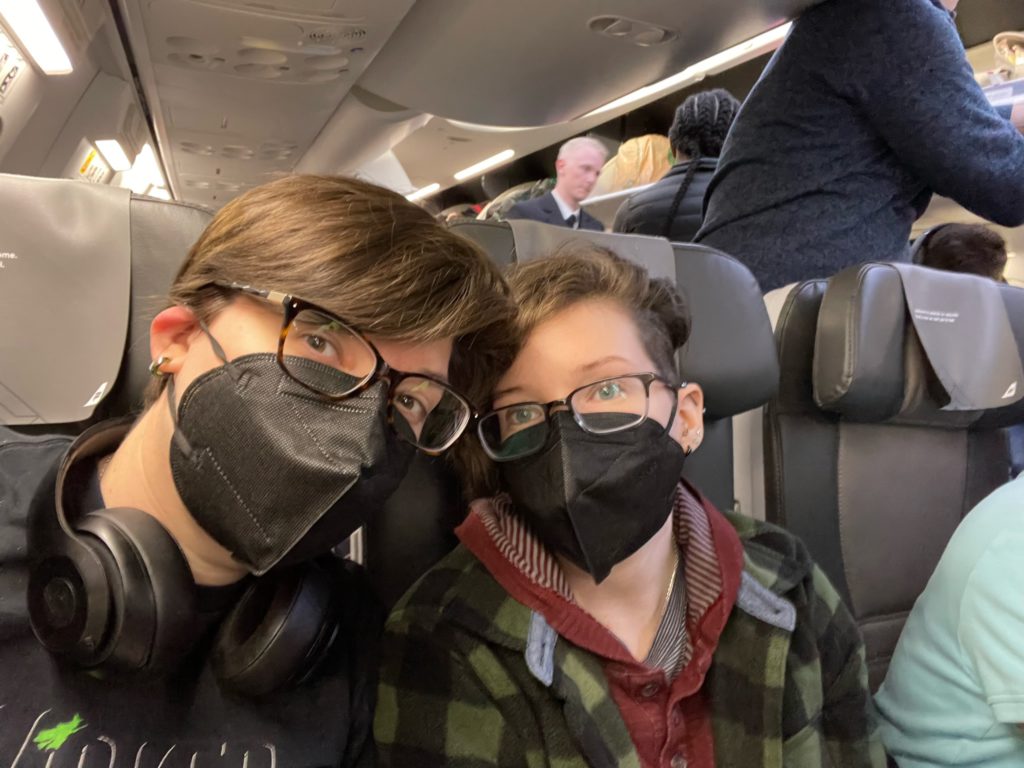 The flight was only about 5 and a half hours, however, flying overnight is not my favorite way to travel. Arriving at 10 AM local time gives you a full day… but you've basically pulled an all-nighter.
Unfortunately, we were in front of an exit row and our seats did not recline. My back has learned that I am definitely too old to contort myself into unnatural positions in a coach seat. Trish was smarter and just watched a movie!
I "woke" up just in time to catch our first glimpse of Iceland.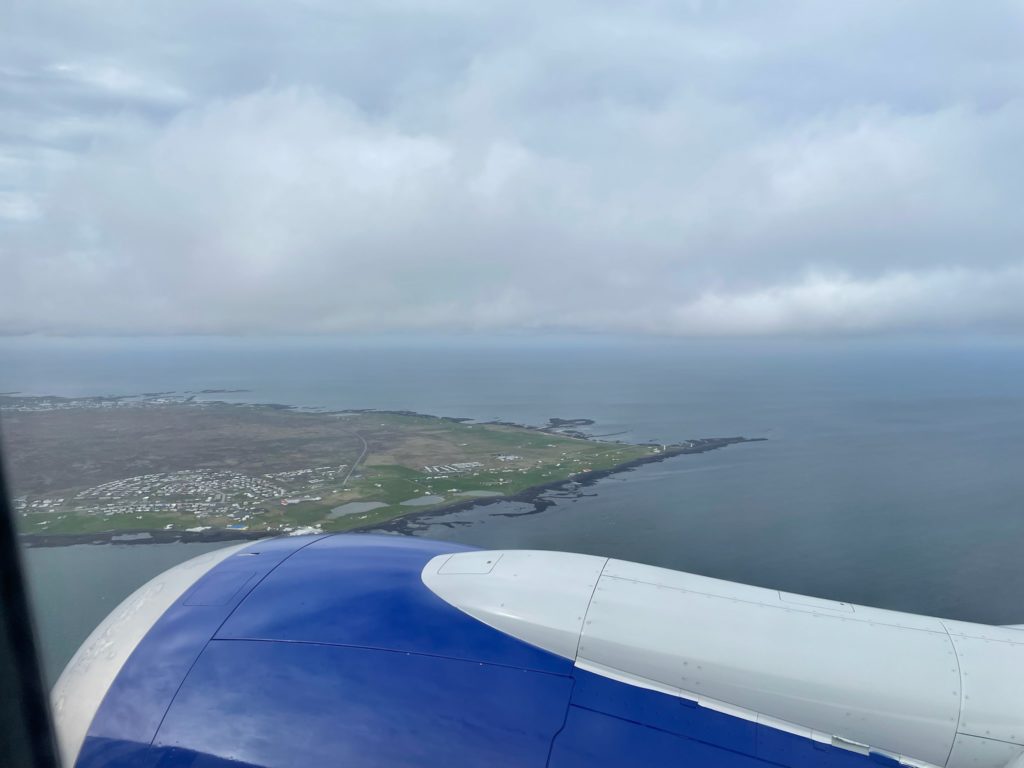 Given how mountainous some of the country is, I was struck by just how flat this part of the Reykjanes peninsula is.
We grabbed our luggage and passed through an extensive emigration interview:
"First question: How long are you staying in Iceland?"
"Two weeks!"
"Have a great trip!" [Stamps Passport]
We had a little trouble figuring out where to meet the shuttle to get our rental car but finally figured it out. The very nice man helping us with our reservation gave us a free upgrade on our rental car (possibly, he felt bad he said, "Oh, you're sisters," when he looked at our driver's licenses). At any rate, we now have a brand new (literally, it only has 55km on it) hybrid Peugeot something-something that he was drooling over.
Trish was brave and volunteered to drive us from the airport to our pre-check-in activity: lounging at Sky Lagoon. I think she just wanted me to deal with the directions.
We decided to go to Sky Lagoon instead of the more traditional and touristy Blue Lagoon on the recommendation of our AirBnB host. It's closer to the city and less well known, so also less crowded. It does not have the mineral-rich blue waters (but we'll get to experience those at a later stop). Instead, it brags about a seven-step "Ritual" process for relaxation.
However, our first stop was at the cafe for lunch (or maybe breakfast). After my first sip of coffee, I remembered just how much better the Europeans are at coffee.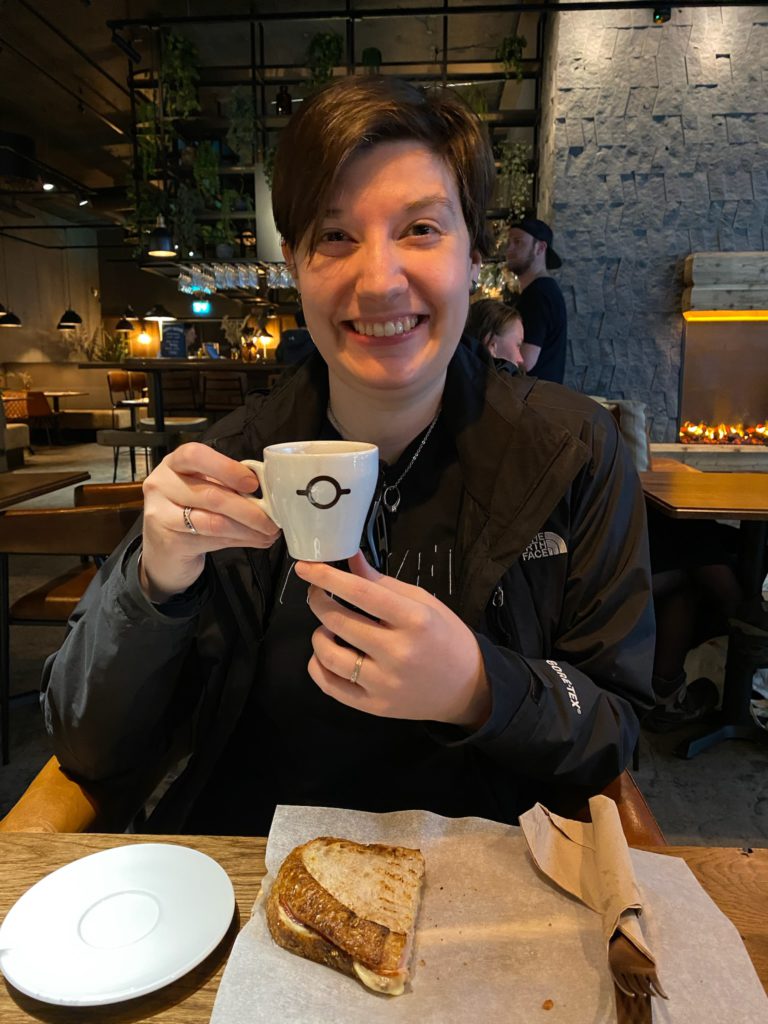 Fortified, we were ready for the lagoon.
Europeans are so much less hung up on nudity than Americans! We knew showering in the nude was required before getting into the lagoon, but it was nice to be around a bunch of people who didn't bat an eye. We were a little confused about what order to do things, so if anyone is planning a trip to Sky Lagoon in the future:
Go to the changing room
Strip
Put your stuff in a locker
Take your bathing suit and anything you want to have in the lagoon (like sunglasses or a waterproof camera) with you to the showers
Shower
Put your bathing suit on
Get in the lagoon
Enjoy!
The warm water felt lovely on our aching bodies. And you can't say the scenery isn't gorgeous!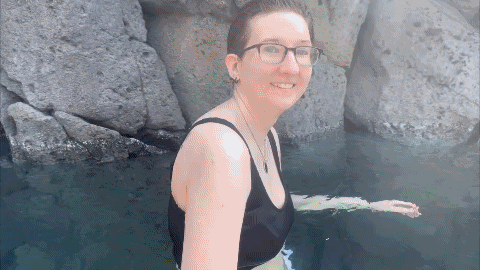 As usual, Trish enjoyed the waterfall.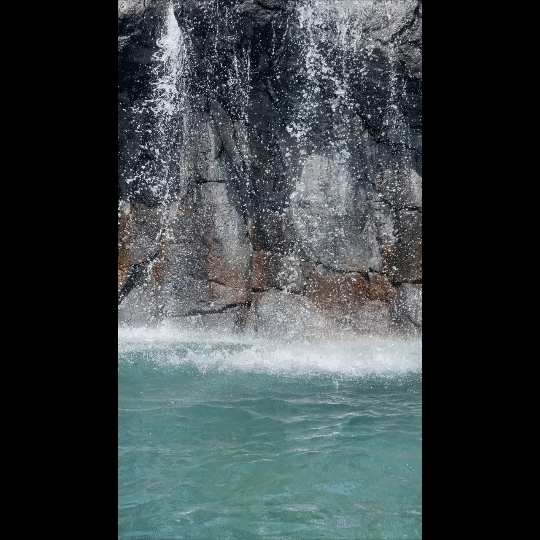 I mean, I did too.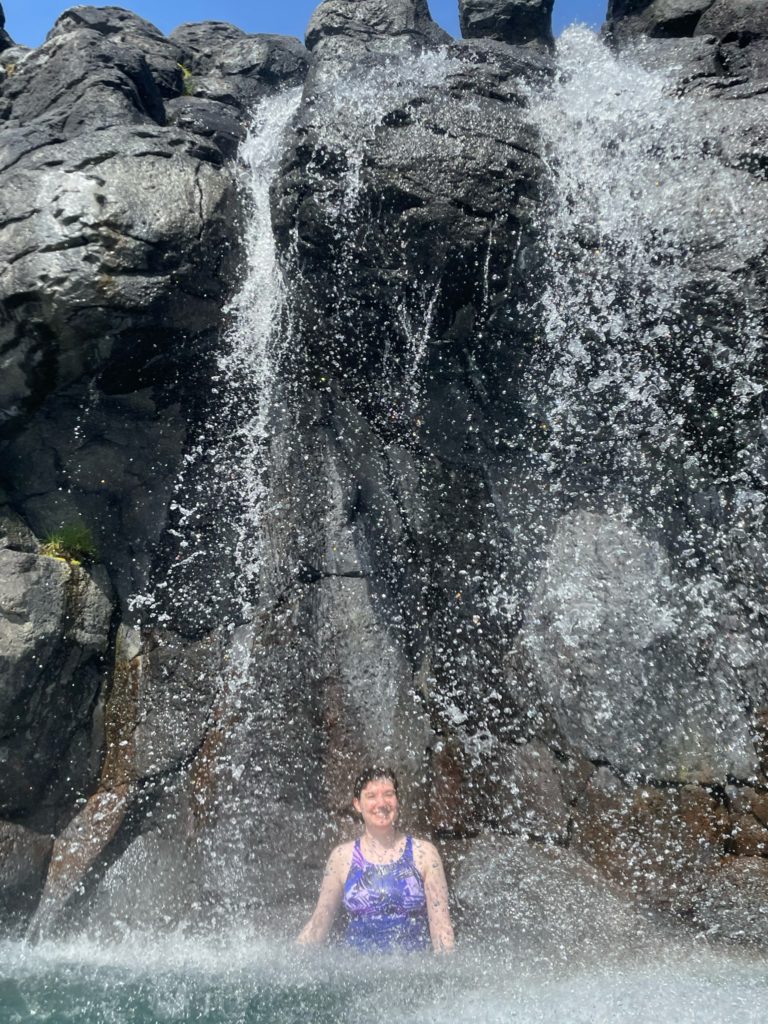 The Lagoon was lovely. I was less into the Ritual. These were the steps:
Warm Lagoon
Cold Plunge – aka freeze your butt off
Sauna – aka melt your face off
Cool Mist Room – just why? It's like getting caught in a cold rain shower
Body Scrub – rub sea salt and oil all over your body – OK I guess
Steam Room – enter a room that makes Florida look like the Mojave – it's so hot the oil melts off you
Shower
Trish actually enjoyed the cold plunge and steam room. She stayed in the steam longer than I did and said the body scrub started to pop and fiz as it melted off.
I'm glad we tried the Ritual but I think I can skip saunas and steam rooms from now on…
The Lagoon was more my speed and I would definitely be into trying other geothermal springs.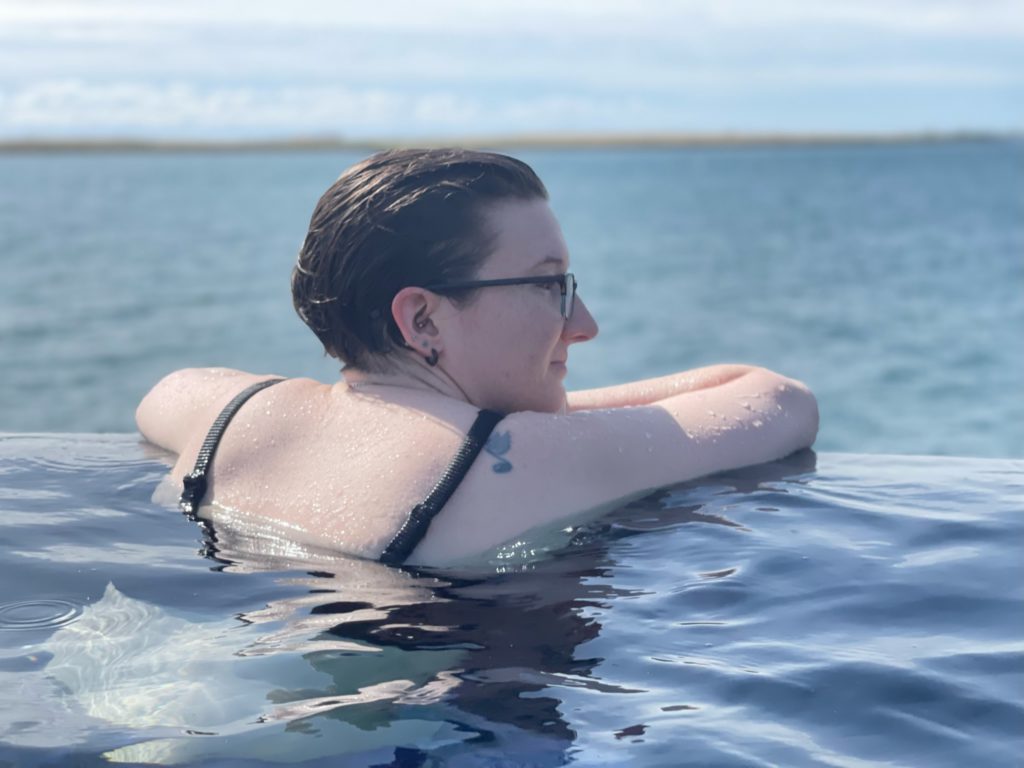 After we'd soaked to our heart's content, we traveled the last 15 minutes into Reykjavik to our lovely little AirBnB. We had some confusion over the road signage. "No Parking" looks an awful lot like like it might mean "Do Not Enter – One Way"!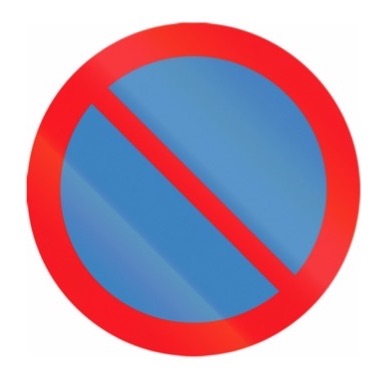 Eventually, we found our accommodations and promptly fell into bed for a nap. Or I should say "beds." Most rooms here come with two twins that you can push together if you want to, but we were too tired.
After our nap, we roused ourselves to go out for a nice dinner at Food Cellar, a popular date-night location just blocks from our apartment. They feature traditional Icelandic dishes, cocktails, and live piano music.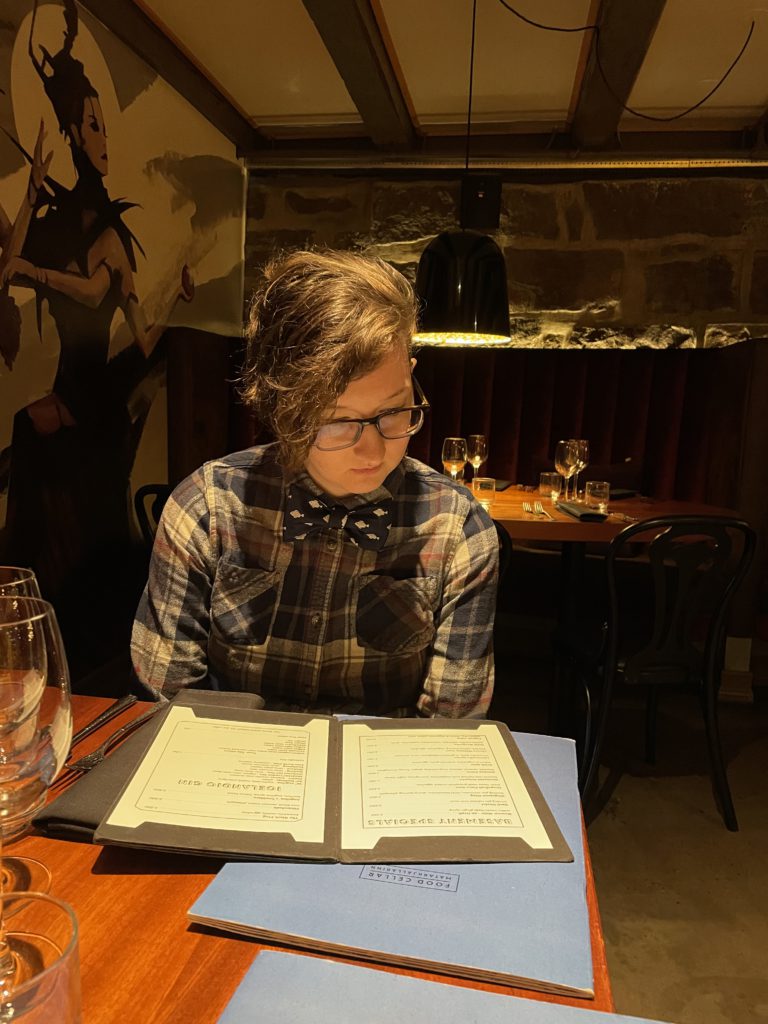 The place was very cool and everything we tried was extremely tasty!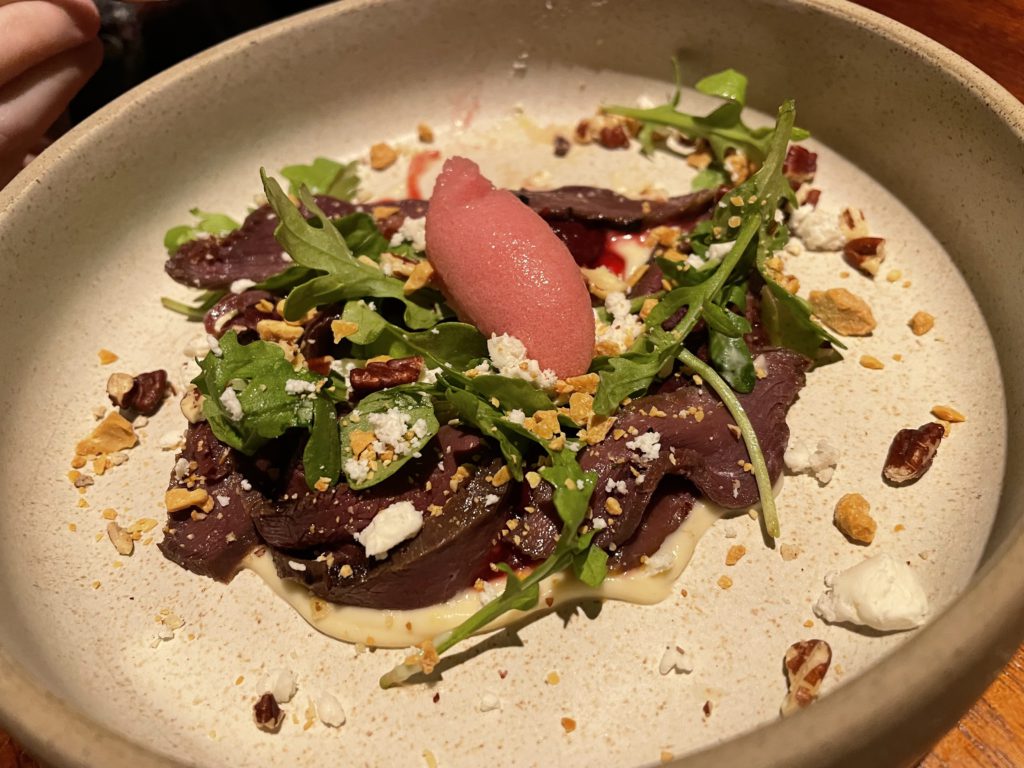 To me, the particular standouts were the Slow-Cooked Cod, which melted in my mouth, and Trish's Duck leg Confit, which married a mix of sweet and salty flavors.
Trish also enjoyed a very good Singapoor Sling cocktail. I failed to heed the "stay hydrated" signs at Sky Lagoon so I stuck with water.
The live piano music was lovely! It was just the right volume and the piano player was very talented. He specialized in songs that fit the description of "I know this song from the 40s/50s/60s because it was used in a movie in the 80s/90s/00s but I can't quite place it."
All in all, it was a great first day in Iceland! We'll do our best to sleep through the midnight sun and get on schedule for our day in Reykjavik tomorrow.