This morning started before the crack of dawn (again). We had booked an 8 AM flight-cruise-heli excursion to Milford Sound. The final weather check happened at 6:45 AM, and if the flight had been a go, we would have had to been out the door at 6:50 AM for our pickup.
Unfortunately, bad weather in Milford Sound resulted in a canceled excursion. It was a bummer (especially after the 6 AM wakeup call) but not unexpected. The tour company advised booking the trip for your first day in Queenstown for exactly this reason. They were able to reschedule us for tomorrow afternoon (though unfortunately the helicopter portion isn't available). Fingers crossed the weather looks good in both locations!
It was a fun chance to watch the sun rise over Lake Wakatipu. The iPhone's camera is too adept at shooting in low light though! These pictures don't do the change justice.

Fortunately, we were able to change tomorrow's excursion to this morning at 10 AM. Trish decided the hour was too tender and curled up on the couch for some more Zs. I caught up on my blog and watched the morning dawn.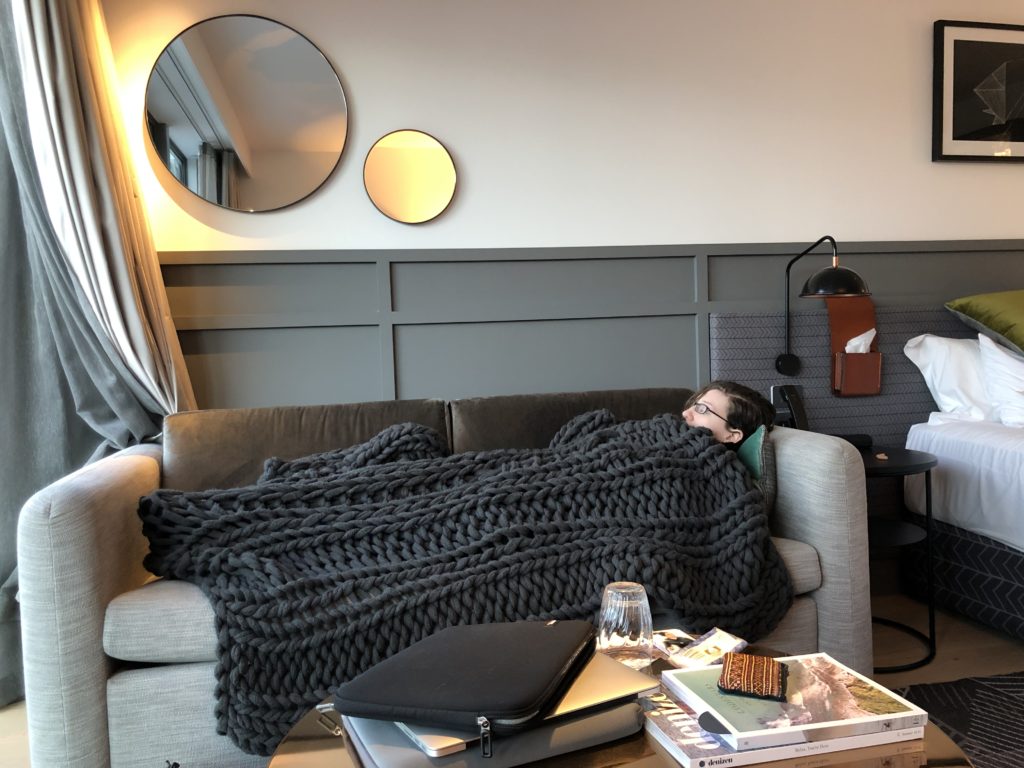 At about 9:30 we relaunched ourselves and headed to the New Journeys visitor center (taking a few tourist pics along the way).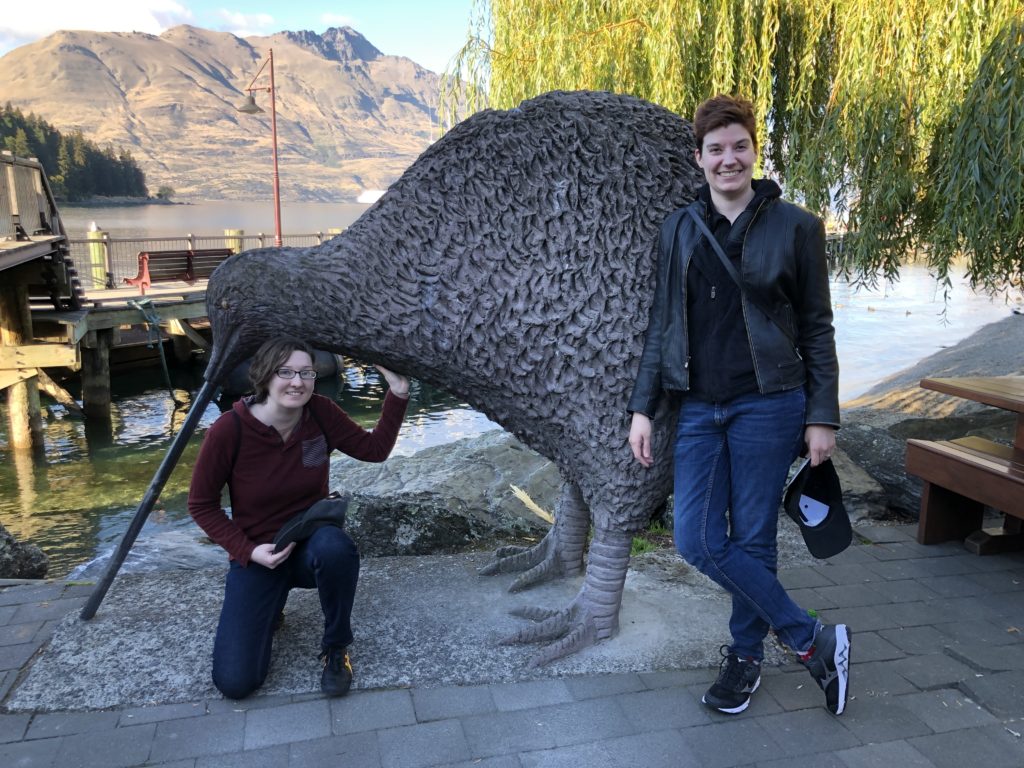 We boarded the TSS Earnslaw, a 125 year old coal-powered steamship, to sail to Walter Peak Station's sheep farm.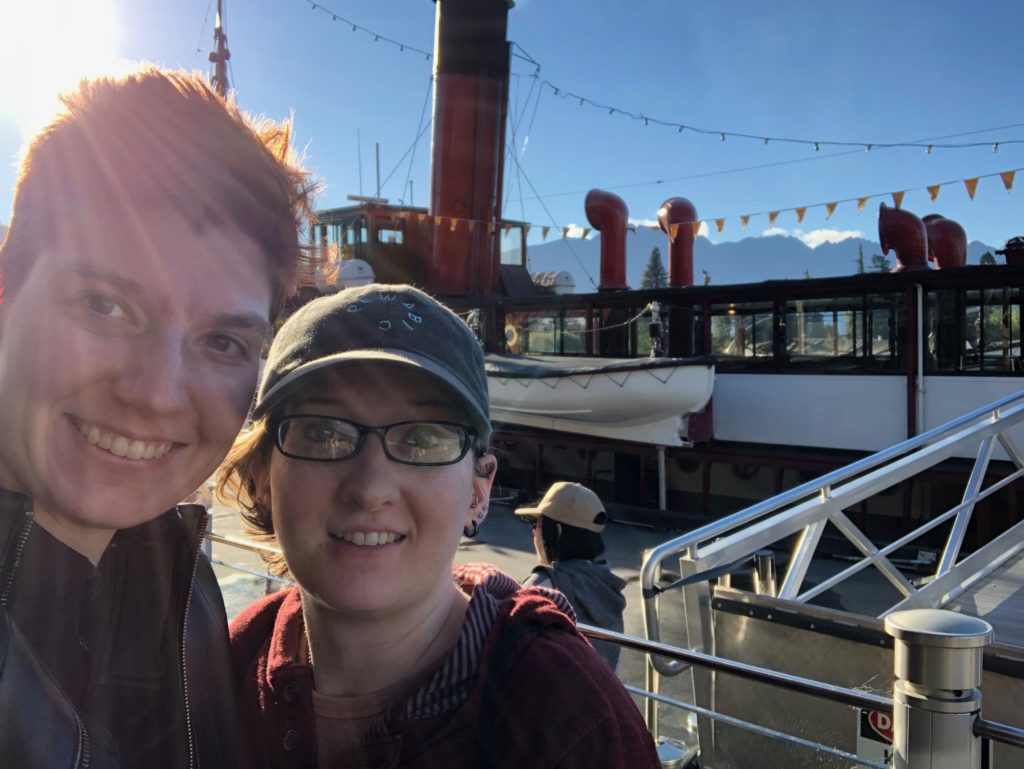 She was originally built in Dunedin and then shipped to Queenstown and reassembled in 1912. Her maiden voyage on Lake Wakatipu happened October 18 1912 and she's been running continuously every since, though she's served a variety of purposes from cargo ship, livestock carrier, passenger ferry, and pleasure cruiser.
The need for a ferry rose from the farming industry that started (by Europeans) in the 1860s. Walter Peak Station is one of New Zealand's most famous high country farms with 170,000 acres of land and 40,000 sheep (fun fact: there are more sheep in New Zealand than people).
We cruised along the lake and reveled in the beautiful weather. Mid 60s, sunny, with a cool breeze… it doesn't get any better!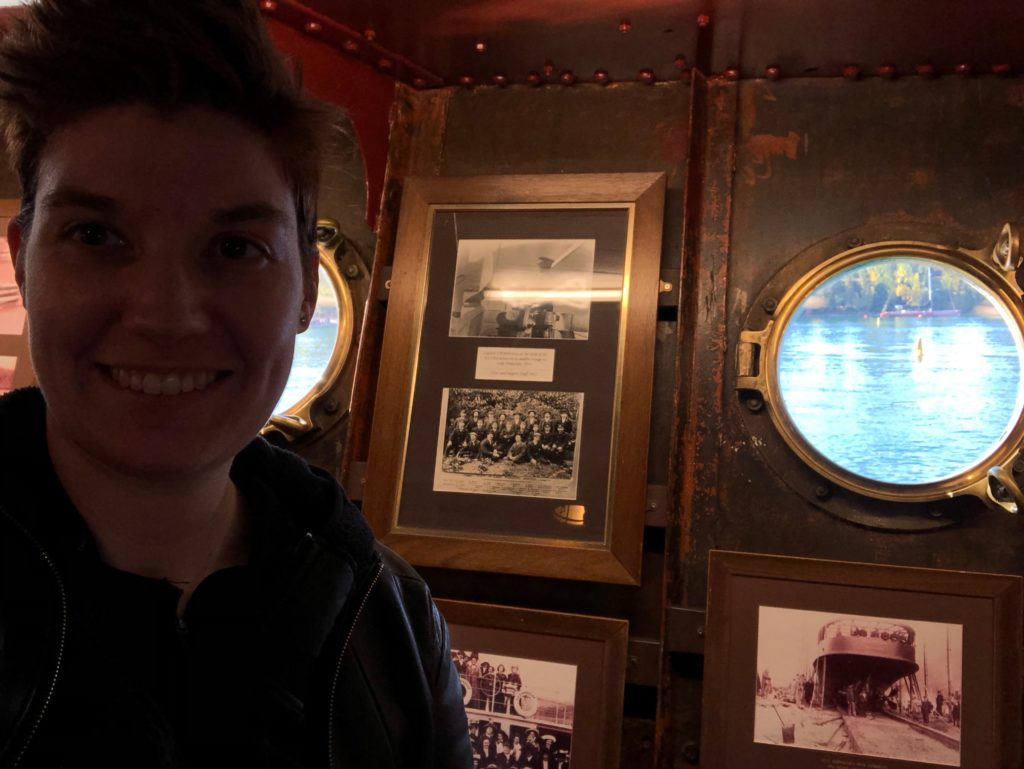 The TSS Earnslaw is also very cool because you can see (and even stand over) the engine.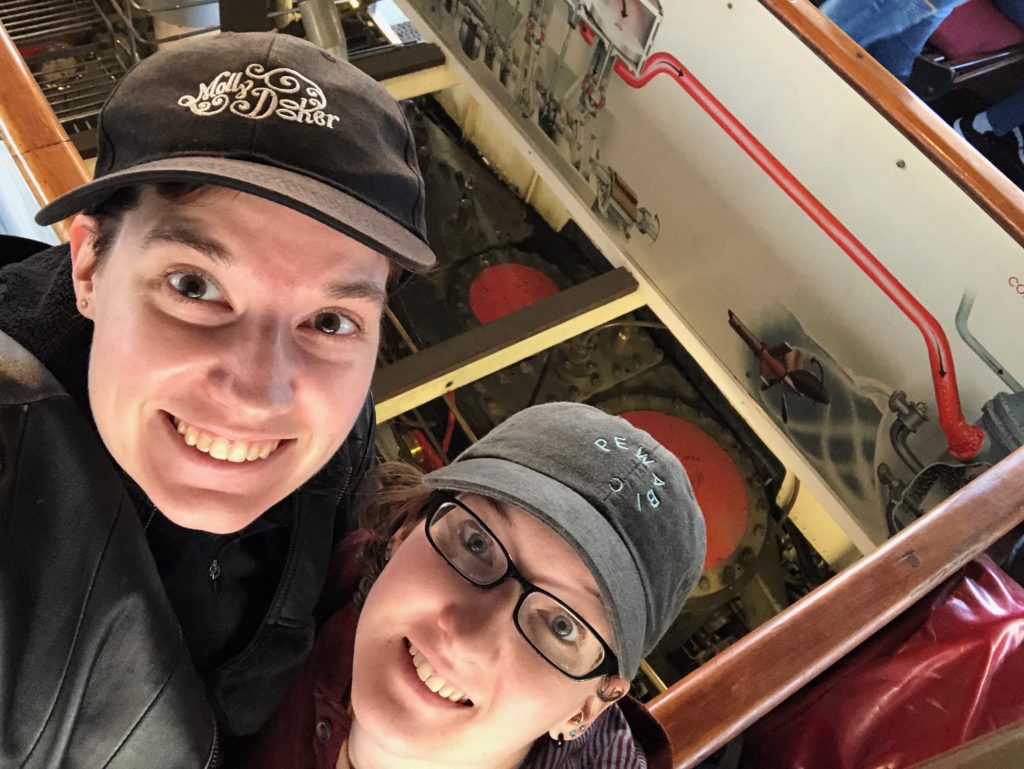 Once we arrived at the sheep station, Hamish and his two dogs, Jess (8), a New Zealand Huntaway, and Squee (5), a short-haired border collie, gave us a sheep shearing and herding demonstration.
Shearing sheep is no easy business! A grown sheep outweighs a grown man and they don't like being flipped off their feet and plunked on their tailbones (I mean, would you?). Hamish explained the process and the pattern of sheering this lamb (smaller but more wriggly).
Squee didn't do a *great* job herding the lambs but she seemed to have a great time running around the paddock after them. Jess whipped them into shape much more quickly with an intimidating bark.
After the demonstrations the group split up. A little more than half the group seemed to have booked a BBQ lunch. The rest of us went on a tour of the farm and fed cute animals. The tour was really just a walk around the paddocks to see and feed cows, highland coos, baby highland coos(!!!), fawns, and alpacas.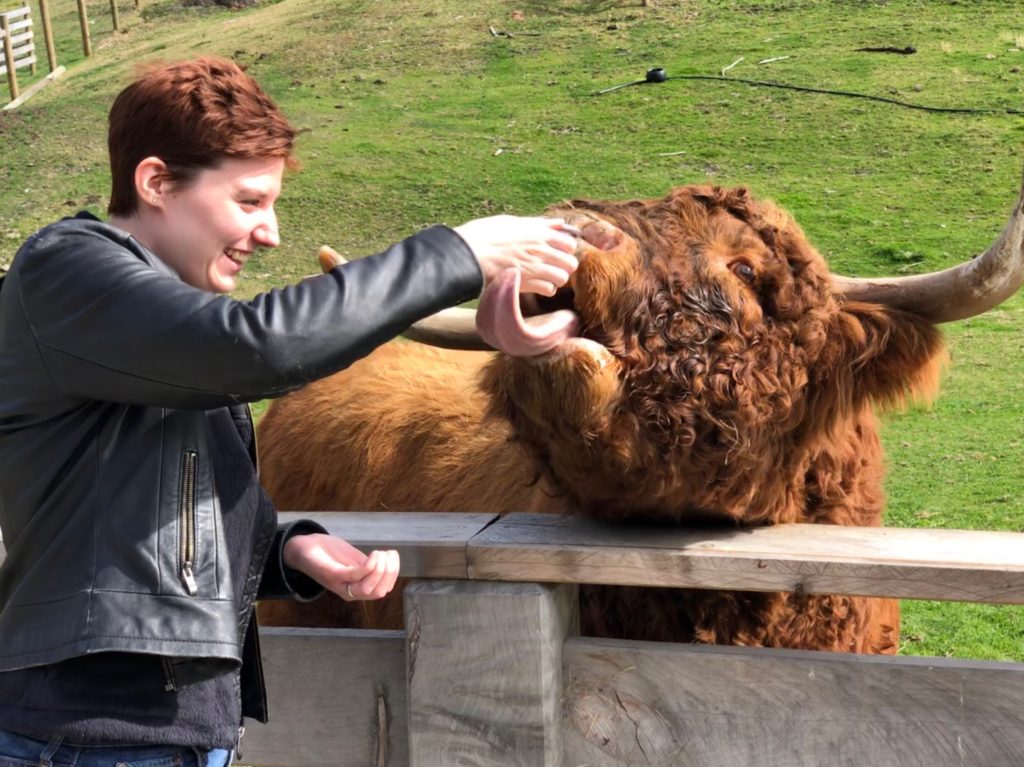 After we'd all been slobbered on and petted all the animals, we went back to the station for afternoon tea.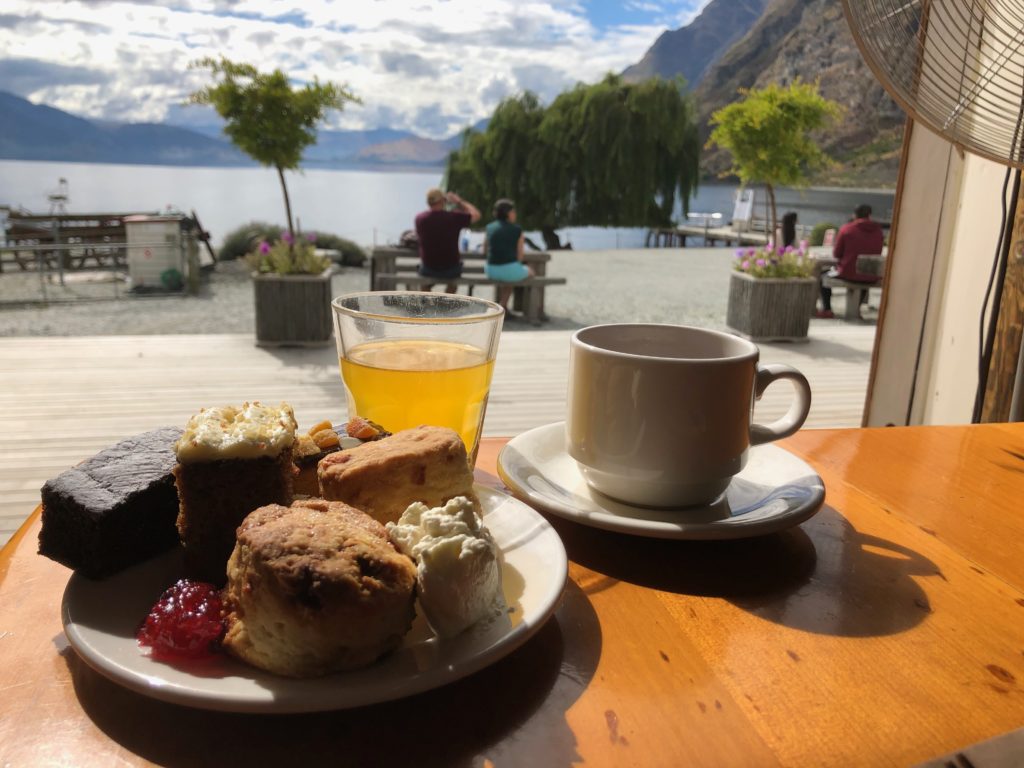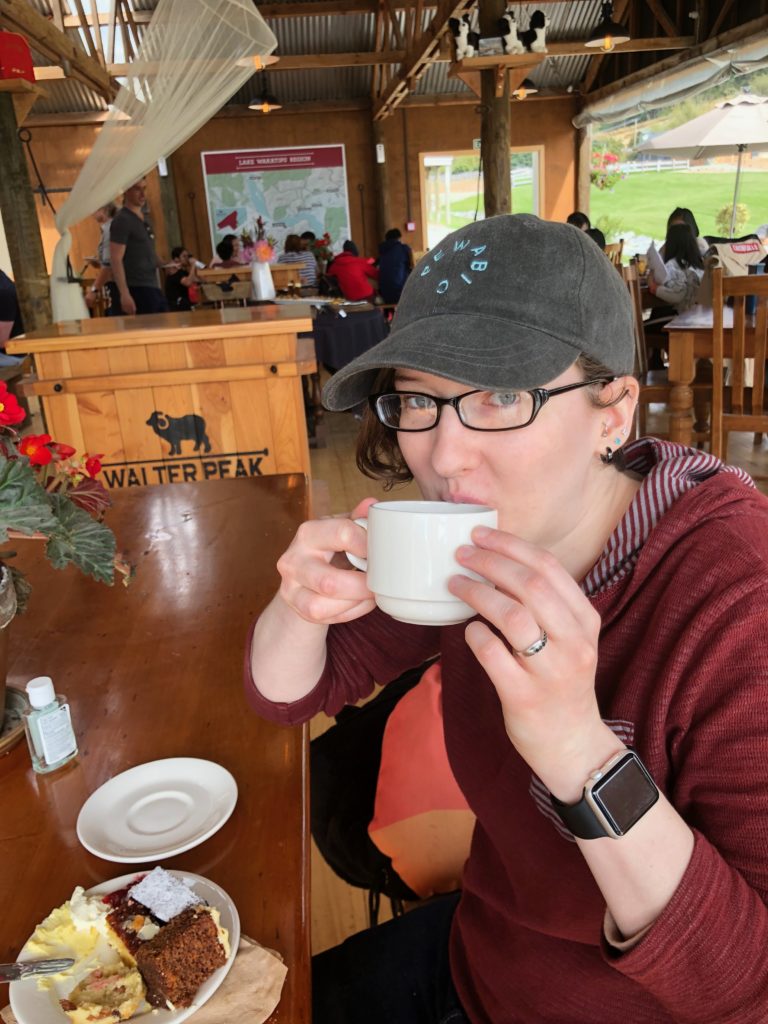 The TSS Earnslaw returned with the next load of tourists and ferried us back to Queenstown.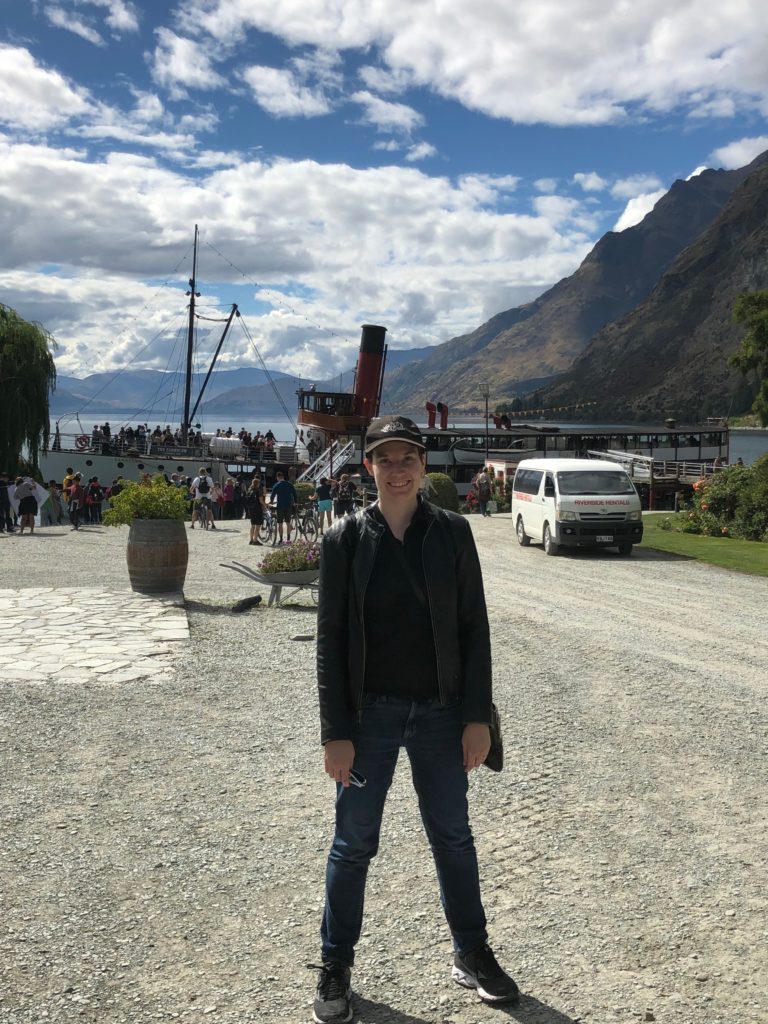 I set up a timelapse recording and promptly fell asleep. In my defense 1) I had been up since before dawn, 2) the seats on the lower level are warm from the boiler heat, 3) the boat was rocking, and 4) I still held the camera steady.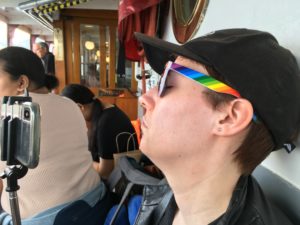 Once we got back to Queenstown we returned to the hotel for a real nap. A small confession for those of you following along at home: Trish and I caught some sniffles in Australia so we've been a little under the weather. Fortunately it hasn't stopped us from enjoying our trip!
After our nap, we got dressed for dinner at The Grille by Eichardt's (a famous Queenstown hotel). New Zealand is pretty casual but we decided to get fancy just because. Trish took some excellent model pictures of me on our walk to dinner.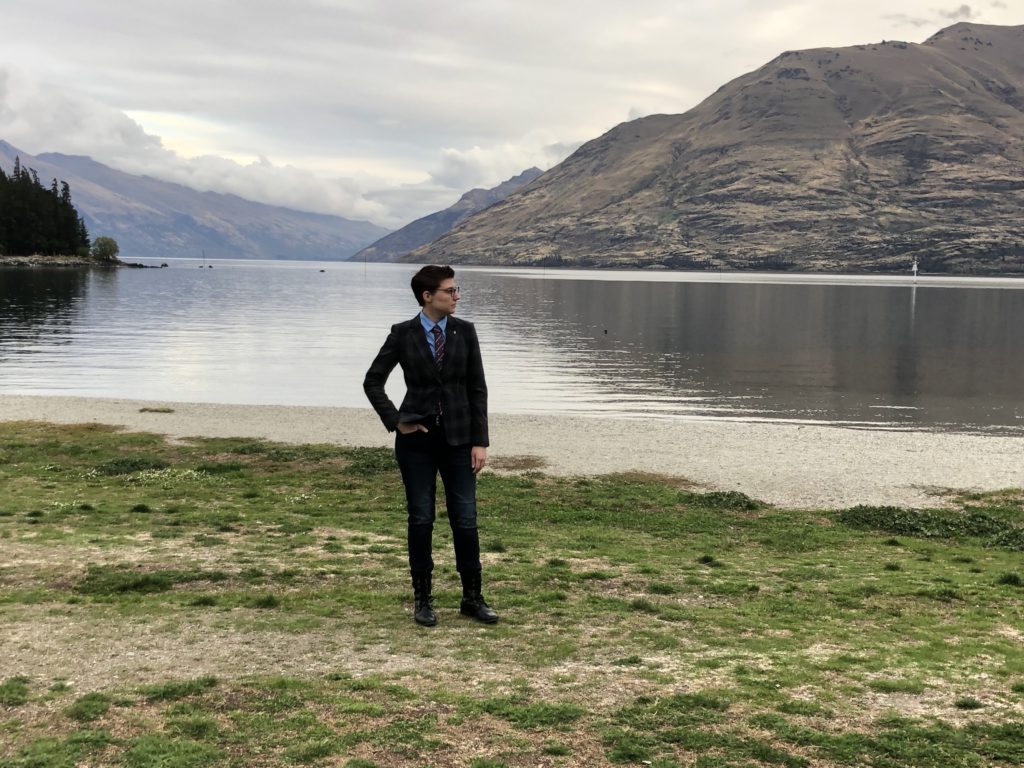 Our dinner was lovely! So much better than last night. We got a table next to the window and watched the sun set over the other end of Lake Wakatipu.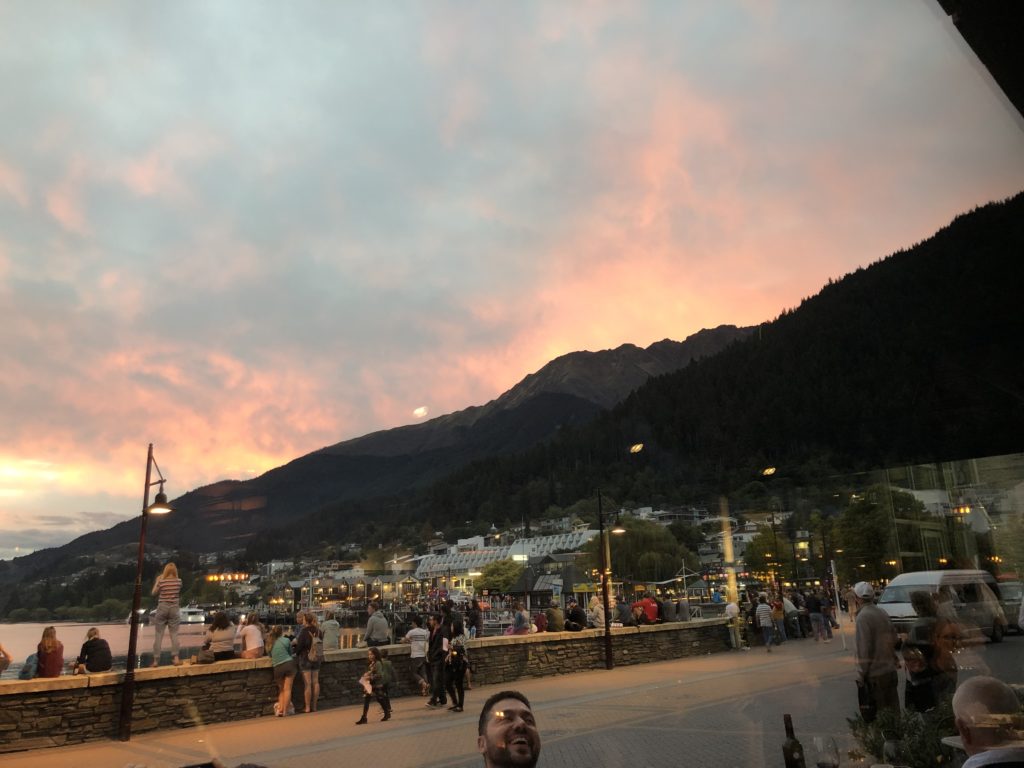 Our waiter, Erin, was from Canada and was very friendly. We picked wines and she affirmed our choices would go well with our food selections. Trish had a Hawk's Bay New Zealand Syrah and I had a glass of Australian Barossa Valley "Gnarly Dudes" Shiraz.
We shared:
Parmesan Churros with wild watercress pesto, and black garlic dressing

Smoked duck breast with pickled plums, and toast crisps
For our mains, Trish had Te Mana Lamb Rump (cooked medium well, which I'm sure broke the chef's heart) with carrot puree, crispy kale, and black garlic.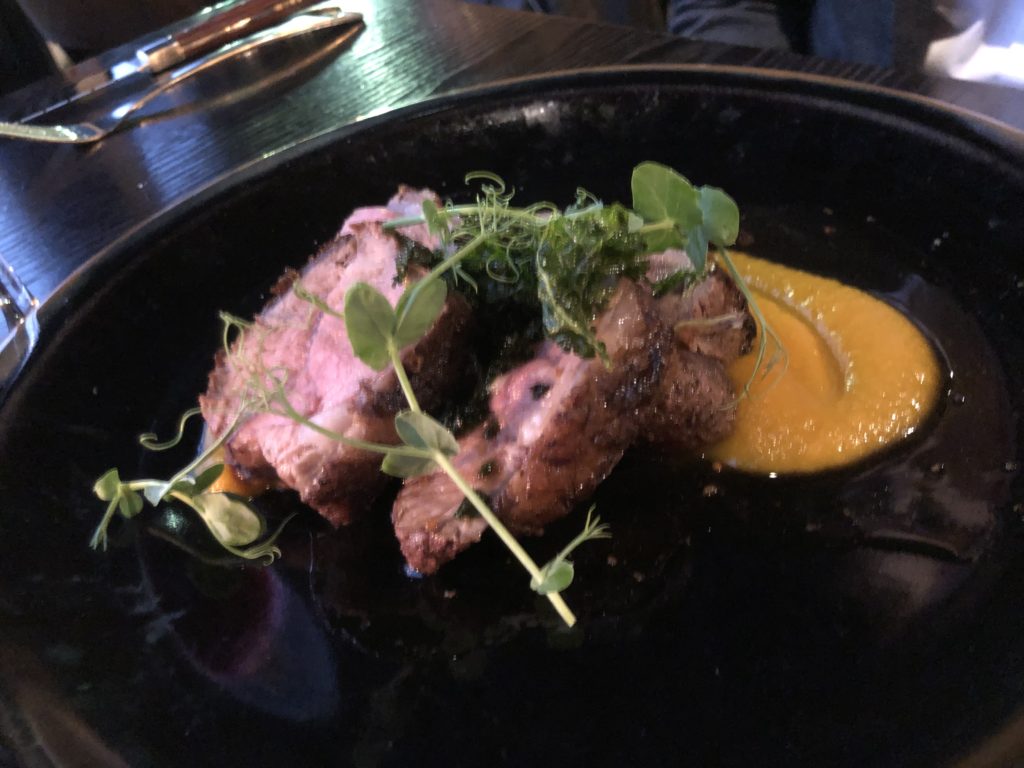 I had a beautiful medium-rare Venison Striploin with tabbouleh, smoked sumac yoghurt, and blackcurrant jam. It was stunning! The sumac and smoked yoghurt pulled all the flavors together and went brilliantly with the venison (which was so tender!).