We slept in this morning and then made our way downstairs for another wonderful breakfast buffet at the hotel's restaurant, Bazaar. We briefly contemplated going to ride the gondola after breakfast but decided to have a leisurely morning at the hotel instead. Trish caught up on emails while I worked on my blog and we both enjoyed the spectacular view from our room.
We called to check if the flight before ours (at 10 AM) made it out to Milford Sound. It had been cancelled so we didn't have a lot of hope ours would make it out either. About 45 minutes before our final weather check I got a call from Milford Scenic Flights. I answered it expecting they were preemptively cancelling our flight but, PLOT TWIST(!!!), they said it looked like there was an excellent chance our flight would make it out AND they could also get us on a helicopter going to Milford Sound if we still wanted to do that. We said, "Yes, absolutely!"
We repacked our Milford Sound day trip supplies and slathered on sunscreen. A van came to collect us at the appointed hour and drove us to the airfield. We checked in at the helicopter pad and they weighed us. They'd hung a sign on the scale that said, "Holiday Enjoyment Calculator" which cracked me up.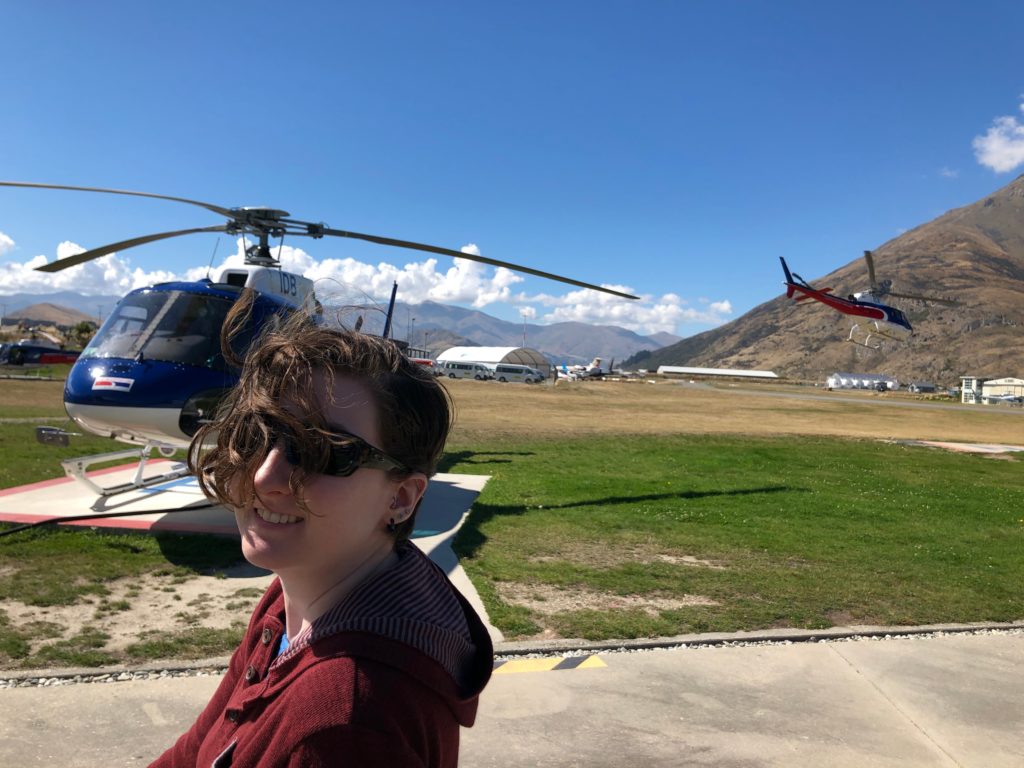 The flight before us landed and the folks exiting the helicopter just raved about how wonderful it was. Their smiles were a mile wide. A good sign!
Our helicopter held 6 people, plus our pilot, Hamish. Due to weight distribution requirements, Trish and I got to sit in the front next to the pilot! Trish sat in the middle so she could see his instruments, which fascinated her. He seemed to think they were quite different she's used to flying, but she recognized and understood most of them.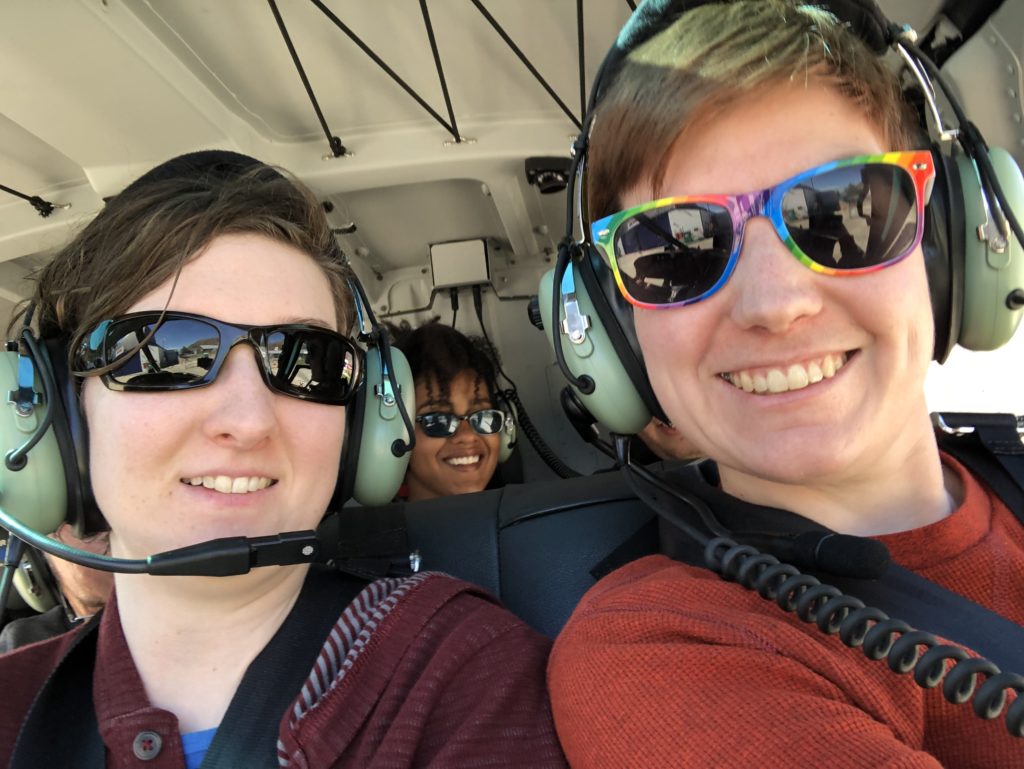 This was Trish's first time in a helicopter and I don't think the experience disappointed. Flying in a helicopter is so different from any other mode of transit. Takeoff and landing are so smooth as you just hover in place.
The scenery and the views were breathtaking. We got so close to both grassy and craggy mountainsides.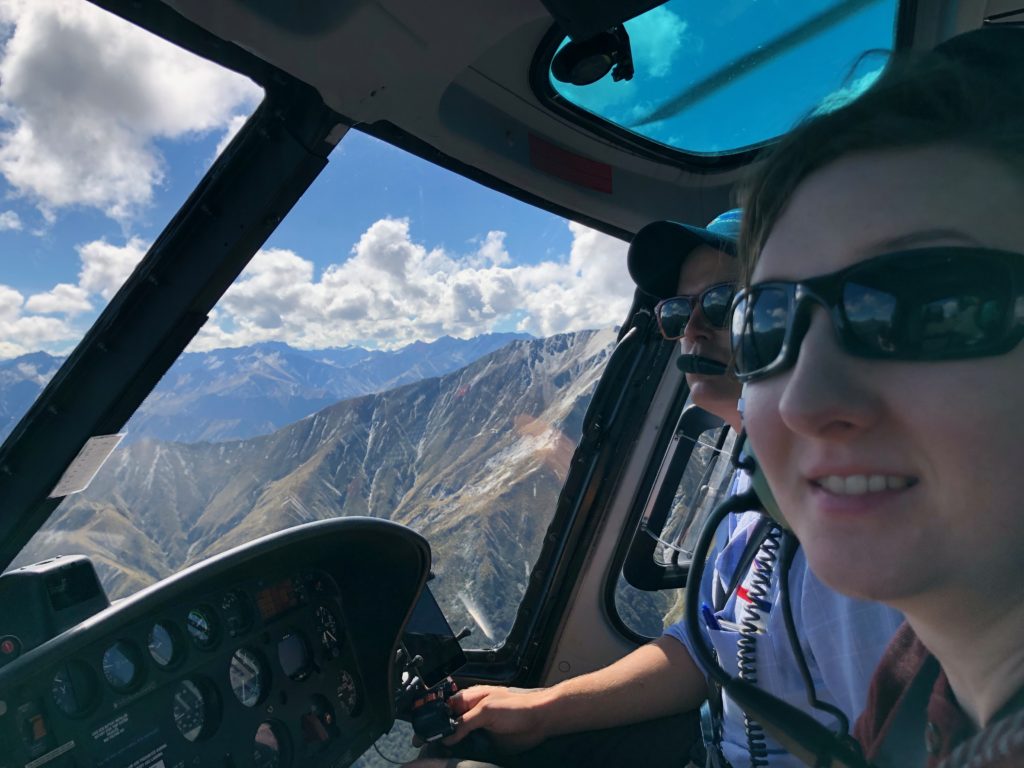 We also got to participate in an "Alpine snow landing" as part of the tour. This late in the summer (or early in the fall depending on who you ask) there was just a patch of snow, but we thoroughly enjoyed climbing up it and posing in the brisk mountain air.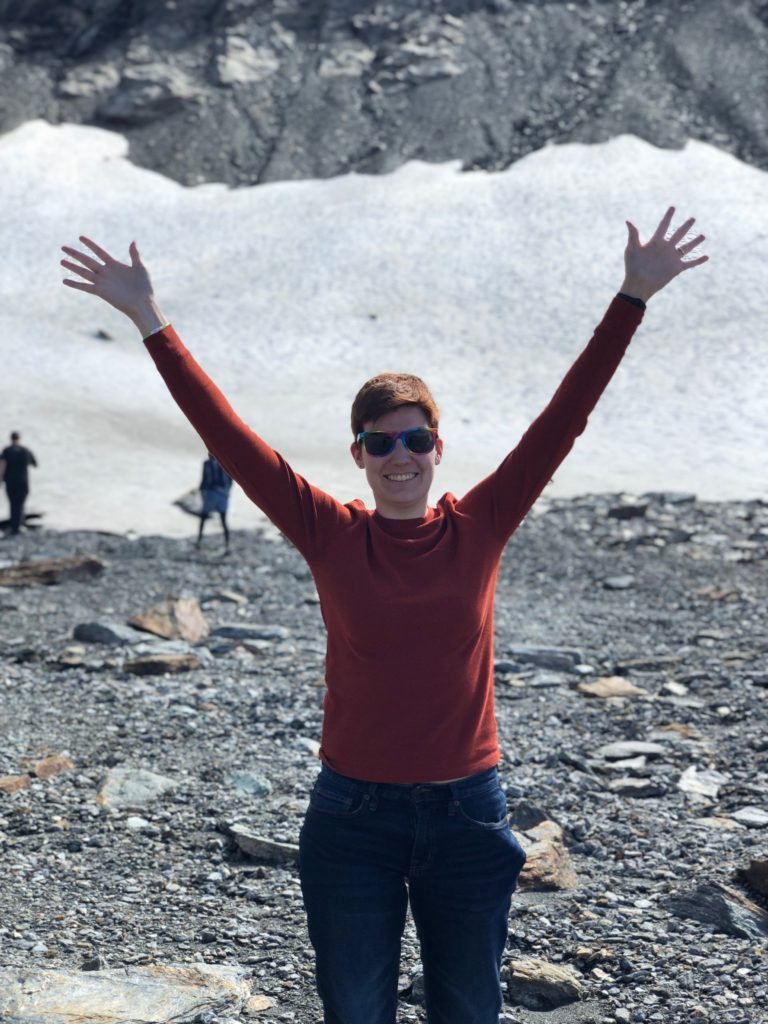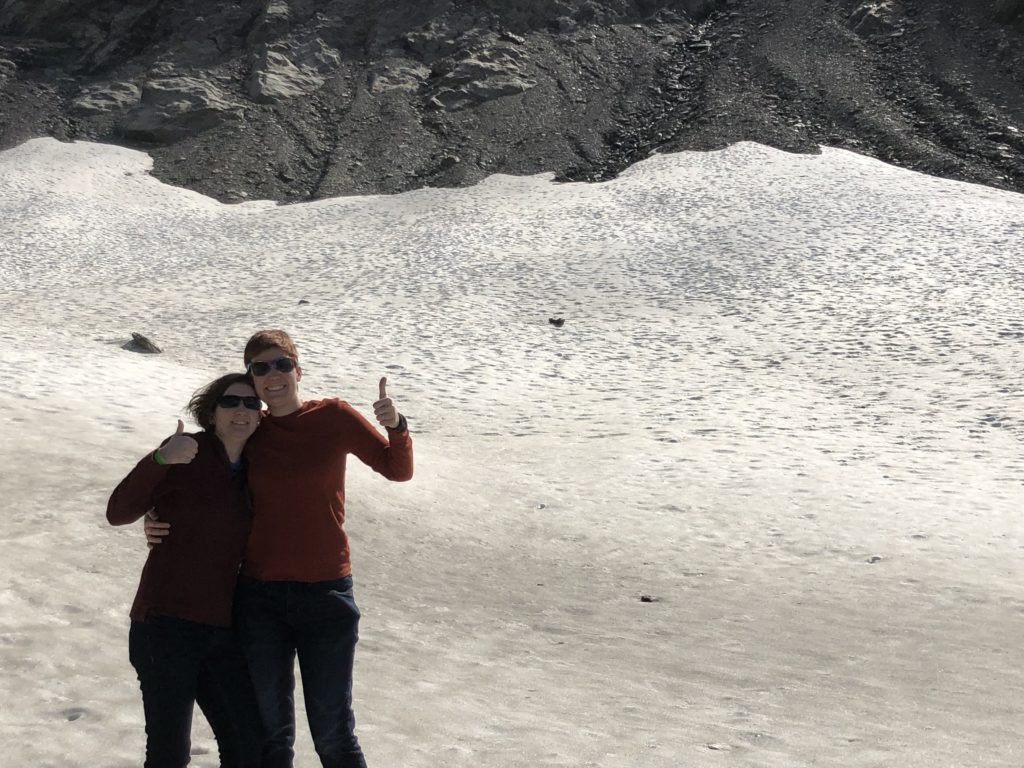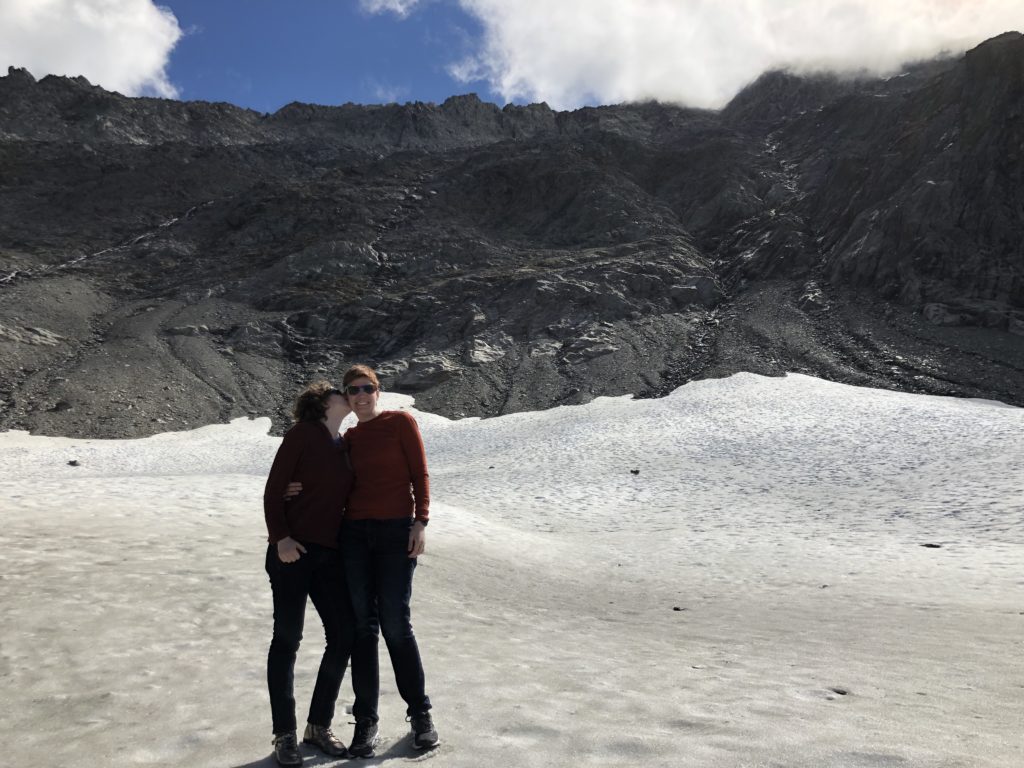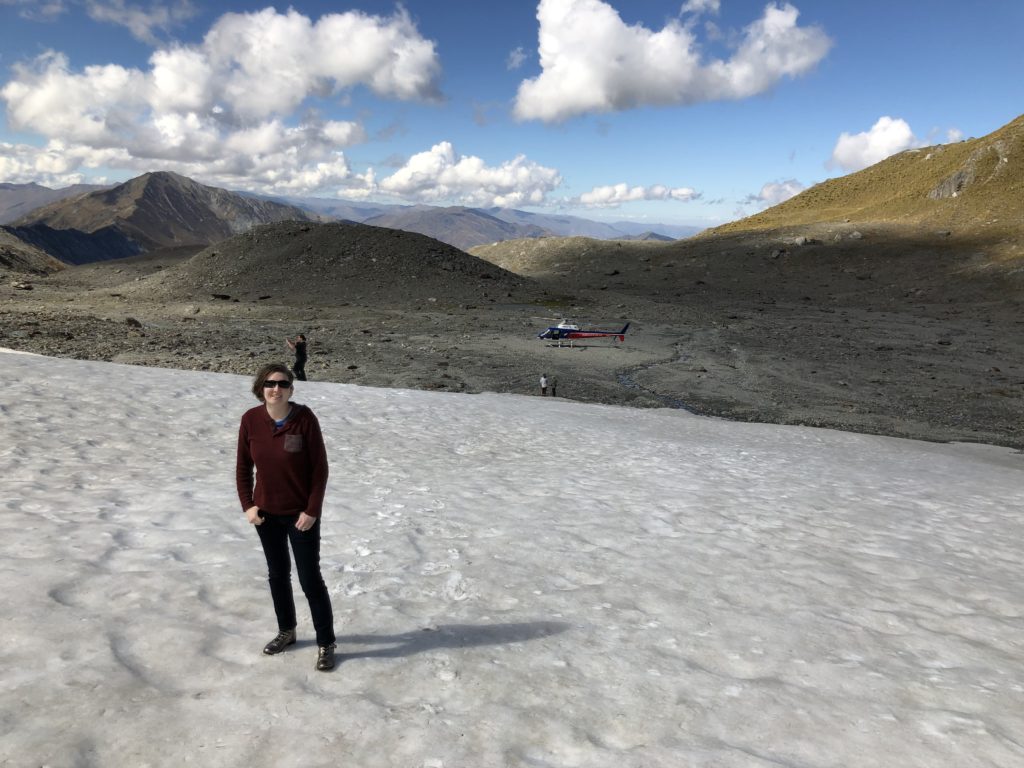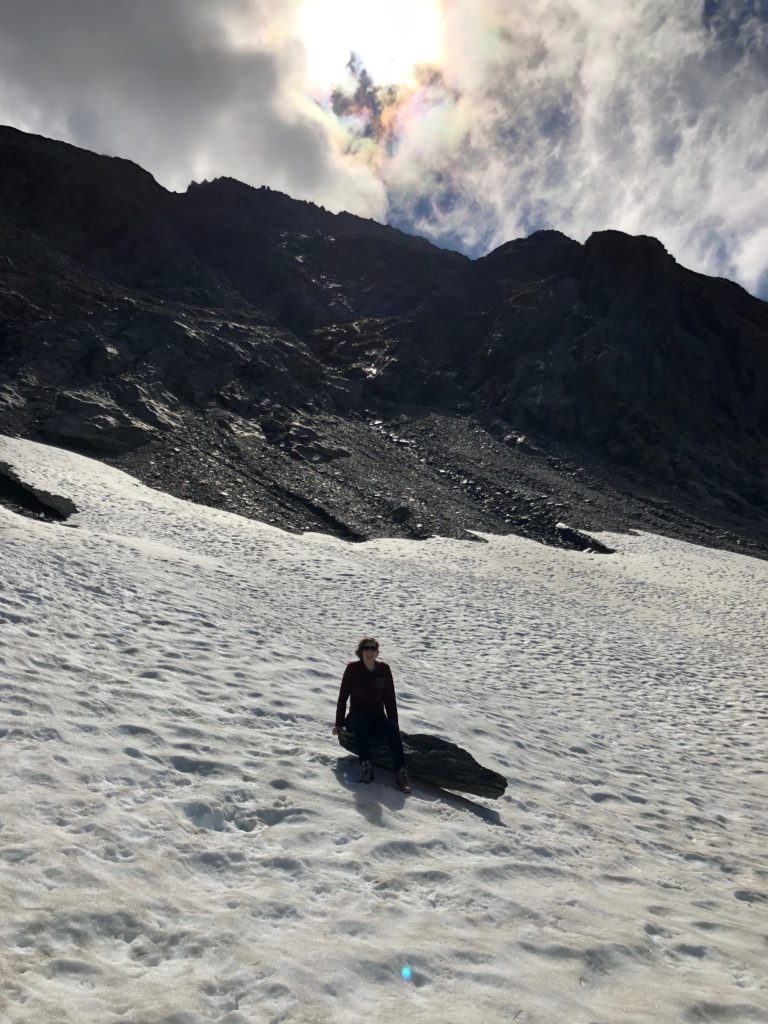 Trish wanted to climb all the way to the top, so we did.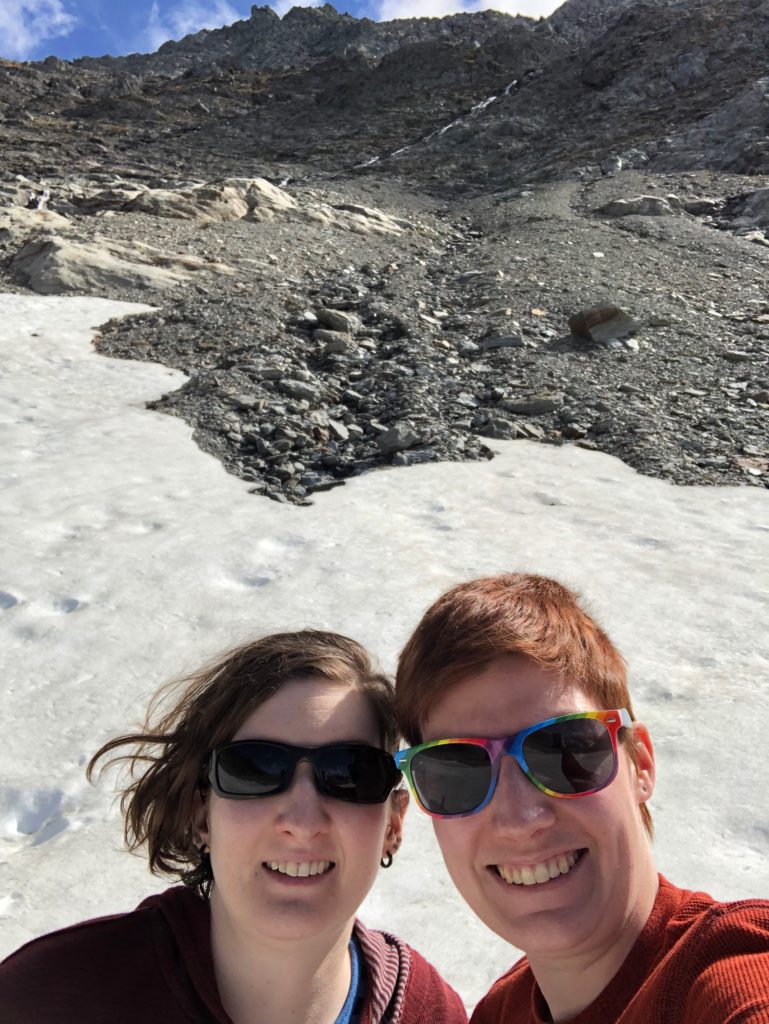 I think as a result this may qualify as my first ski trip 🙂
We had about 15 minutes to enjoy the slope and learned the snow is dirty because of bad fires in Australia. The ash has made it this far south in the past several weeks.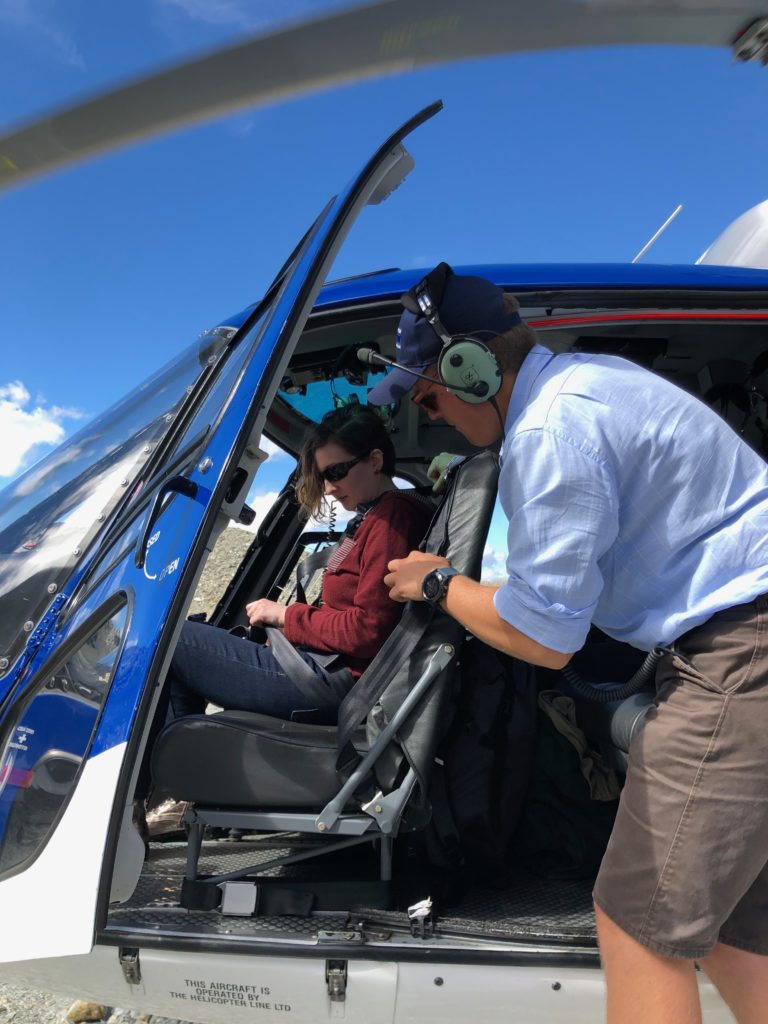 The flight from the landing to Milford Sound was about 30 minutes and we absorbed every minute of it.
Hamish gave a wonderful commentary along the way about what we were flying over. It was a little hard to hear, but I caught most of it. He also flew us really, really close to the mountains.
We ended up circling Milford Sound waiting for a slot to land between the small planes flying in, which just provided more stunning views.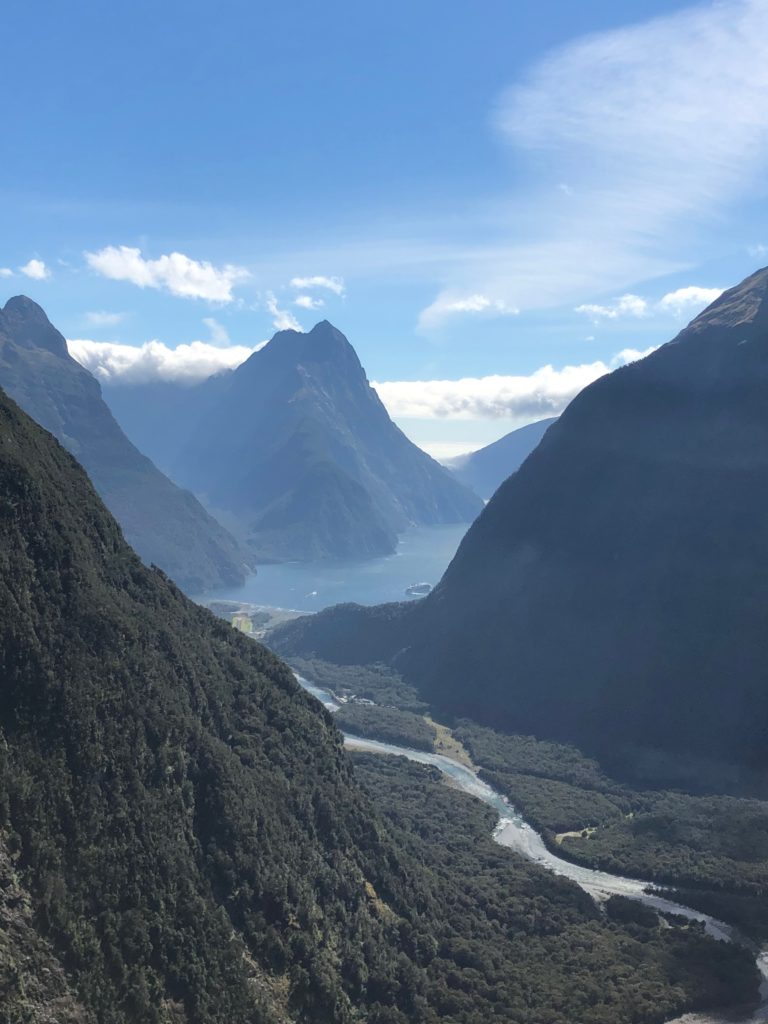 Once we arrived in Milford Sound we were the last two passengers to board our boat for a cruise of the Sound out into the Tasman Sea. It felt strange to be looking up at what we'd just been looking down at!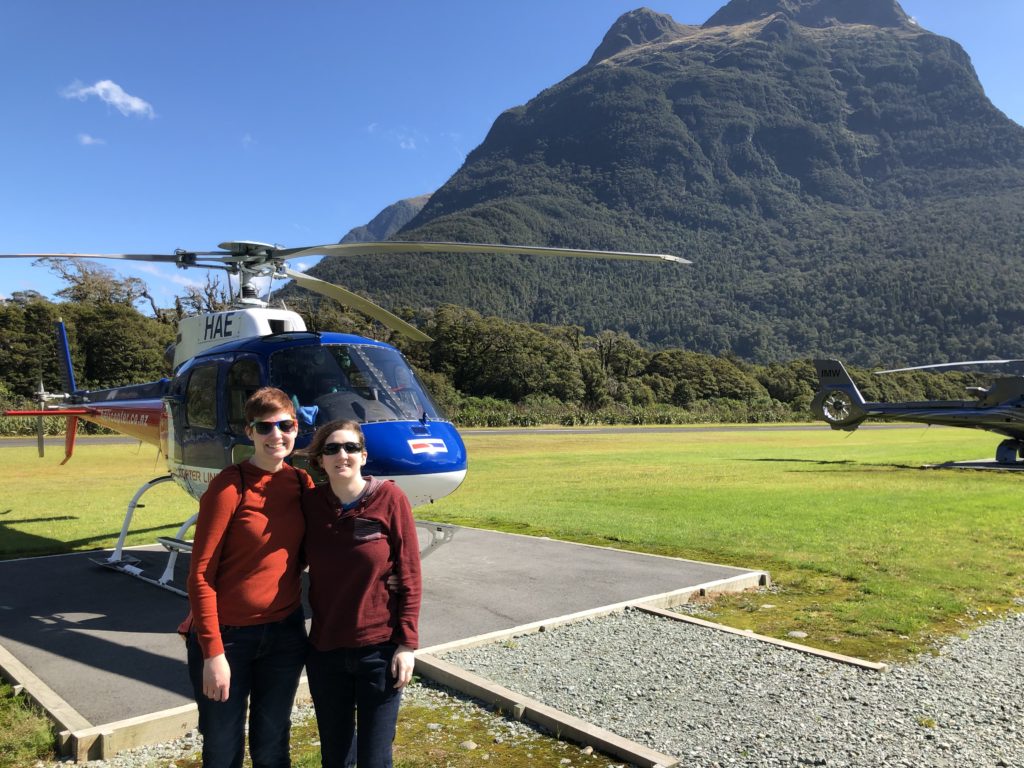 This particular cruise was lovely because the number of passengers was capped at a small number (I'd estimate 25) so there was plenty of room to move about the boat (inside and out) to get different views.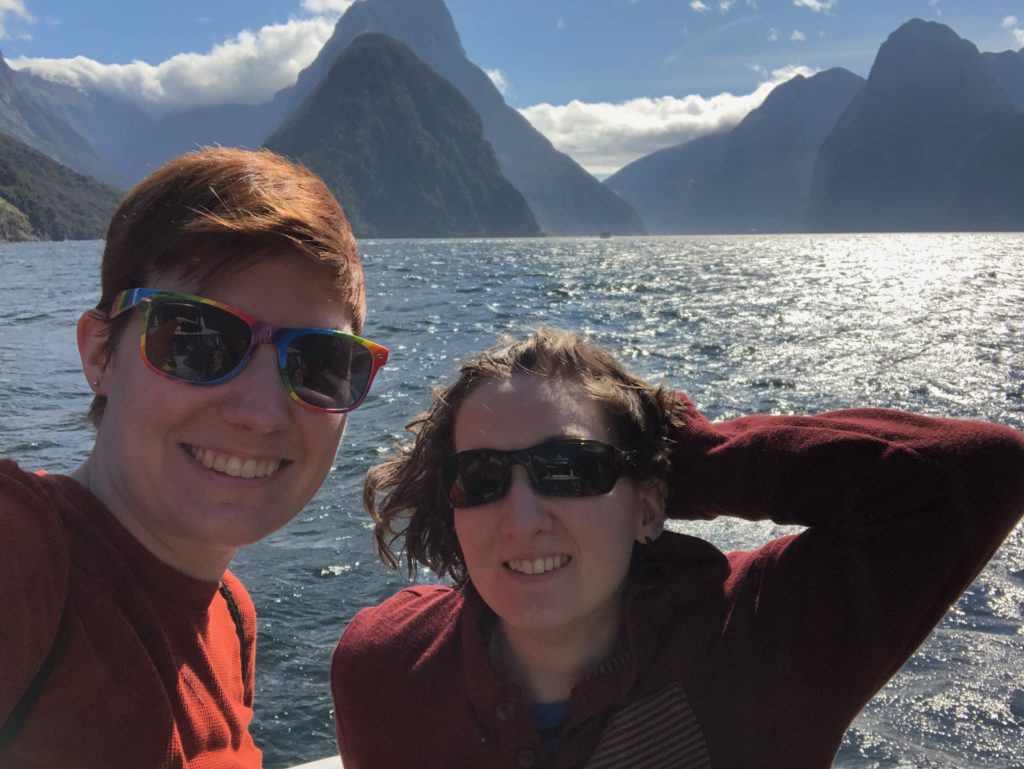 Trish took up a position on the bow with the wind (and spray) in her face. I preferred more sheltered enclaves!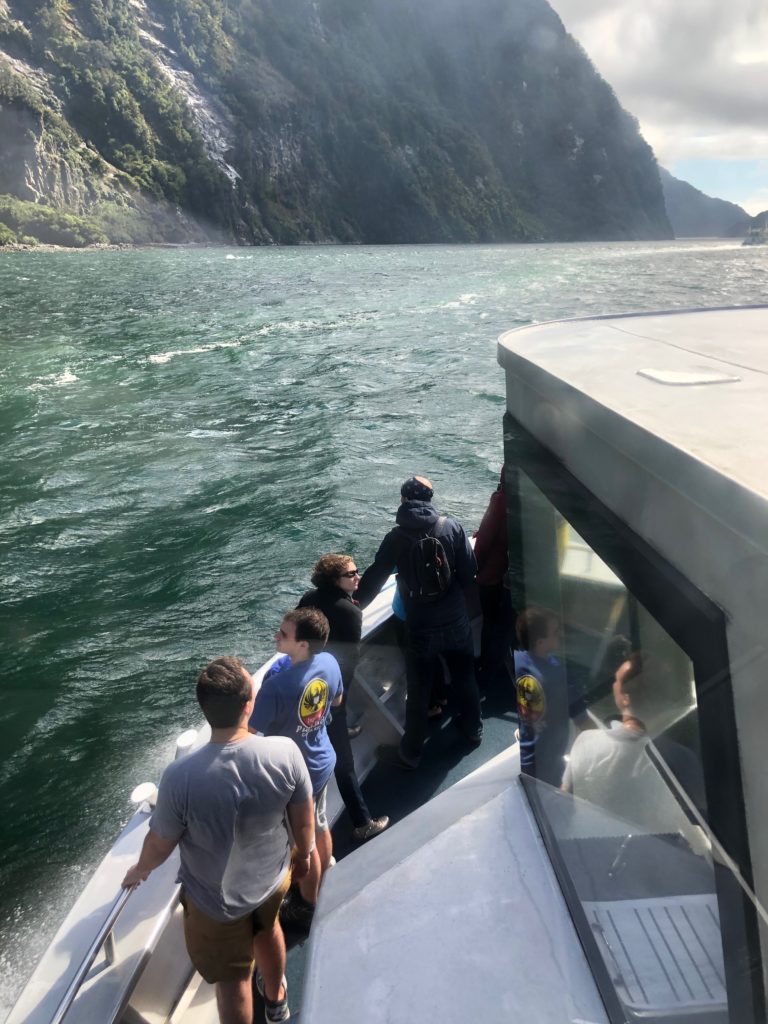 Milford Sound is known for stunning views of waterfalls (most of which you see on the return leg of the cruise). Lucky visitors can also spot dolphins and boy were we lucky!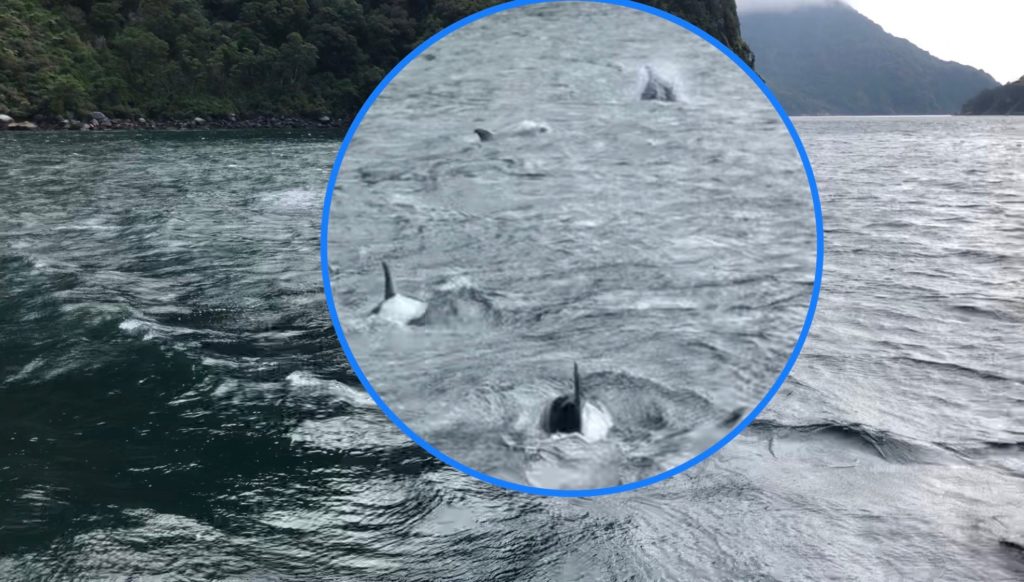 We ran into not one but two pods on our way out to the Tasman Sea! They beelined for our boat to play in the wash and put on quite a show for us.
I'm so glad I had the 360 camera with me because when we looked at the footage we discovered a couple of dolphins so close to the boat we couldn't see them under the bow!
We also saw a flock of local sea birds (I didn't catch their name, but I remember they are tasty according to the captain). Trish got great footage of them taking off over the Tasman Sea as our boat approached.
We sailed out past the mouth of the Sound. Captain Cook sailed past two or three times without realizing there was an entrance. I can see why! It really hides itself. Of course, the Maori knew about Milford Sound and came to quarry greenstone (pounamu).
On the sail back into the Sound we passed by Seal Rock, which has definitely earned a seal of approval from these sleepy fellows.
Shortly after that we encountered the most impressive waterfall on our journey. The Captain nosed the boat right up into the bottom of it. I grabbed our electronics and booked it inside. Trish got significantly more wet!
Before

After
After the cruise, our pilot met us for the return flight to Queenstown. He also bore the picnic lunch boxes we were supposed to have gotten before the cruise. Oh well! We hadn't noticed how hungry we were because we'd been to busy enjoying the cruise anyway. But it was nice to have a snack while we waited for the bus to take us back to the airport.
We boarded a small eight-seater plane and took off. The flight and views were still very impressive but it was difficult to top the helicopter ride. We didn't get any commentary but we recognized the features well enough to realize we took a slightly different path back.
When we landed on cloud nine after our day's adventure. Our pilot posed for a picture with us.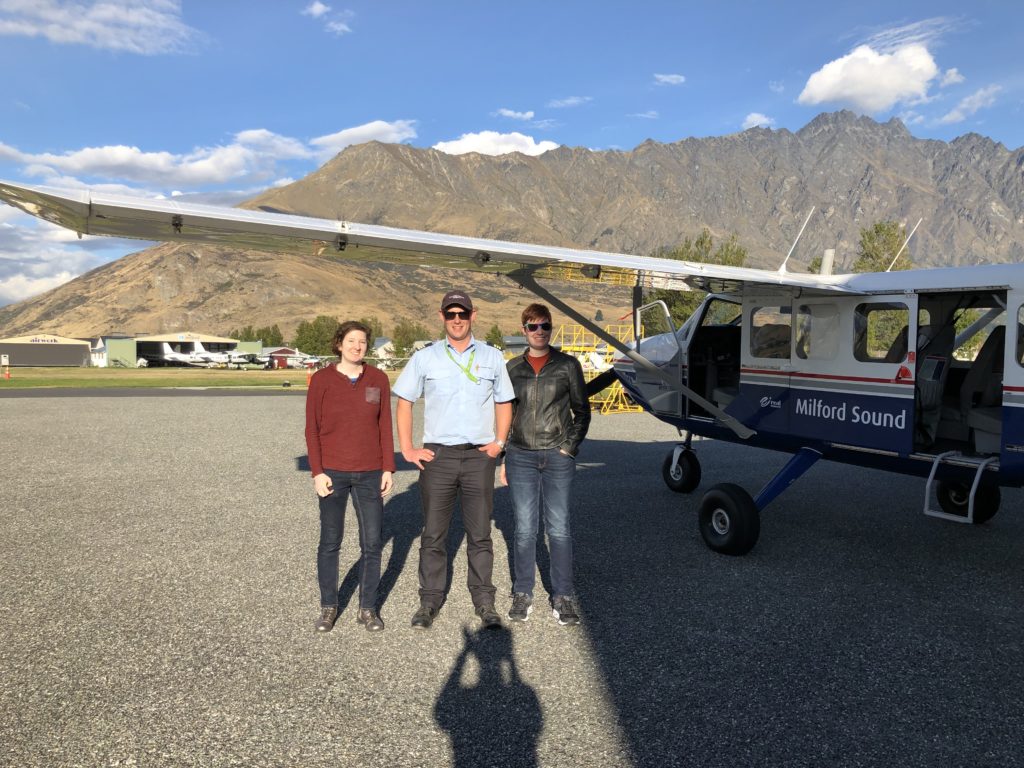 Then a very nice taxi driver took us back to the QT Queenstown. She's planning a trip to the states with her 80-year-old parents in a few weeks to see her youngest son's college graduation and then road trip around the upper east coast for 5 weeks. Her parents have never travelled abroad before so they're really looking forward to it.
She also recommended a couple of restaurants we could consider for dinner, including White and Wong's. We strongly considered it, but after stewing in our room's extra large and extra luxurious soaking tub we decided to be lazy and order in takeout.
Thanks to the Internet we found a local Thai restaurant, Tham Nak Thai, with excellent ratings. However, they didn't have a website, just a Facebook page. I figured that was either a good sign or a bad sign. We decided to gamble and called them to place our order.
It was a good move! We shared pad thai and a mixed appetizer platter with curry puffs, chicken satay, chicken wings, and golden purses. And the best part was we didn't even have to put pants on!