This morning we got up before the crack of dawn (again) and enjoyed one last breakfast at Bazaar (and I finally remembered to take pictures of the spread).
At the tender hour of 7:10 AM we said farewell to Queenstown and a coach picked us up to drive us to Christchurch via Aoraki Mt Cook (well, technically The Hermitage Hotel in Mt Cook Village, but it had a view of Aoraki).
New Zealand seems to have a very large Japanese tourism industry, so our coach actually had two tour guides, one who gave a Japanese tour for those with headsets, and our bus driver, Stuart, who gave English commentary over the bus speaker system as we drove.
Trish and I snagged seats right behind Stuart since we were the first hotel pickup of the morning. This gave us spectacular views all day and the chance to take some fun time lapse videos of the journey.
Stuart was a good guide. His delivery was a bit understated but he knew A LOT about the region, especially when it came to geology and farming, and he told a good yarn.
The scenery around Queenstown is mountainous. This time of year there's obviously no snow, which makes it difficult to imagine what it looks like blanketed in white. Instead, scrubby little plants blanket the hillsides in tufts. Stuart told us they were an herb used in Mediterranean cooking and left us guessing for a while. My first guess was oregano (wrong) but I eventually got it: thyme.
We drove past/over Gentle Annie Creak and Roaring Meg Stream. Both named after barmaids in the area during the gold rush in the late 1800s. Both were well liked, but you can guess their personalities from those names!
Our first rest stop was at Jones Orchard, where we had 15 minutes to use the toilets and shop. They set out samples of their produce, including red kiwi fruit, which is the sweetest variety. We also sampled some honey and learned the famous Manuka honey is ridiculously expensive!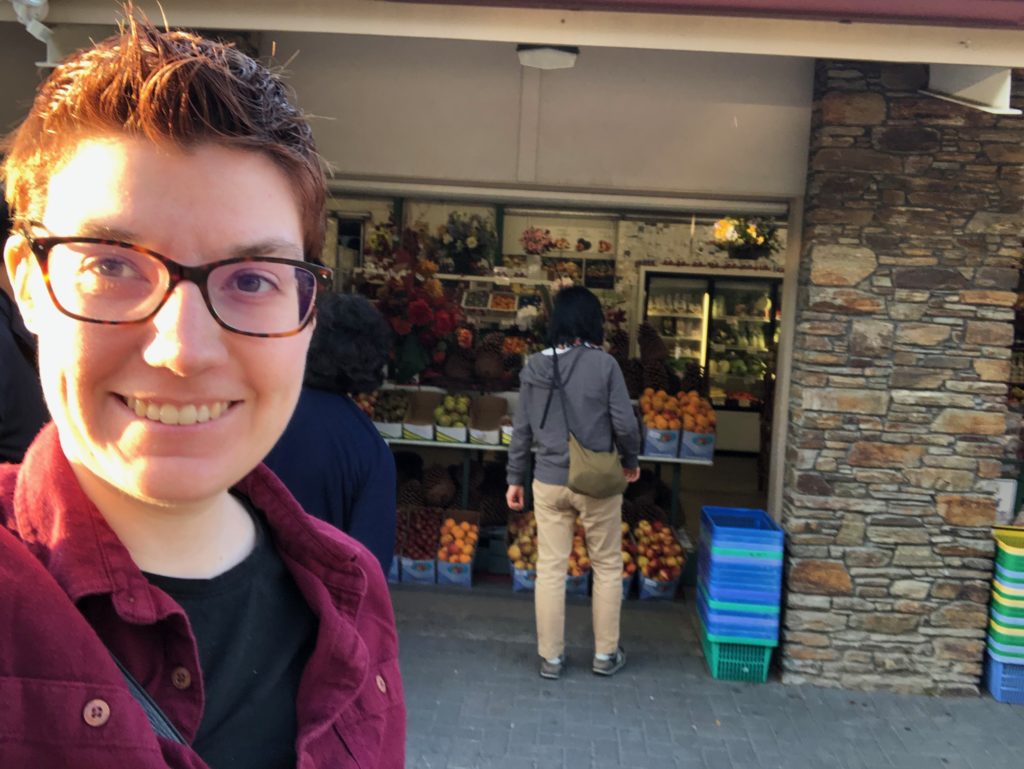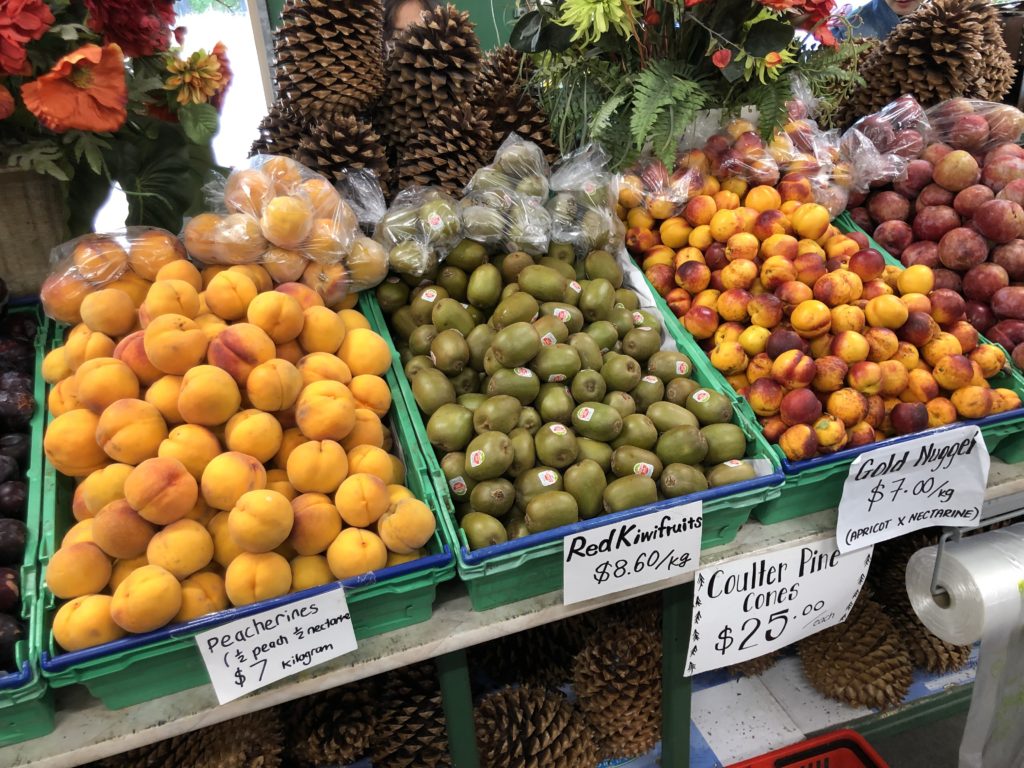 After that, we drove through Cromwell, around Lake Dunstan, which is manmade. The reservoir took 25 years to engineer and build due to the risk of earthquakes and mudslides causing severe flooding. So far so good and the reservoir produces about 8% of New Zealand's electricity.
We made a quick stop for photos and Stuart picked a bunch of thyme for everyone (which does indeed grow everywhere). The wild variety has a slightly different colored flower (pinkish) than the domesticated variety (pinky-blue).
Along our next stretch of path, Stuart told us the story of Shrek the Sheep, a New Zealand icon for inexplicable reasons. He was a wether (a gelded male) returned to the flock to produce wool. He did NOT like dogs. So one year he decided he didn't want to get herded down for his annual haircut and found a cave to hid in… for the next 5 years! At that point, he had so much wool on him he couldn't see through it and had trouble moving around.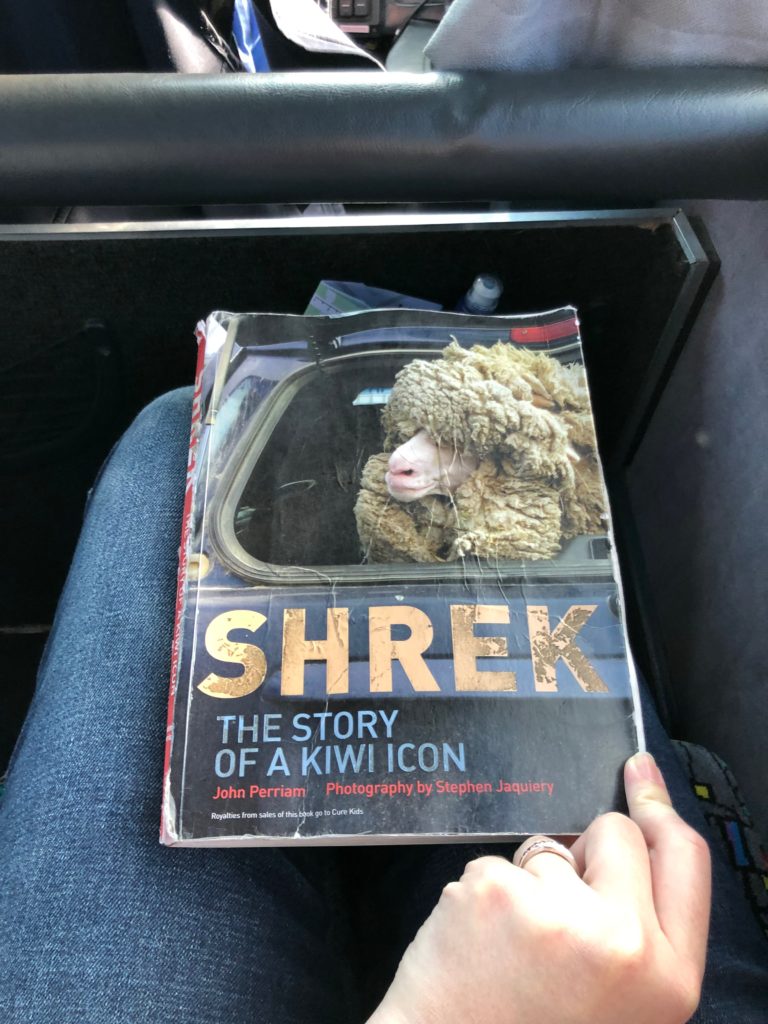 Fortunately, shepherds found him and carried him down for a haircut. Someone snapped a picture of the funny sight and it later appeared in the local newspaper.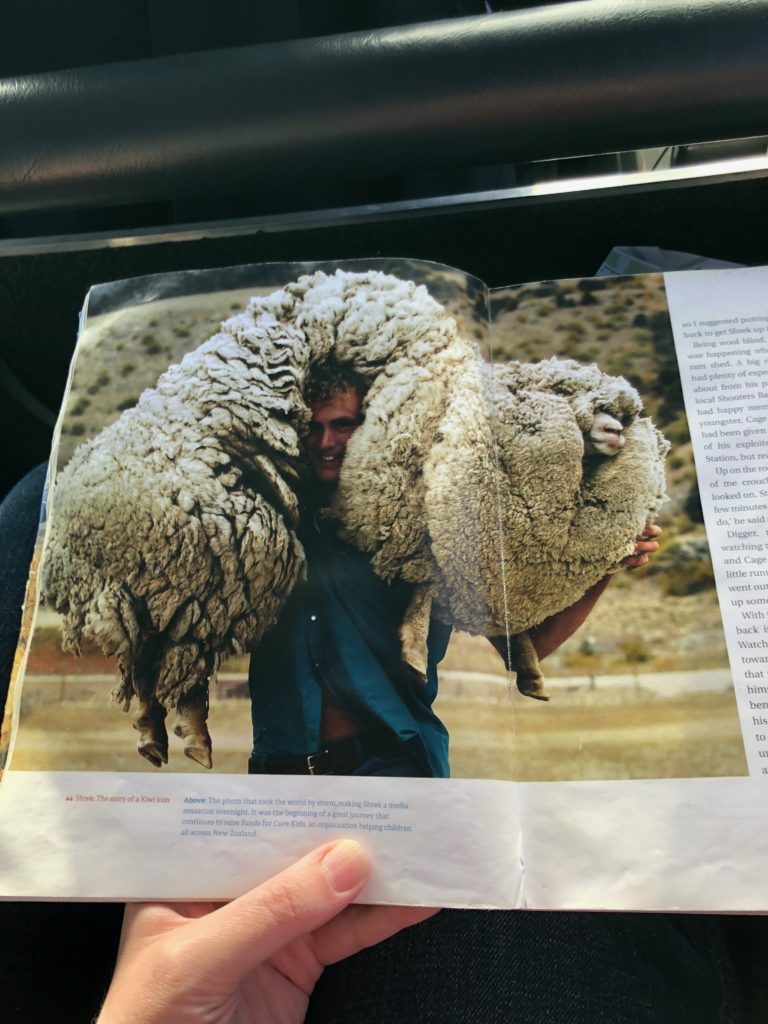 After that, the story went viral and the poor sheep attracted so much media attention he ended up getting shorn on live TV.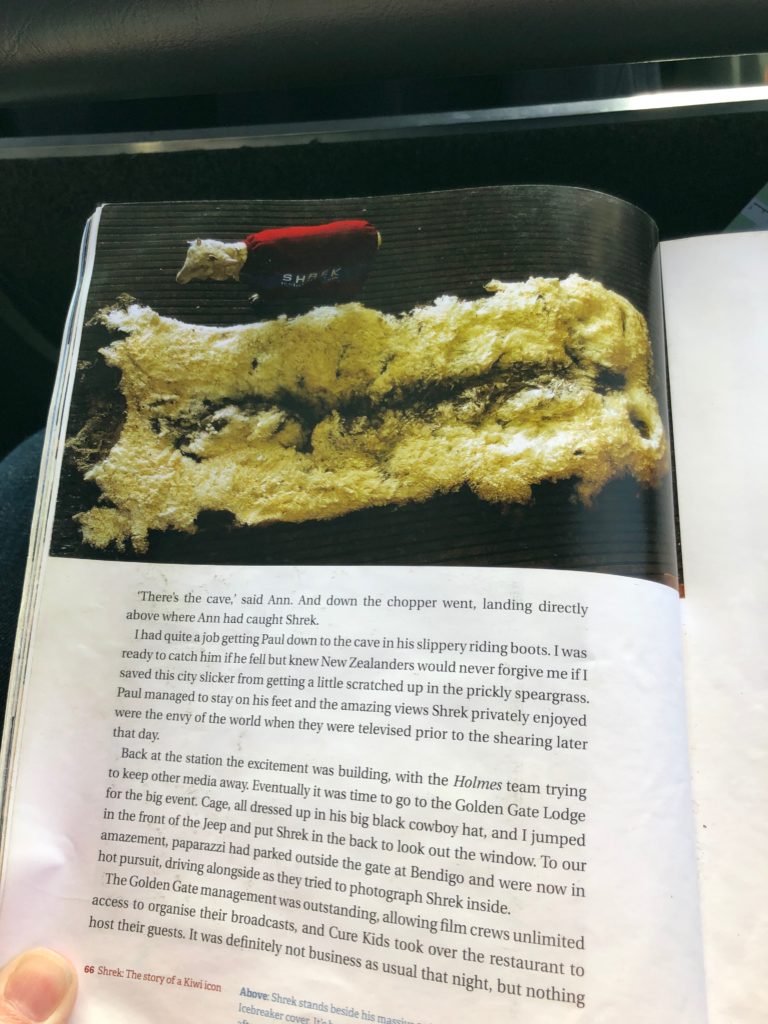 His name came from a bunch of school kids. Dreamworks agreed they could name him "Shrek" as long as any profits went to charity. After his long overdue haircut, Shrek was quite the personality and spent the rest of his life traveling around New Zealand (and even Australia) visiting hospitals and nursing homes.
We traveled through Lindis Pass (which I believe was the highest point on our drive) and typified central Otago landscapes.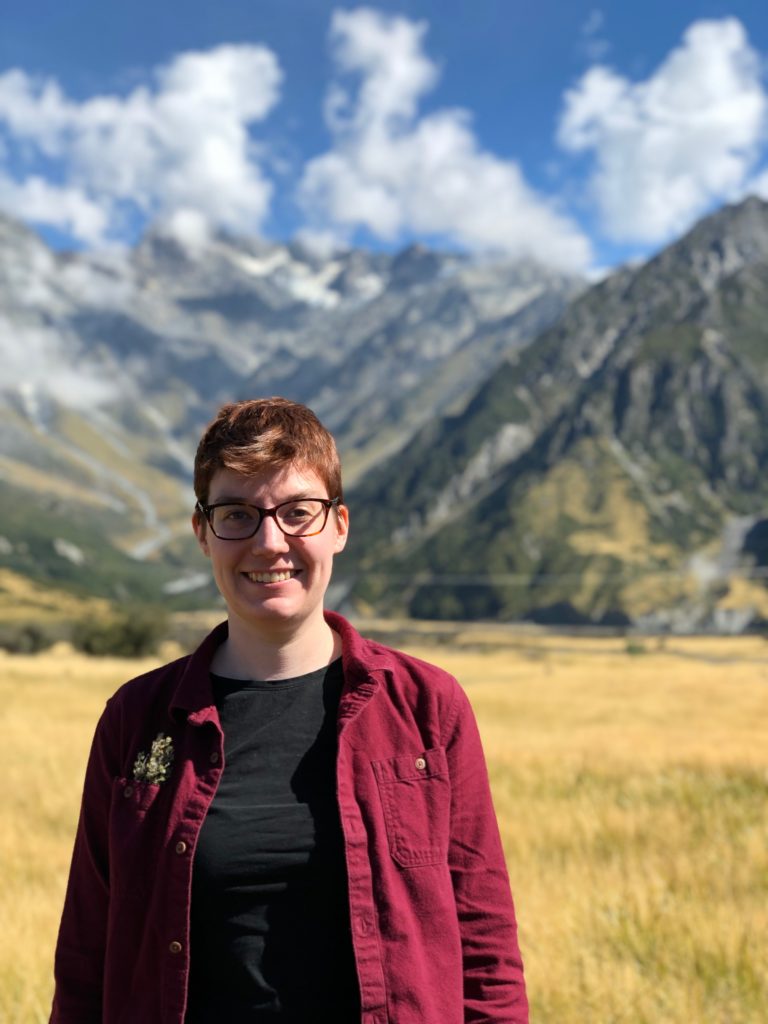 We drove into a small city called Omarama for a 30-minute morning tea stop. There's not much there apart from a restaurant/gift shop, an antique store, a gas station, and a small grocery store.
We hit a very large patch of fog caused by cooler air trapped on the plateau we drove through so there wasn't too much to see between Omarama and Aoraki (the Maori, and proper, name for Mt Cook). We did get past it in time to take some great photos before getting to the Hermitage Hotel for lunch.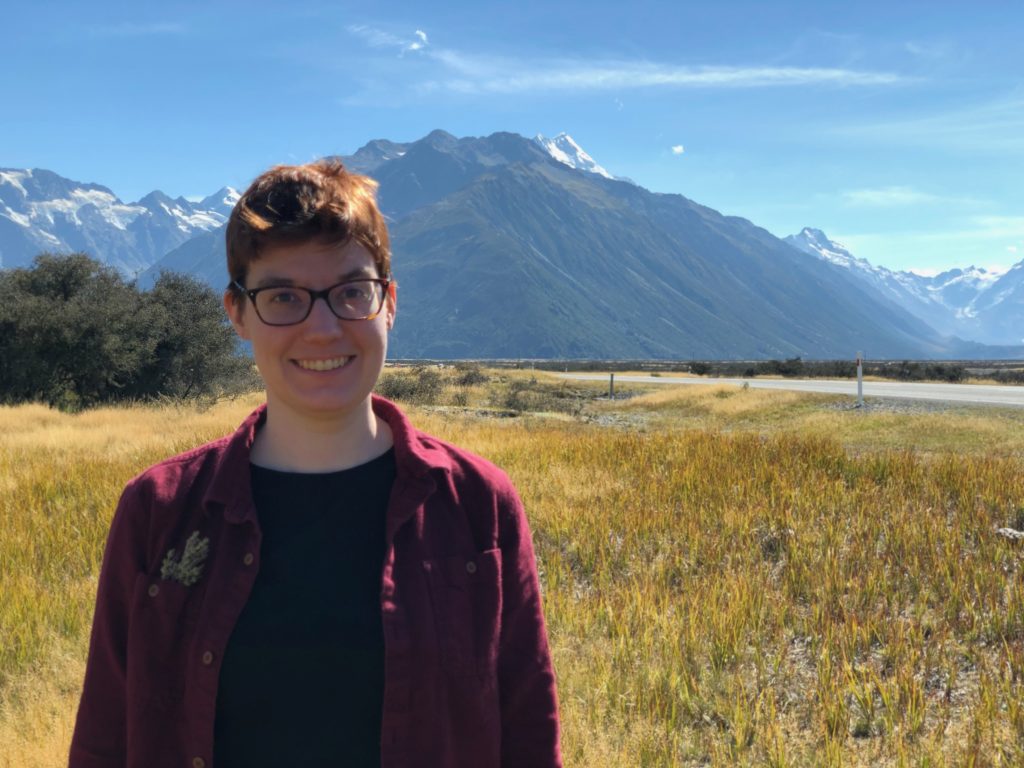 Trish and I had prepared for weather in the low 40s (which our forecast had predicted) but upon arrival it was high 60s and sunny (so hot!). We got a great table with an unobstructed view of Aoraki at the restaurant and had a lovely buffet lunch.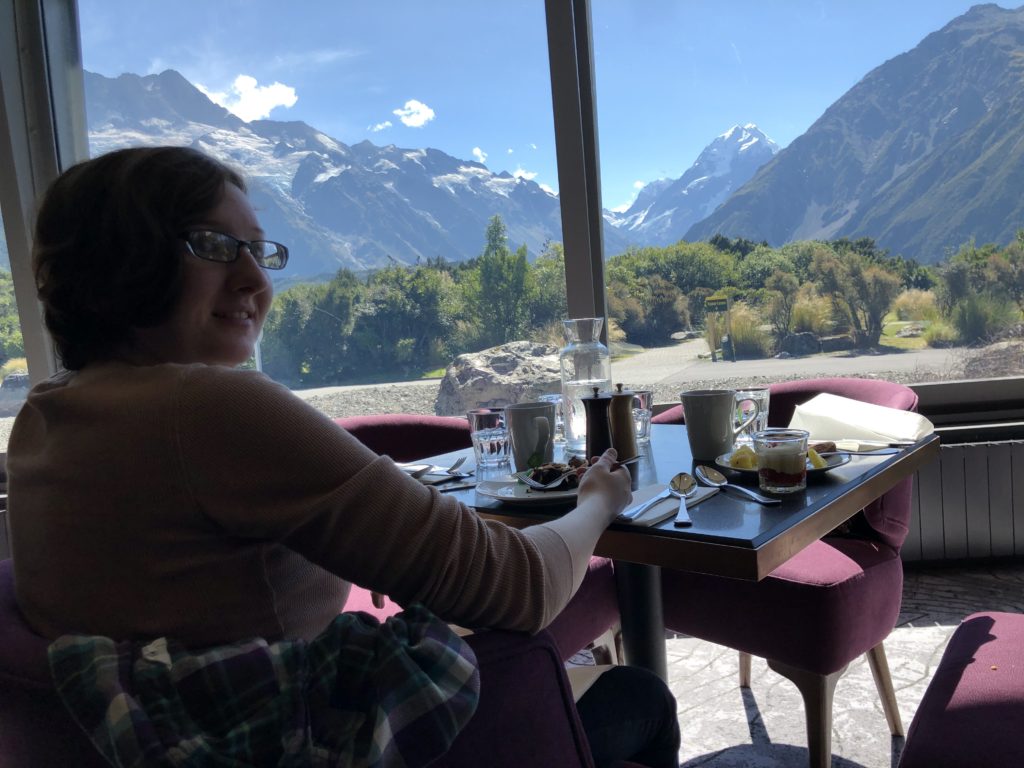 We went outside and took a couple photos but it was too hot to take even a short hike, so we colonized some couches by the elevator and surveyed Aoraki from air-conditioning.
After we left Mt Cook Village, Stuart made a quick unscheduled stop so we could take a picture with the startlingly blue glacier fed river. The bright blue color is caused by "rock flour," which is what you get when rocks rub against each other. In small quantities it's blue, but in large quantities it produces a yellow-brown color. Sometimes you see that at the edge of glacial rivers and it's also responsible for the Yellow River's distinctive color.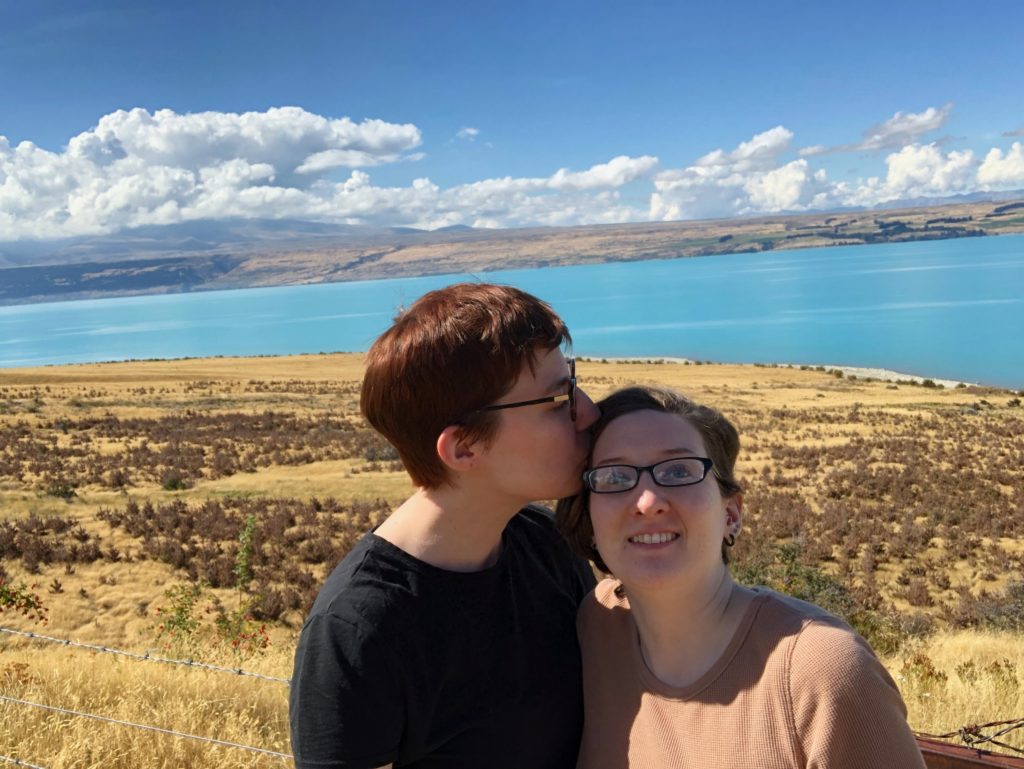 The drive from Aoraki to Christchurch was much less scenic than the first half of the drive. Once we got out of the mountains we were on the Canterbury plains, the largest flat area in New Zealand. There's a lot of farming but not much else.
Stuart explained what a tremendous ecological impact the increasing use of irrigation causes for New Zealand. He'd already pointed out that virtually every plant we saw all day would be an invasive species brought to the islands by humans within the last 200 years. And, prior to human arrival, the only land-based mammals on the islands were two species of bat.
After lunch, we traveled past Lake Pukaki to Lake Tekapo, where we briefly stopped at the Church of the Good Shepherd for some photo ops.
We also saw the monument to The Sheepdog, commemorating all their hard work.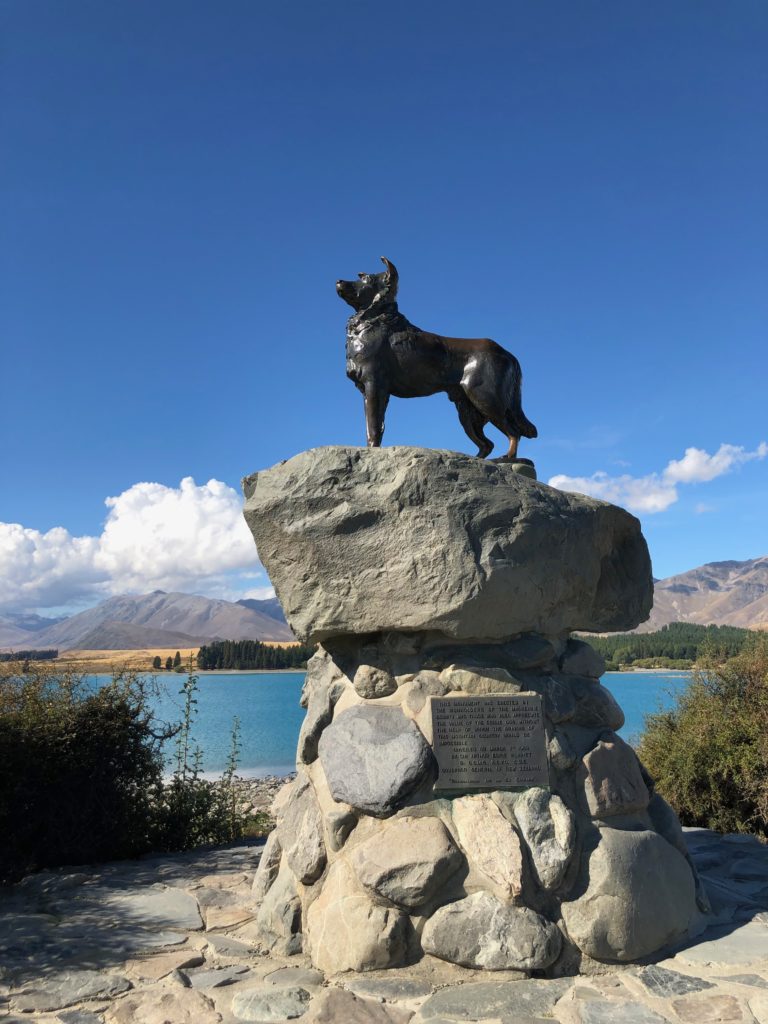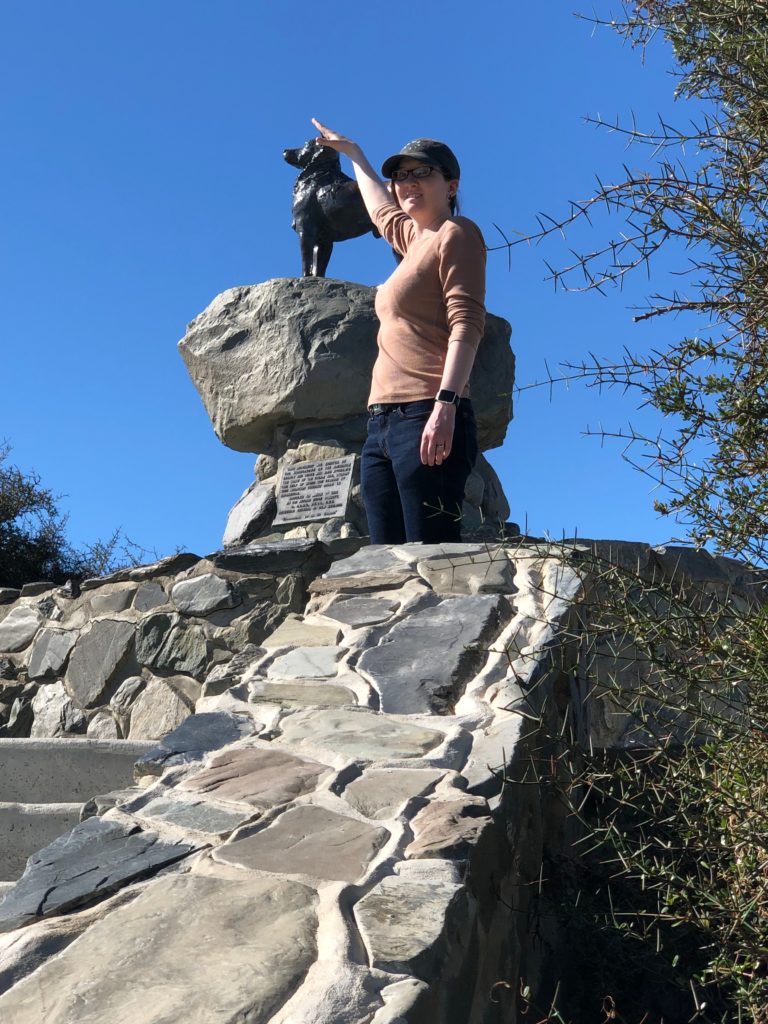 We successfully adulted at our last stop before Christchurch and beat a hasty retreat from the touristy rest stop. Instead, we hoofed it down the (short) main street to a pharmacy to replace our supply of decongestants (though we're both feeling much better). Since many medicines have been rebranded here, we asked a very helpful and kind pharmacist to point us to the appropriate supplies. We were in and out within 10 minutes and back to the tourist gift shop with plenty of time to spend money on a blue and gold sheep patterned tie.
We rolled into Christchurch just as the sun set. We were the first hotel stop so we were checked in (welcomed with a free warm cookie) and in our room by 8 PM. Since it had been a long day, we ate at the hotel restaurant. The lighting left something to be desired but the ambiance and noise level weren't bad considering there were several very large parties seated in the dining room. The food was nothing to write home about but it was easy and a short commute!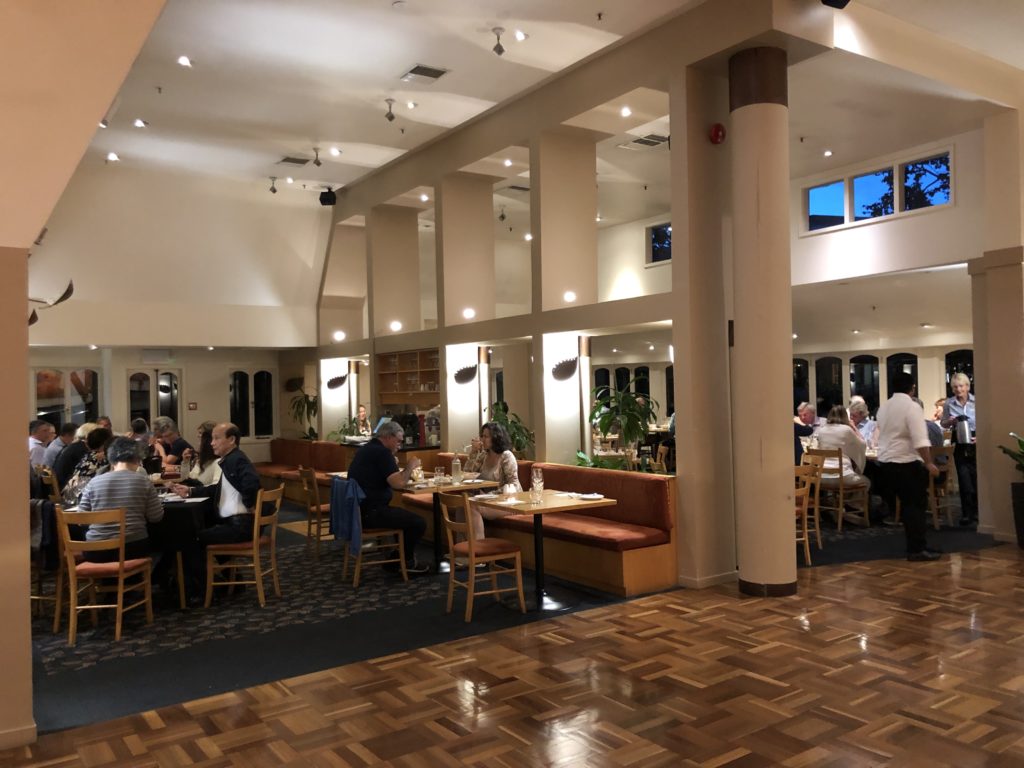 We're staying at The Chateau on the Park (A Double Tree by Hilton). It's nice and the hotel has some lovely gardens (and a koi pond) but the interior decor is a bit past it's prime. Our room is comfortable and has nice high ceilings, but a coat of paint and some better illumination would do wonders for the vibe.