Yesterday may have been Pamela's actual birthday, but today was Party Day.
Trish and I are officially old ladies because we went to bed before Pamela got back from her 90th birthday dinner! When we got up in the morning we eagerly pressed her for details.
Andrew, Wendy, Brett, and Sandra took her to a club with a semi-private quiet room. The showered her with flowers and gave her a book of photos Wendy put together.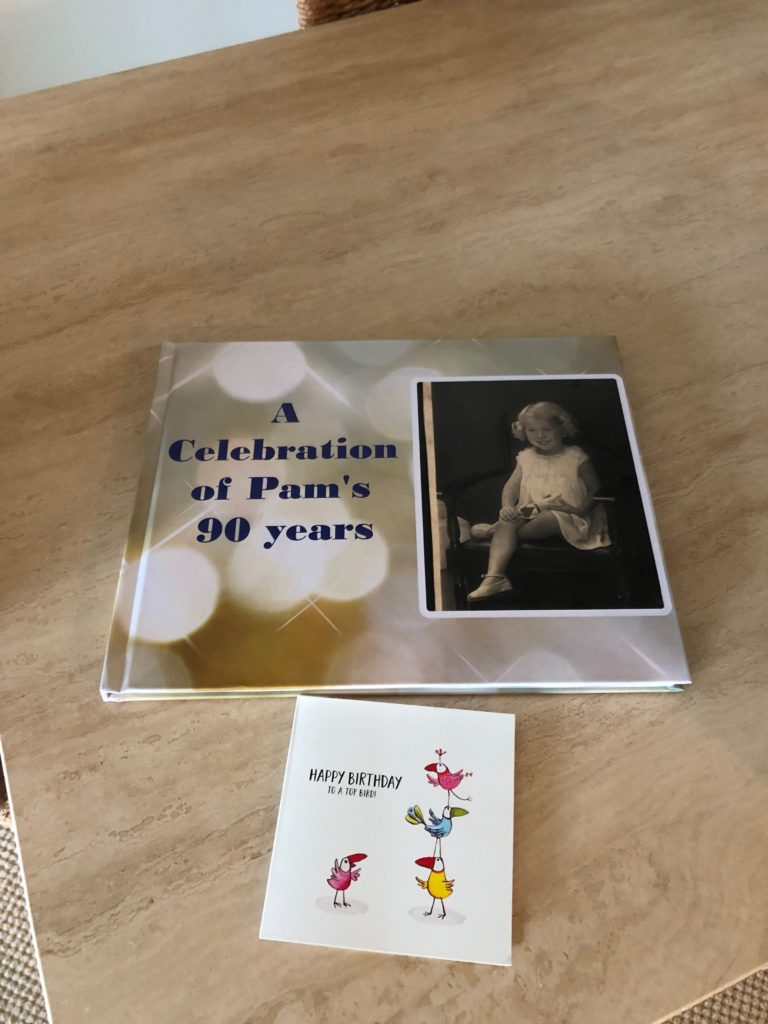 Pamela's family knows how much she means to us, so Wendy had an extra copy made for the Alcorns, which was truly touching. There are amazing photos in there of Pamela as a small child, young woman, and throughout her many travels. One thing is consistent, she never changes! Proof that the best face cream money can't buy is a youthful spirit.
Pamela sat down with Trish and me and went through the photos describing who was in them, where they'd been taken, and telling both funny and sad stories from her 90 years. That time was a great gift!
The rest of the day was spent preparing physically and emotionally for the evening's festivities. Trish cooked us a hearty brunch of bacon and eggs.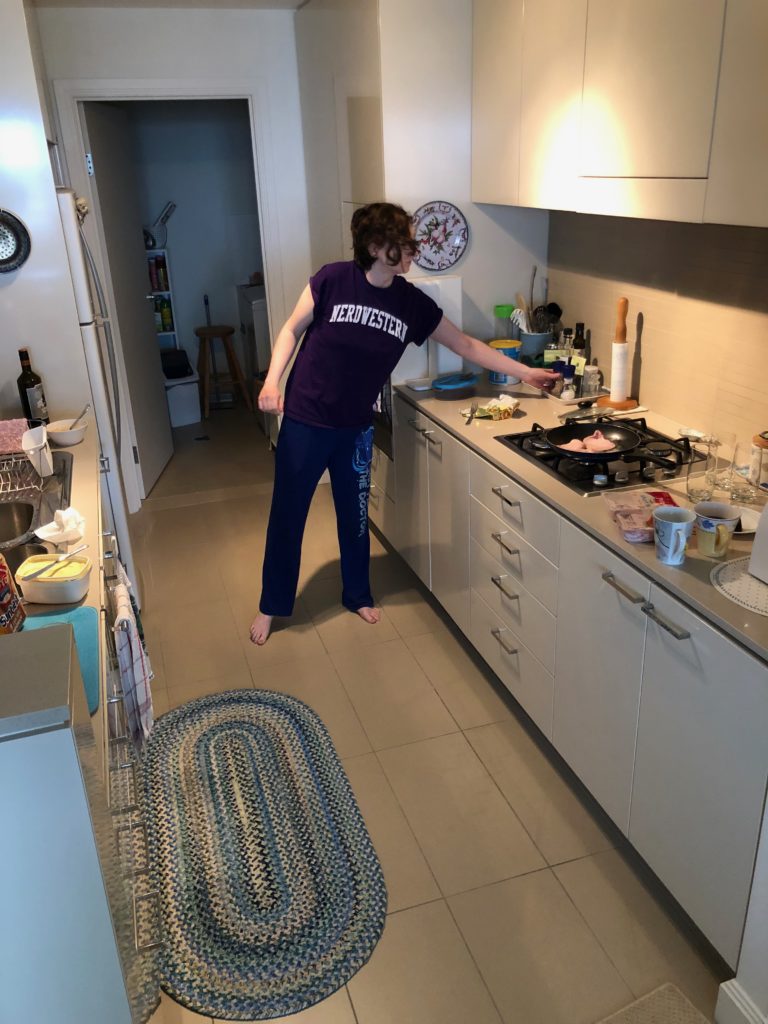 …Though she couldn't immediately identify European bacon in the refrigerator!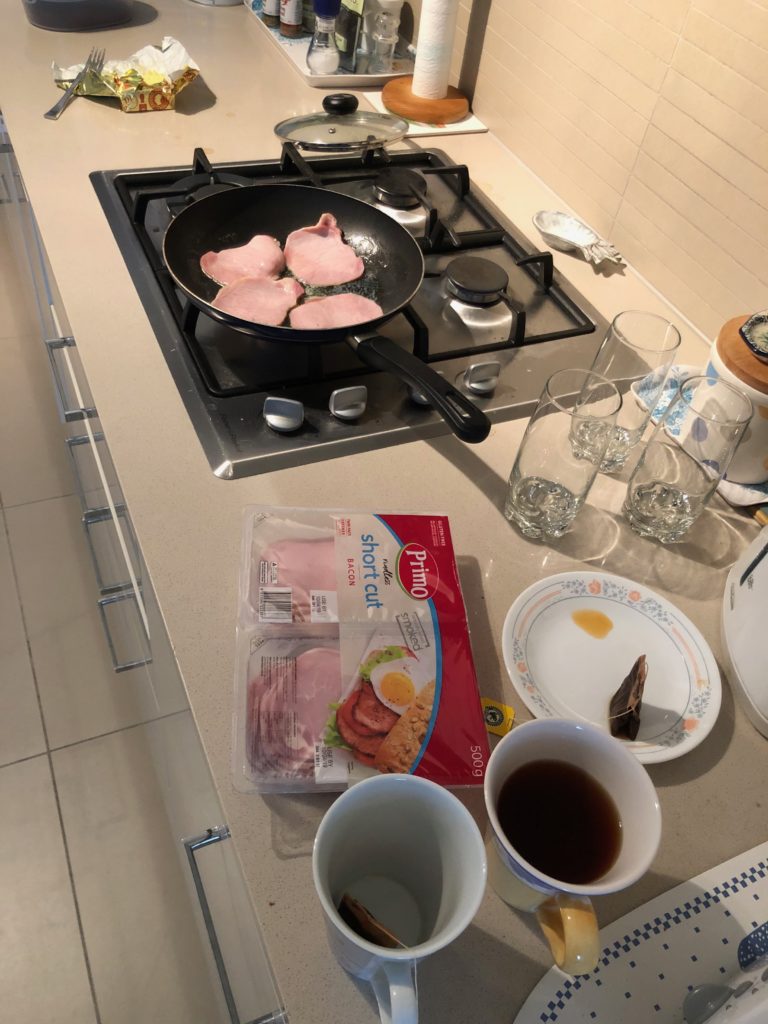 Pamela told us how she learned to make bacon from her mother. She fills the skillet with enough water to cover the bacon and brings it to a simmer for a minute or so. Then she dumps the water out and replaces it with a bit of butter or oil to finish frying the bacon. Trish executed perfectly!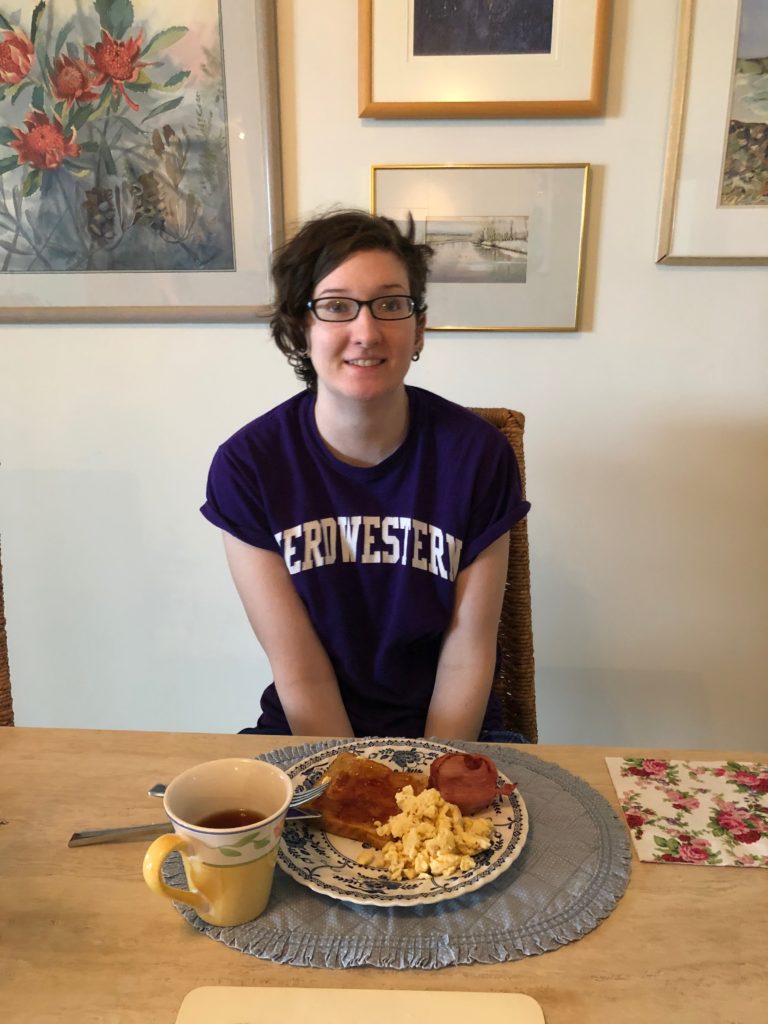 The festivities began at 3:35 sharp, when Karina arrived right on schedule to collect us and drive us over to the golf club. Pamela's party had a room set aside and her family had bedecked the hall with balloons. Brett encouraged everyone to take advantage of the bar and carried cheese trays around the room.
Pamela requested some 360 degree video of the party, so here it is:
It was a lovely party! There were about 40 people in attendance from all walks of Pamela's life, from her cousin Janice to her friends from the Blue Mountains, to her Breakfast point community, and more. They'd all heard stories about her adventures with the Alcorns and knew Trish and I were expected at the party. We met her friends Thea and Wendy whose marriage she attended last year after Australia legalized same-sex marriage.
Andrew, Brett, and Simon gave beautiful speeches about Pamela's life, accomplishments, and general awesomeness. Pamela herself concluded the evening with a lovely speech. At her special request, she had a carrot cake and champagne toast.
Pamela had a wonderful time!