It's Pamela's 90th Birthday!!!!!
She was up bright and early to fully enjoy the day. She's a popular lady! She opened the cards and gifts that her friends dropped off in advance. She got numerous emails (including one that sang!) to wish her a happy day. And we were her message service while she was out having birthday coffee with a friend. She got four calls in the one hour we manned the phones.
When she got back we set out sandwich fixings for a simple lunch since Brett and Andrew are taking her out to a mystery dinner tonight. They won't tell her anything about it!
She encouraged us to go out and enjoy a touristy activity in the afternoon since the weather looked favorable. So, we called an Uber to take us to one of the places I'm most nostalgic about in Australia: Featherdale Wildlife Park.
We've been to visit the park every time I've been in Australia (starting when I was just 11 years old). It's not as impressive as the big Taronga Zoo in Sydney, but it is much more hands on. The rule at Featherdale is "if you can reach it and you're brave enough to touch it, you can." There are also kangaroos and wallabies hopping around the park.
Trish loved every minute of it.
We started our day by checking out some sleepy koalas. They have incredibly long digestive tracts to handle the massive amount of nutrient-poor eucalyptus they exclusively feed on. This only leaves them with enough energy for a few waking hours a day.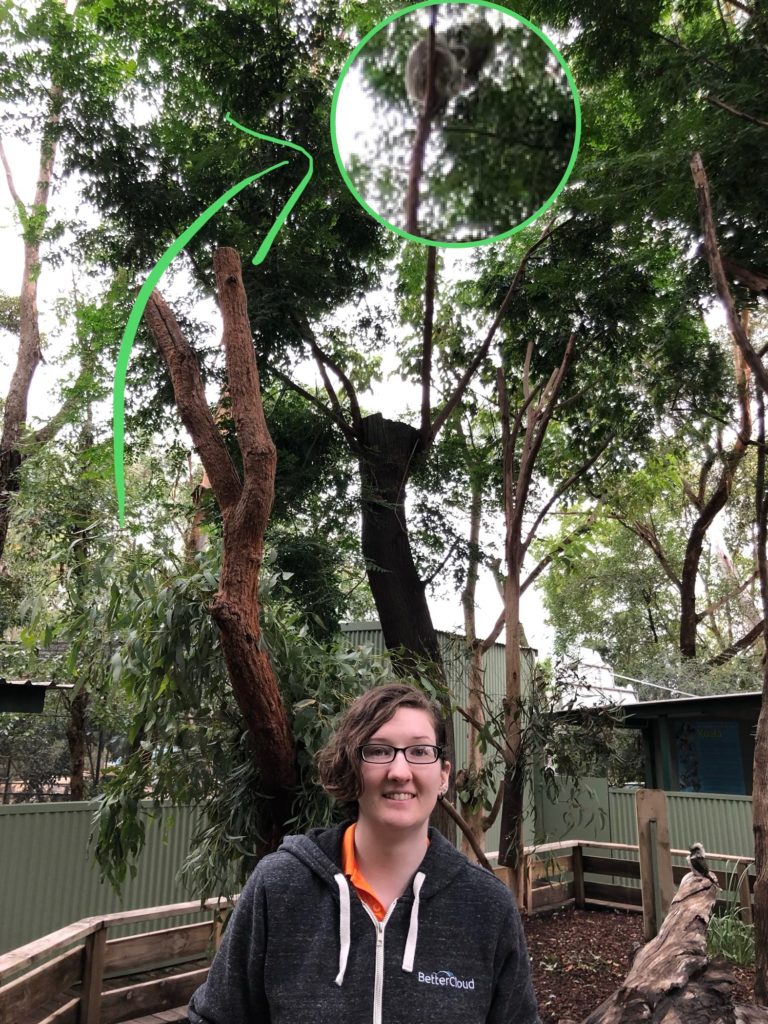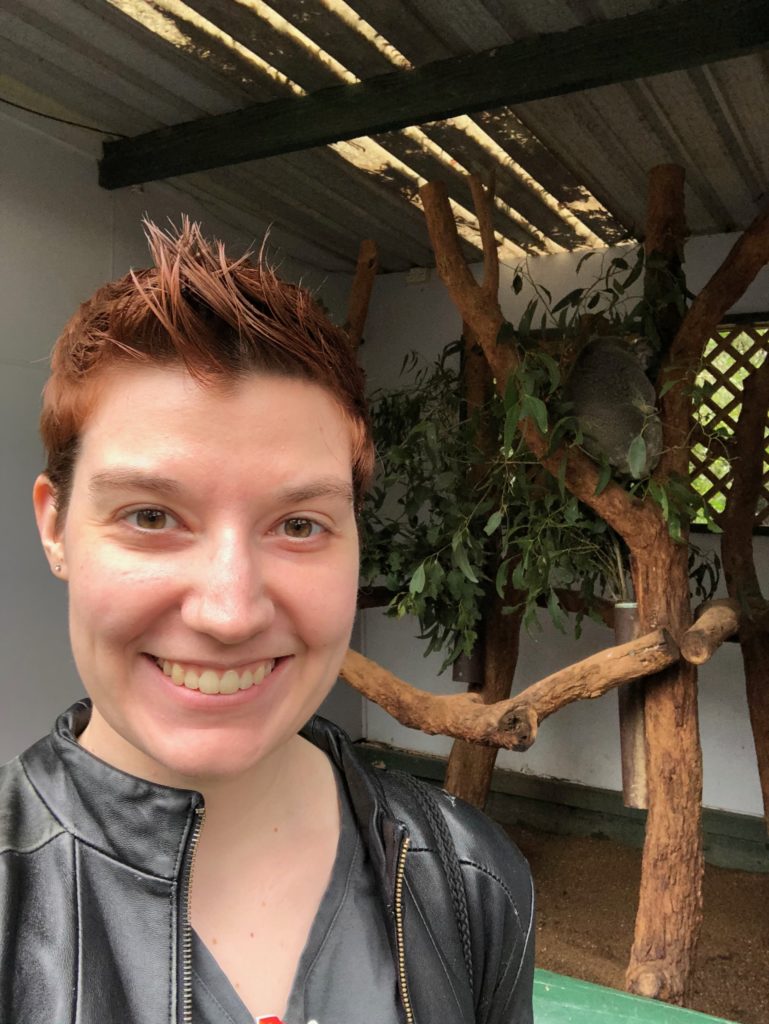 We also got to meet a very handsome koala named Duke for a photo op included in our admission. He was much softer and smelled better than previous koalas I've met at Featherdale. He even woke up (sort of) for our photo.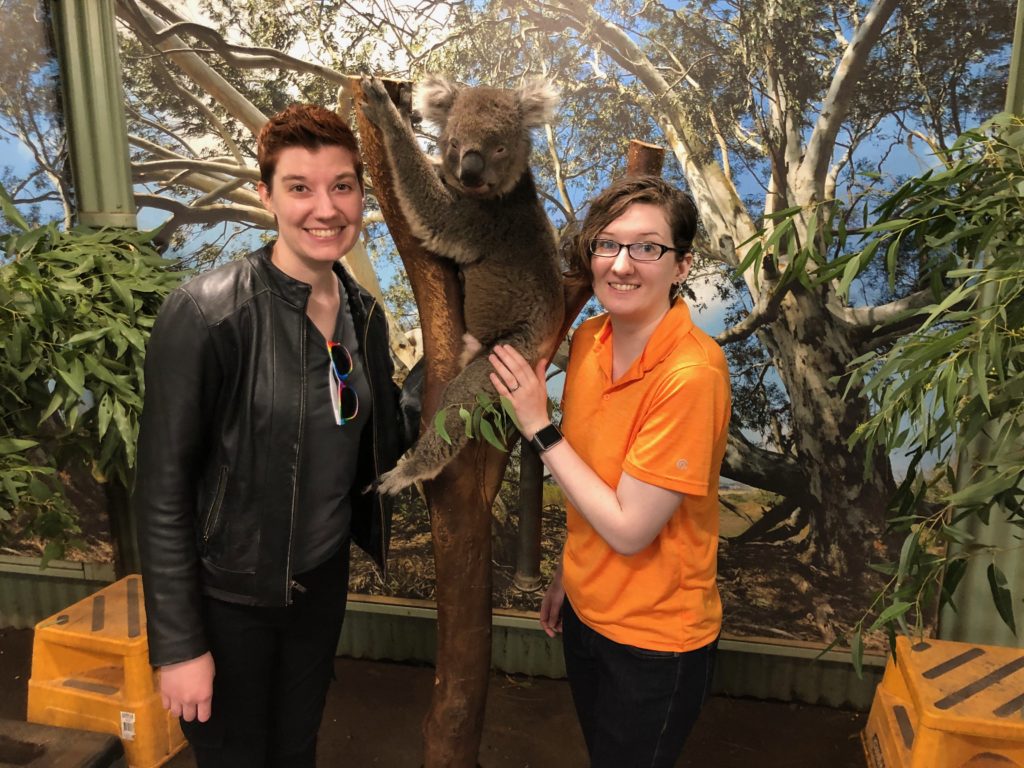 There was another Australian animal we wanted to meet later in the day (who shall remain anonymous for now). We were able to negotiate a deal to get that photo op for a discount since we didn't realize you could buy two animal meet and greets for a discount.
After bidding Duke a nice morning nap we went looking for kangaroos interested in our cups of food.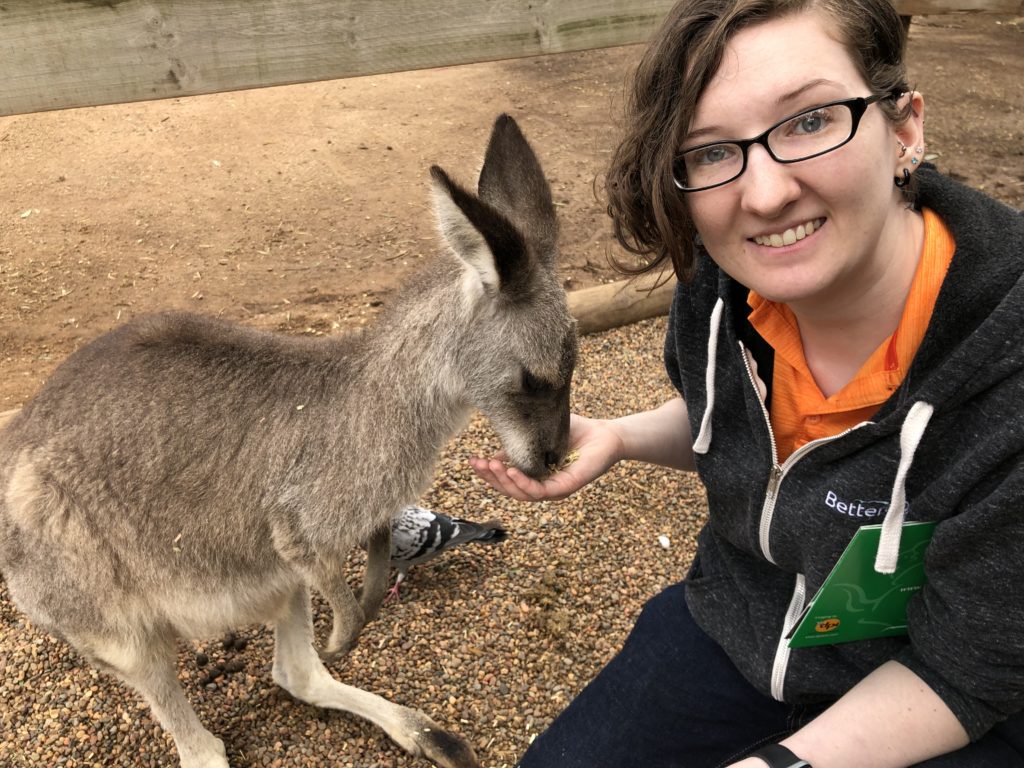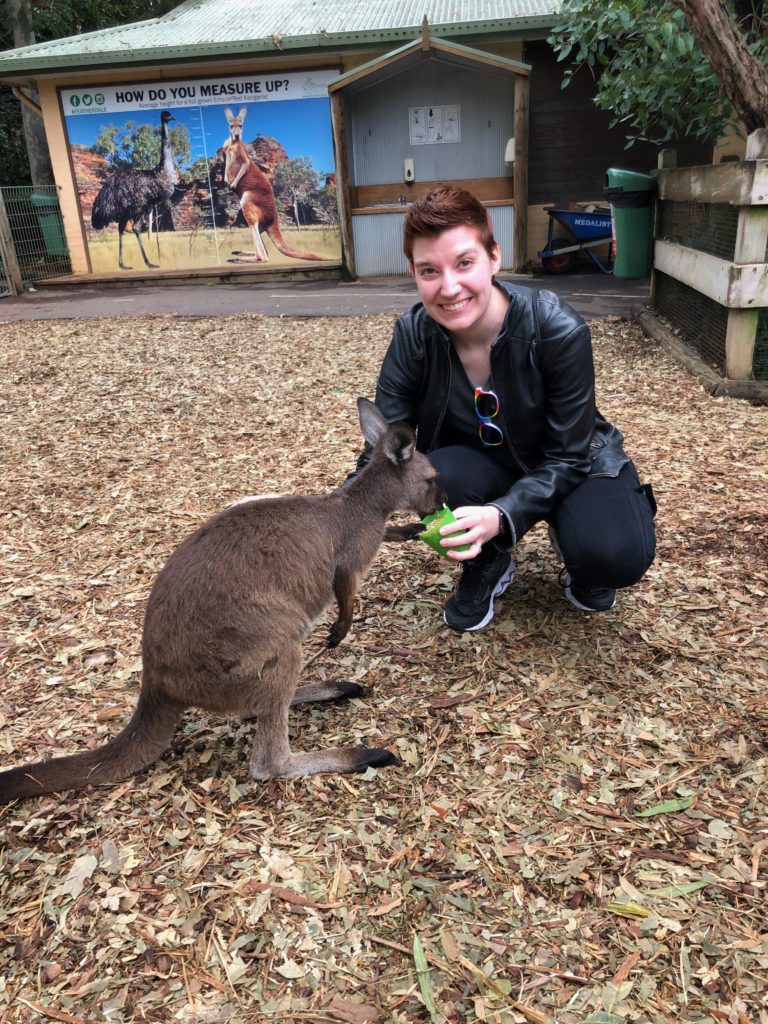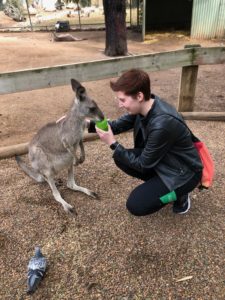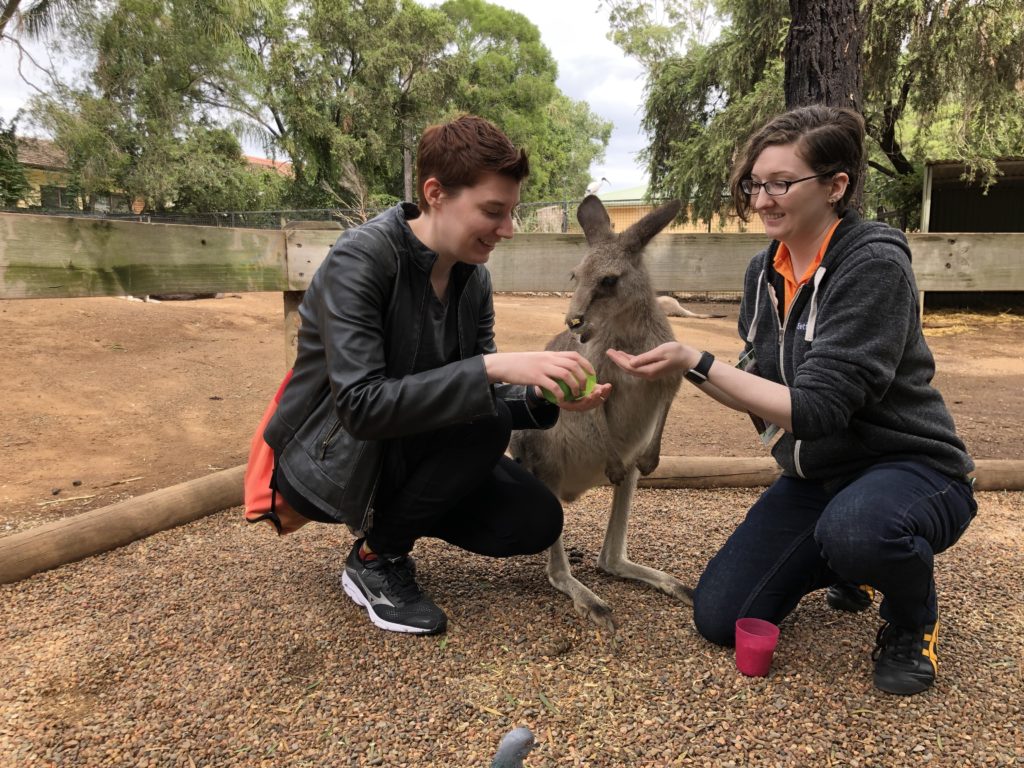 Trish even got head bops from this guy (well, at least ear bops)!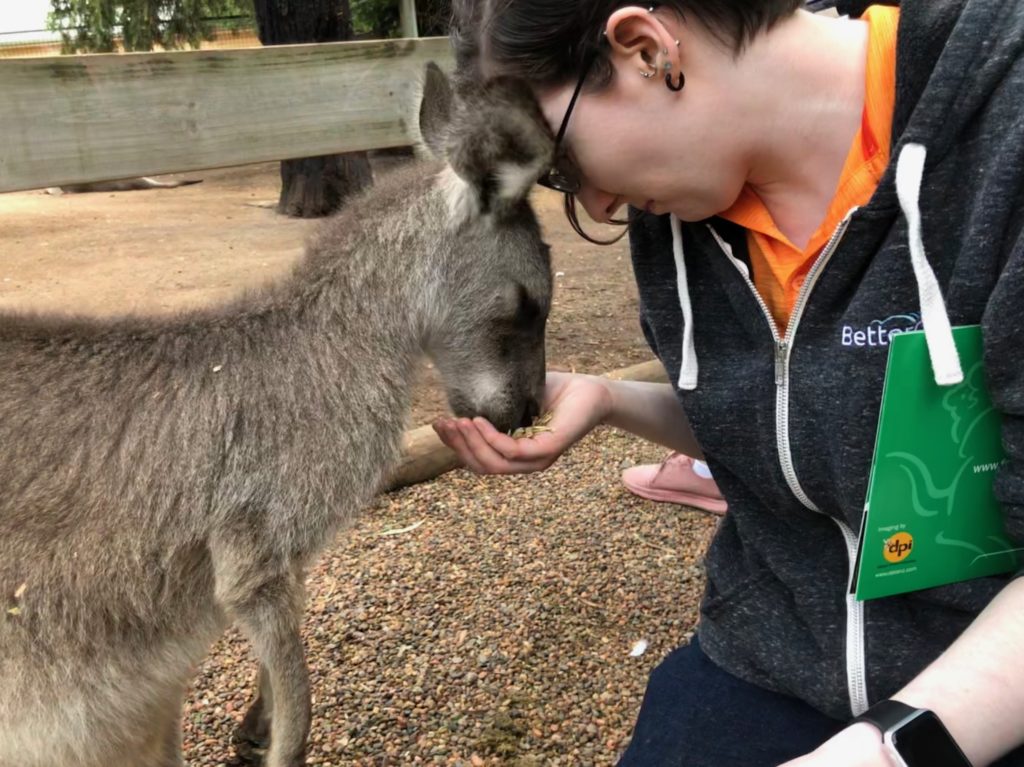 And he took a great selfie.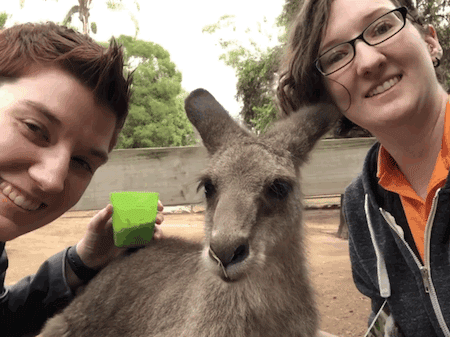 The park was much less crowded than when I've been previously. Probably due in part to the overcast weather and that it was a weekday afternoon (not during school holidays). We got plenty of one-on-one time with some very soft kangaroos. They like this food, but they used to love the ice cream cones it came in.
Kangaroos actually use their front paws and tail when they're moving around slowly. They only hop when they're in a hurry.
We fed quokkas (which are just so dang cute).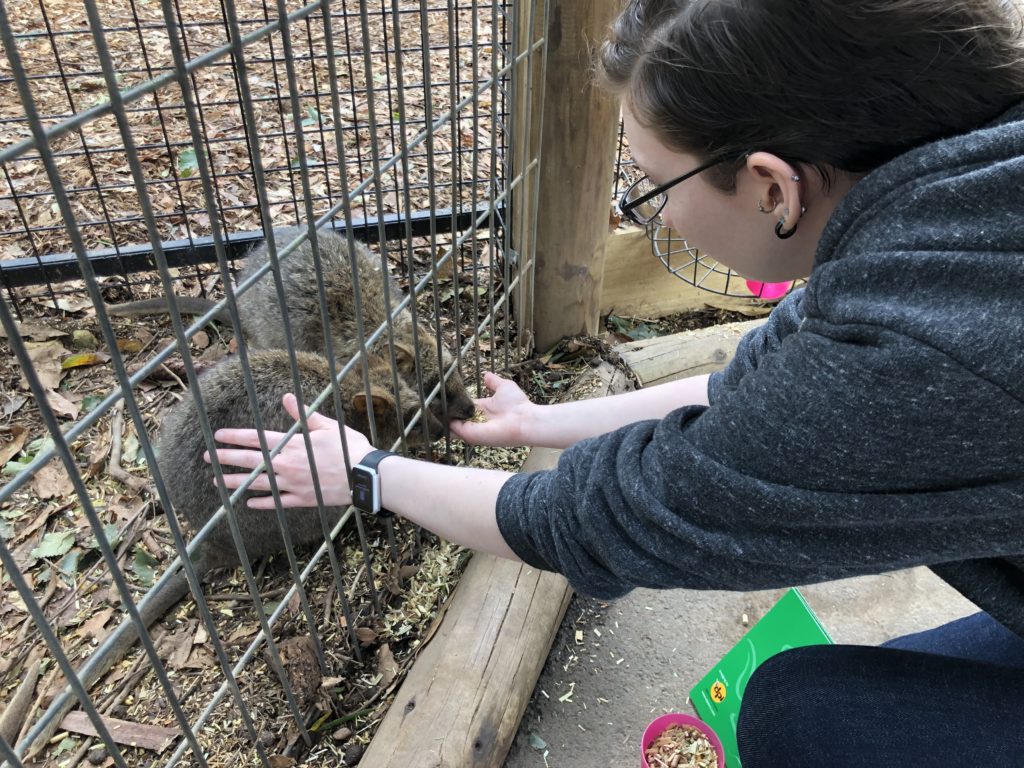 We also learned Australia is home to the world's smallest species of penguin, called blue penguins or fairy penguins. They're very cute but noisy!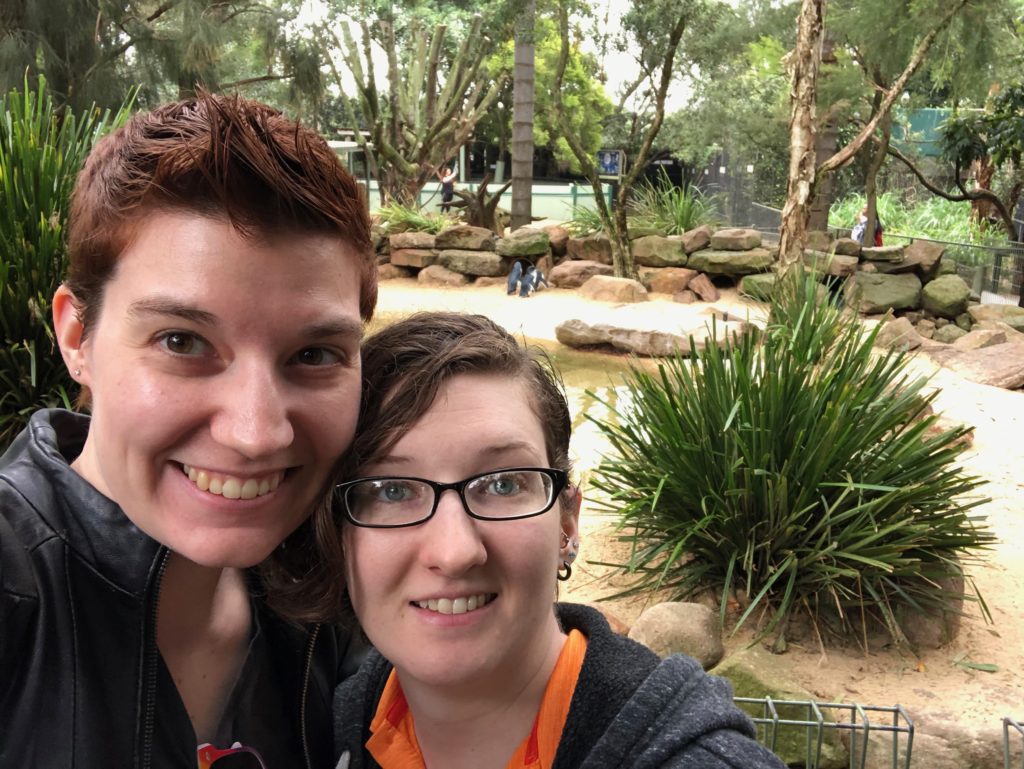 We met some impressive birds, including an emu, some ducks, and cassowary:
Wombats make cube shaped poo and have a flat bone in their butt to fend off predators. We met many of them!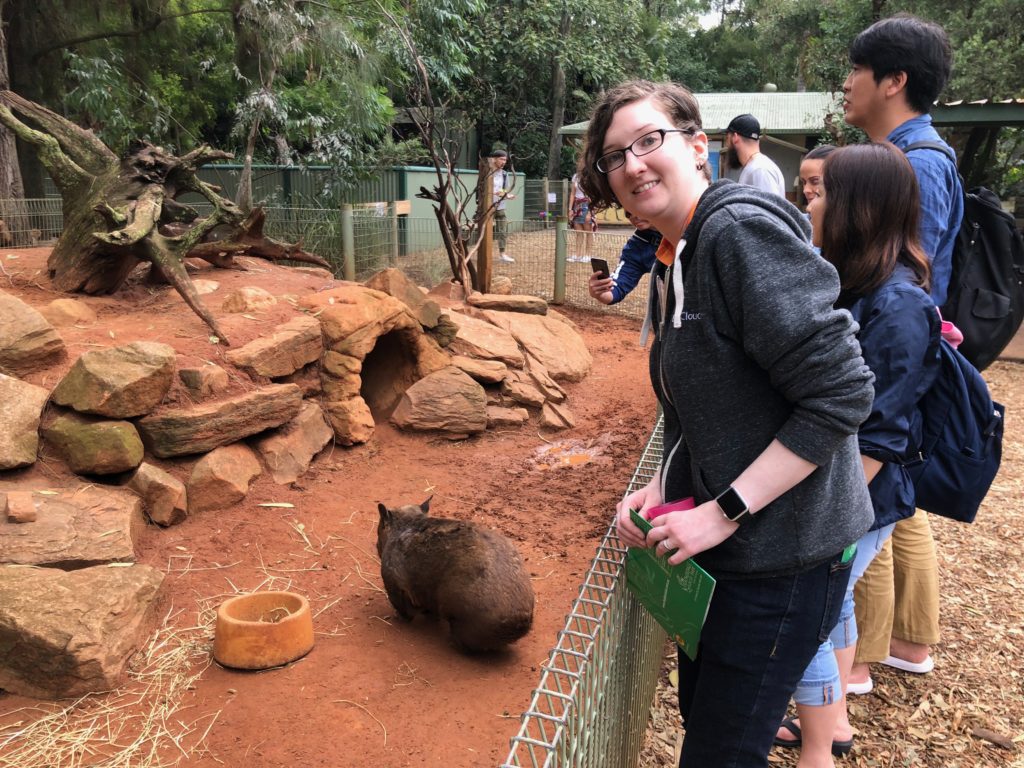 Including a very itchy fellow.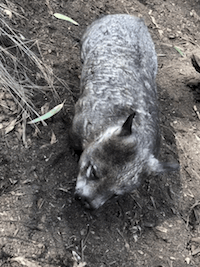 Trish gave him a scratch, but she clearly wasn't doing it right. He waddled off and scratched himself on a low-hanging branch (to show us how it was done) before coming back so we could get it right.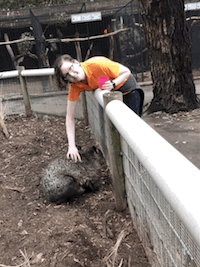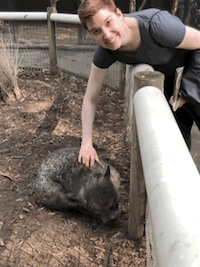 Trish also got to pet an Echidna. They're not related to porcupines.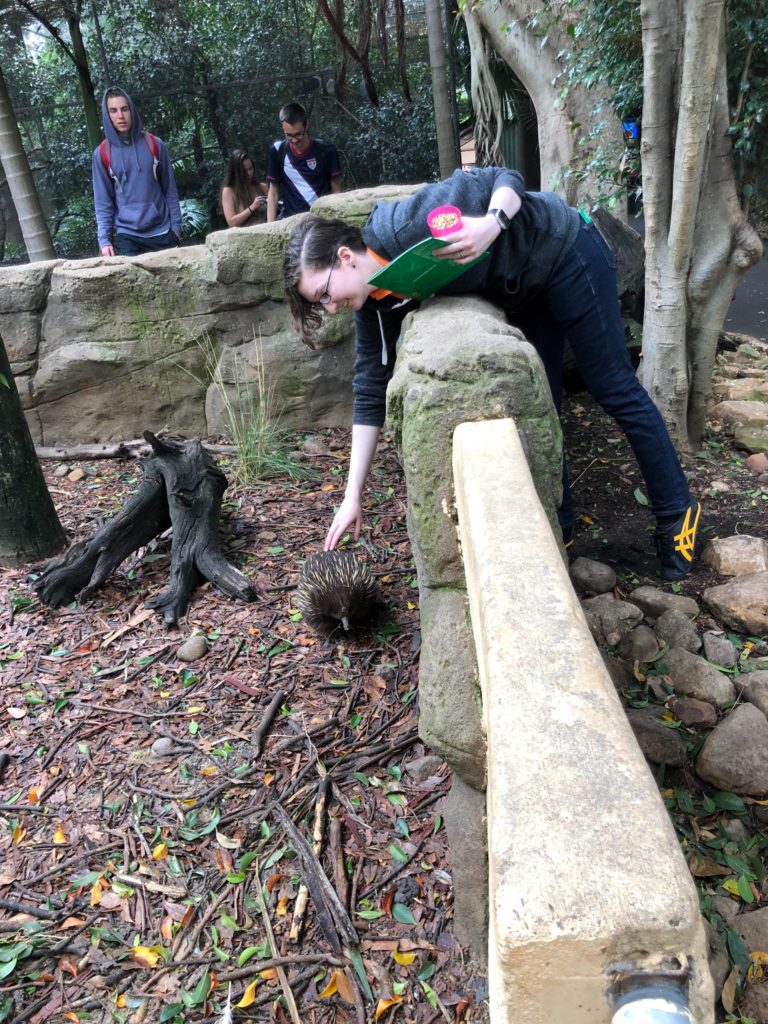 And we caught a talk from a zookeeper about what they eat in the wild (termites) vs. what they eat in the zoo (light egg, full egg, mince meat mash… yum).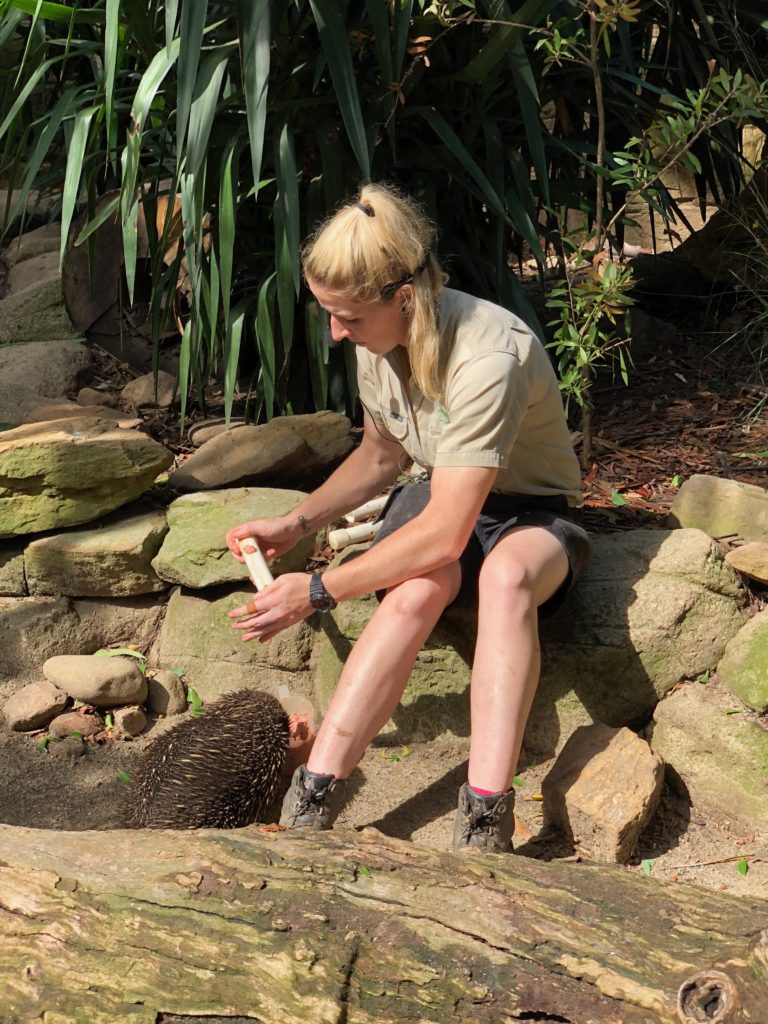 And then we headed off to our second animal encounter of the day: a dingo!
We saw them feed the two parents (Bear and Smudge) while another keeper gave a talk about dingos. The three most common guesses people make about the dingo's closest relative are: dog (because the face), fox (because of the color and bushy tail), and wolf (because… well, that's correct).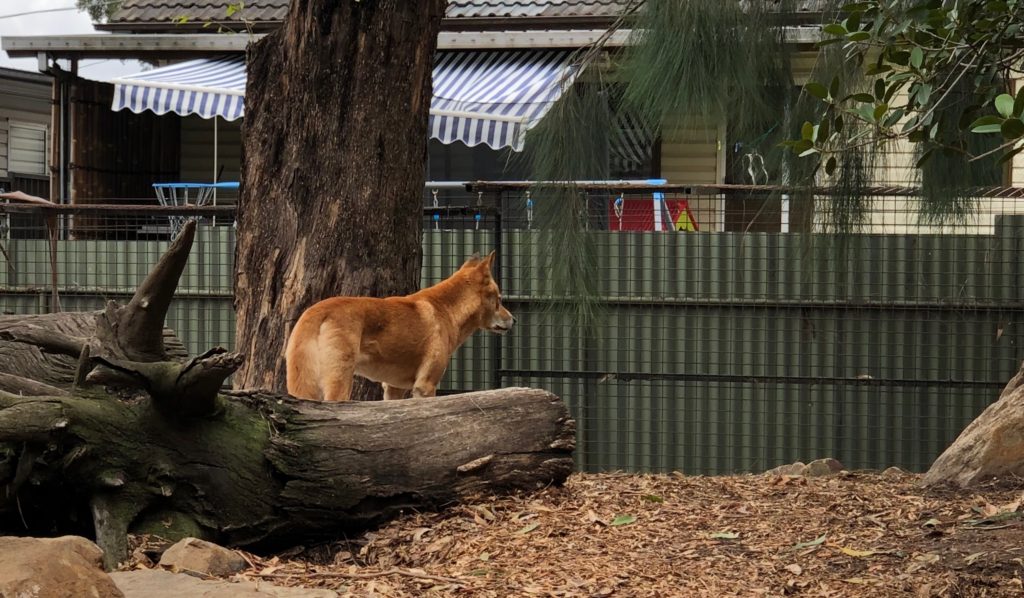 Dingos closest relatives are wolves, though they can interbreed with dogs (which is one of the biggest threats to the species). There are several differences between dogs and dingos, including a flexible wrist (like ours) and the ability to spread their front legs out like a T.
In New South Wales (where Featherdale is), dingos are a threatened species. In Queensland, they're so numerous they're considered a pest. Go figure.
They are also Good Boys.
Just watch how they eat out of their trainers hands (literally) and snuggle up for a good scratch.
It is legal to keep a dingo as a pet in NSW, but it requires a lot of effort to keep them entertained, fed, and fenced in.
After the talk they brought out one of Bear and Smudge's grown-up pups from a previous litter. Her name is Aubrey and the trainers have worked with her to train her to do the photo ops (jump on the barrel and smile for the camera).
We got to scratch her very fuzzy chest. Unfortunately, they're trying to train her not to lick people (which she loves to do!) because it scares little kids. This meant we had to lean away if she tried to kiss us 🙁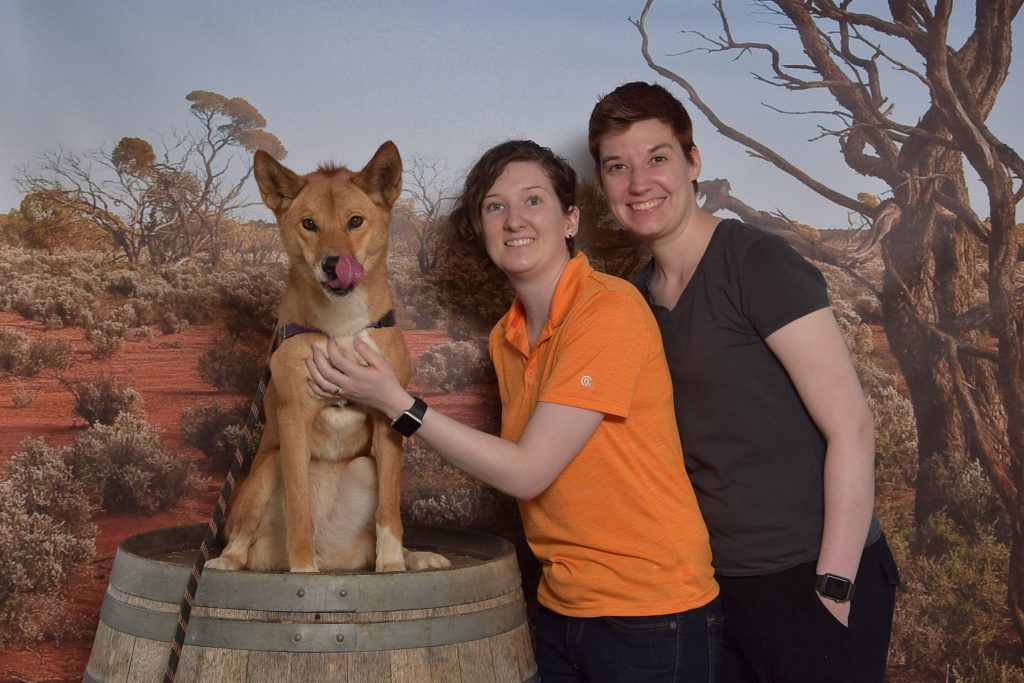 I enjoyed another nostalgic visit to Featherdale and Trish really enjoyed meeting all the animals.
We ubered home before it got too late and unintentionally crashed an impromptu party Pamela's next door and upstairs neighbors threw her. Pamela's family came by shortly after and whisked her away to her mystery birthday dinner.
Trish and I opted for a quiet night in finishing up the last of the giant pot of soup we made.