We spent time yesterday afternoon looking at our options for quintessential tourist things to do and when to do them. Monday and Tuesday were forecasted to be blisteringly hot but there's rain in the forecast from Wednesday to Friday (though it will be cooler!). We decided to go do air conditioned things on Tuesday morning while it was still (relatively) cooler outside.
We caught an early ferry from Cabarita into Sydney's Circular Quay. The ferry was full of commuters (and it would be a lovely commute). We were definitely the only ones taking pictures! The ride is lovely and involves sailing directly under the Harbour Bride. Circular Quay is also right next to the Sydney Opera House (our second destination).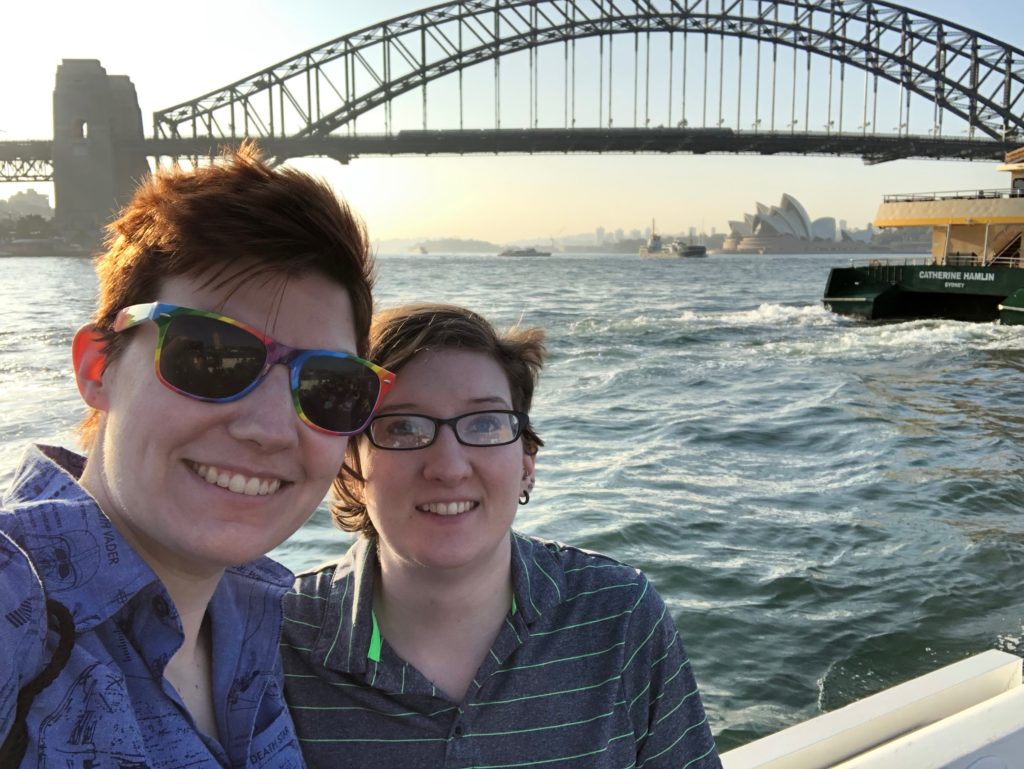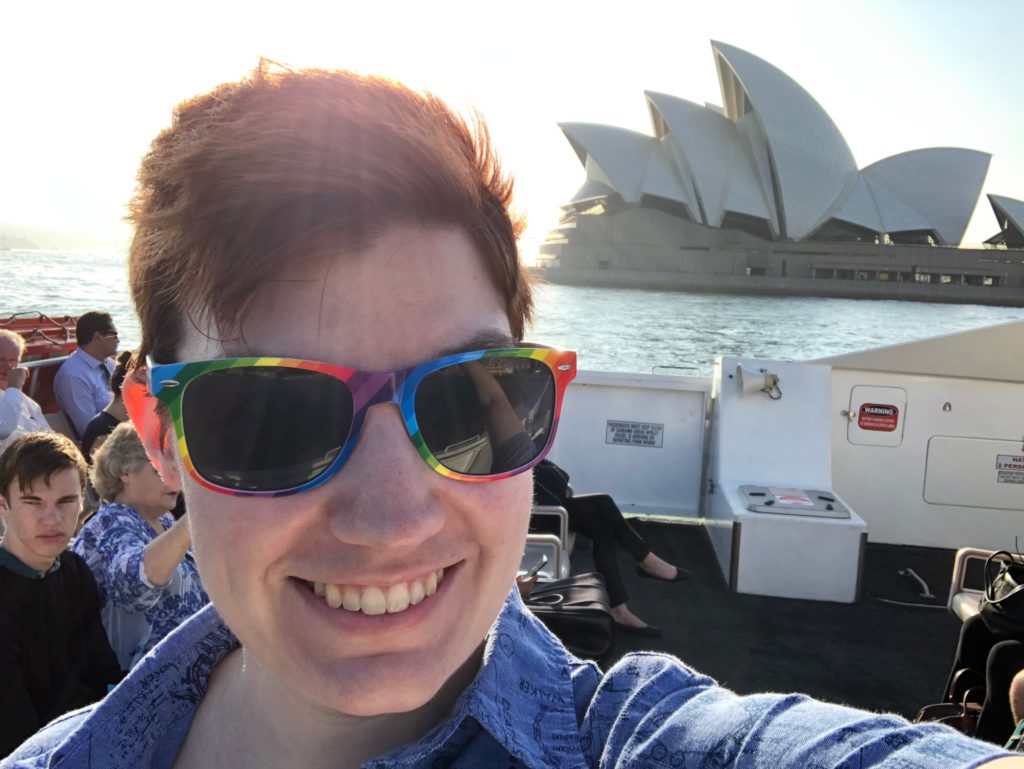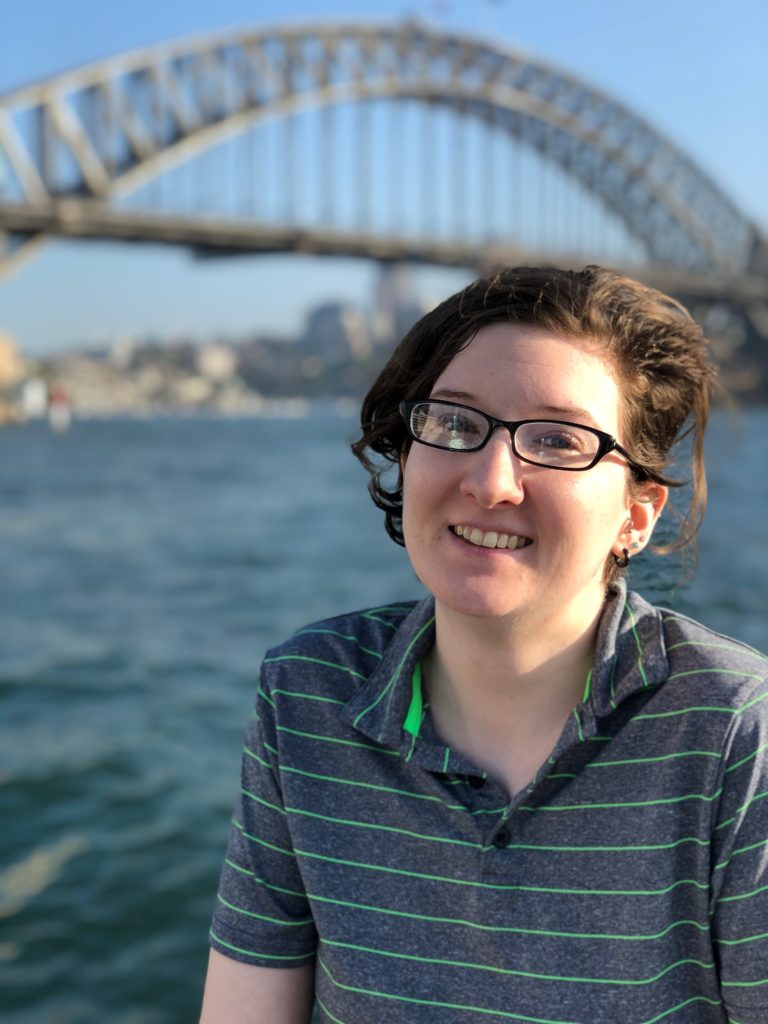 We arrived about an hour and fifteen minutes before our scheduled tour so we could walk around the gardens surrounding it before it got too hot.
We had to stop for some tourist photos first though! Thanks to the early hour and the random Tuesday we chose to visit, the steps of the Opera House were more deserted than I've ever seen them!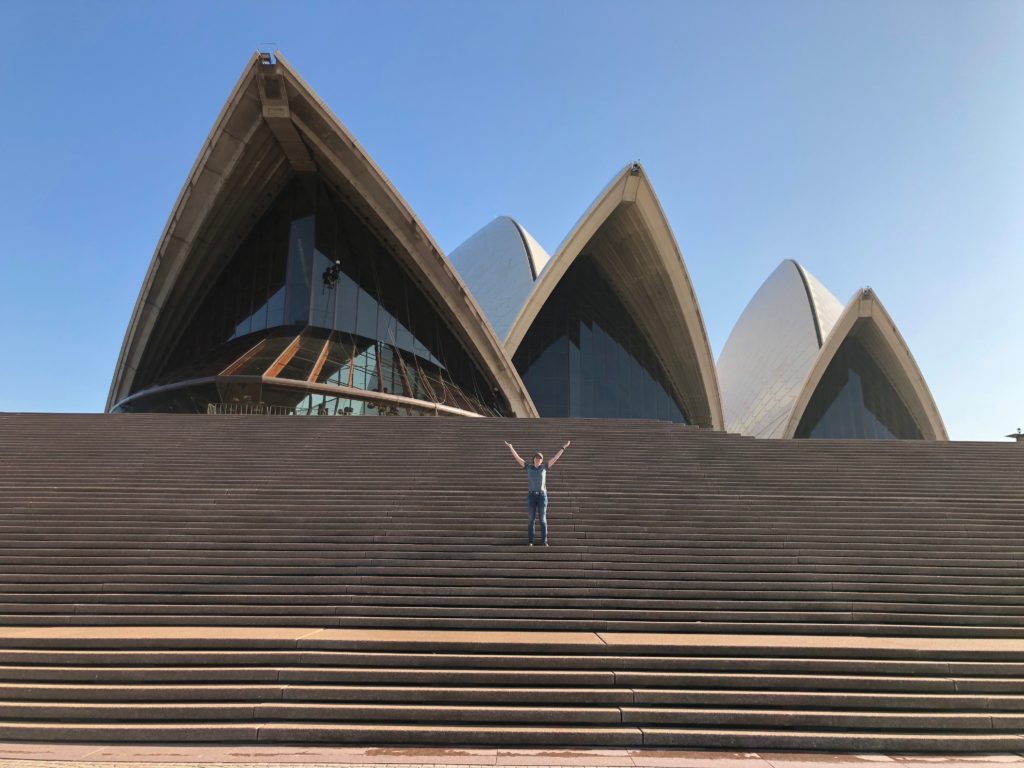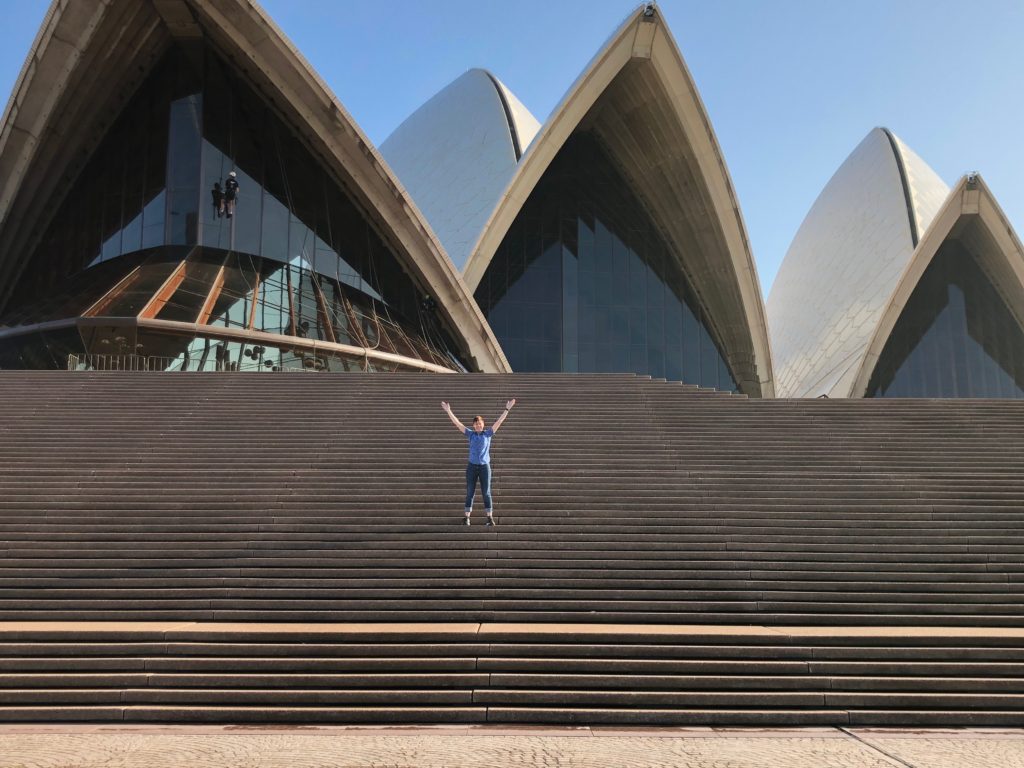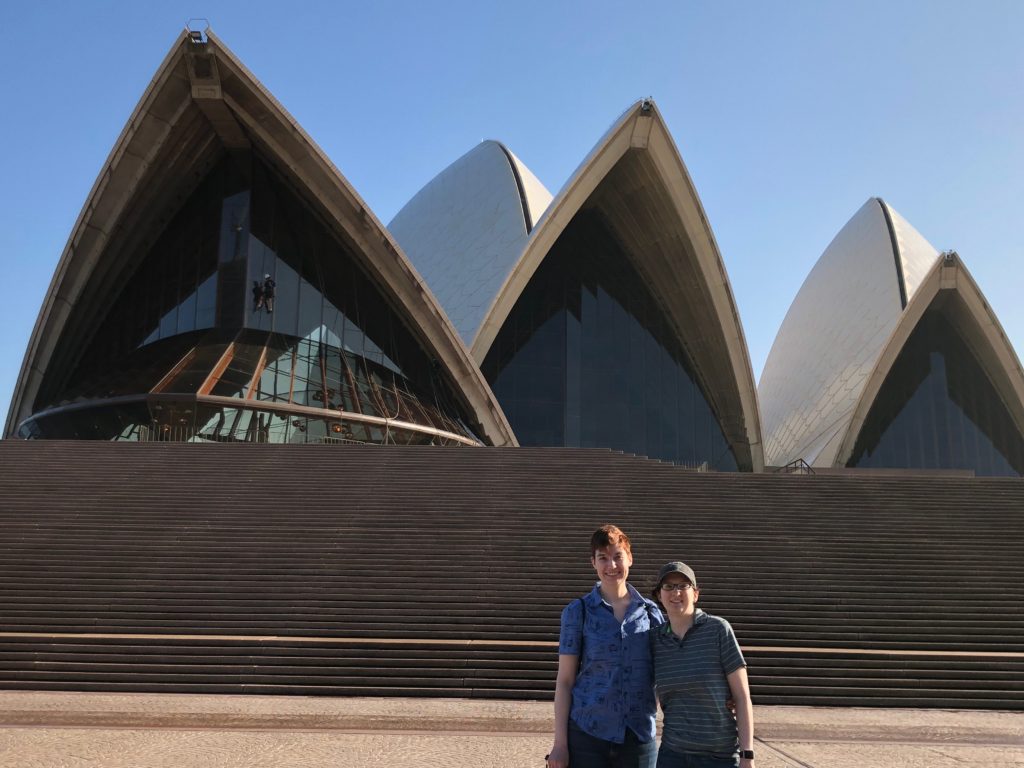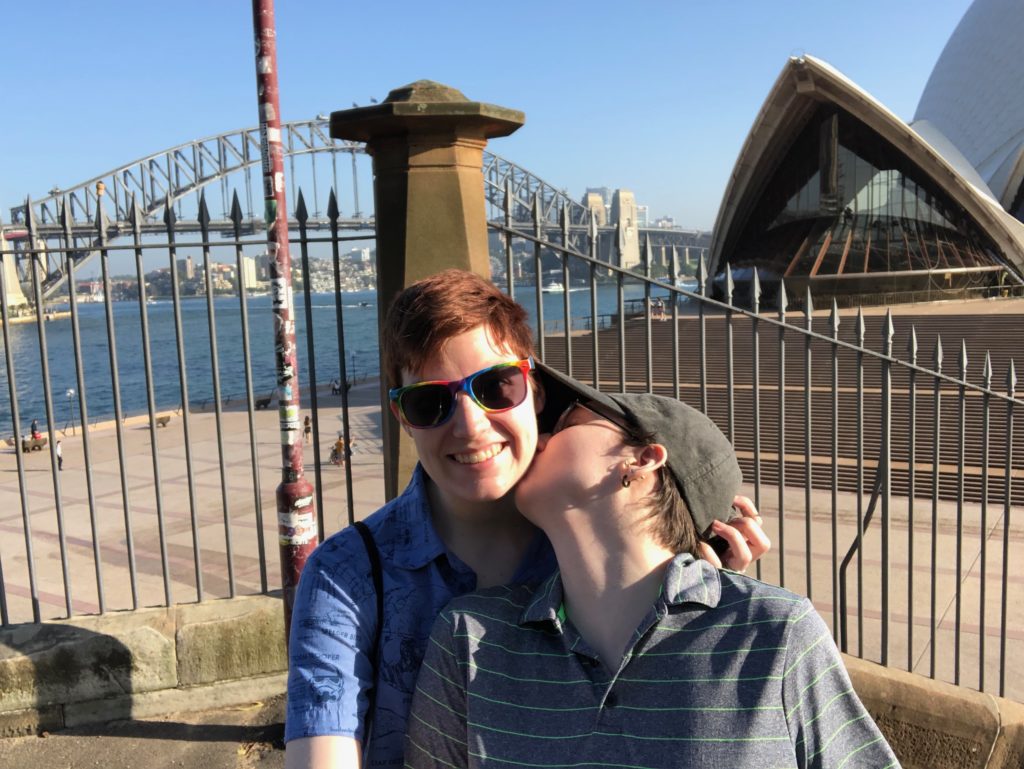 After our photo ops, we went to walk around the gardens.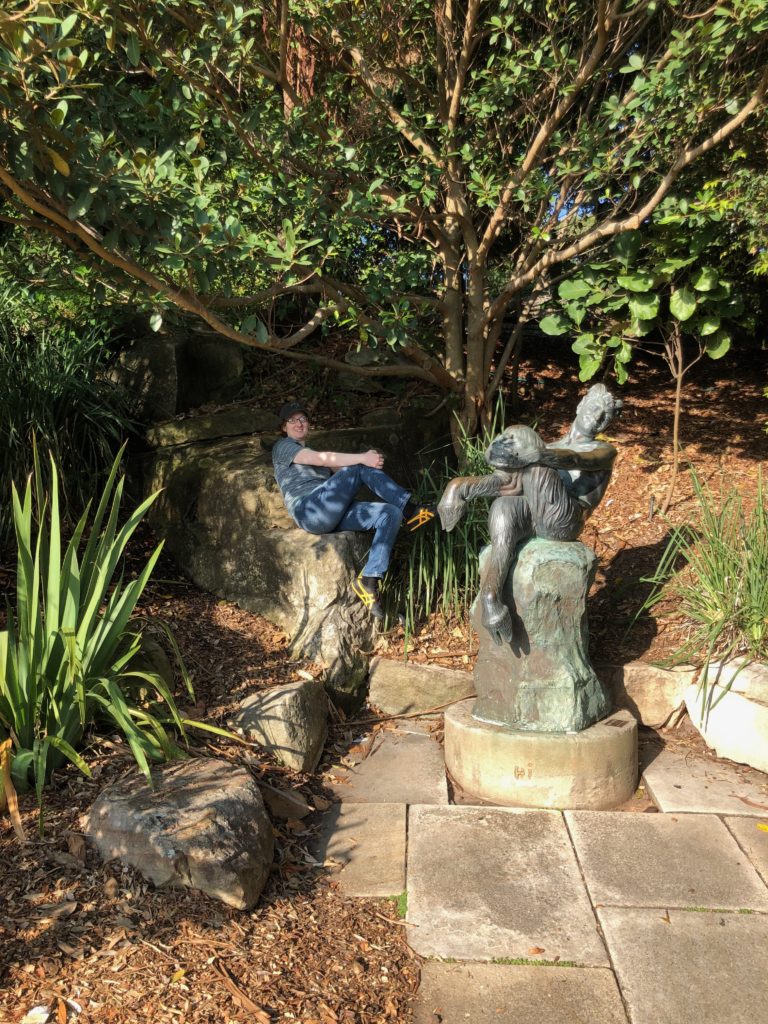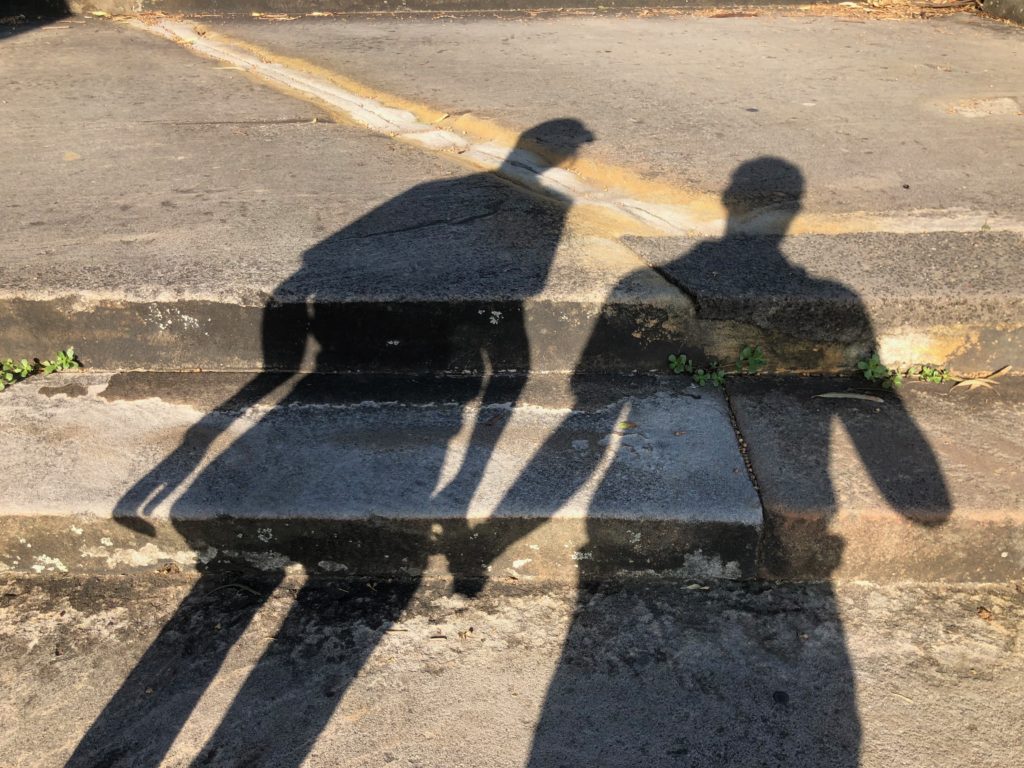 At one point, we stopped to look at a signpost to select a direction. We'd only been standing there for 30 seconds when a morning jogger stopped to ask us if we were lost! When we told her we were just deciding where to head, she offered to take a picture of us with two (no, make that four *wink*) Sydney icons.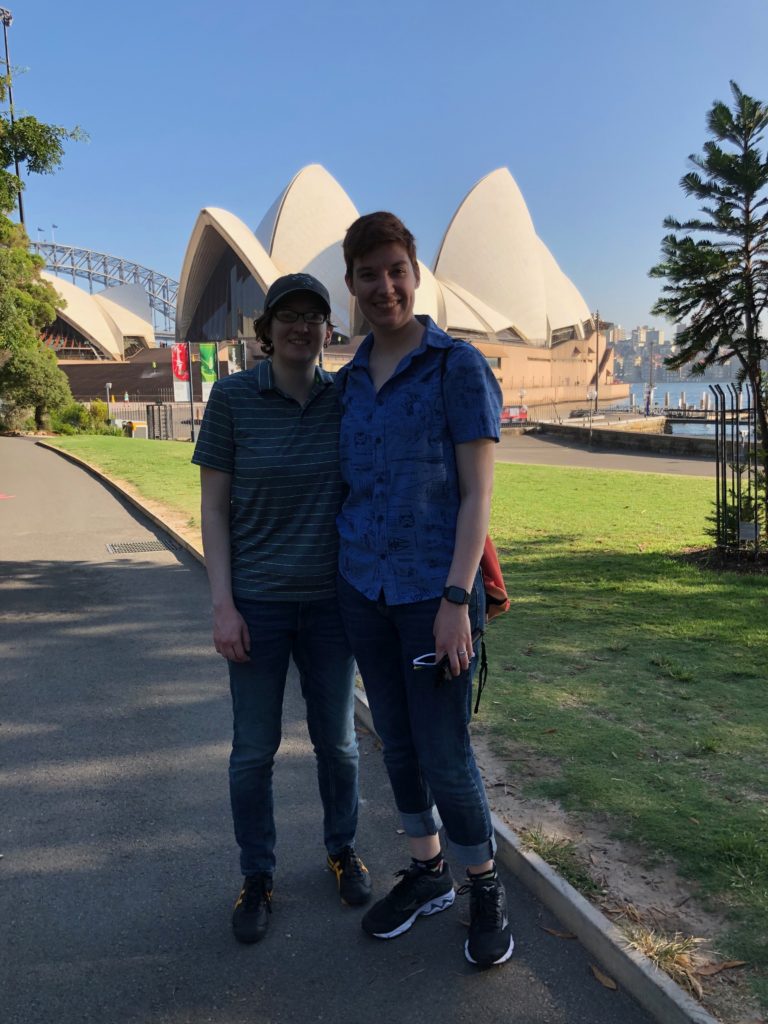 I managed to choose a less than scenic path behind an old building for the first bit of our walk. It was pretty once we finally made it to the lawn!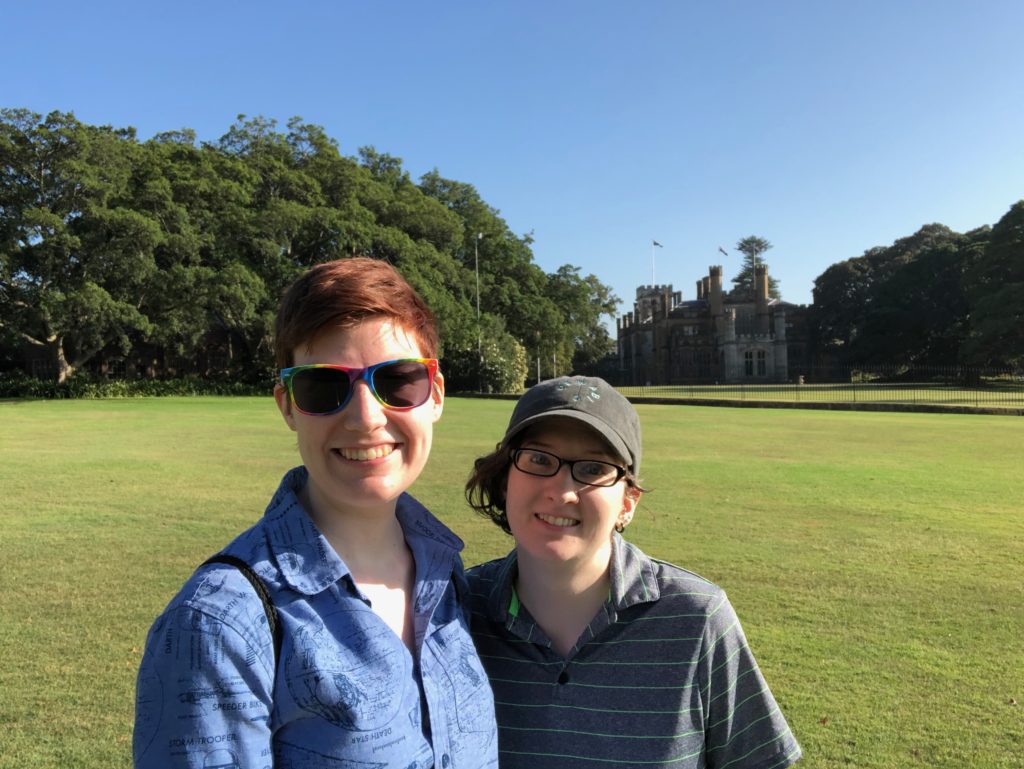 We also admired some sculpture throughout the park, including a giant rock made of little rocks and a gazebo made of barbed wire.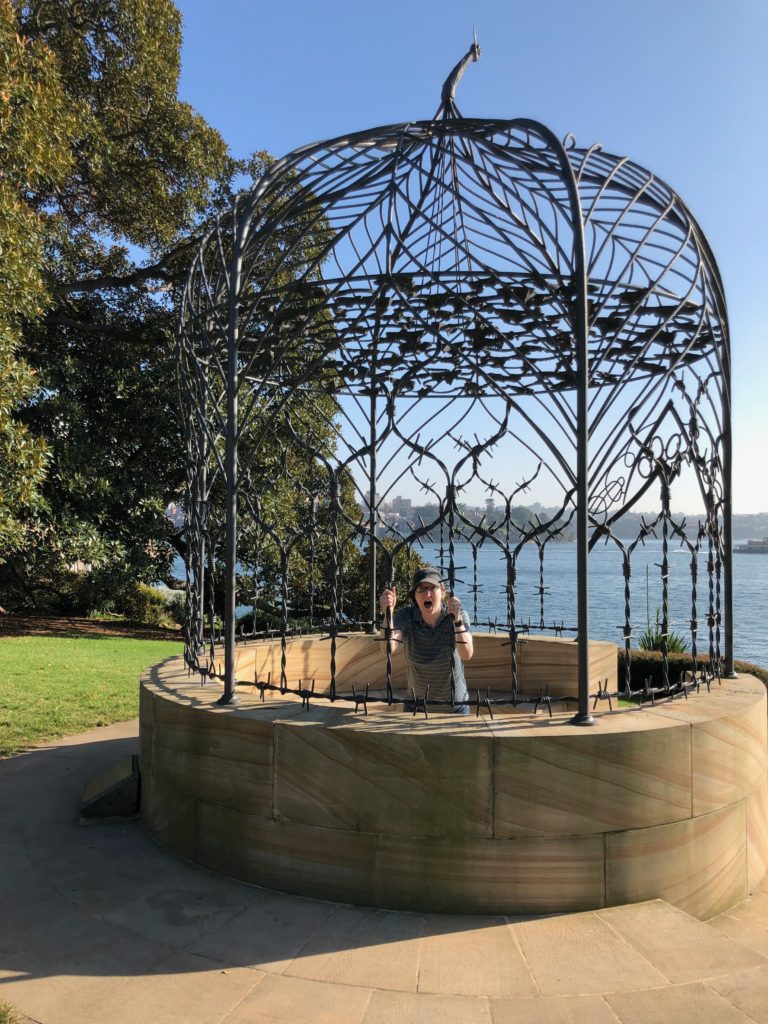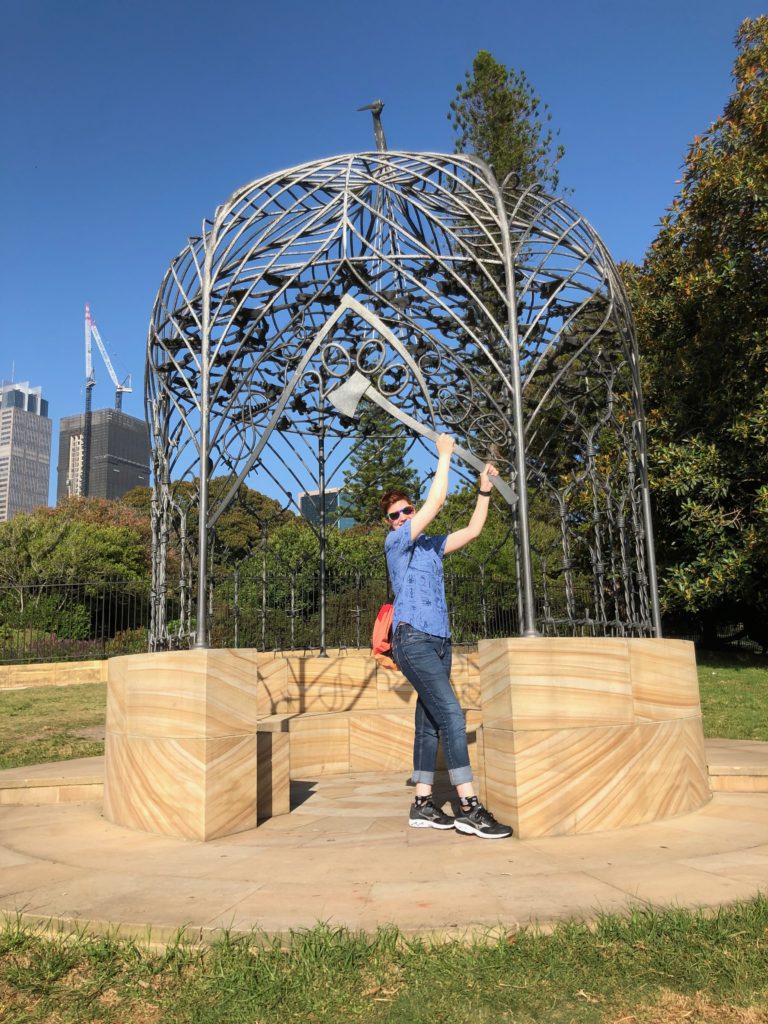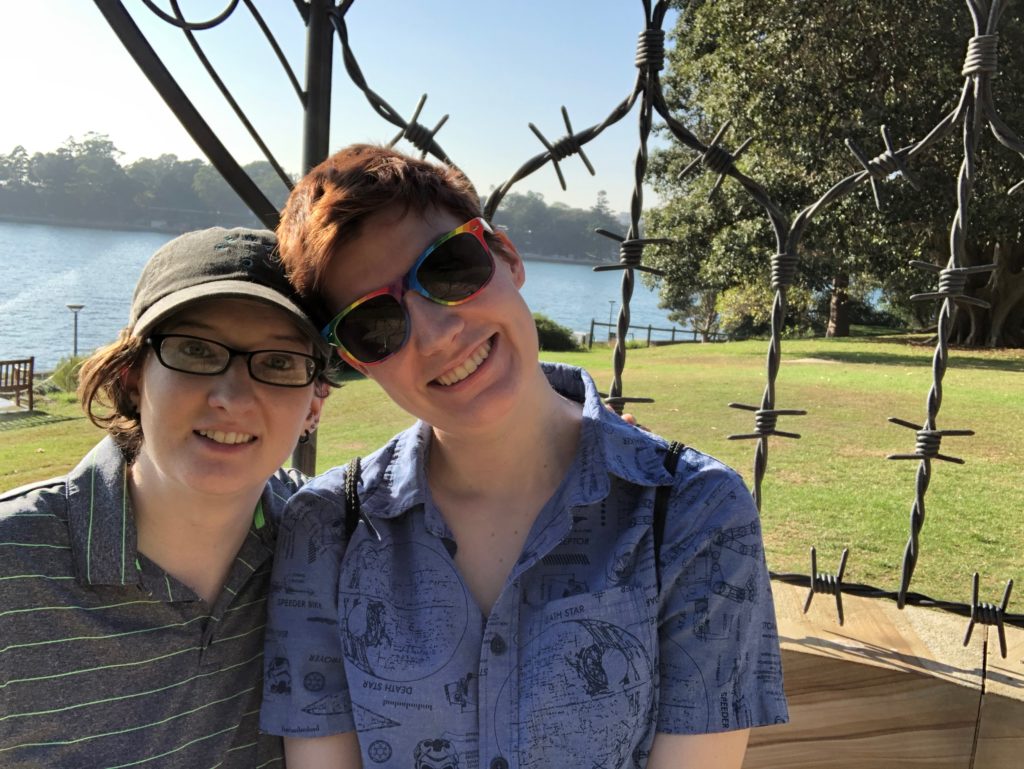 We admired many plants and flowers but had no idea what they were.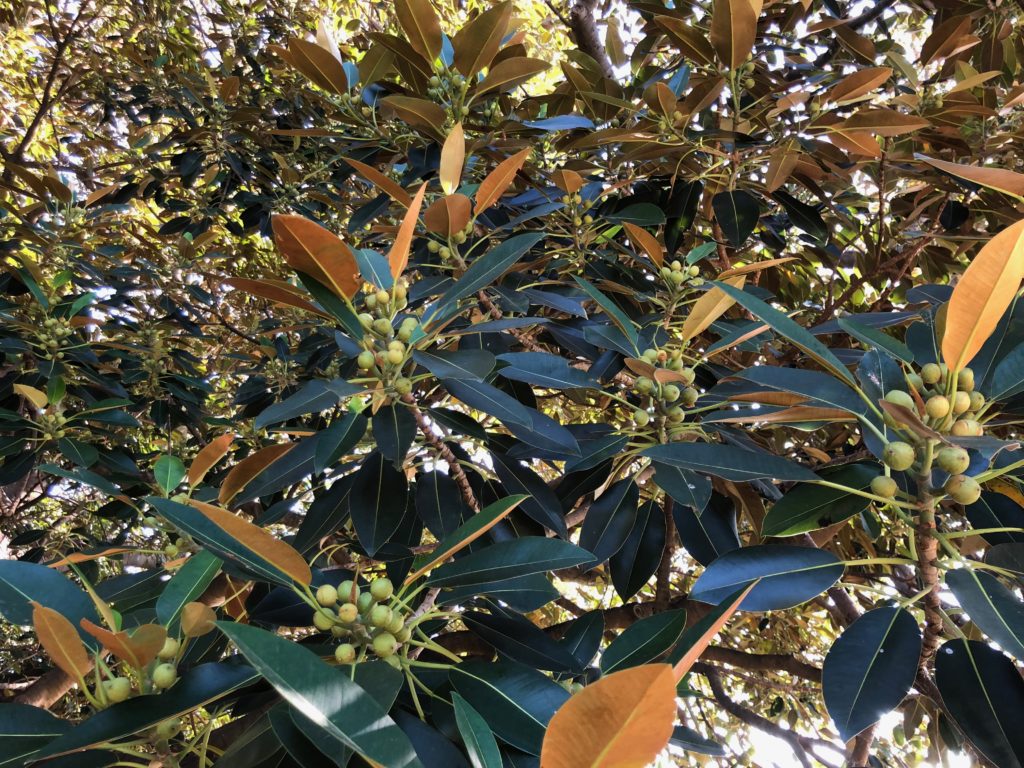 Our Sydney Opera House tour started at 9:30 AM, but it was getting pretty toasty by about 9 AM so we headed to the Opera House early for some shade and a bathroom break. The bathroom was… interesting.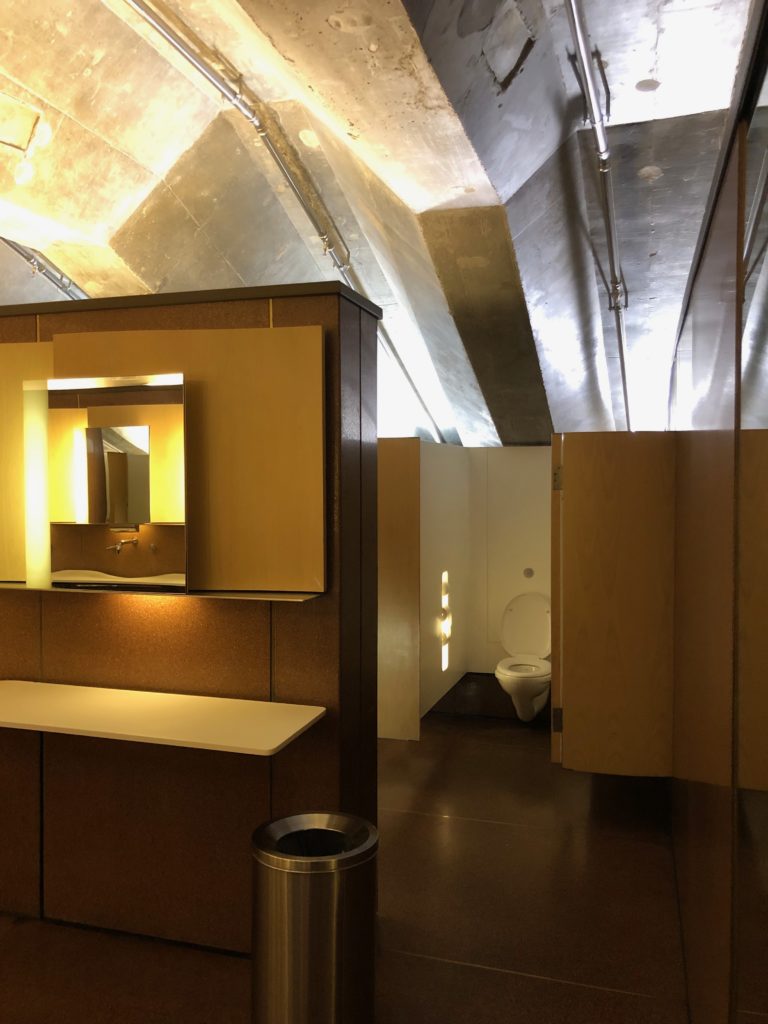 Our tour utilized personal headphones so we could hear our guide however far away we were from our guide. They worked remarkably well! We didn't miss any of her talk that way.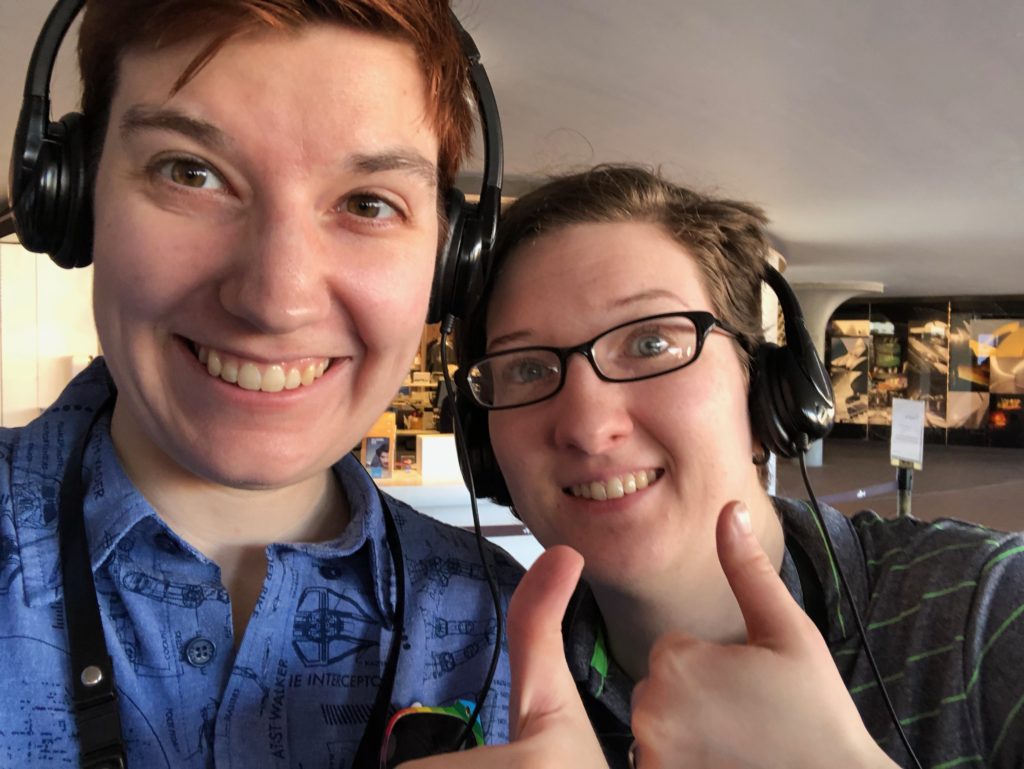 Our guide's name was Rosie, the coincidence of which entertained me since I'd just re-listened to The Rosie Project (set in Australia). She was very sweet and entertaining.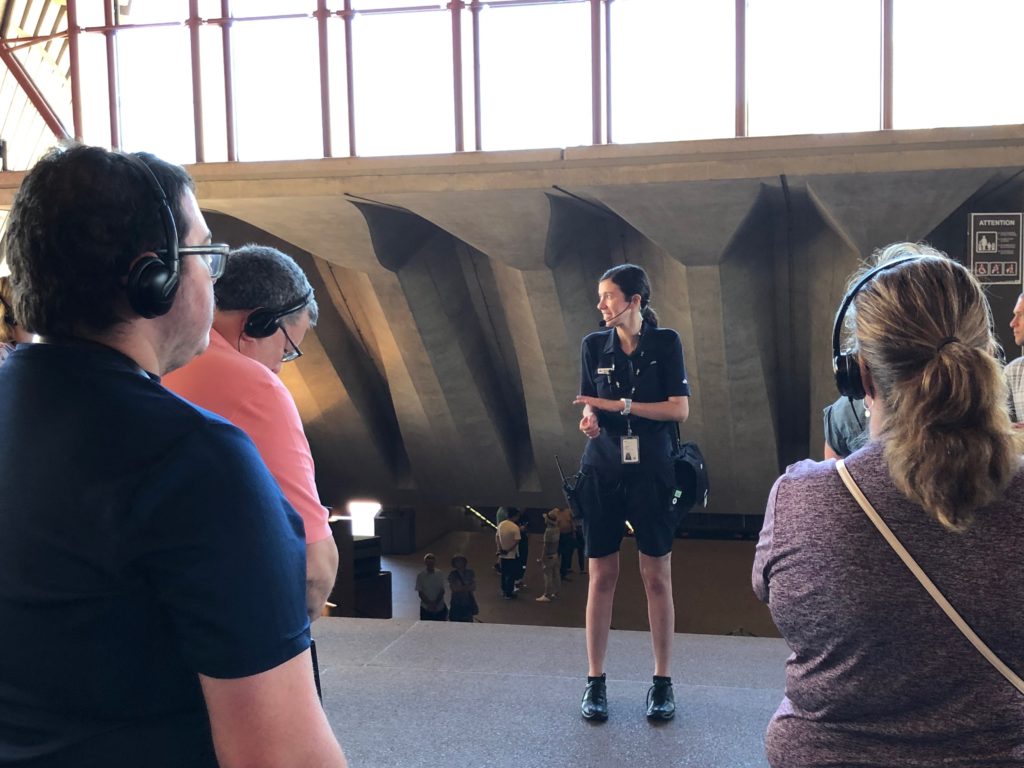 The structure is a feat of structural engineering, built on the edge of what was possible at the time. The architect, Jørn Utzon, who ultimately won the design competition, was not originally in the short list of final contenders. His designs, though beautifully space age, were more like concept art than architecture. In fact, he hadn't even consulted with an engineer to make sure they would stand!
The designs evolved many times for structural and financial reasons. Ultimately, each "sail" was constructed as part of a sphere, which allowed the enormous concrete sections to be pre-cast using the same molds.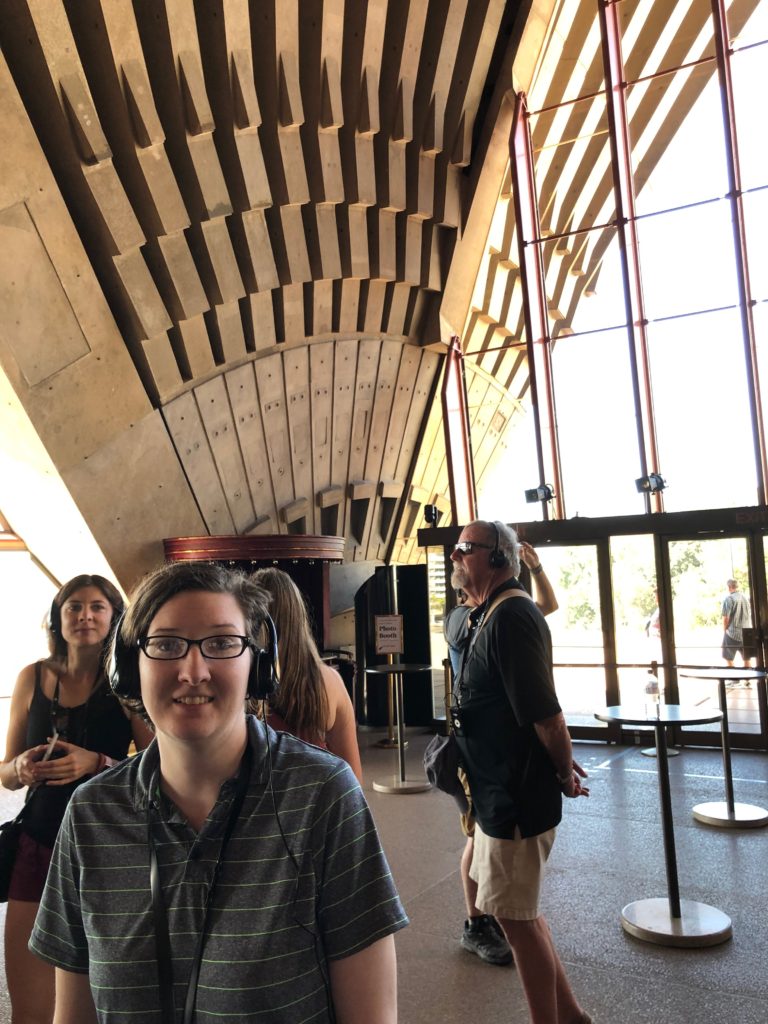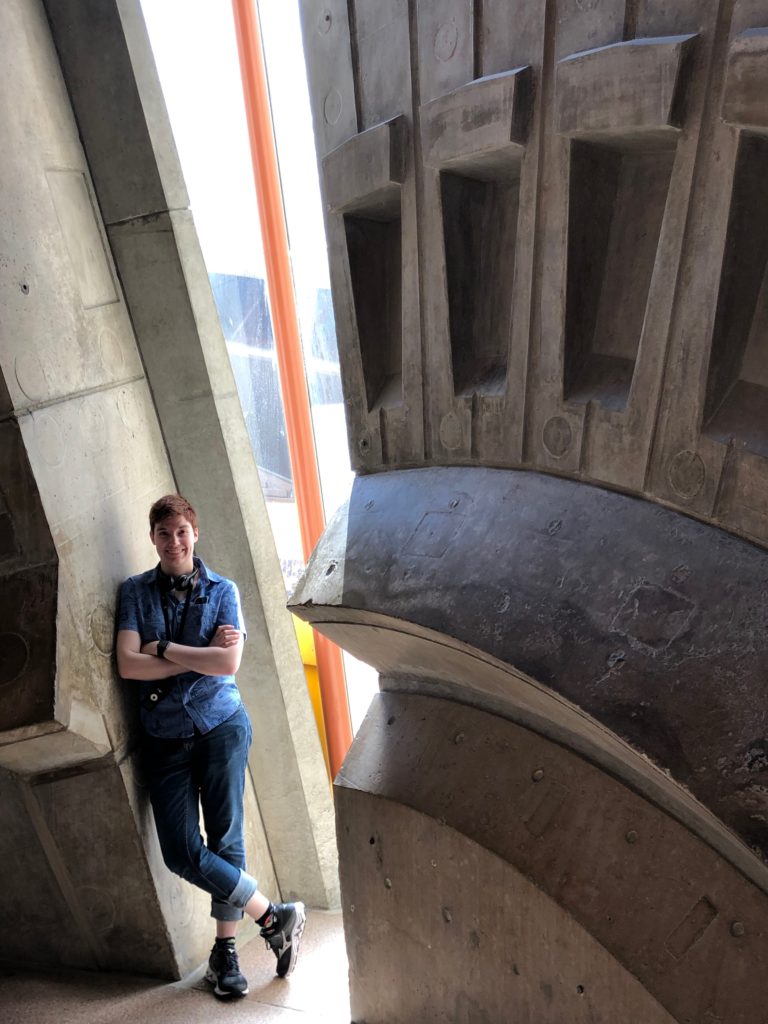 The concrete is smooth, since it's been polished, but you can still see the grain of the materials used to construct the mold.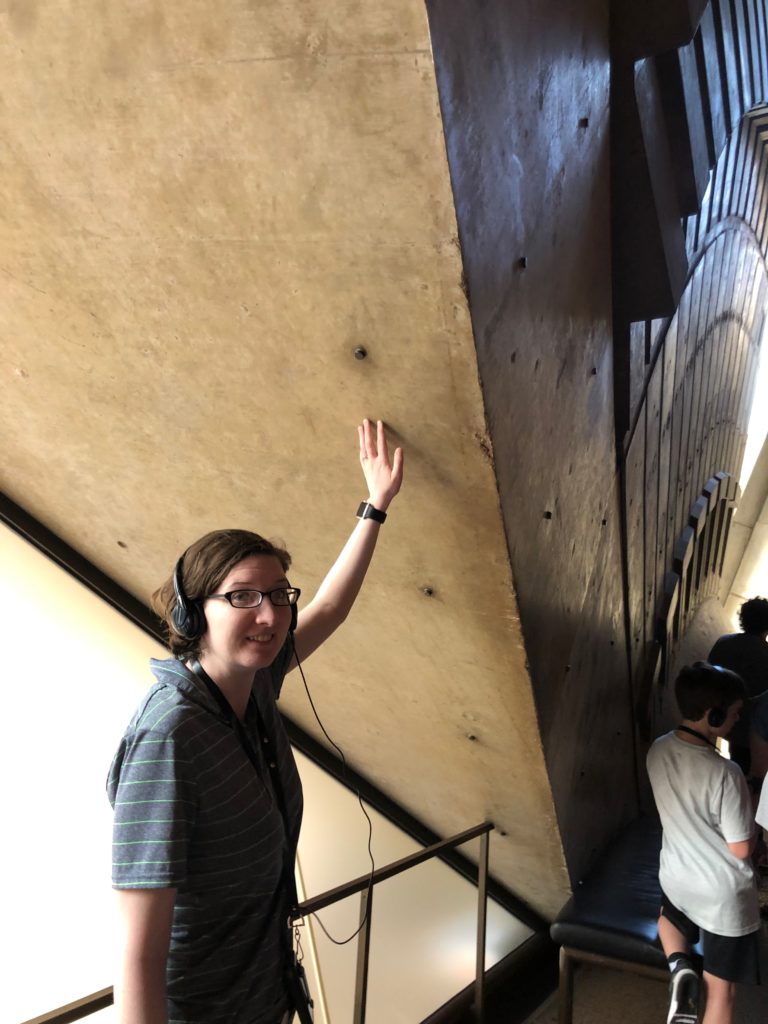 The glass is also structural. According to our guide, this is the first building to ever use glass as a structural material. It arrived in 20 meter long sheets from France and took eight men to maneuver into place after it had been cut up.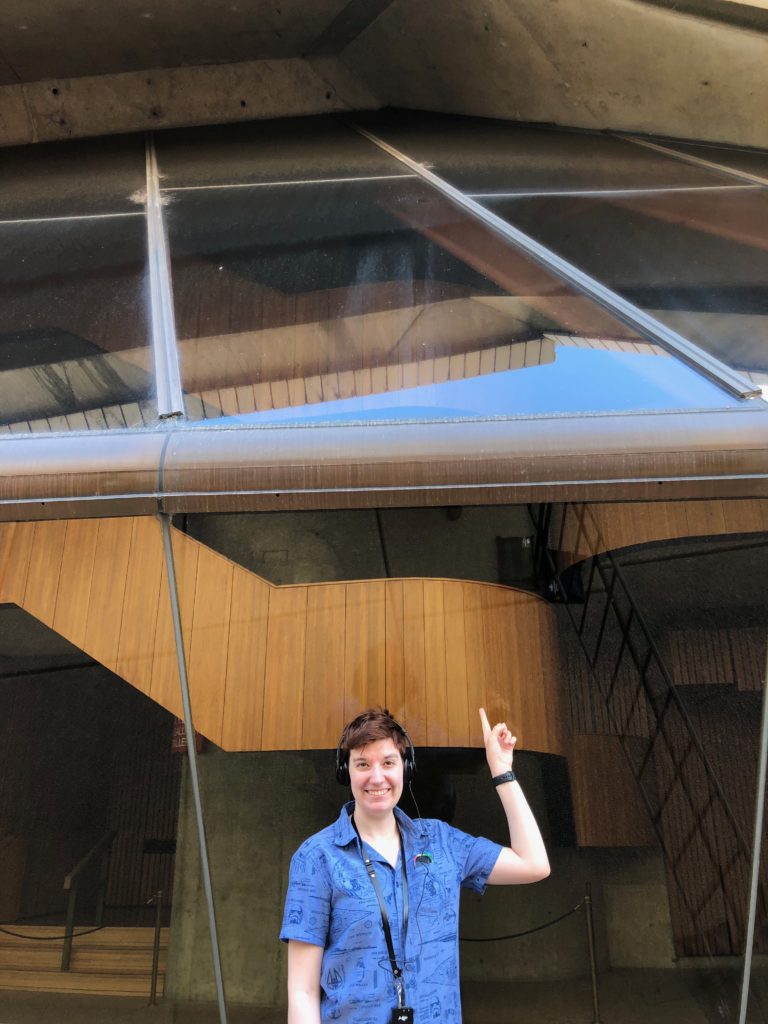 It's also set at an angle to allow viewers inside to see out rather than see their own reflection.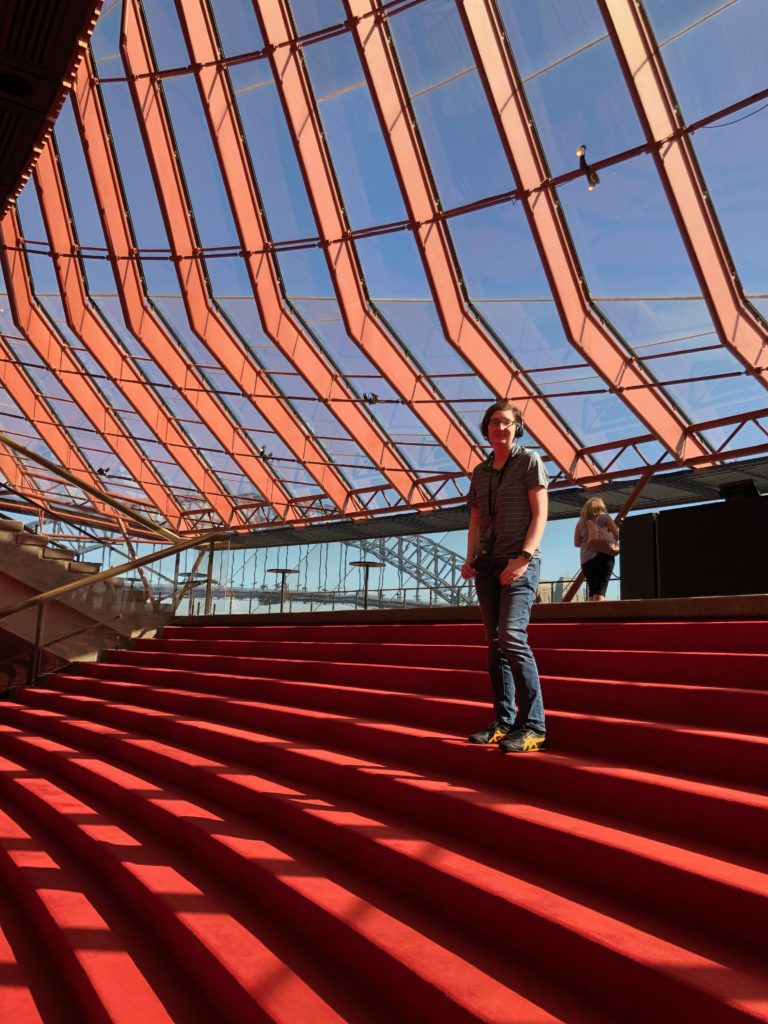 The Opera House sits on Bennelong Point (named after an Aboriginal leader the English captured and turned into a liaison). It has stunning views of the harbour.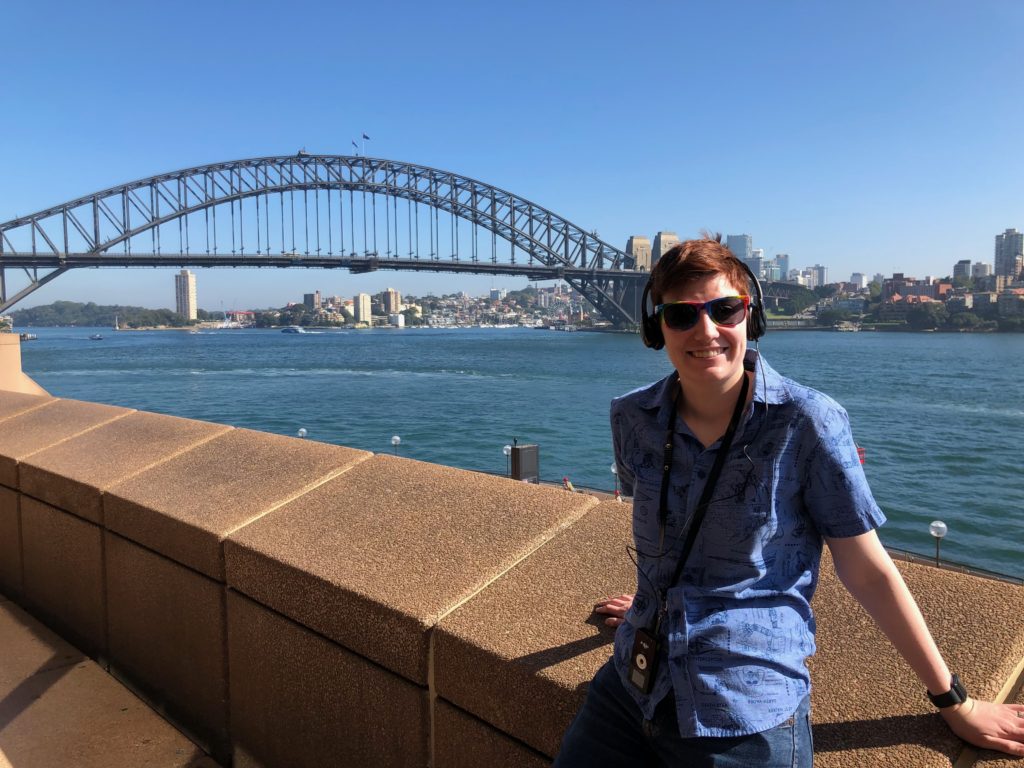 Utzon was a perfectionist. He labored over each detail, including the tiles that cover the sails. There are two colors, one rough and one smooth. The sails never need to be cleaned because the tiles are specially designed to trap dirt and debris and then be washed clean by rain. That said, they are basically just fancy bathroom tiles.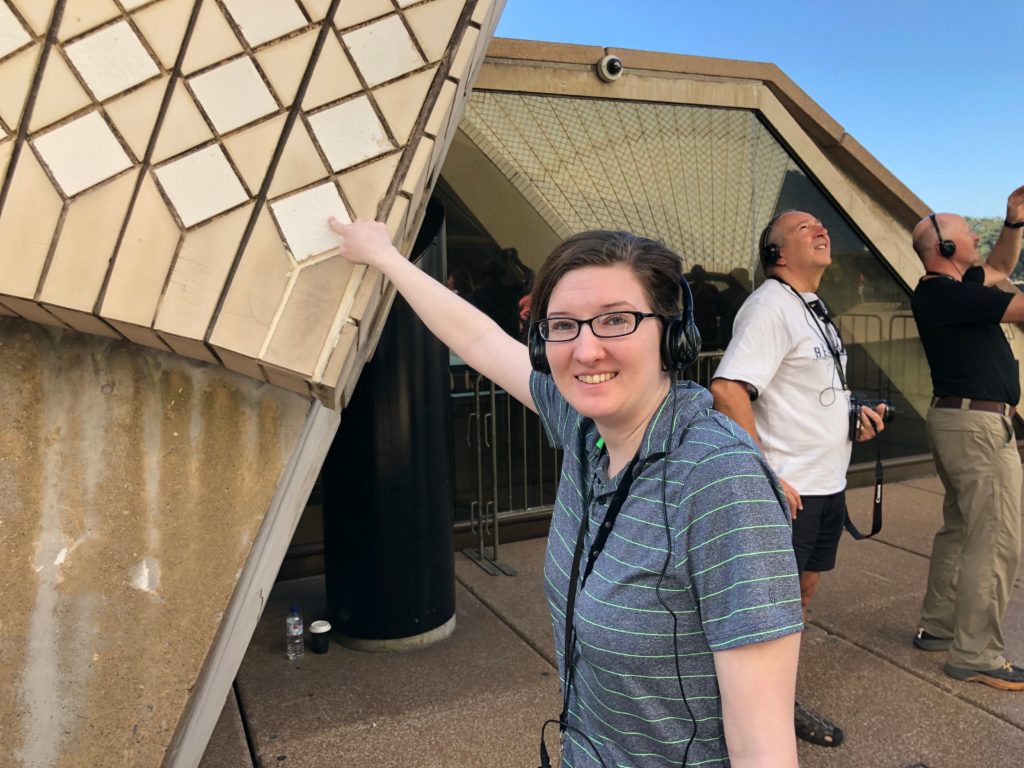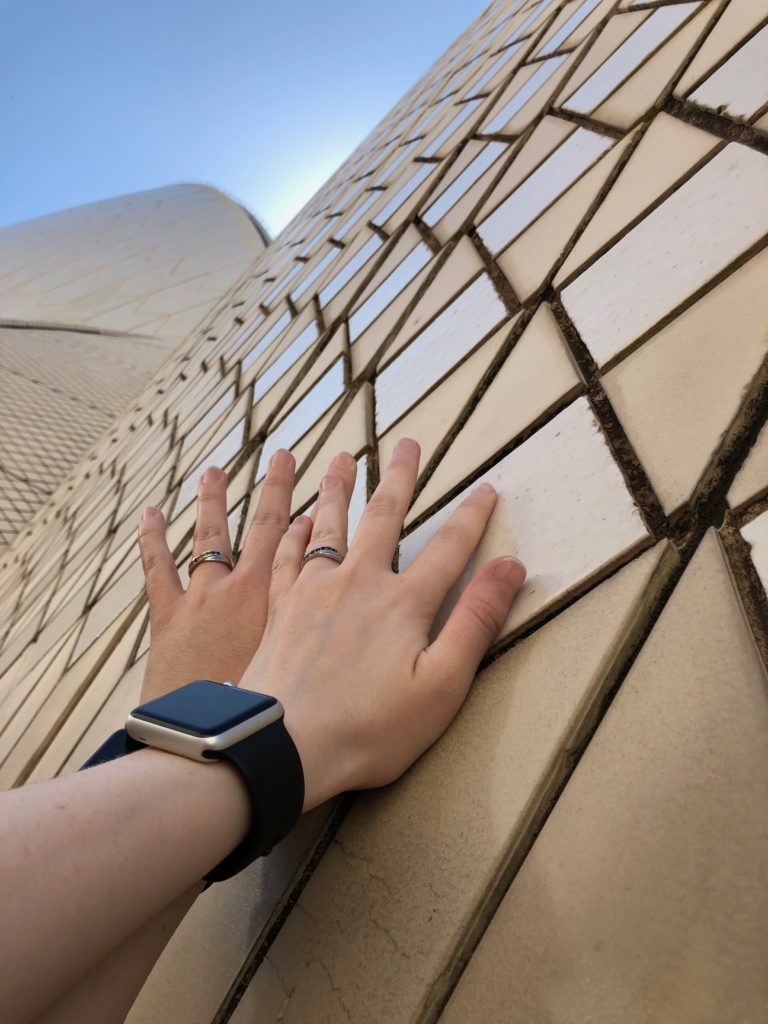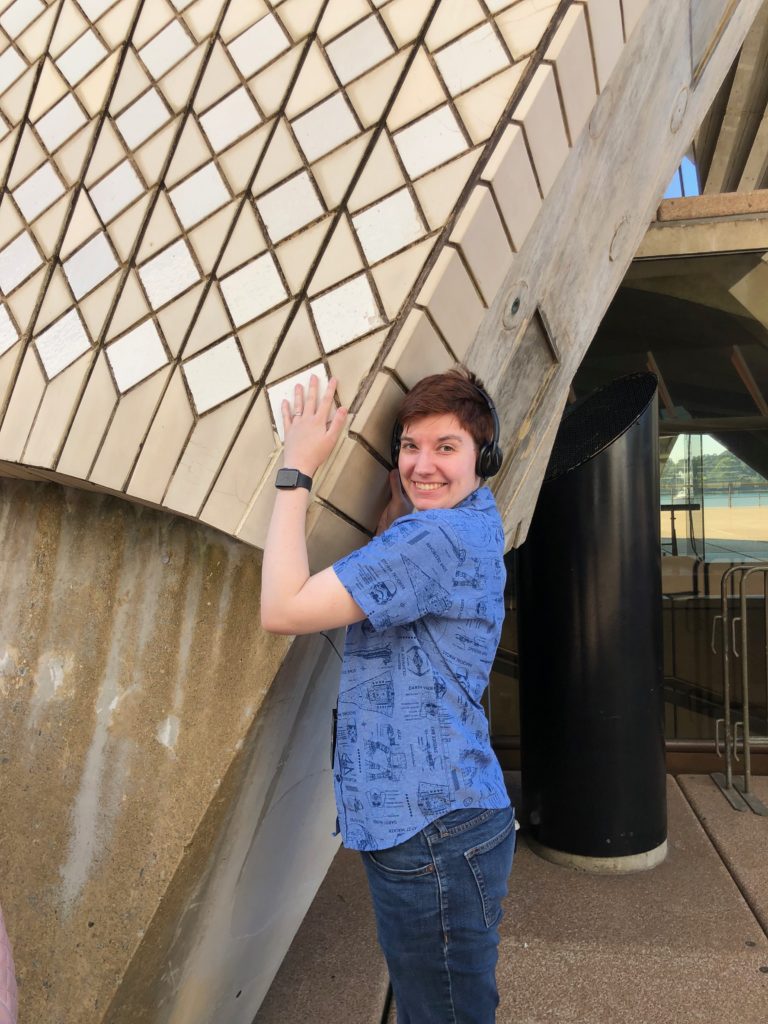 The construction was long, checkered, and filled with drama. The original architect, Utzon, left Australia due to political pressure before the Opera House was completed. He never saw it finished.
They anticipated it would take 3 years to build the Opera House and that it would cost $7 million. It actually took almost 15 years and cost $102 million. This may have contributed to Utzon's premature departure. However, that hefty sum did not come out of taxpayer's pockets. The funds came either from the State Lottery or private donations.
We also got to tour the inside of the theatres, including the tiny Playhouse (which was originally designed for chamber music but is now for theatrical productions) and the two largest theatres. Though it is called the "Opera House" the Sydney Opera actually got booted out of the largest theatre by the Sydney Orchestra, which was more popular. The Opera and Ballet companies now share the second largest space, semi-recently renamed the Joan Sutherland theatre, after a famous Australian soprano.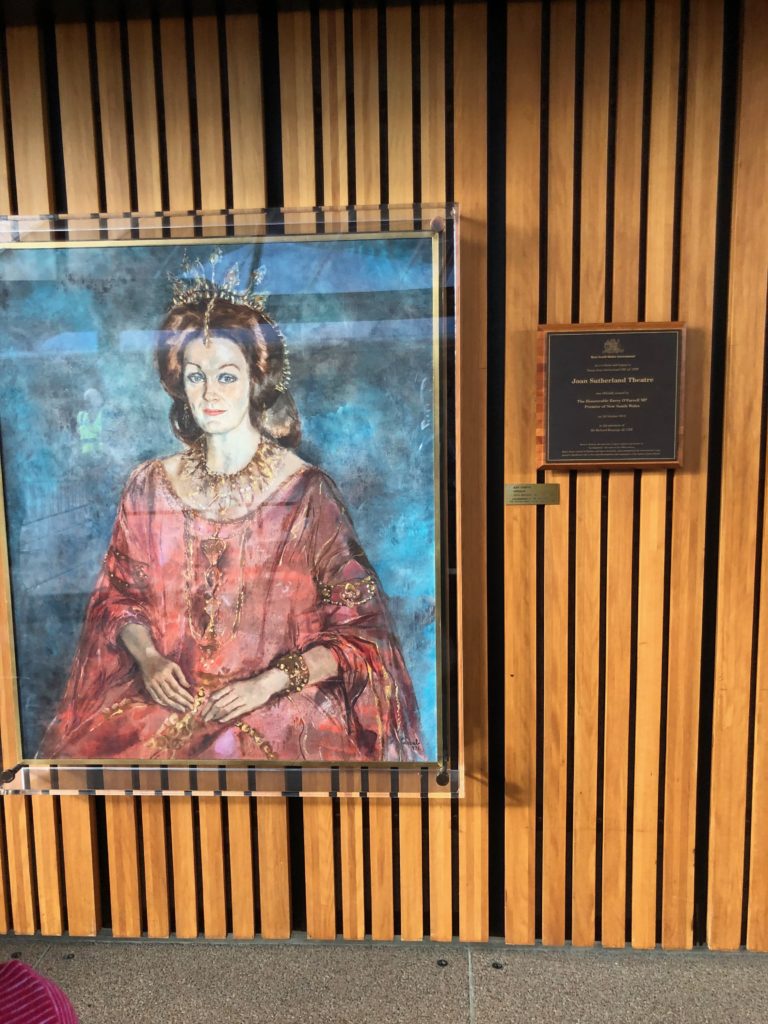 We couldn't take any pictures because there were set pieces for Turnadot on stage. However, our guide told us a funny story about why they stretched a safety net below the stage and above the orchestra. You might assume it's because someone fell off the stage, but no! It's because one director insisted his set be as realistic as possible, which included having live animals on stage.
One star-struck chicken decided she had more ambition in life than being scenery and made a break for it. She fell off the stage and onto the head of a surprised cellist. Unsure what to do, the cellist flung the chicken back up on stage where she got tangled in the soprano's skirts. And ever after, there has been a net.
We did get to take pictures inside the largest space, the Concert Hall, which is where the Sydney Orchestra and other musicians play. They were getting set up for a Death Cab for Cutie concert, but no one was on stage (hence the pictures). It's stunning.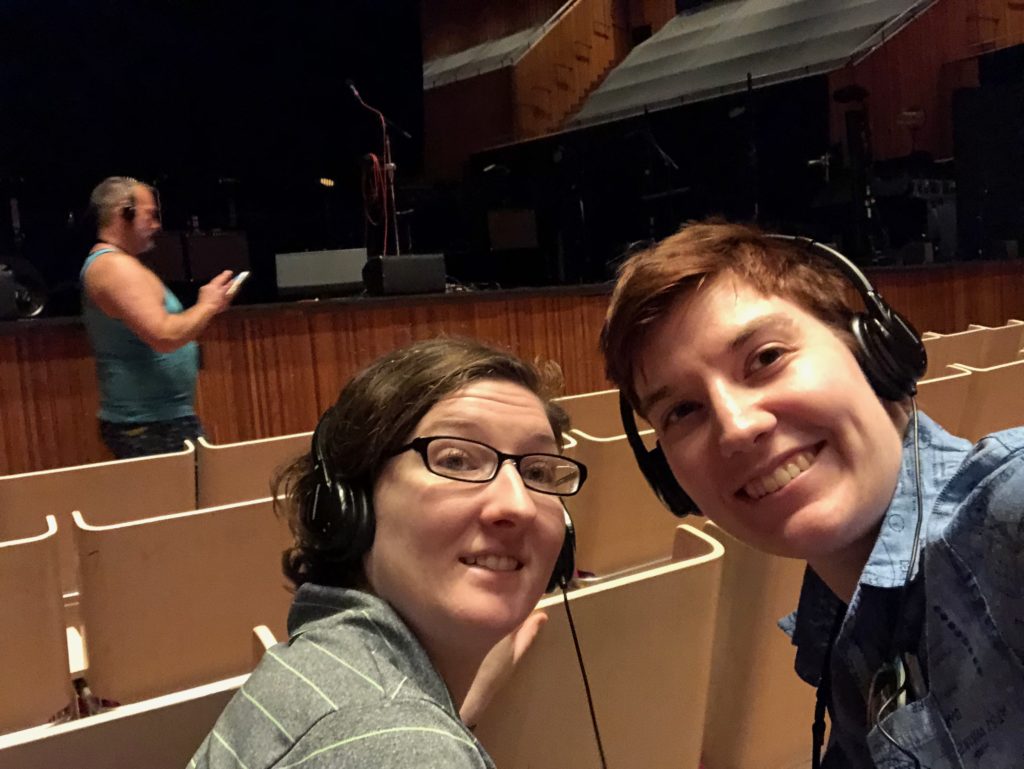 Each detail of the interior was carefully thought out for acoustics. The chairs are made of a soft wood while the wall panels are made of hard wood. This balances out the amplification and sound absorption properties. Also, Death Cab for Cutie doesn't need them, so they were way up in the rafters, but there are special plastic tubular hangings to catch the sound and reflect it back down to the orchestra so they can play in time with one another.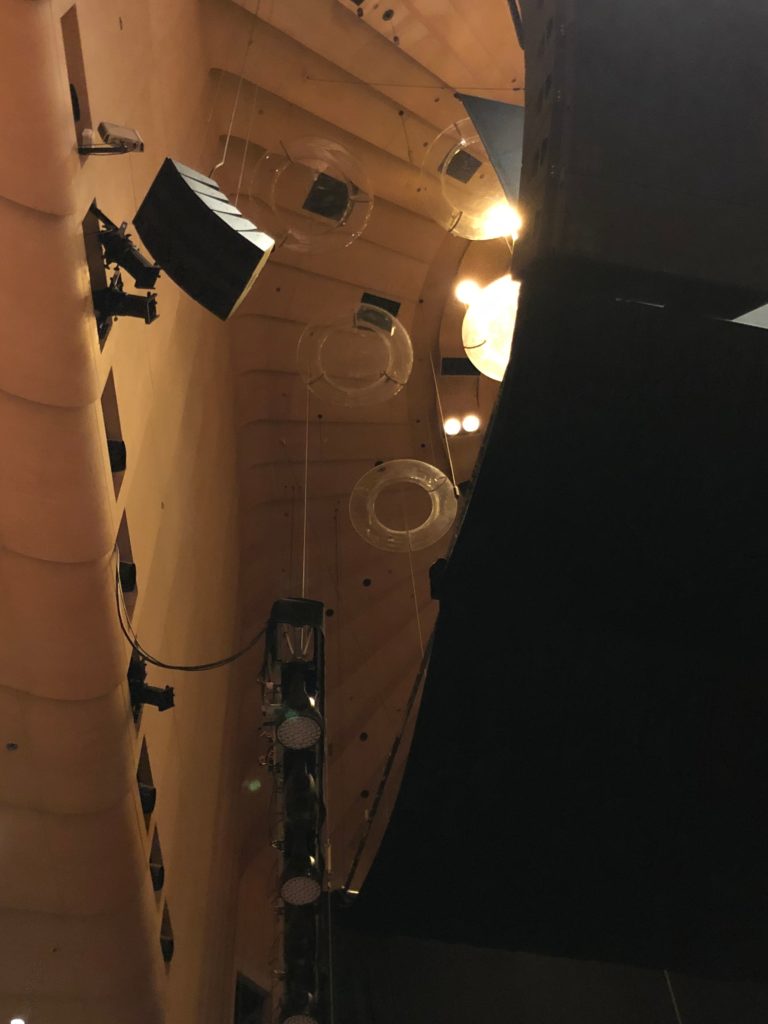 After our tour (and final photo op), we pillaged the gift store for mementos and headed out for our next destination: The Everything That Can Kill You Museum.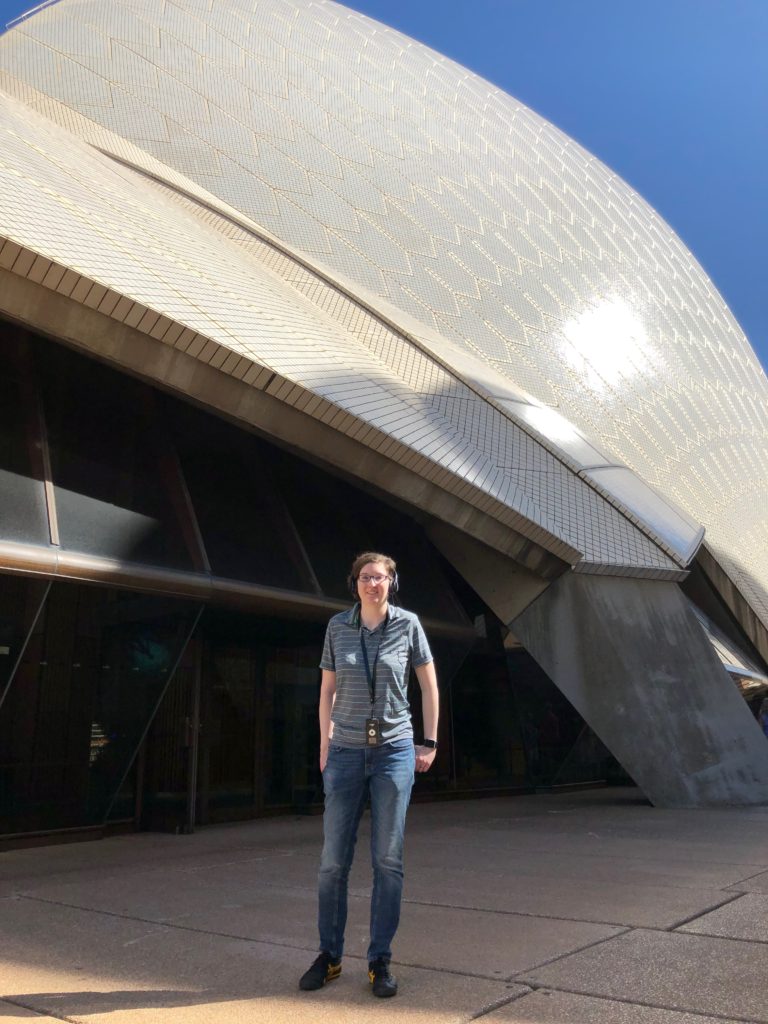 And by that I mean an Exhibit called "Surviving Australia" which as been at the Australian Museum since I was eleven. I promised to take Trish to see all the creepy crawlies that can kill you. Secretly, I hoped the exhibit might dissuade her from picking up any local fauna.
It's normally a very easy walk from The Opera House/Circular Quay to the museum (just over a kilometer) but it was HOT. We tried to hail a cab but apparently a kilometer is a laughable fare.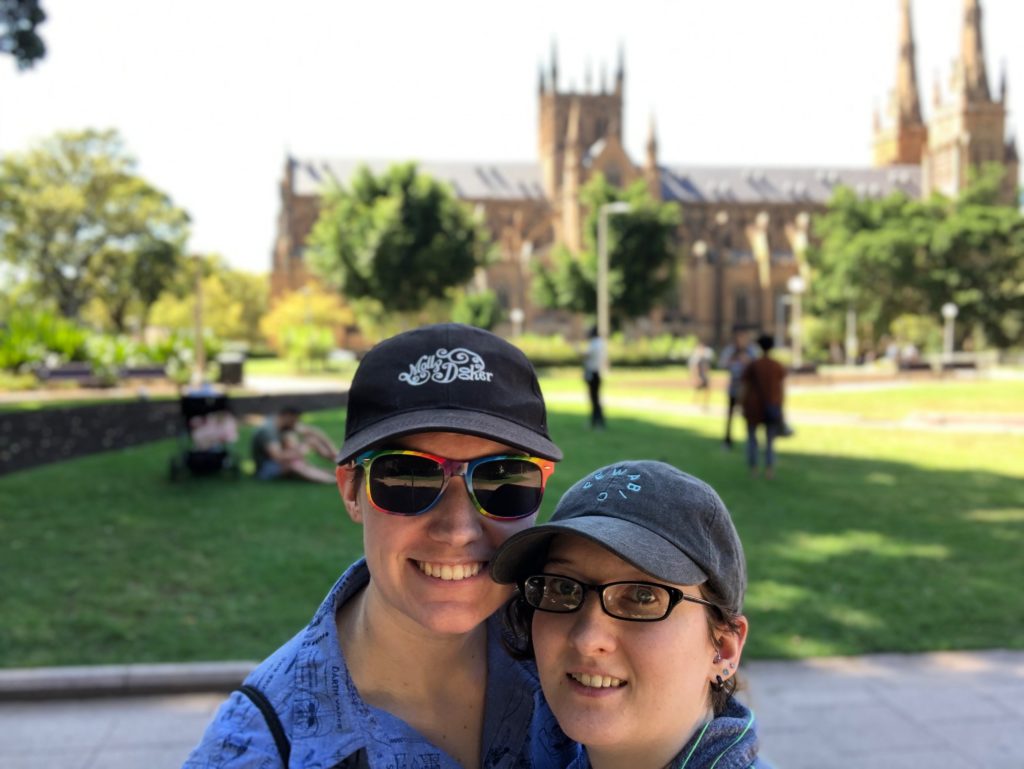 We did make it to the museum without melting. We cooled off in a fascinating exhibit about whales (no pictures were allowed because whales and whale skeletons are sacred to the Maori). Then we went to the top floor for lunch and a (well earned) cool drink.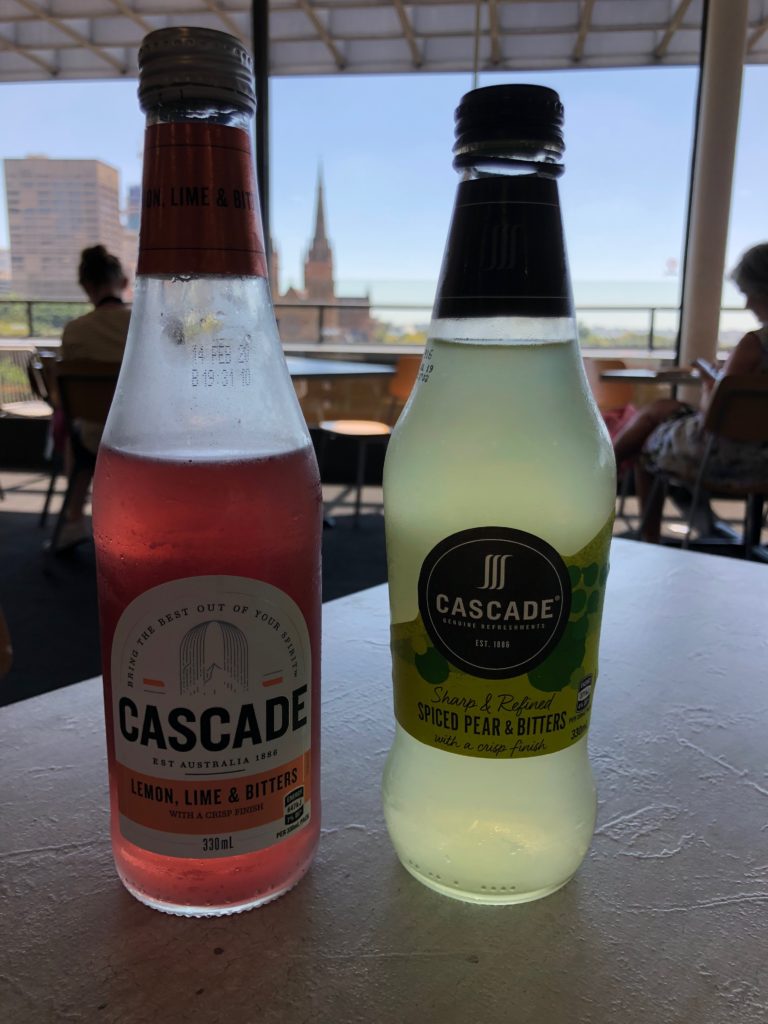 We visited some old haunts in the museum. This skeleton has been there since I was eleven, though all things considered I'm holding up better as I still have two hands.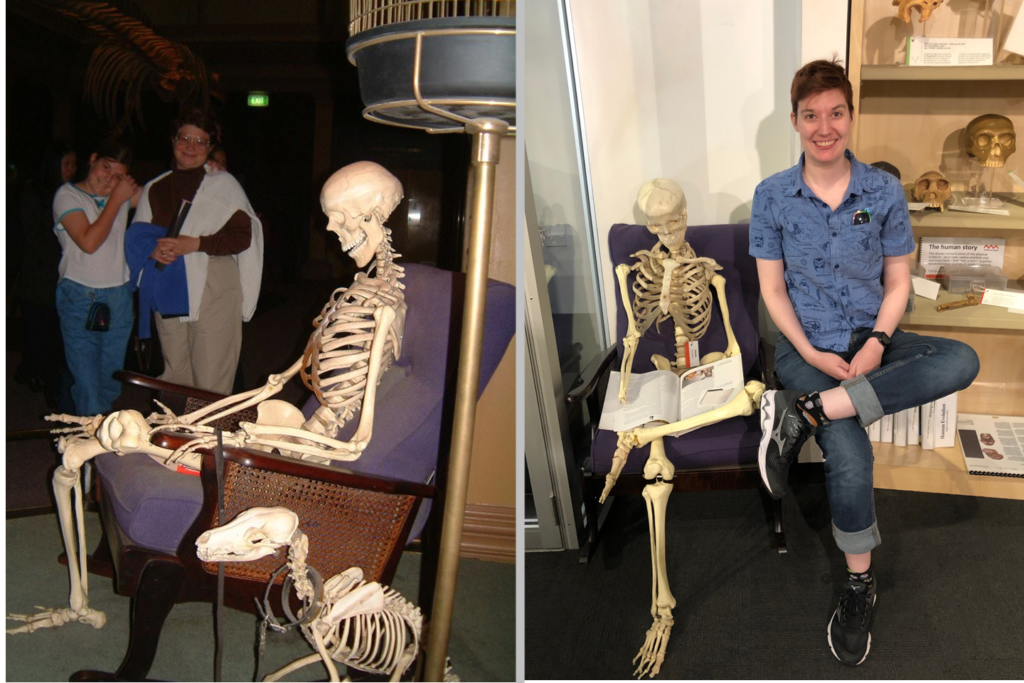 Sadly, the table full of spiders seems to have been retired. I don't feel too bad though because Trish still got to look at drawer upon drawer of bugs.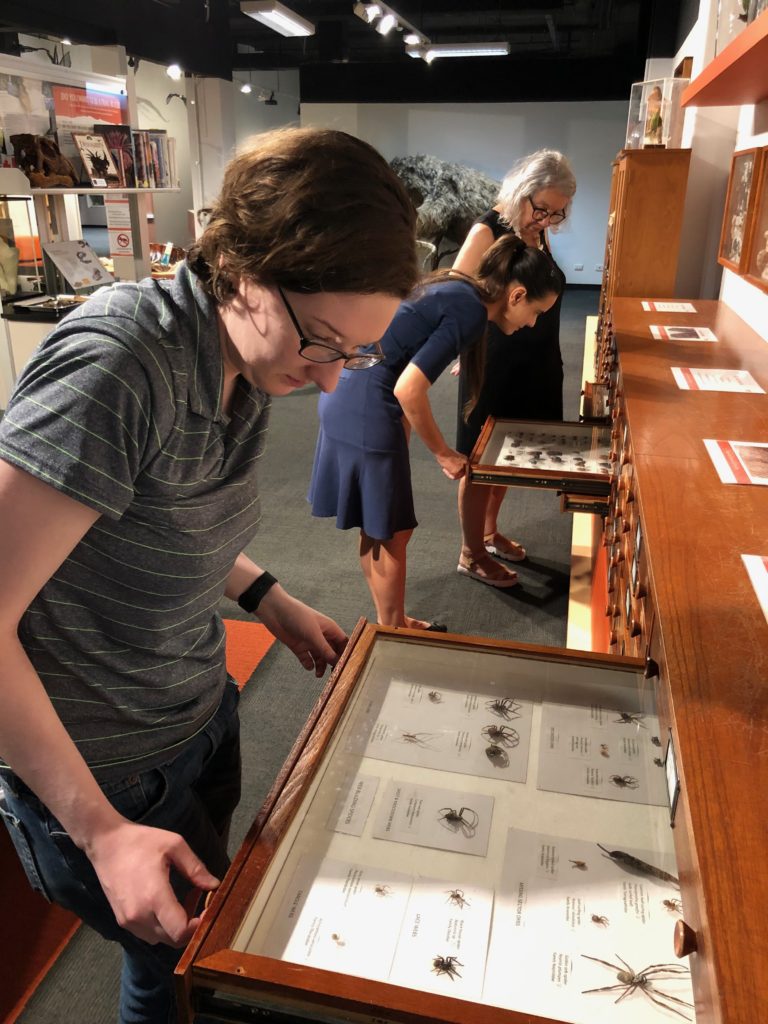 She also befriended the woman next to her in the photo (in the dress), who just happened to be an entomologist from Brazil! She told us lots of fun facts about the specimens on display. My favorite is that when dragonflies mate they make a heart shape (so the entomologist gave out paper cutouts of dragonflies at her wedding).
We saw the Everything That Can Kill You Exhibit. Trish learned nothing.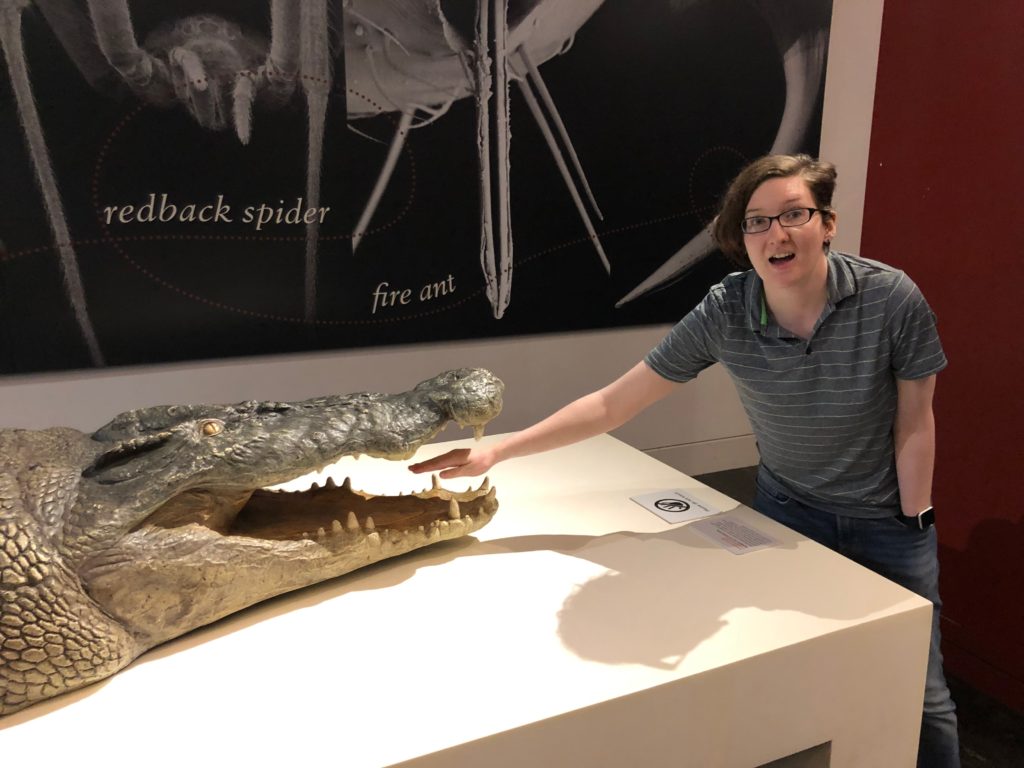 We ended our visit in the dinosaur area. National Geographic has "gifted" (or cursed) the museum with a new display: T-Rex Autopsy.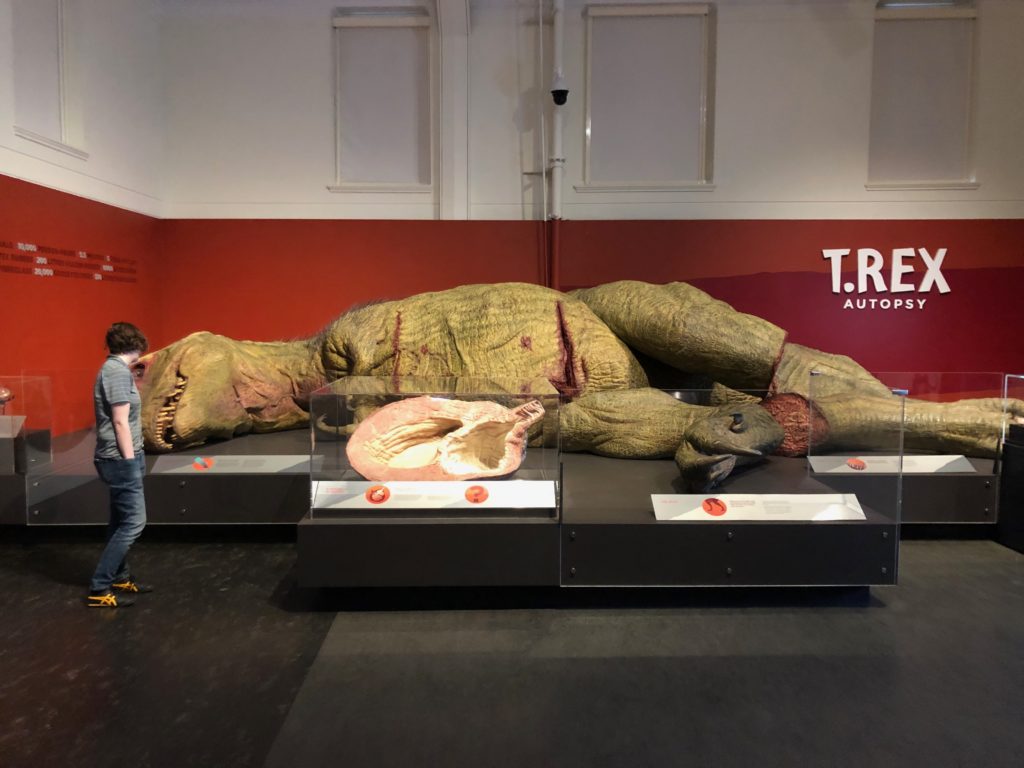 This is a life size reconstruction of a T-Rex that was used in a show about dissecting dinosaurs (to make it more "real"). Creepy or cool, you decide.
We summoned an Uber to take us from the museum back to Circular Quay to get a ferry back to Cabarita and Breakfast Point. Again, the sail was beautiful.
We stayed reasonably cool on the water with a breeze, but Breakfast Point was even hotter than Sydney! By the time we made it back to Pamela's we were ready to move into her fridge.
We had a relaxed afternoon. For dinner, Pamela and I went to a wonderful Italian restaurant she'd recommended, Angelo's, to celebrate her birthday a few days early.
We had beautiful salmon with crisp asparagus, peas, lemon curd, and a crumbly green breadcrumb-like substance that was delicious. We spent a wonderful evening chatting away.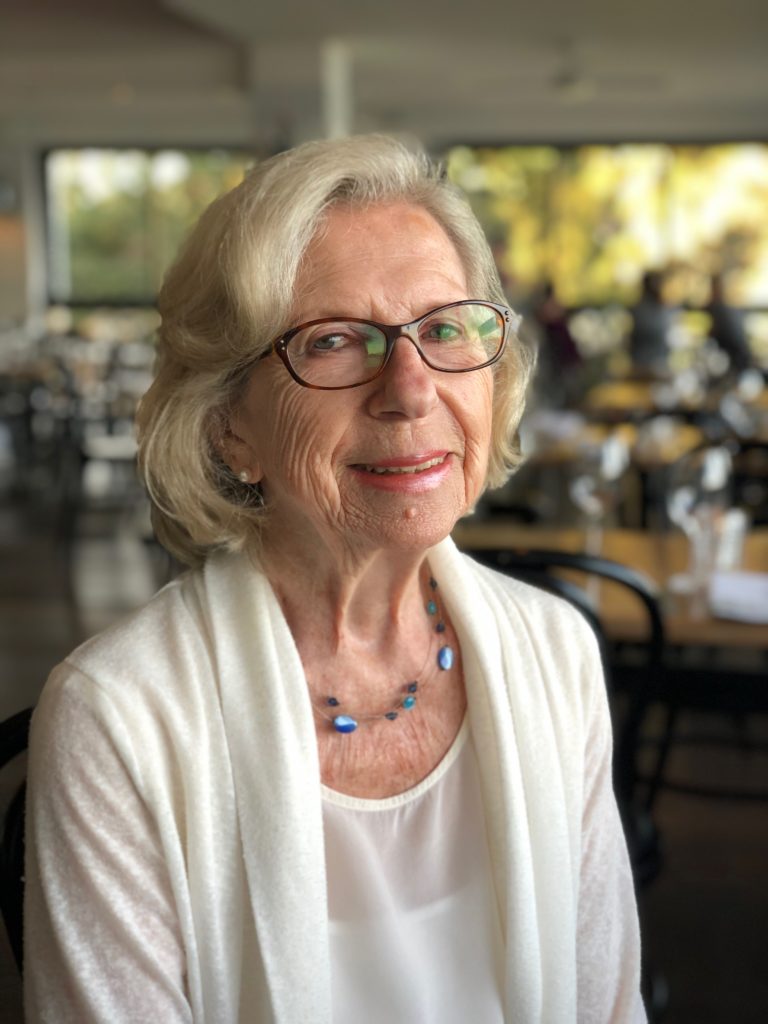 We finished the night with a wonderful tiramisu they were nice enough to put a candle into. They were also kind enough NOT to sing.