We slept solidly for 10.5 hours but were ready to get up when the alarm went off at 7 AM. The clouds loomed over the sunrise but, for a few minutes, it looked like we might escape more rain. Alas, we didn't.
We had a nice breakfast at the hotel restaurant, Beast and Butterfly. We both had omelettes and long blacks (New Zealand-sized). We've noticed the temperature hot beverages are served at here is scaldingly hot.
At about 8:15 we left the hotel and went to collect our Fullers Ferry tickets for Waiheke Island to meet up with our Gourmet Food and Wine Tour (by Ananda Tours). The pier was easier to find than we expected and was also less crowded (perhaps due to the rainy weather). As a result, we caught the 8:30 ferry instead of the 9:00 AM one.
The ferry was only about a third full. It stopped drizzling and I went out on the deck to take in the view of Auckland receding in the distance. The ferry ride is only about 35 minutes, short enough that about 2000 people commute to Auckland from Waiheke for work (for reference, only 9000 people live on the island).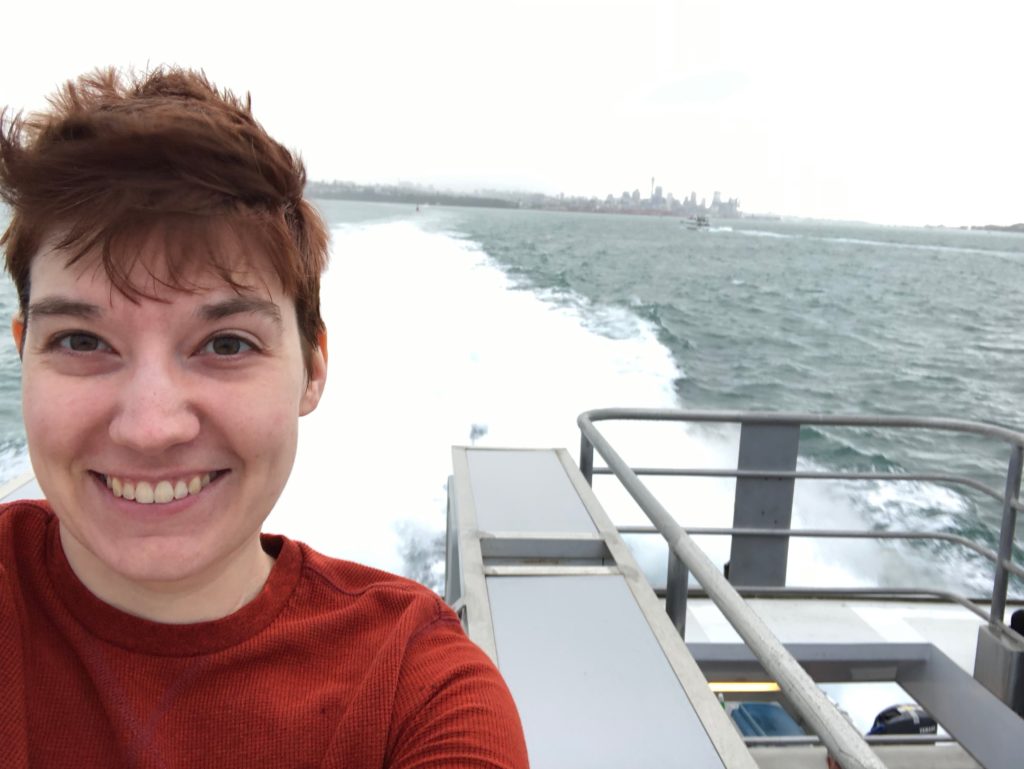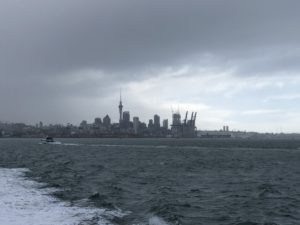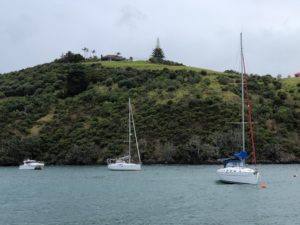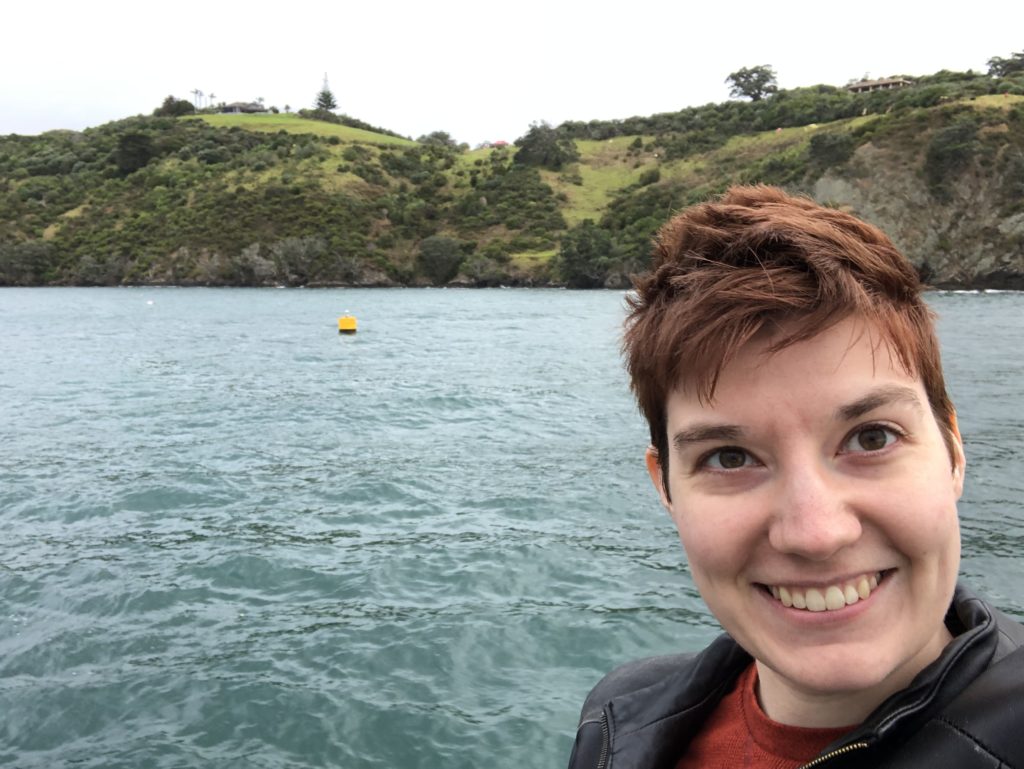 Since we were early, we strolled along the beach at Matiatia bay (where the ferry docks) and took some photos.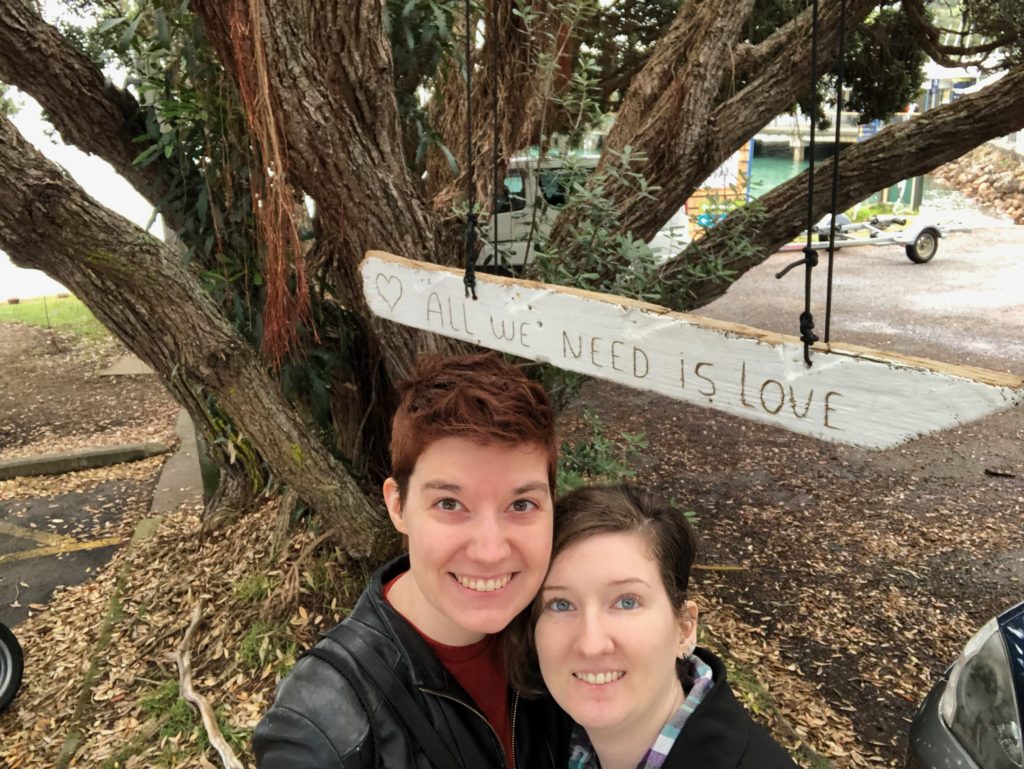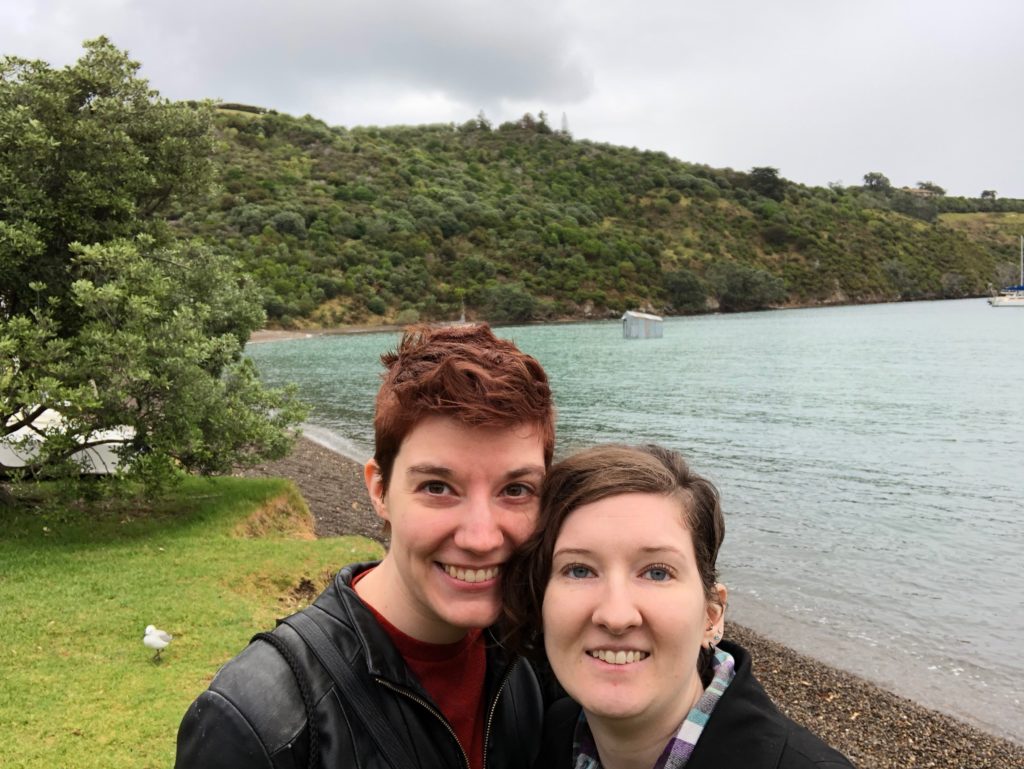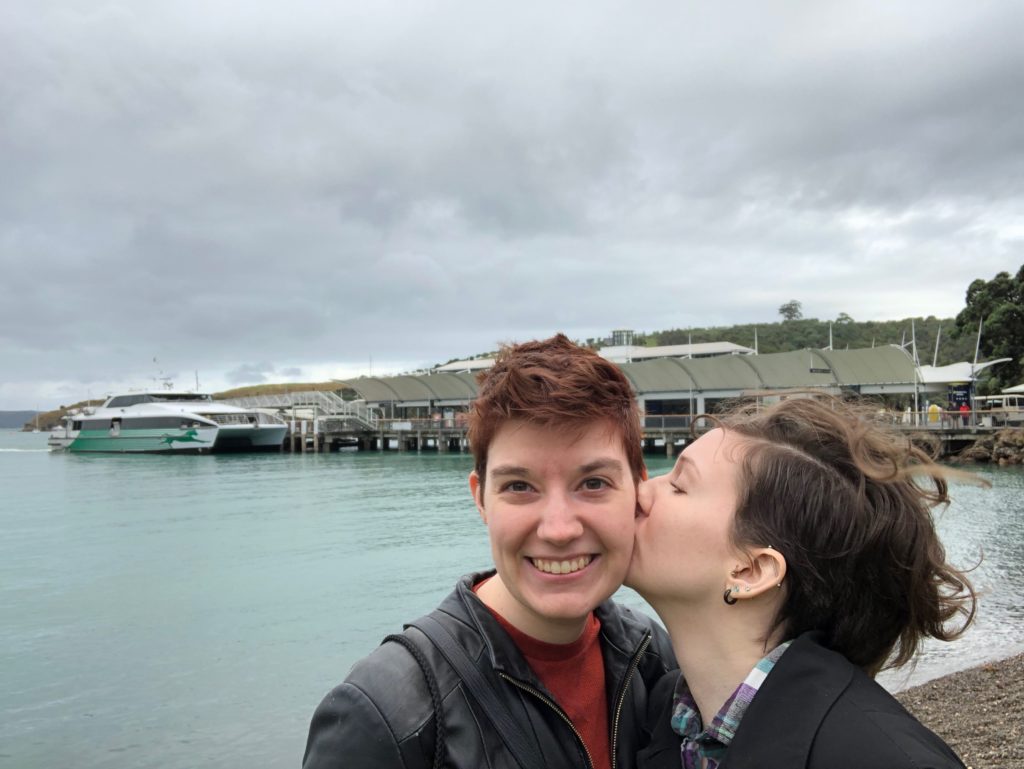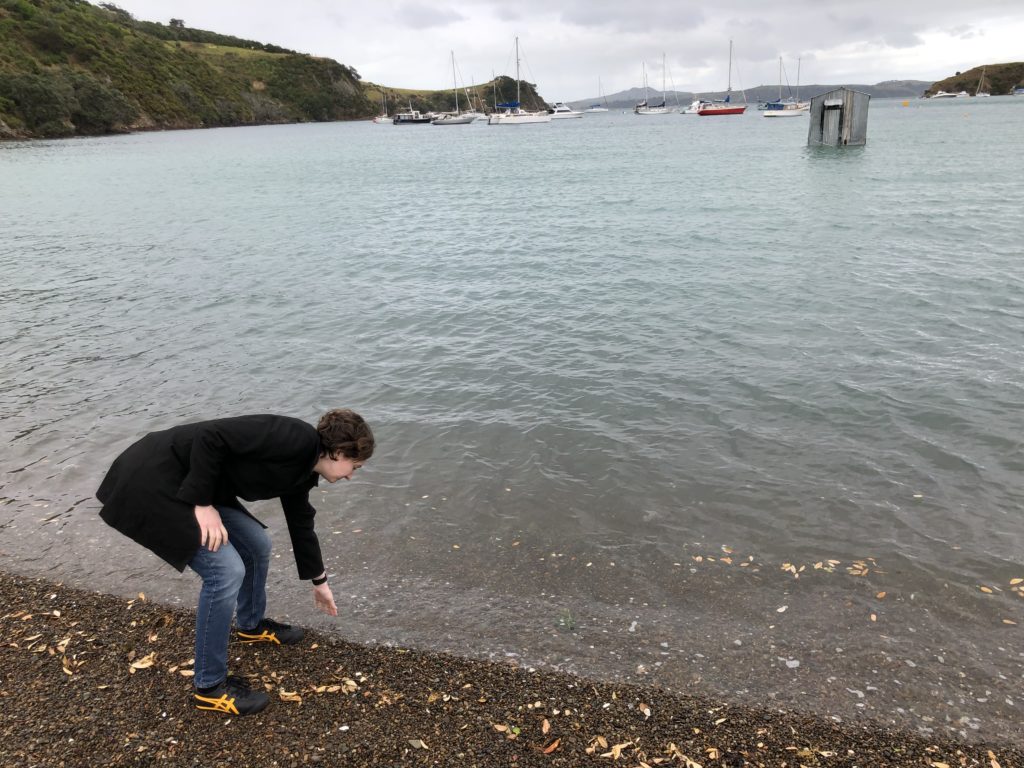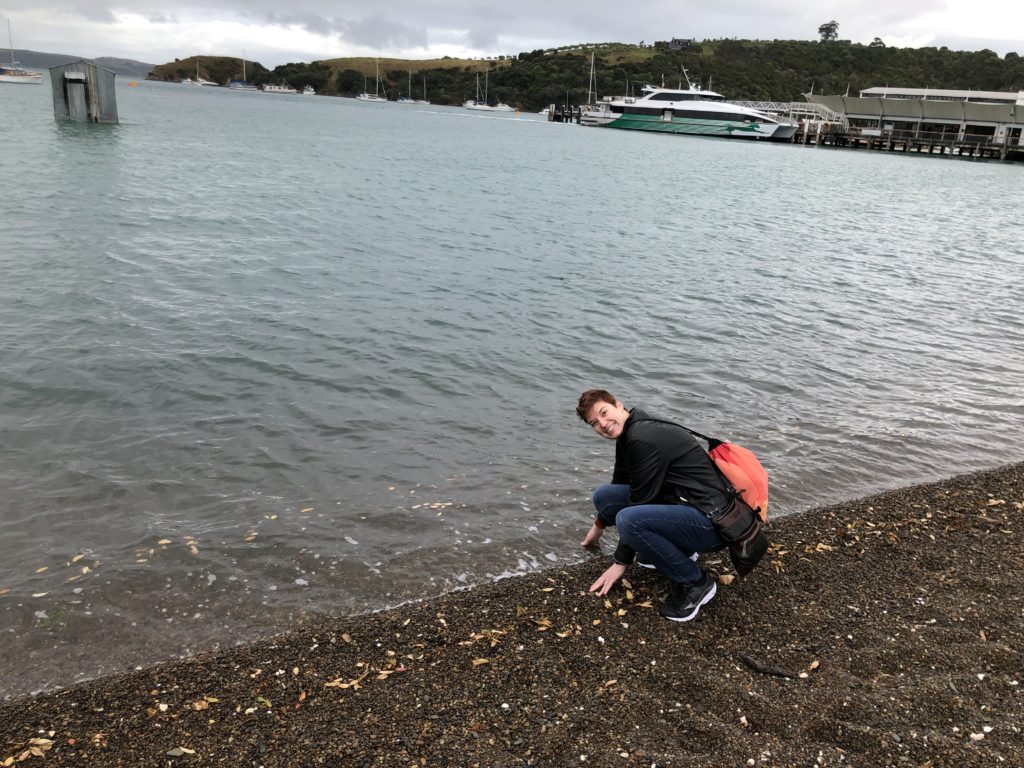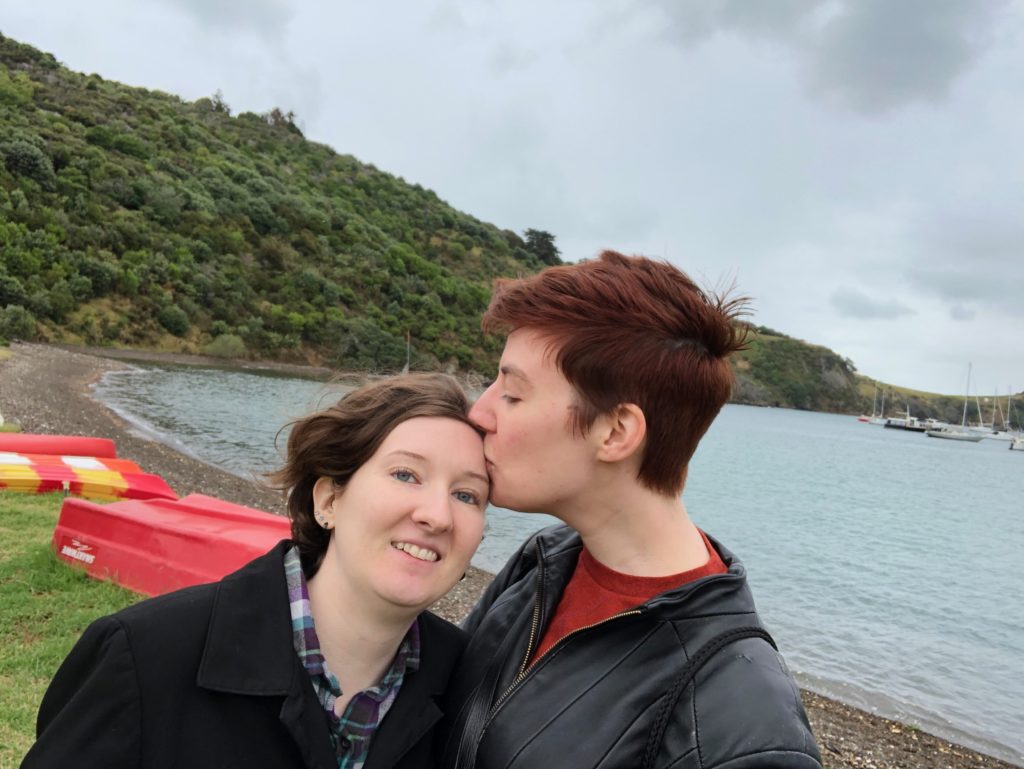 We met our guide (Mo) ahead of the rest of the group and snagged the front row seat of the mini-bus, which gave us great views out the front windshield.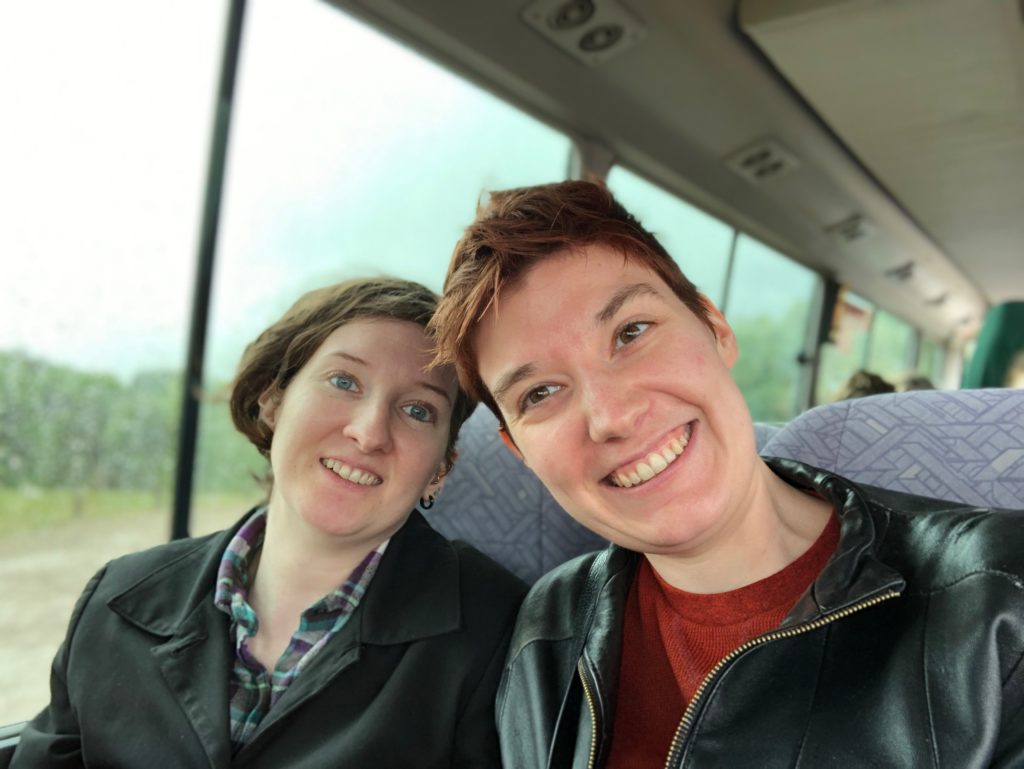 We stopped at Kennedy Point Vineyard first, which is tiny! They only make about 2500-3000 cases of wine a year. They're also the only certified organic winery on Waiheke.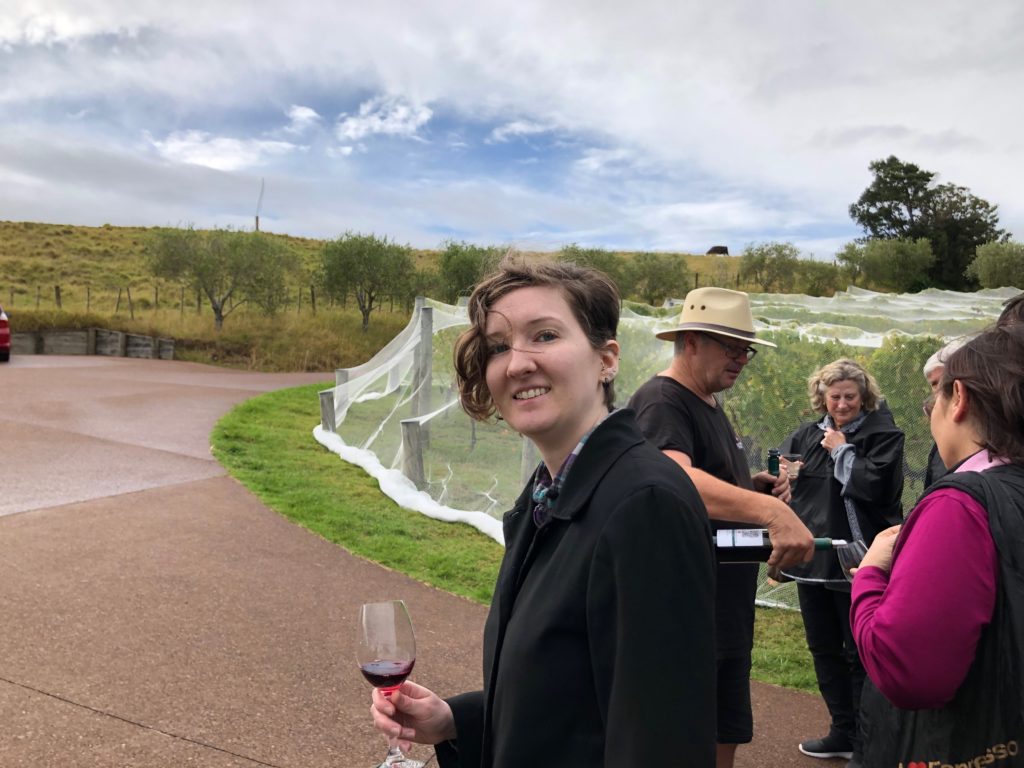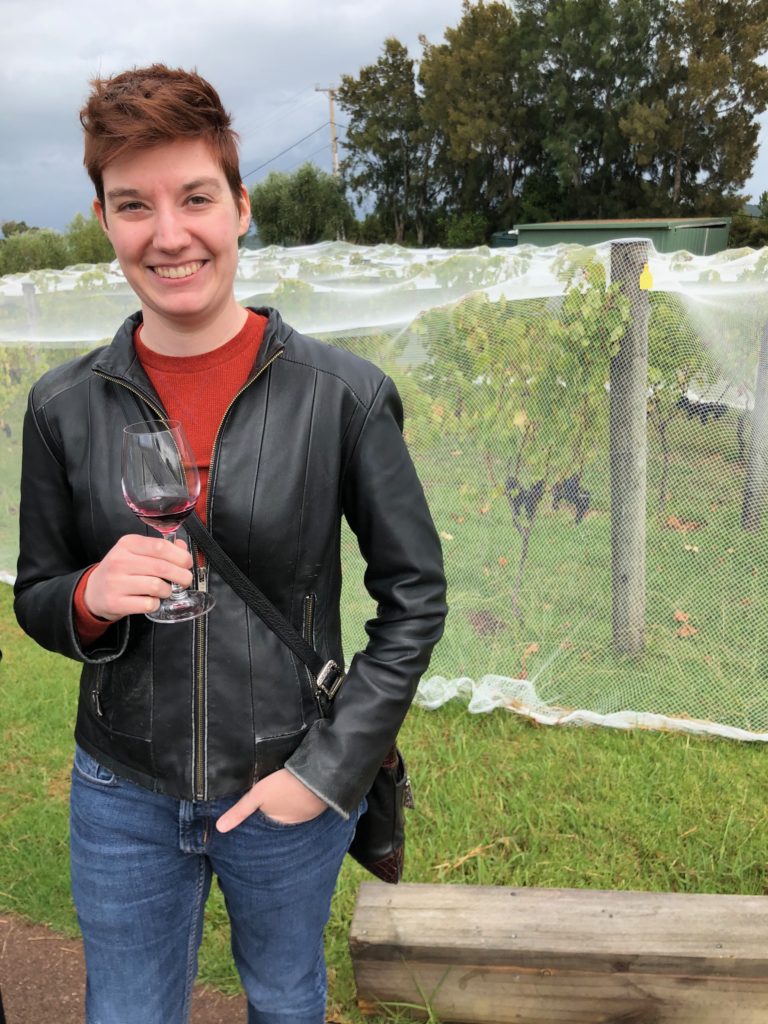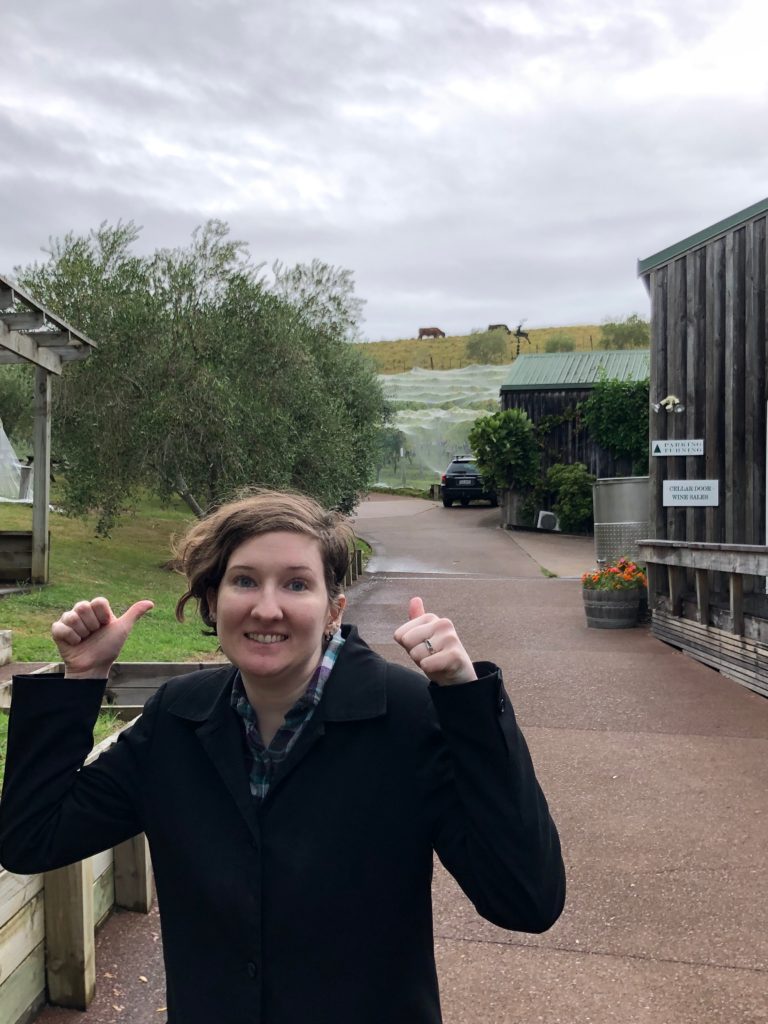 However, their biggest claim to fame is that their 2007 Syrah was awarded the title of best Syrah in the WORLD by the International Wine Challenge. Needless to say we were not able to sample that vintage!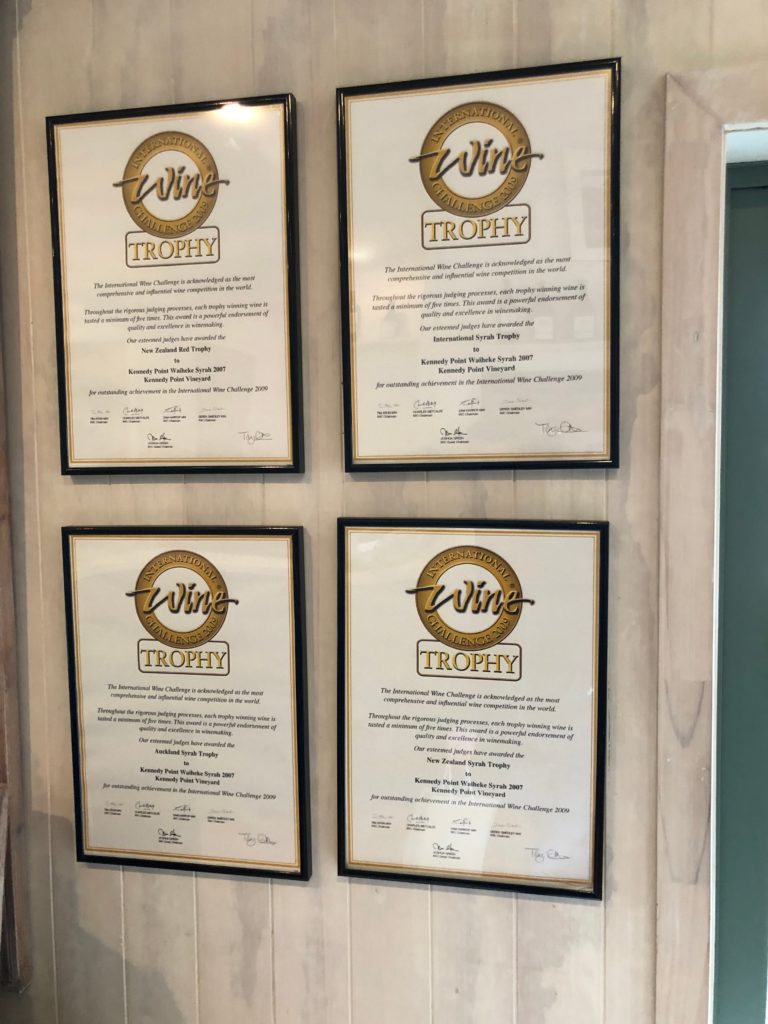 We tried their Sauvignon Blanc (made from grapes grown in Marlborough), which was pleasant and not overly New Zealand-y. It was a great match for the fresh oysters they served, which had only been harvested 30 minutes prior, four bays away!
Their red blend, Red Trumpet, was serviceable but not memorable. But their Syrah was excellent. Very peppery and well balanced.
They served their reds along with a selection of cheeses (a brie and a local havarti), their honey (a blend of Manuka & Pohutukawa honey), and olive and avocado oil. Honey is "creamed" here, so it's much thicker than American style honey.
Out of curiosity, I asked if we could try their Chardonnay as well. It was very well made in old oak barrels (so oaky but no splinters on the tongue) and malolactic.
We boarded the bus again for a "scenic" drive to our next stop. Apparently, there is an incredible view here…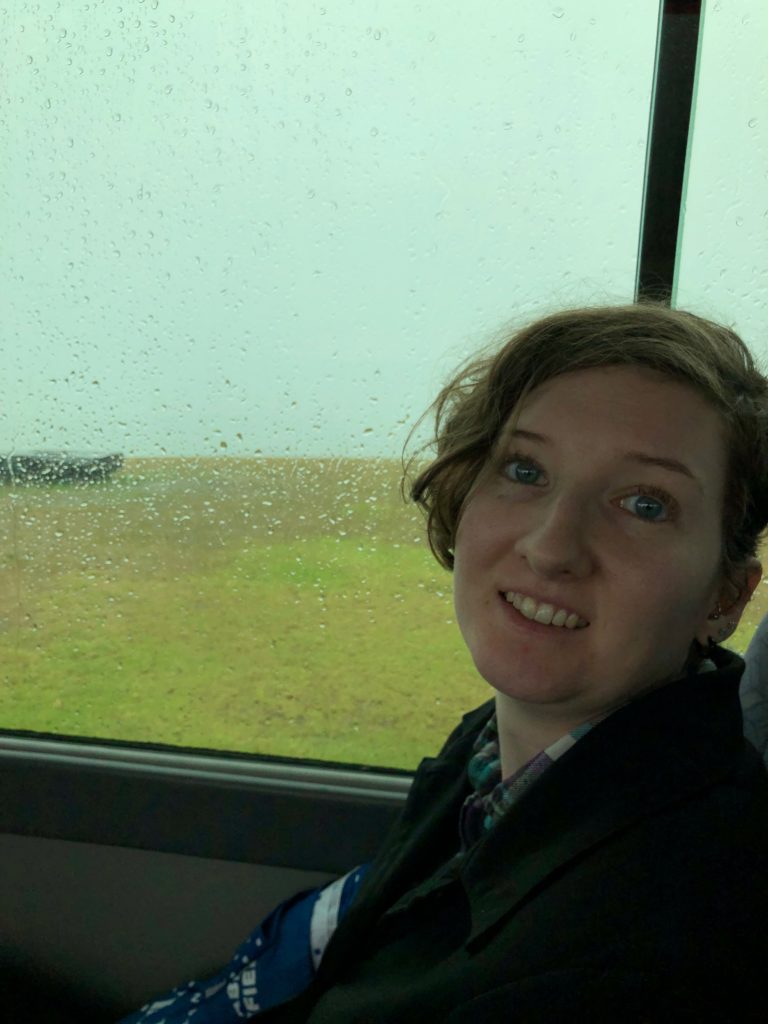 Next up, we went to Rangihoua Estate to learn about olive oil production. Compared to wine making, it's a piece of cake! I did learn something new though. Olive oil is only Extra Virgin for two years in the bottle (whether it's opened or not) after that it's automatically downgraded to Virgin. As our tour guide said, "Drink your wine old and your olive oil young." (Not that I'm thinking of drinking any olive oil in the near future.)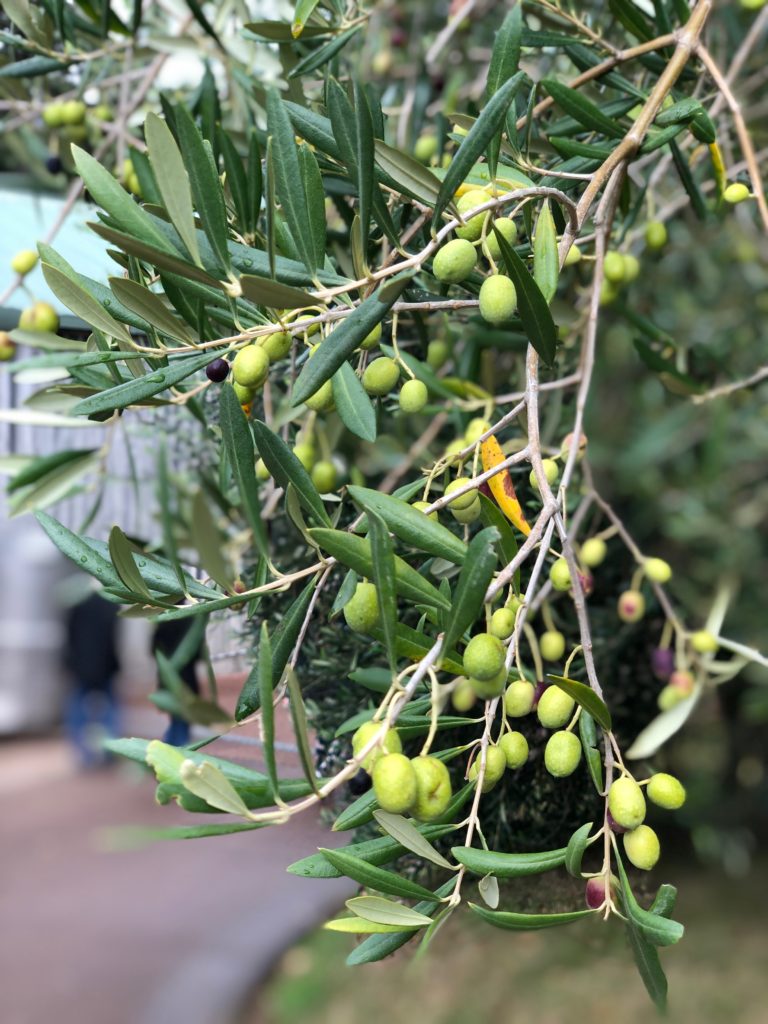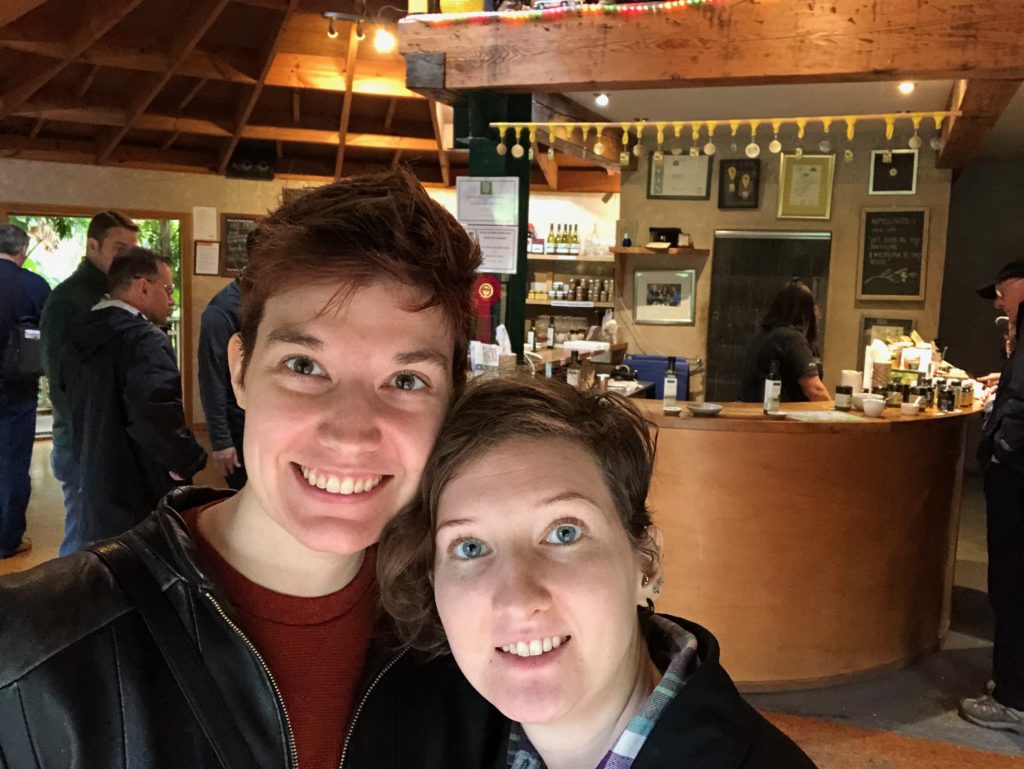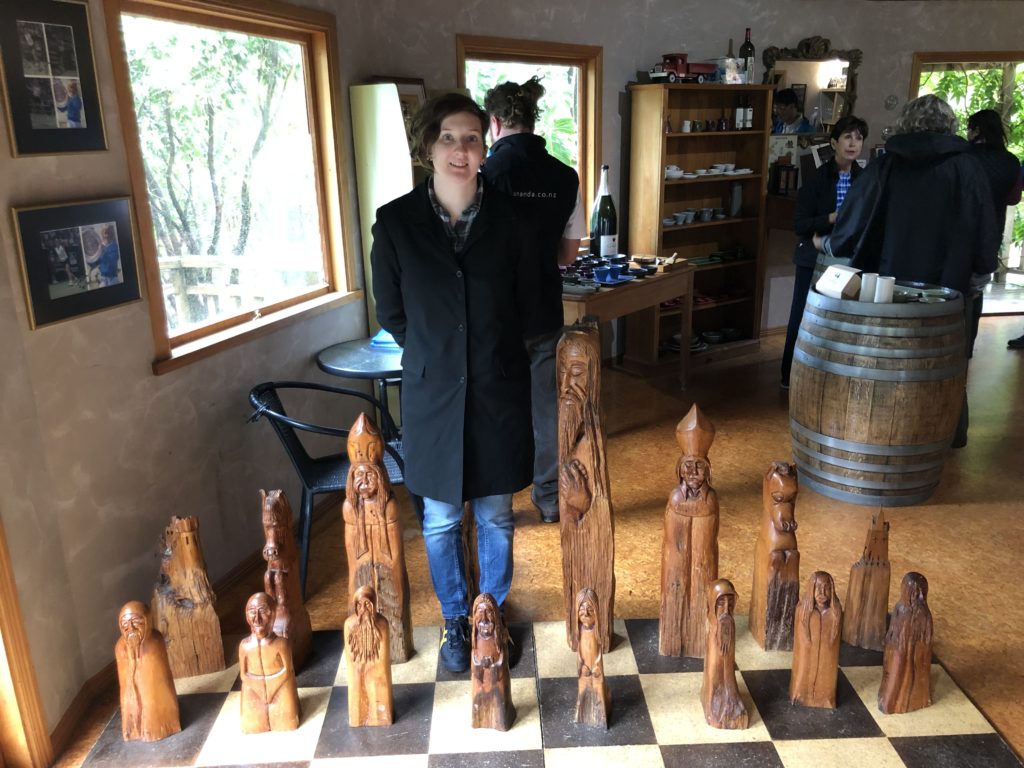 We got a sample of three very different olive oils. We started with the Rantoio Blend, which was very grassy and green peppery. Ultimately, it was my favorite for dipping bread in. The next, Picual, neither Trish nor I cared for much. I believe it was Spanish. It just seemed bitter and uninteresting. The final sample, Waiheke Blend, was Trish's favorite. It was definitely the smoothest and most buttery. I'd use it to cook for sure.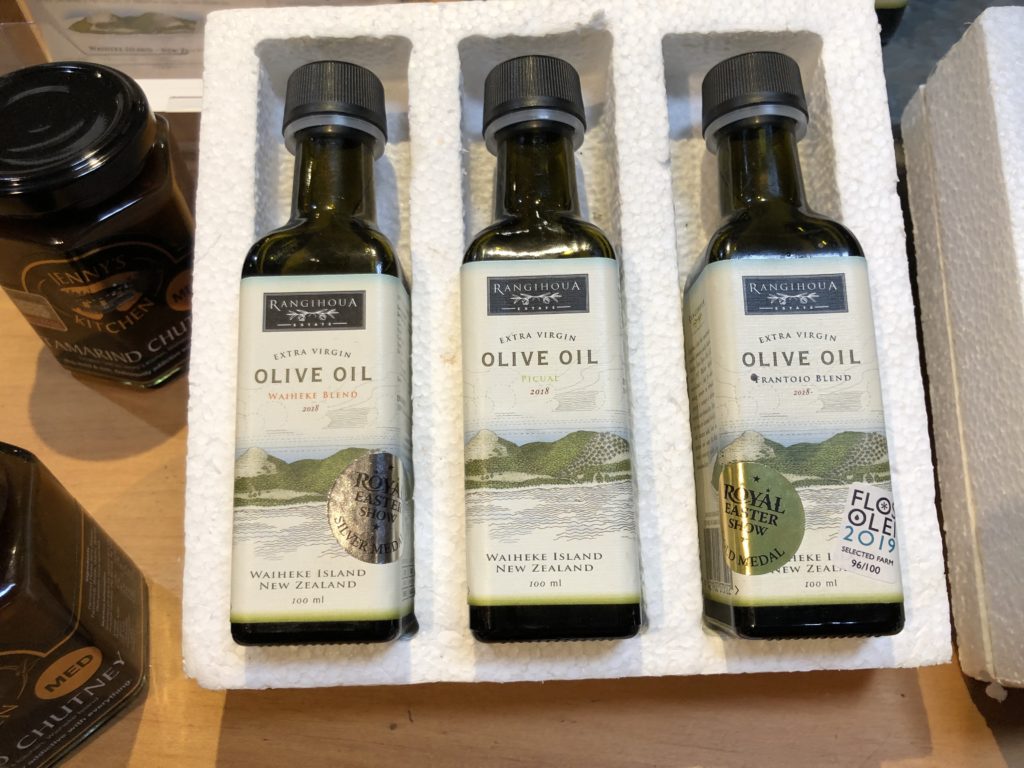 We took another stab at the scenic overlook but the view was still non-existent so we headed to Peacock Sky winery for a food and wine pairing degustation. The owner (Connie) is a chef, so she takes food pairing seriously. We had four wines, each paired with their own bite.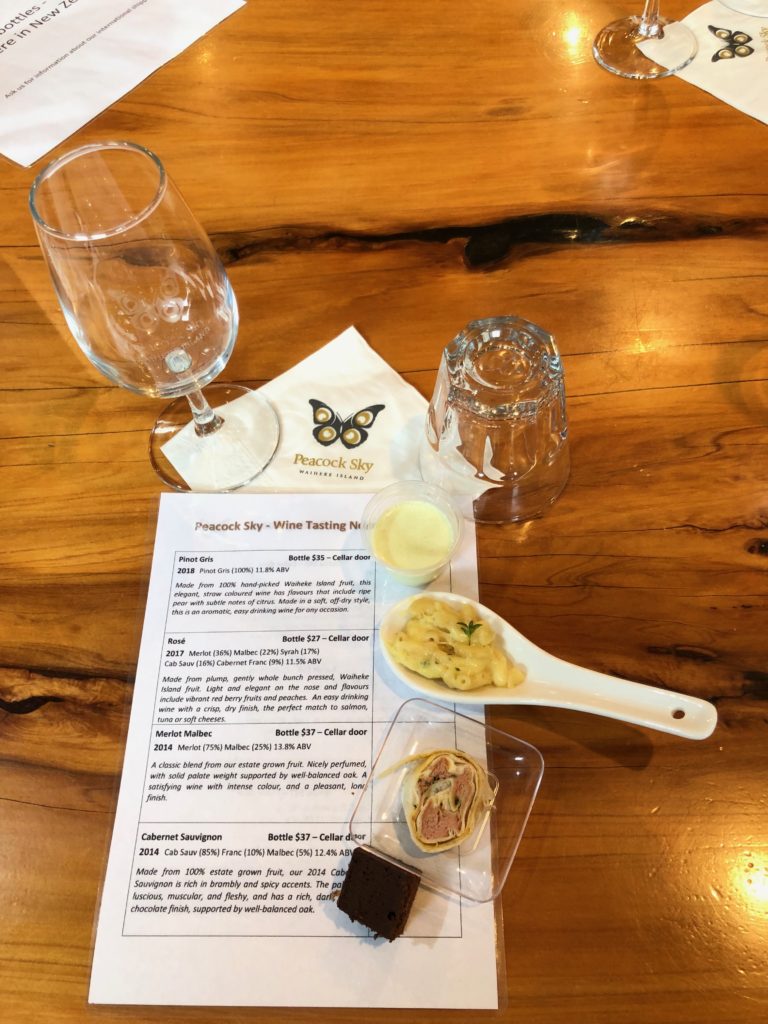 The first was by far the best match. It was a surprisingly sweet pino gris paired with a mild green coconut curry soup. They really went well together. The sweetness and acidity from the wine complemented the creamy spice of the soup.
The rose was uninteresting and didn't do much for the mac n'cheese they paired it with (though the mac n'cheese had some interesting herbs in it).
I liked the Merlot Malbec surprisingly well, probably because on nose and taste it seemed just like Malbec. I guess the merlot was just to mellow it out since it's hard to grow Malbec outside of Argentina. It went with a chicken pate/cream cheese wrap concoction. I detected absolutely no liver flavor so I'm not sure what was in the pate.
Finally, the ended with a Cabernet Sauvignon paired with a delicious fudgy brownie. The recipe for the brownie is sworn to secrecy, which is good marketing because they sell them to go at the cellar door.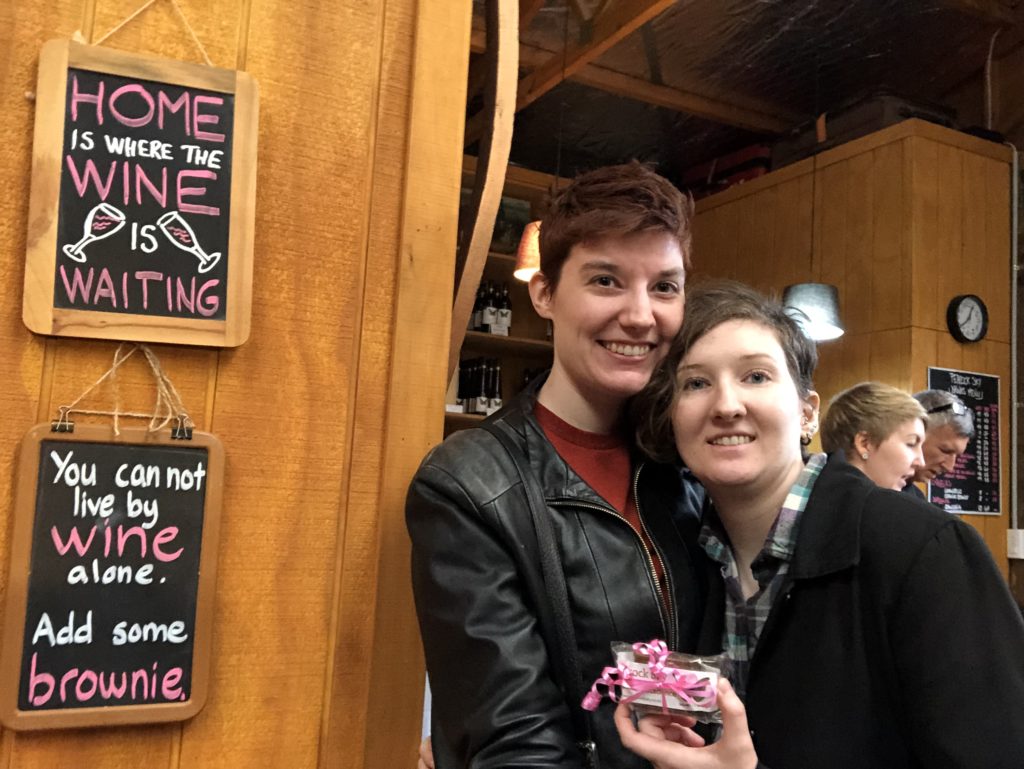 Considering our tour group was largely American I was very impressed no one was falling over drunk. I guess that's what the food is for.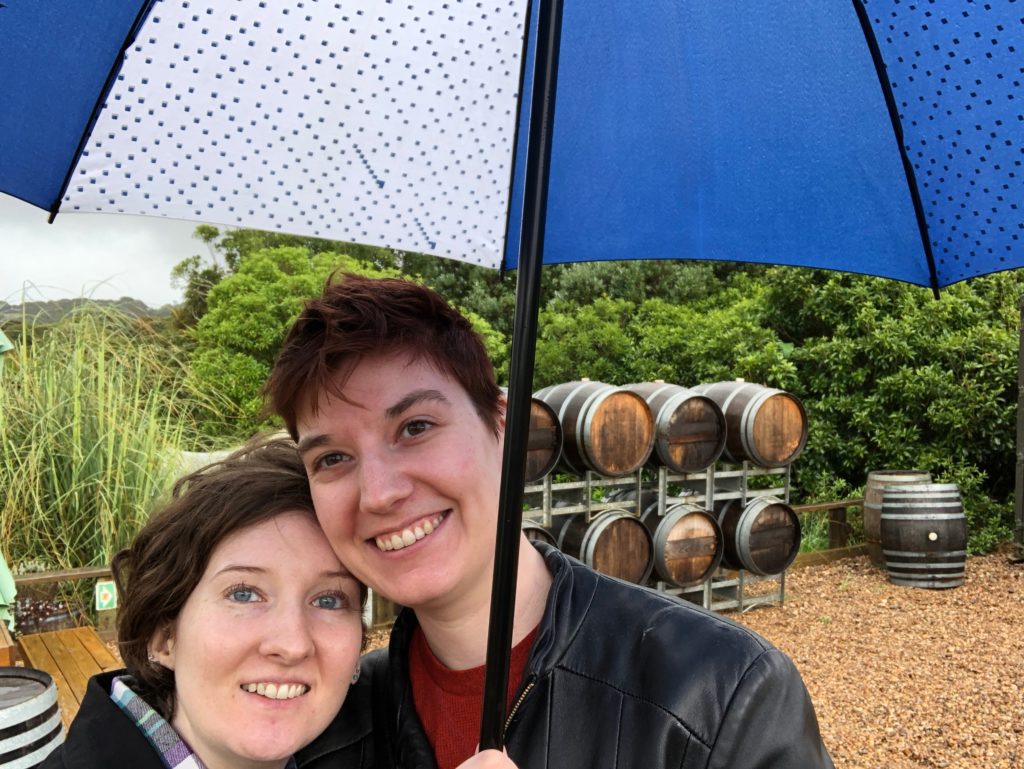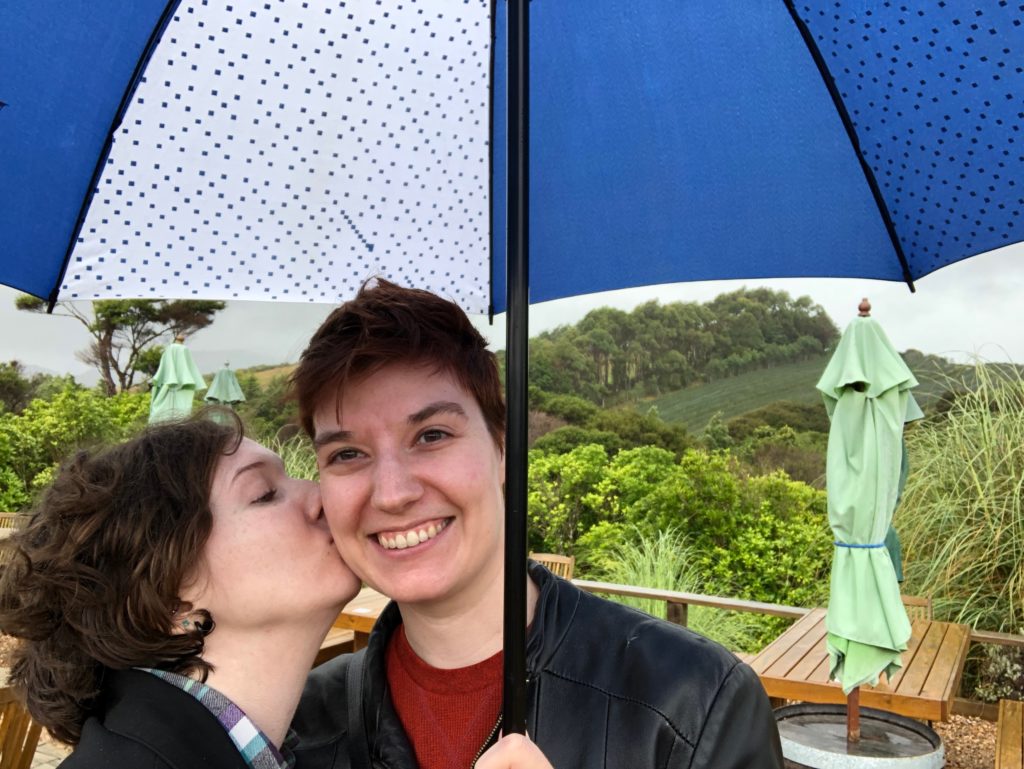 Our final stop was at Stonyridge Winery for lunch. They pride themselves on their Bordeaux style wines. We didn't try their highest end wine because they were charging $10 NZ for a tasting pour and their other wines didn't wow us. They had a serviceable sauvignon blanc (again, not super New Zealand-y), a mediocre Syrah, and a tasty GSM blend they described as a mash-up of northern and southern Rhone styles.
Lunch was enormous! They served us platters with dried meats, cheeses, smoked salmon, shrimp, hummus, olives, olive oil, fig preserves, artichoke hearts, and fruit. This is a portion for two people! It could have easily served four!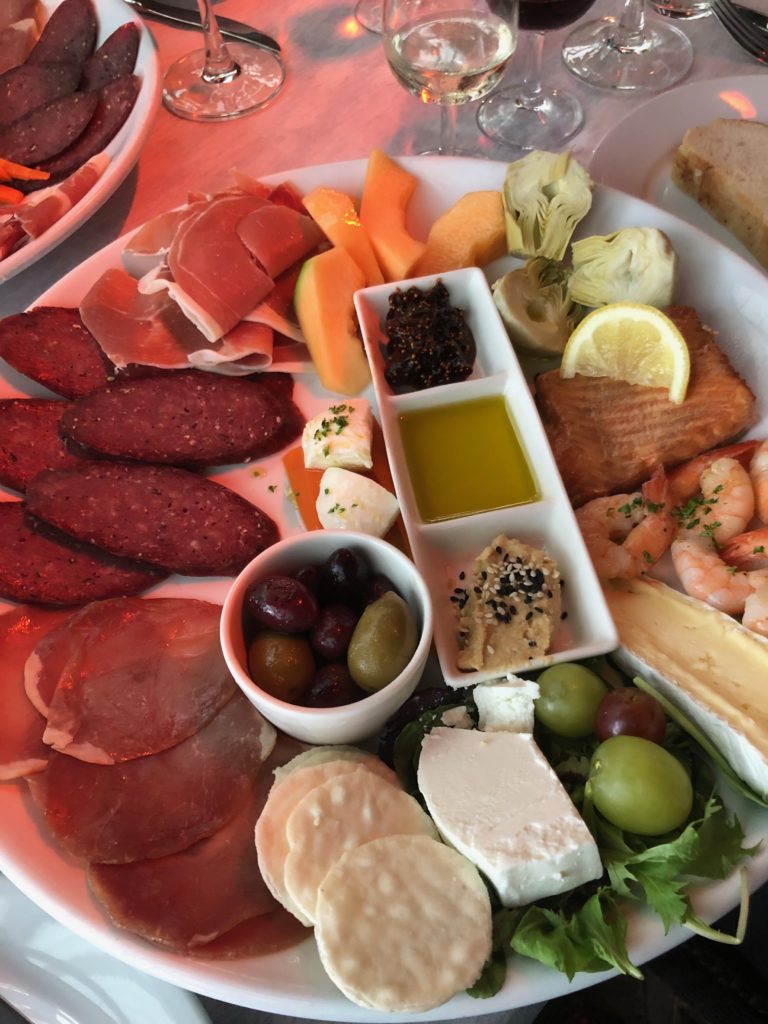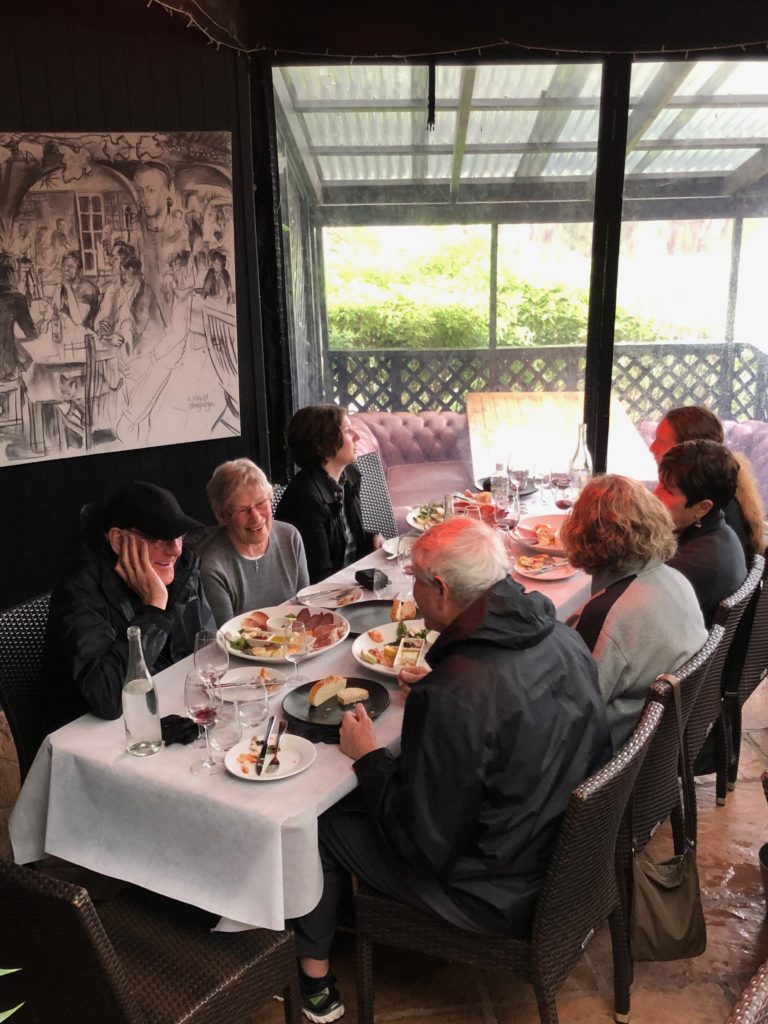 Our driver took us back to the ferry. If the weather had been drier we might have stayed on the island a bit longer, but we were ready to head back to the hotel to dry off and relax a bit.
The rain did stop so we could go outside and take some great (windy) pictures on our approach back to Auckland.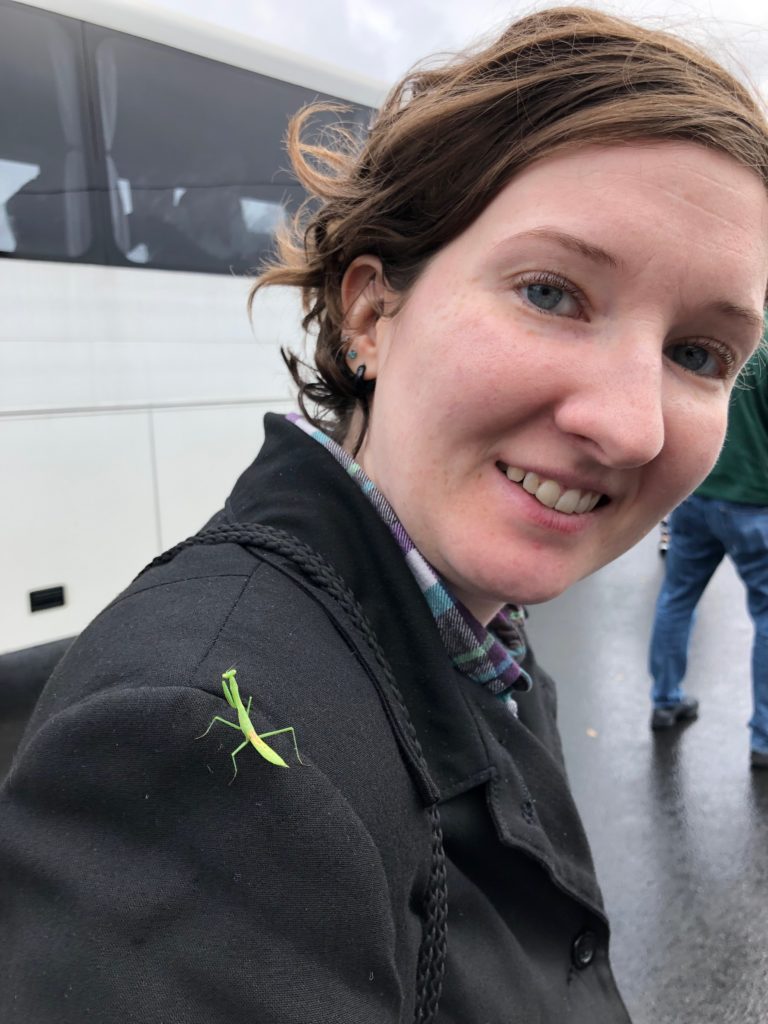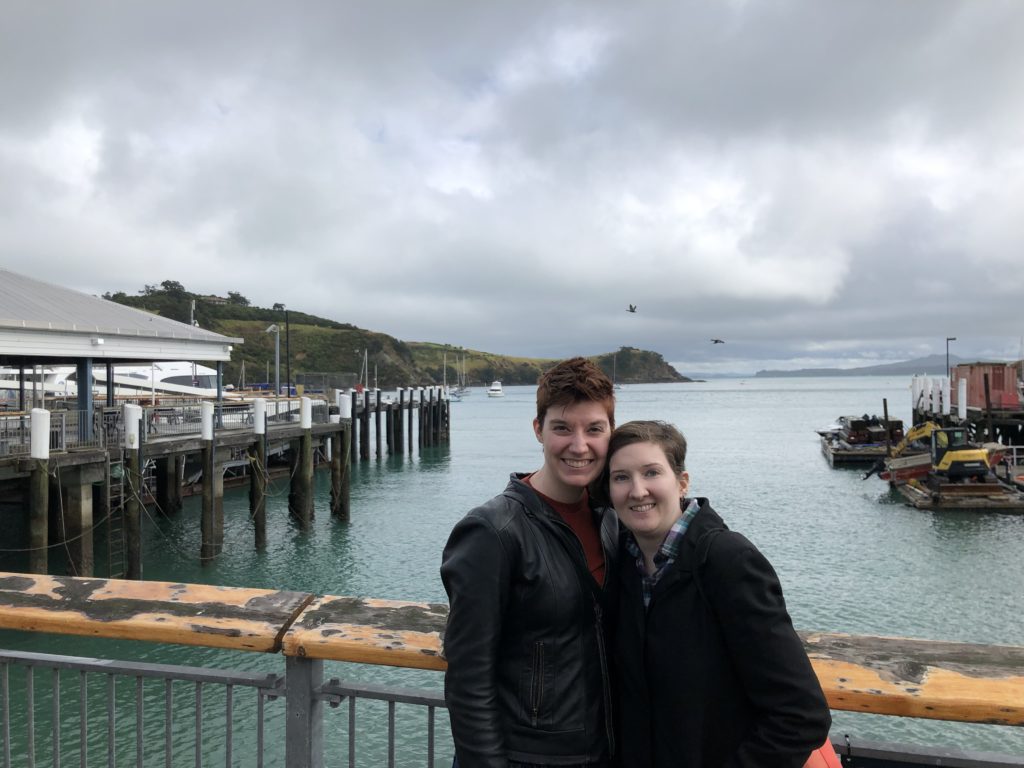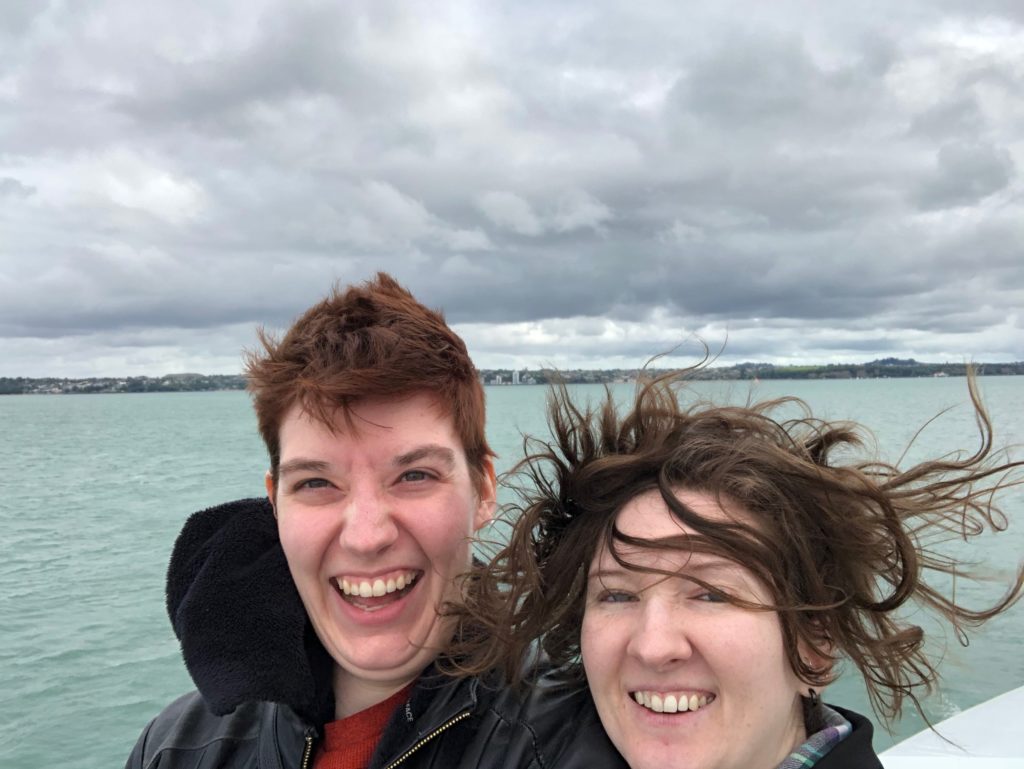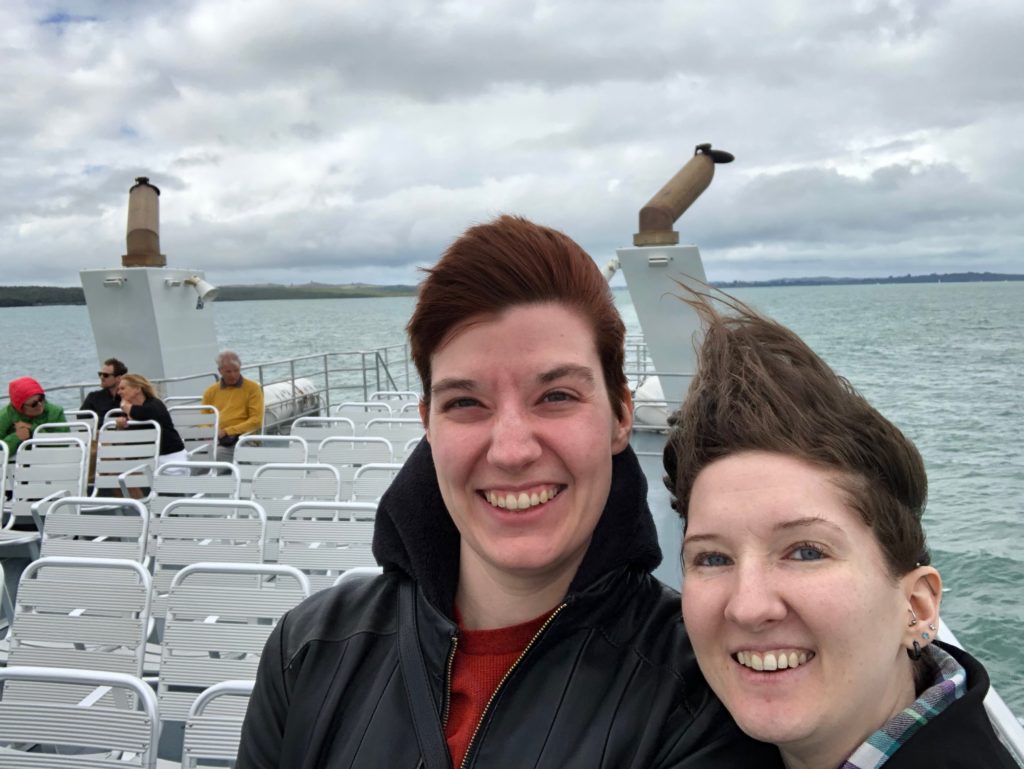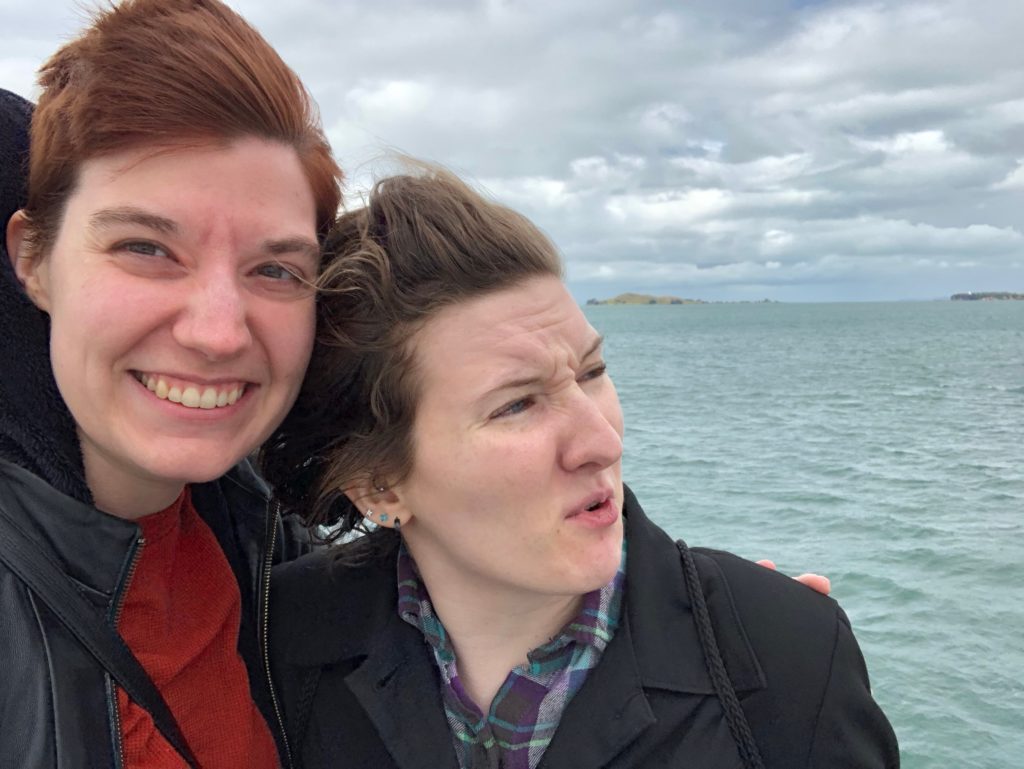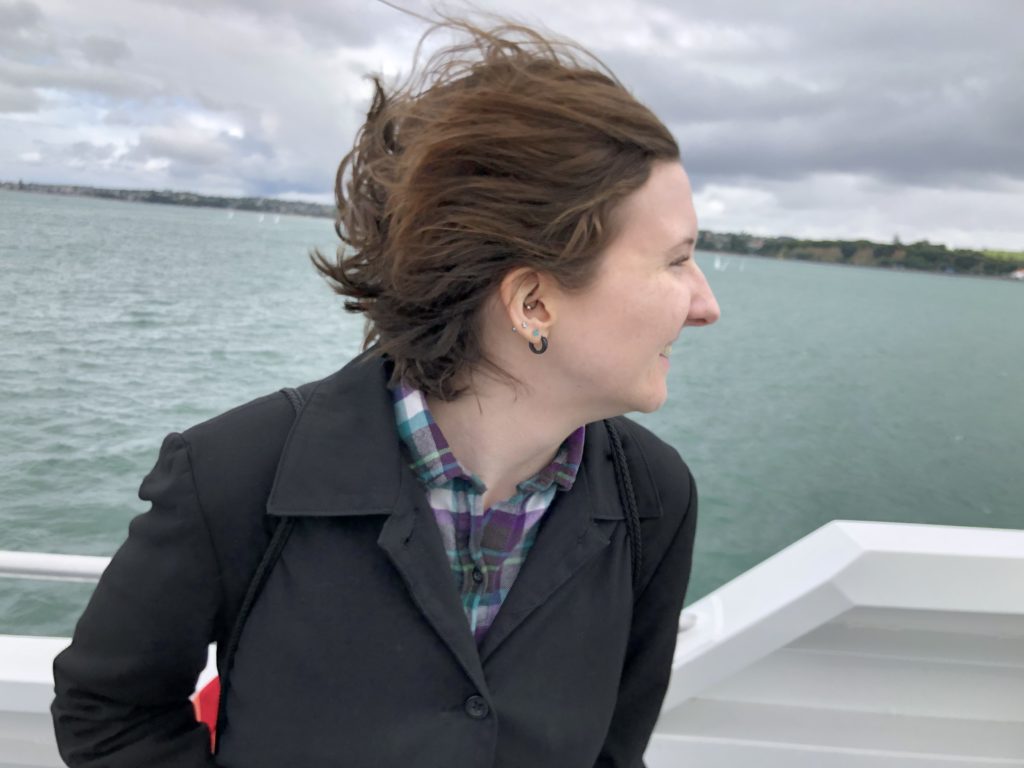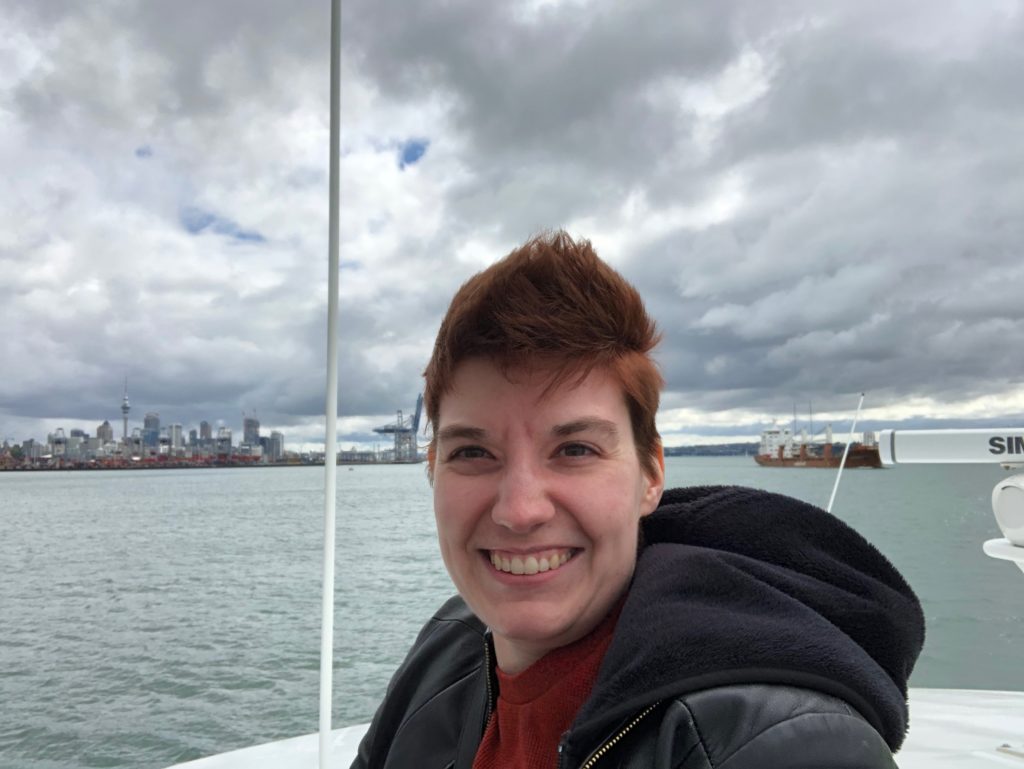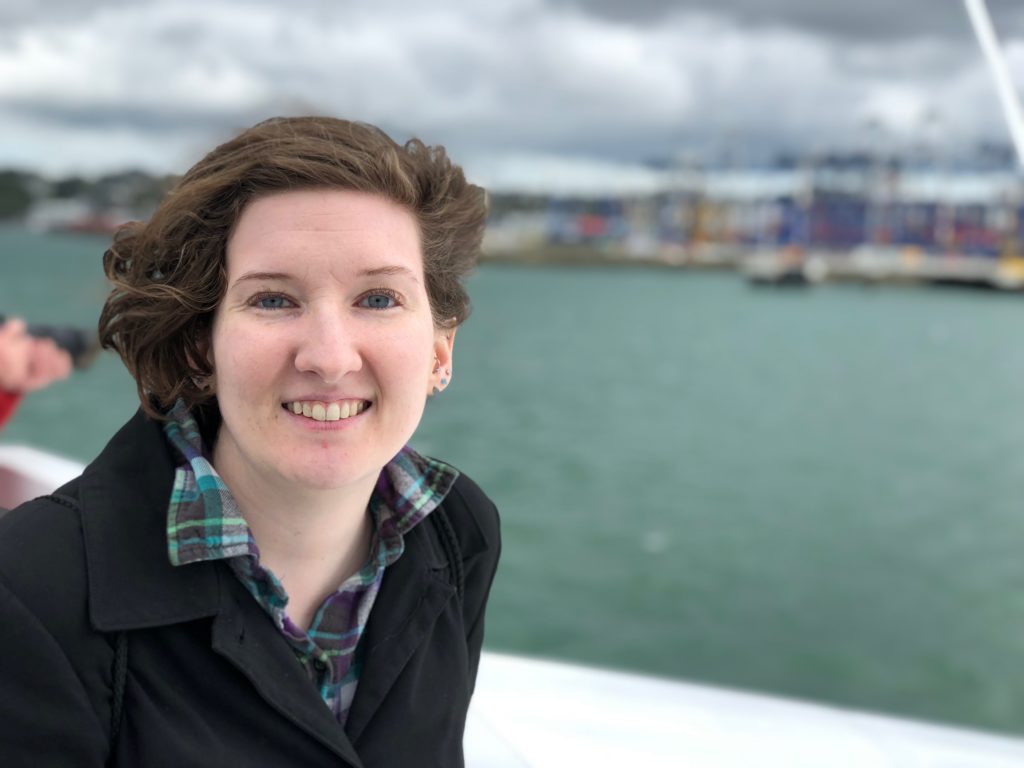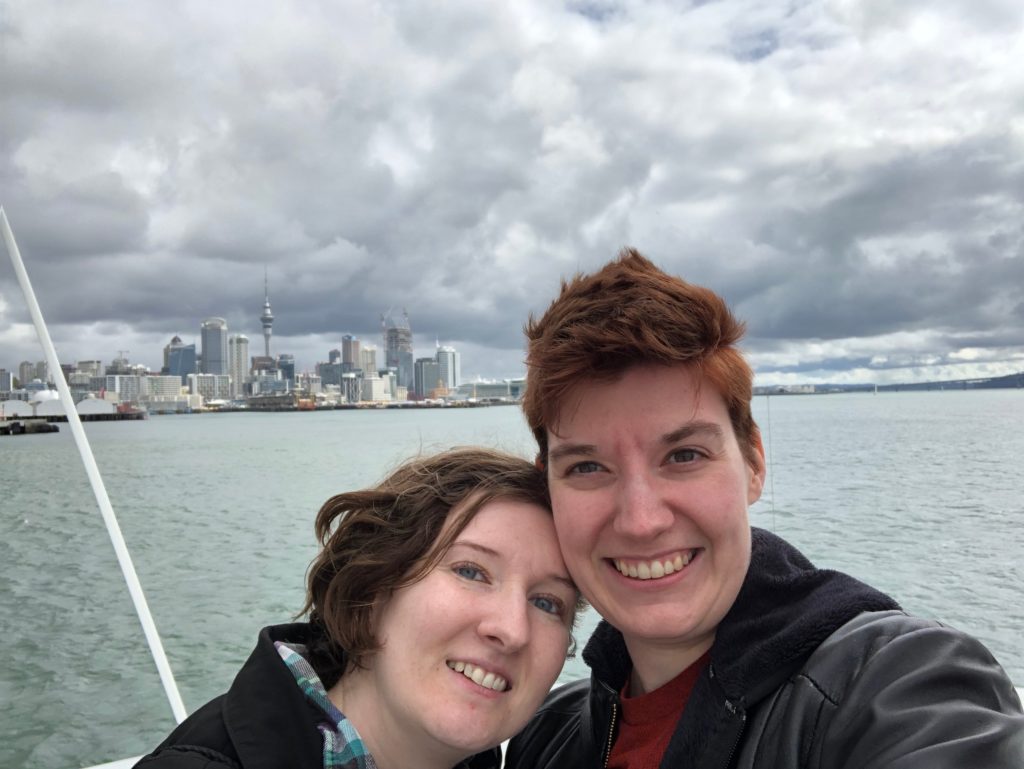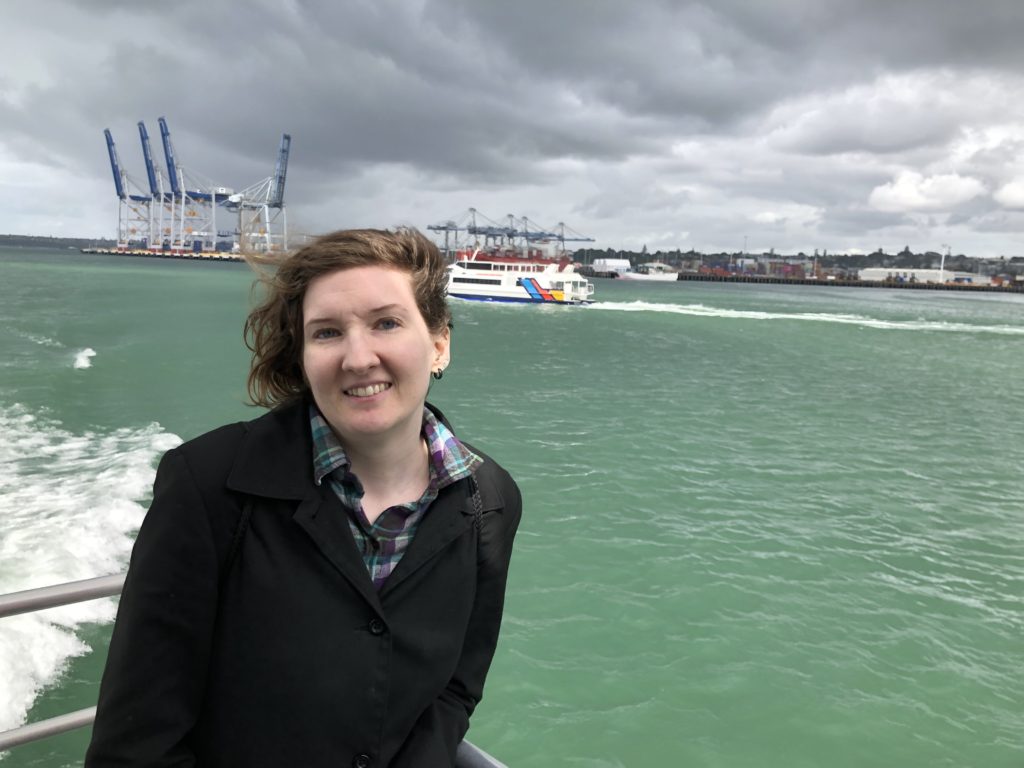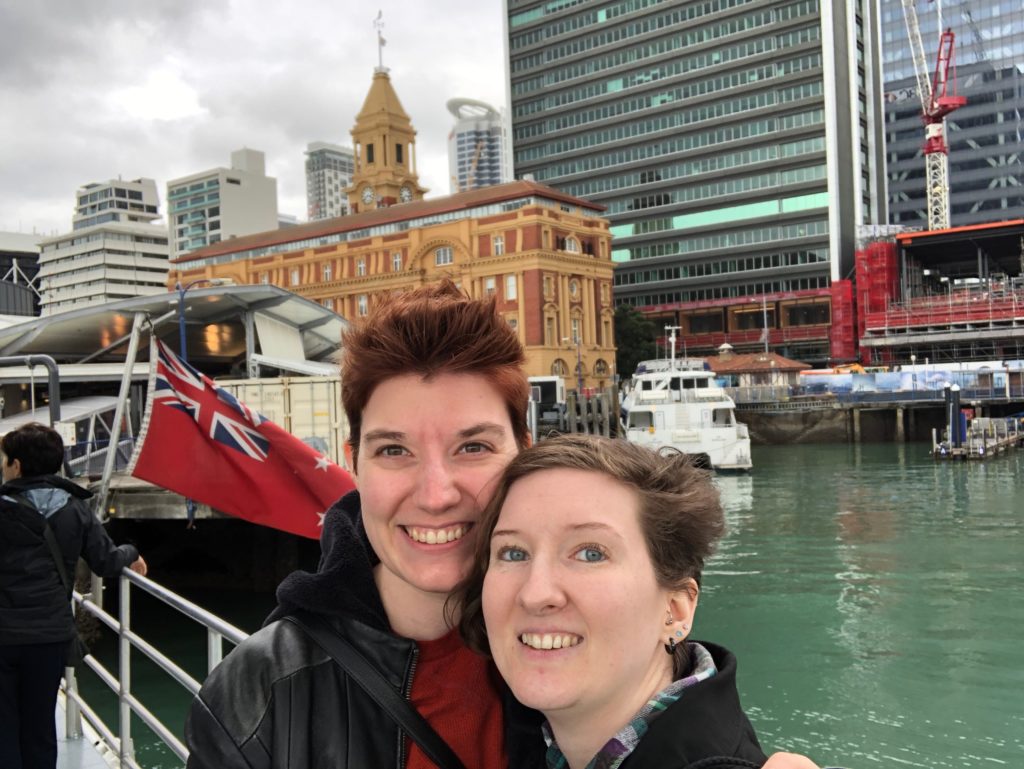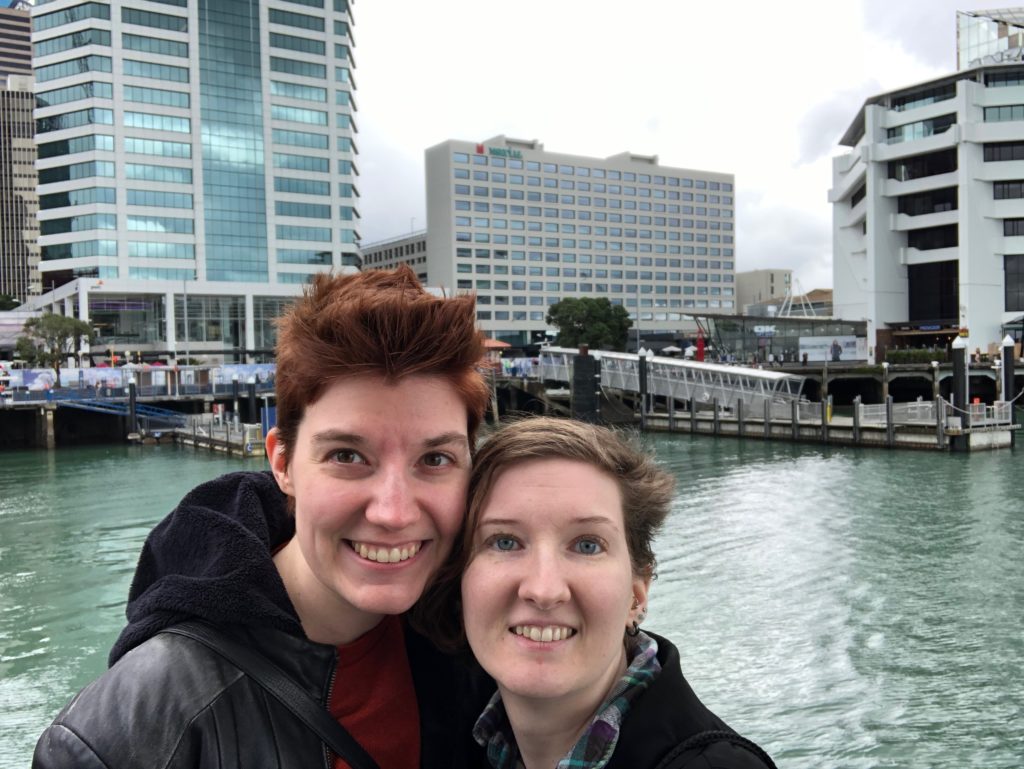 After a couple of hours back at the hotel the clouds cleared and we're seeing a bit more of the "long dry summer" our Waiheke guides all promised us is the norm.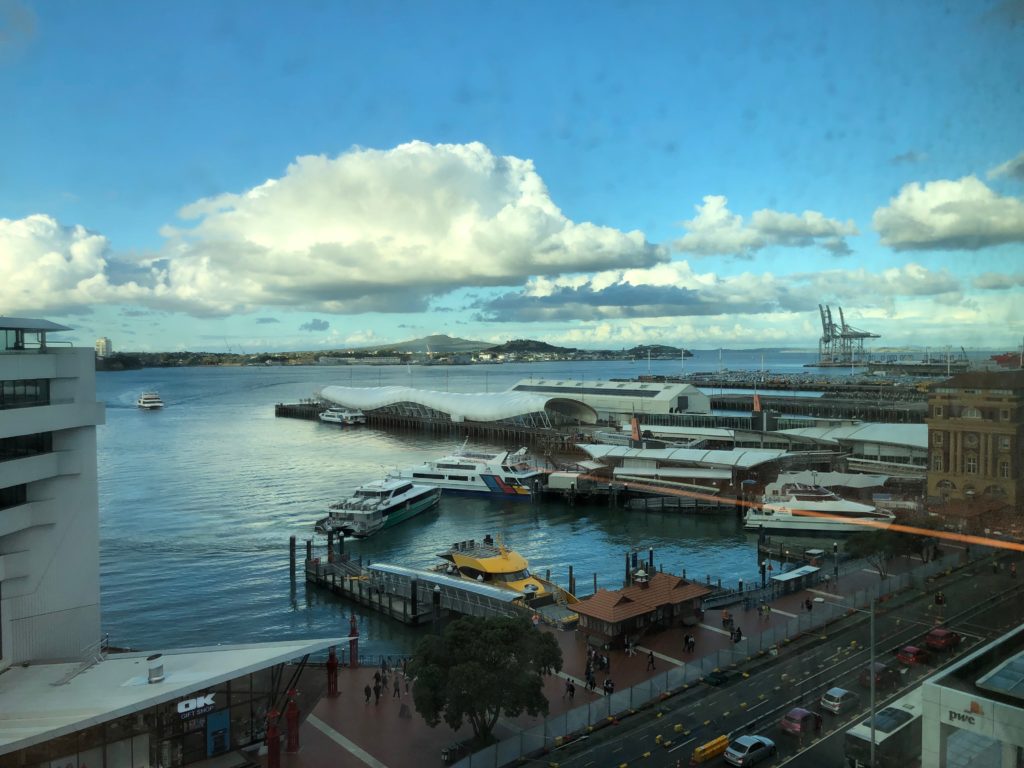 We thought about going out for dinner but decided we'd had enough activity in our day and had a quiet dinner at the hotel instead.