Jackson Hole, WY – Green River, WY – Flaming Gorge, UT – Douglass Pass, CO – Grand Junction, CO – Palisade, CO
The Parkway Inn breakfast spread was nice, though it was impossible to serve yourself anything without being in someone's way. We wanted to hit the road ASAP anyway since we had a long way to go and no internet connection to speak of.
The interesting thing about today is that we weaved in and out of Utah on our way south. I didn't realize how strict the liquor laws are in Utah until we reached the border and found a Saloon on the Colorado side with shot glasses that said, "Eat, Drink, and Be Merry, for tomorrow you may be in Utah."
I brought a soft cooler and some picnic supplies with us. I actually wasn't sure what the food situation would be like in Yellowstone, so I thought we might have to fend for ourselves more (little did I know the scarcity would be related to kitchen fires rather than remoteness). We finally put it to use today and picked up some deli meat, cheese, and a couple of spreads for a picnic.
We drove through Green River and realized though my grandfather was born in Colorado, he actually grew up in Utah. Dad matched up pictures from Grandpa Dean's past to the scenery we passed on our way to Flaming Gorge National Recreation Area.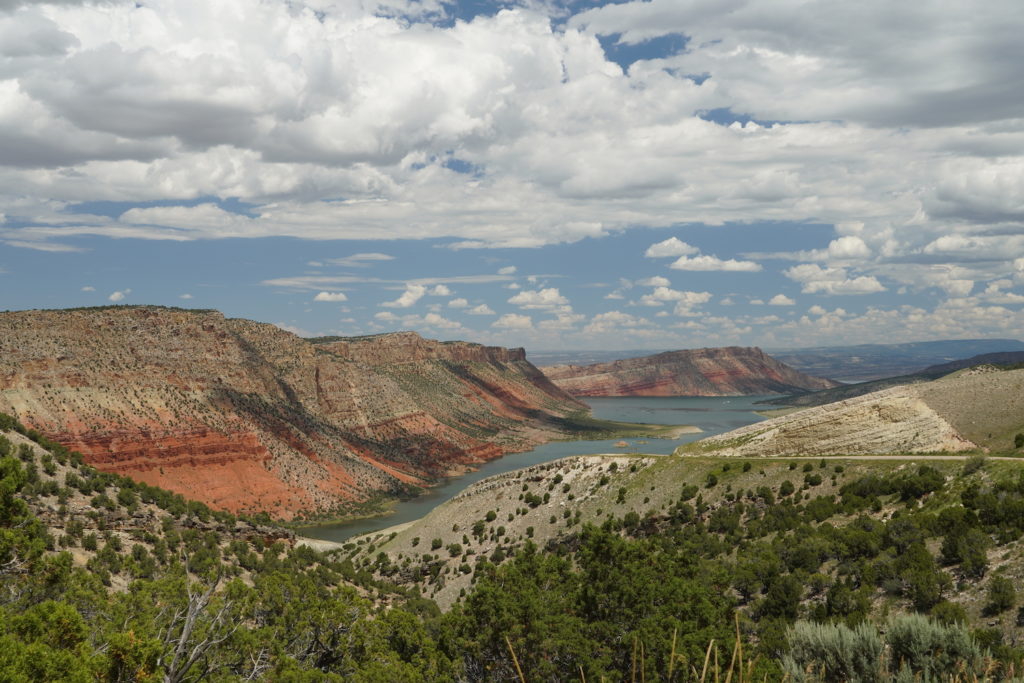 Dad found us a nice picnic ground. We were completely alone except for a New Zealand man who wandered through right as we sat down and then disappeared into the bush again.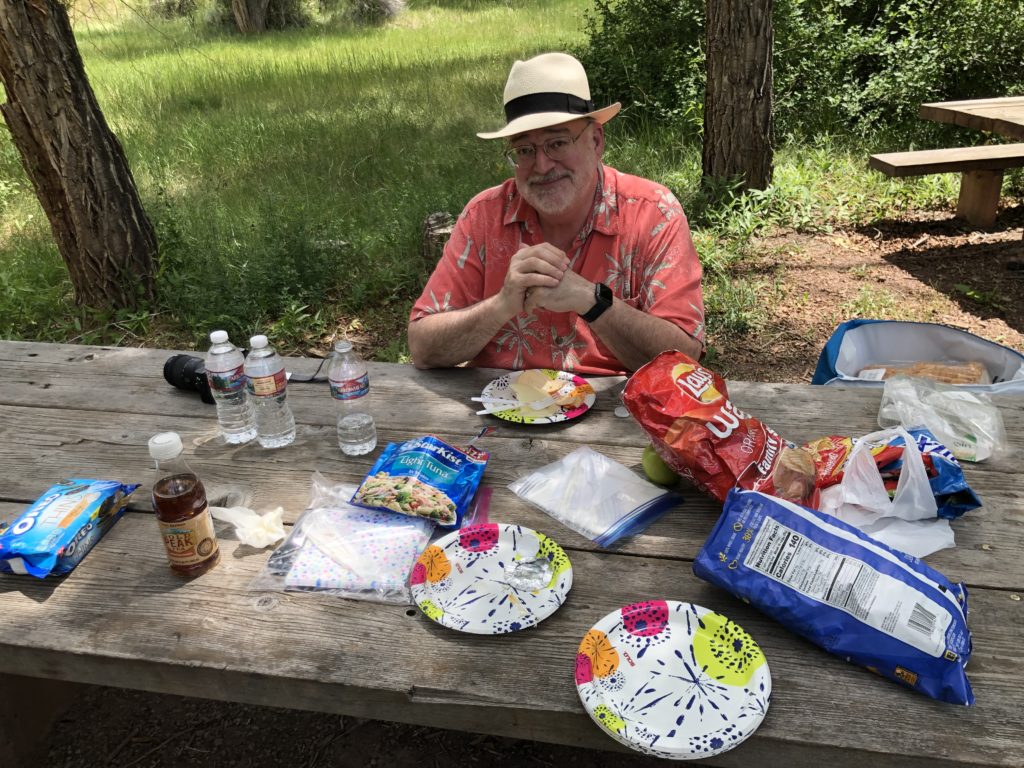 As we kept driving through Utah, we were on the lookout for poorly-rendered and/or brightly colored dinosaurs. We found several photo-worthy specimens.
The drive got greener once we crossed back into Colorado.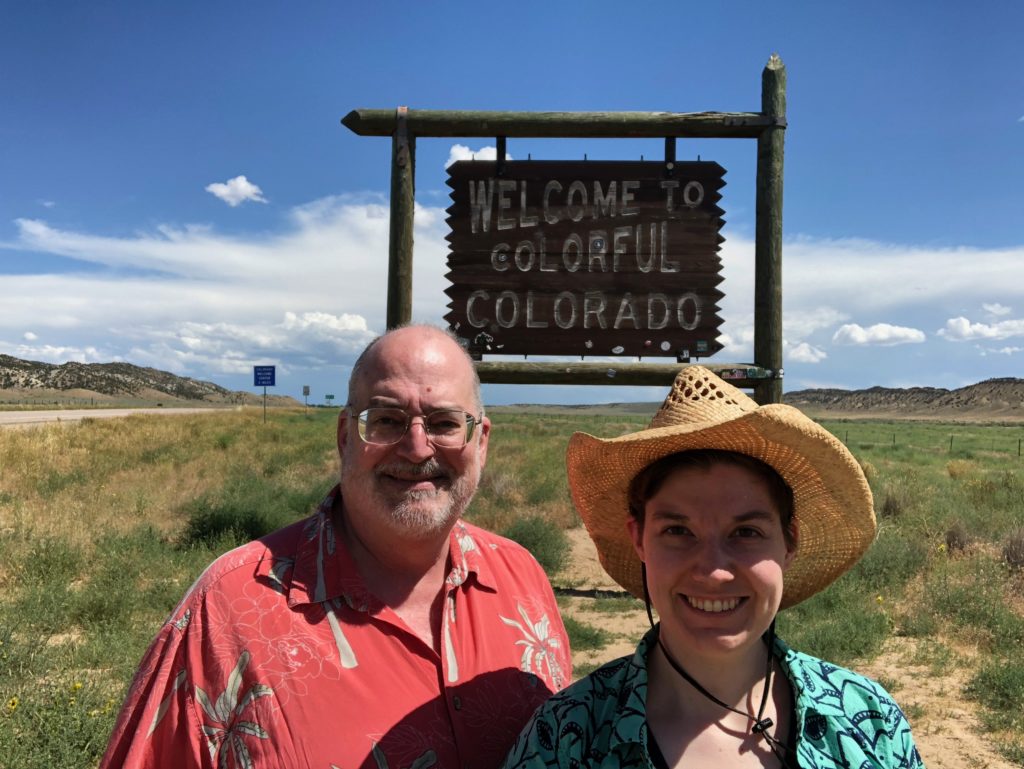 We made great time through a small range of mountains between us and were within an hour of our final destination when, all of a sudden, we heard a pop followed by a hisssssss.
What's a road trip without a little car trouble, right?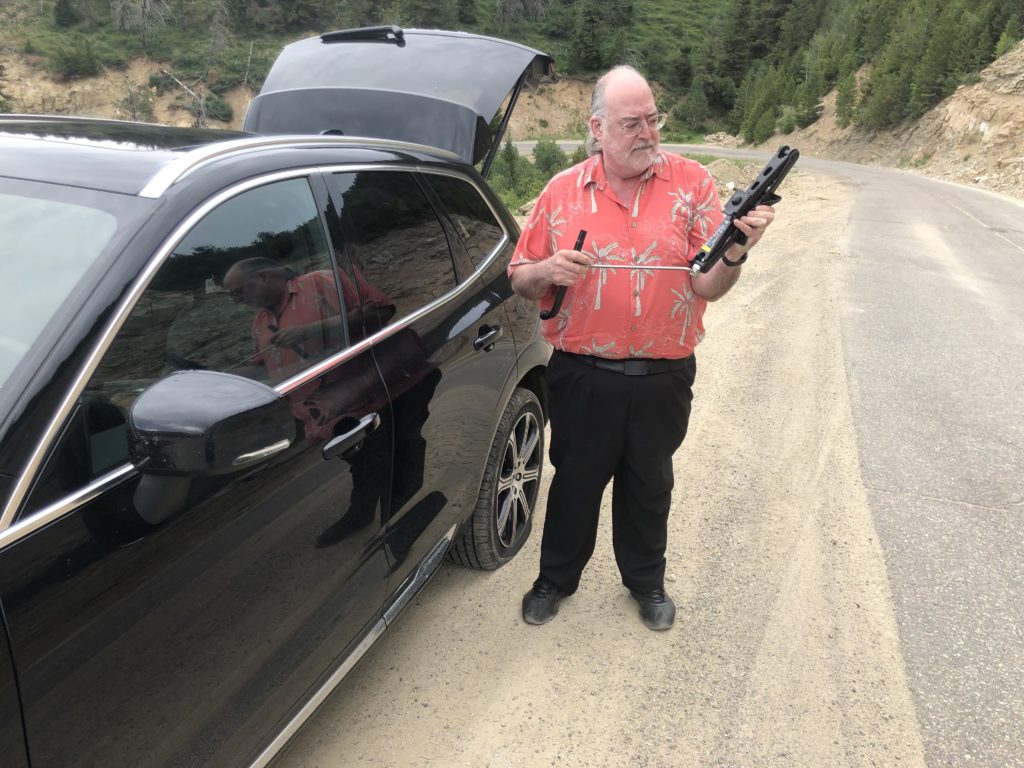 We had a flat tire. A very flat tire. (Though, as Dad pointed out, it was only flat on the bottom…)
We're still baffled how it happened. We've been on some bad roads on this trip but this one was actually pretty decent!
We pulled off to the side and prepared to change it. We got out the jack, found the right spot, and finally even used one of the towels I packed to cushion our knees on the rocky pull out.
However, that's when we realized the rental car company put special safety lug nuts on the car. They were twice the size of the wrench we had! Oops.
On the bright side, we had one bar of cellular service, which was just enough to call AAA. Unfortunately, it's not like mountain passes have addresses you can share with your roadside assistance provider. And, once he was in the mountains and also didn't have reliable cell service, it was like a game of telephone between us, dispatch, and him.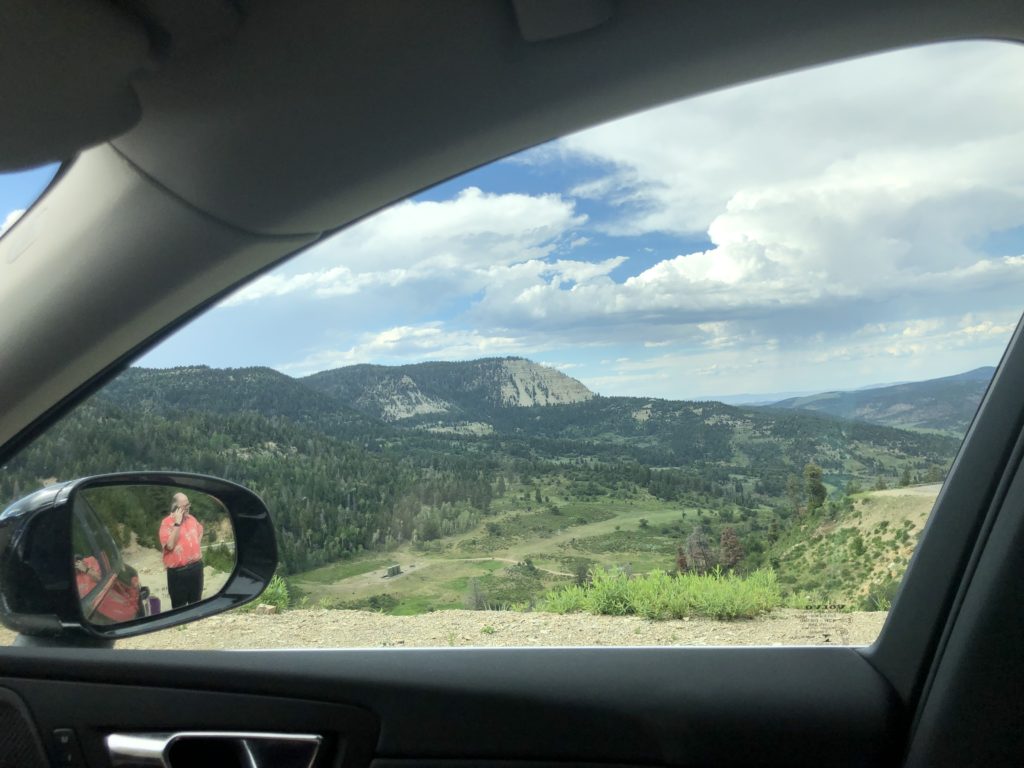 Eventually, after about two hours, he found us at the top of Douglass Pass. He also didn't have the wrench needed to remove the tire so he had to tow us 30 miles into Grand Junction.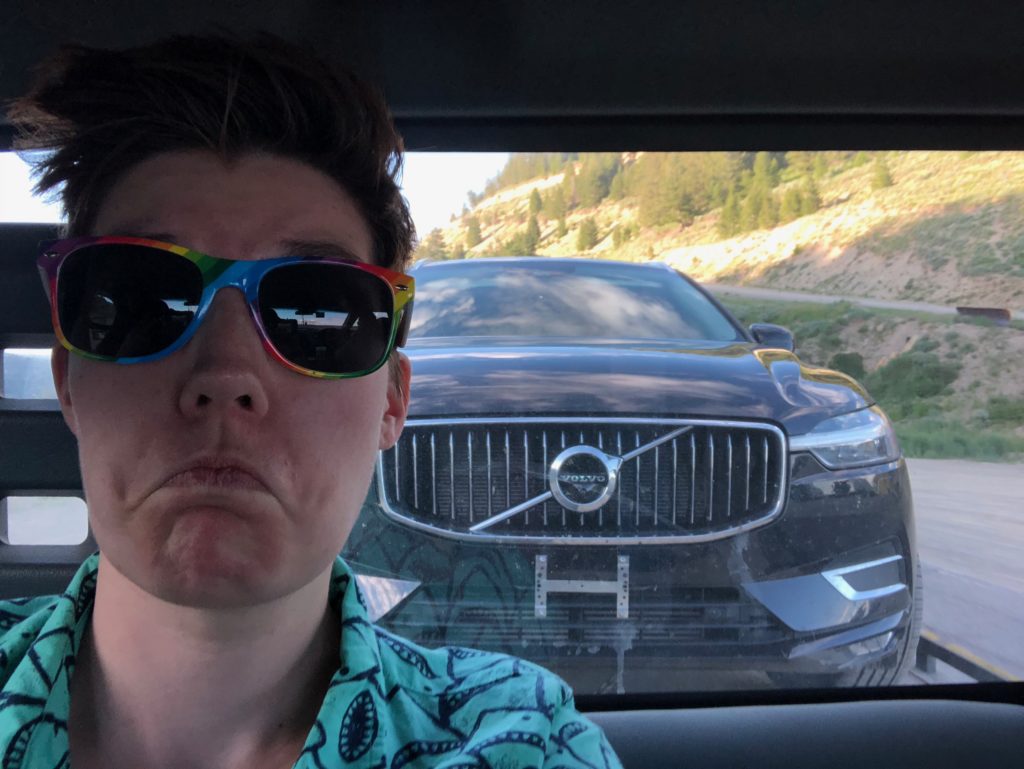 He was the kind of guy you'd never believe in a work of fiction. He was a crazy gun-toting conservative (word of advice folks, don't lead with a story about the time you got into trouble in California with a Nevada concealed carry permit if your passenger is wearing rainbow sunglasses) but he'd also written part of an episode of Next Generation back in the 80s and canned his own jams and jellies to sell to benefit retired service members. Go figure!
He warned us they might need to drop ship a tire from Denver, so we might be stuck in Grand Junction for another night. We won't know anything official till the Firestone opens tomorrow morning. We left our keys in the overnight drop box and a note pleading for assistance.
We called an Uber to take us to our hotel in Palisade, the Wine Country Inn. Without car trouble, we would have arrived in plenty of time for dinner and a couple of tasting room visits. As it was, we rolled up a little before 10 PM and the lady at the front desk regretfully informed us every restaurant in Palisade was closed for the night, except for Papa John's! They delivered till 1 AM.
Well, lemons into lemonade, right? I went to the hotel bar and told the woman to sell me a bottle of her finest Colorado red. She said, "I assume you have a price point in mind?" And I replied, "It's been a long day."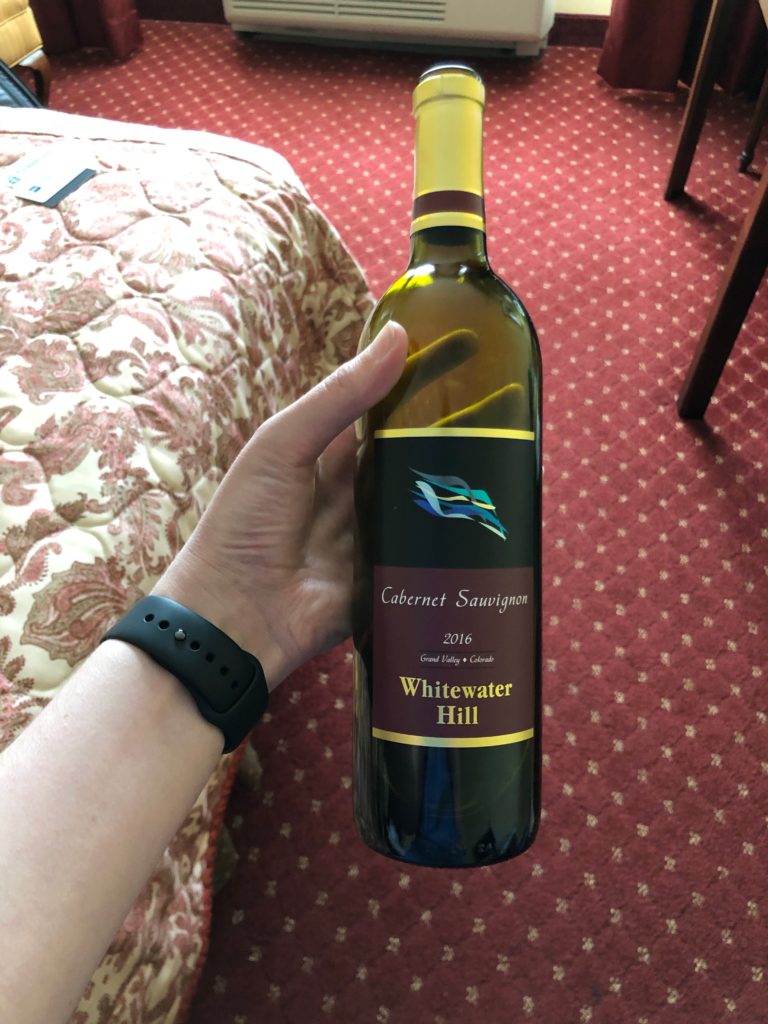 The wine wasn't phenomenal but it did go excellently with pizza. However, never order a half-anchovy pizza. Their little fish carcasses stick to the pizza cutter and contaminate the rest of the pizza. They taste like Sealion Point smells at Seaworld.
Miles driven: ~450
(but 30 of them were on a tow truck and 15 were in an UberXL)