Yellowstone National Park – Jackson, WY
This morning, I was the early bird. I actually got up about 10 minutes before the alarm went off. I verified the previous night's storm had blown away and we had gorgeous morning light for our photo ops. We threw our stuff together and headed for the car. I really wanted to get to an area where the bison often congregate in the morning (near the Mud Volcano). But we also wanted to see the Grand Canyon of the Yellowstone near our hotel while the light was good.
We decided to go to the Canyon first and avoid backtracking. I'm glad we did because we had the whole place almost to ourselves!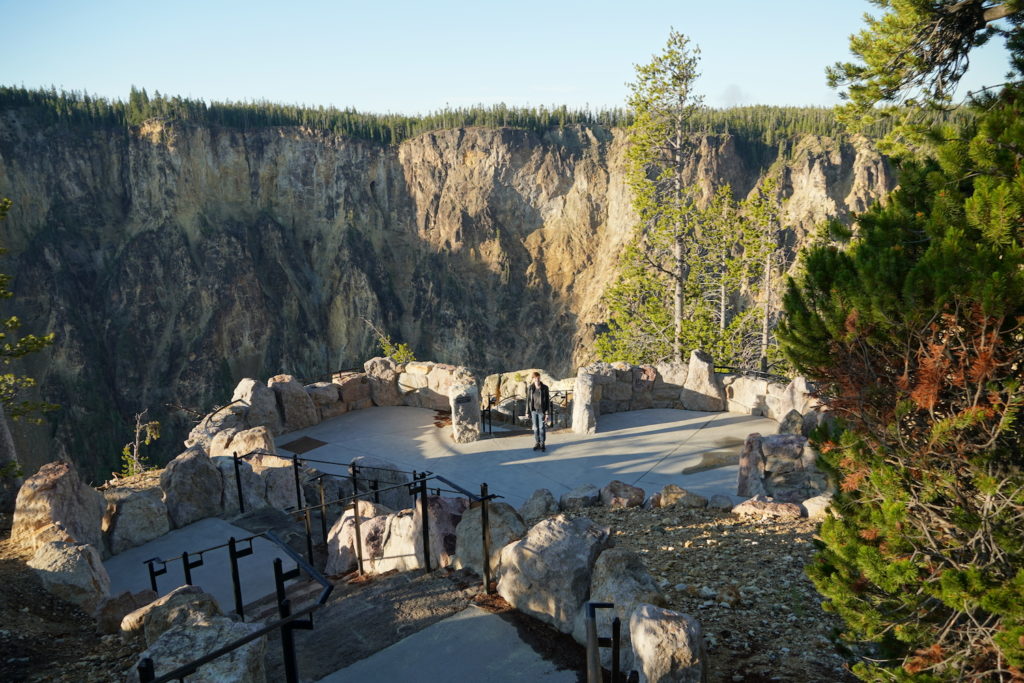 The light was also beautiful on Lower Falls, which we saw from the North Rim Drive.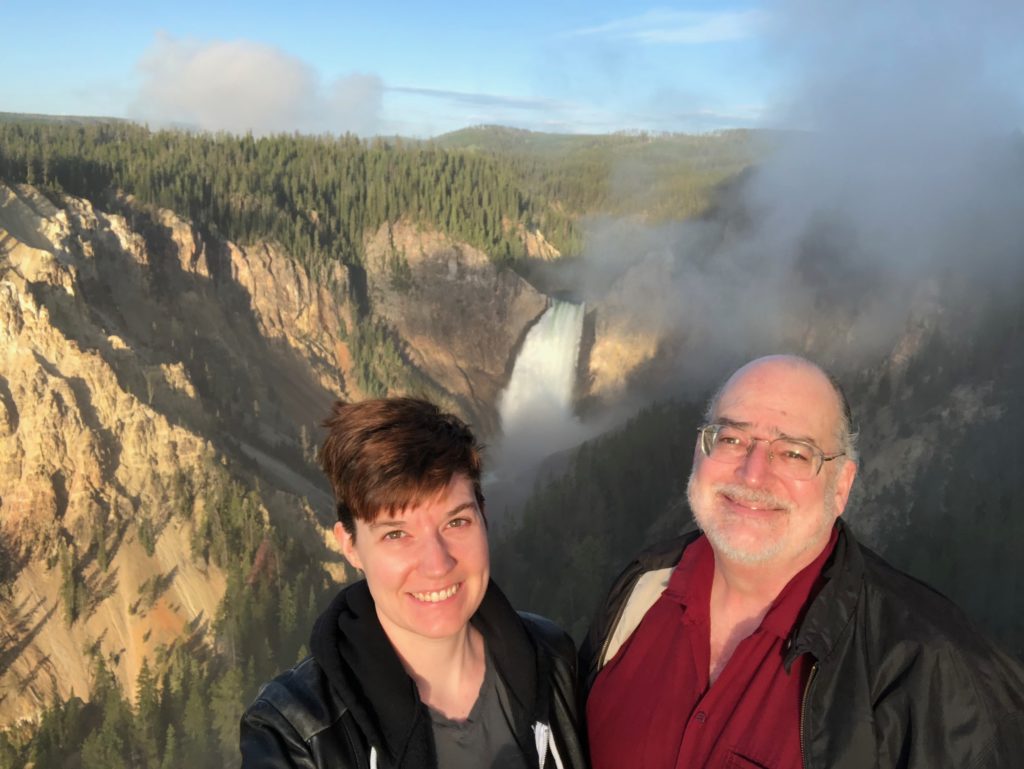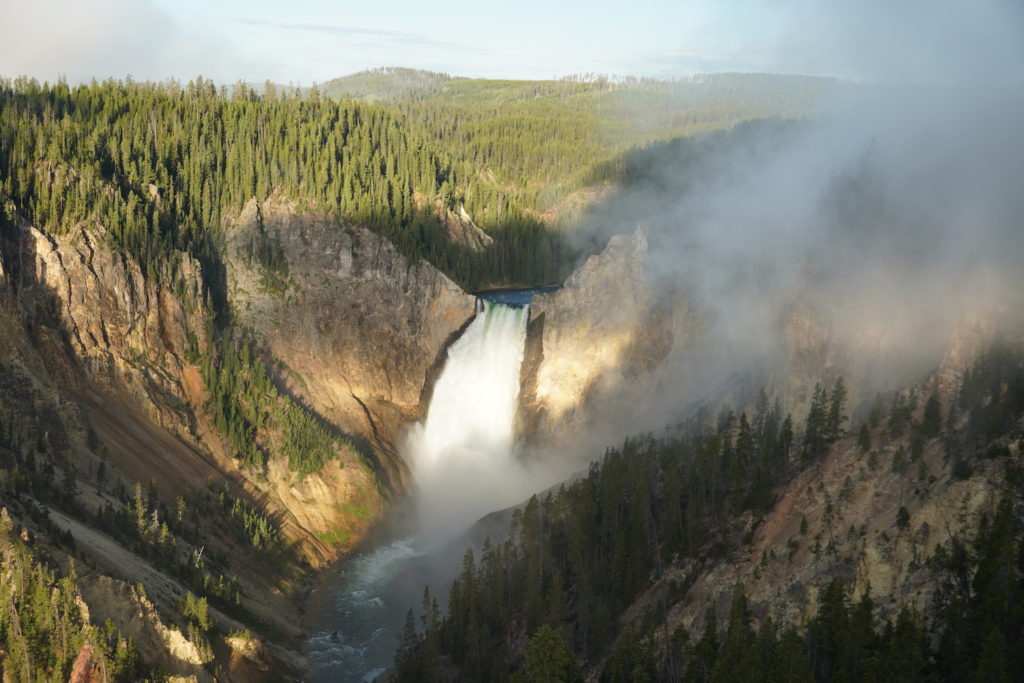 iPhone

Fancy Camera
Having seen the real Grand Canyon, this seemed… small. Pretty. But small. We didn't stay too long since there wasn't any place easy to walk to and we had a date with some bison.
We got back in the car and headed south. Again, I had my eyes peeled for one or two bison (maybe a baby bison if we were lucky). Right as we entered the Hayden Valley and crossed Alum Creek we found THE ENTIRE HERD.
There were so many bison.
We could see the ones closest to the road very clearly but the rest disappeared into the morning mist, which lent the whole scene an ethereal quality.
The closest ones were right next to the road, and in fact, we kept having to shuffle back as they got closer and closer. Clearly, our presence did not disturb them in the slightest.
A couple of baby bison played with one another till they got shushed by someone's mom. The bison also made a weird low, bellowing sound. I'm not sure if it meant "I'm hungry" or "I'm horny" or both.
A couple of males also got into a gentle tiff about 25 feet away. However, it didn't seem like a very serious disagreement since neither of them stopped chewing during the "confrontation."
We probably stood there for about half an hour admiring the bison. Mission very successfully accomplished.
We headed out before the morning heated up too much and made our last Yellowstone stop: Sulphur Caldron (stinky) and Mud Volcano. There's a three-quarter of a mile path around the hydrothermal features there. It went up a bit but since it was still in the high 50s it wasn't too bad.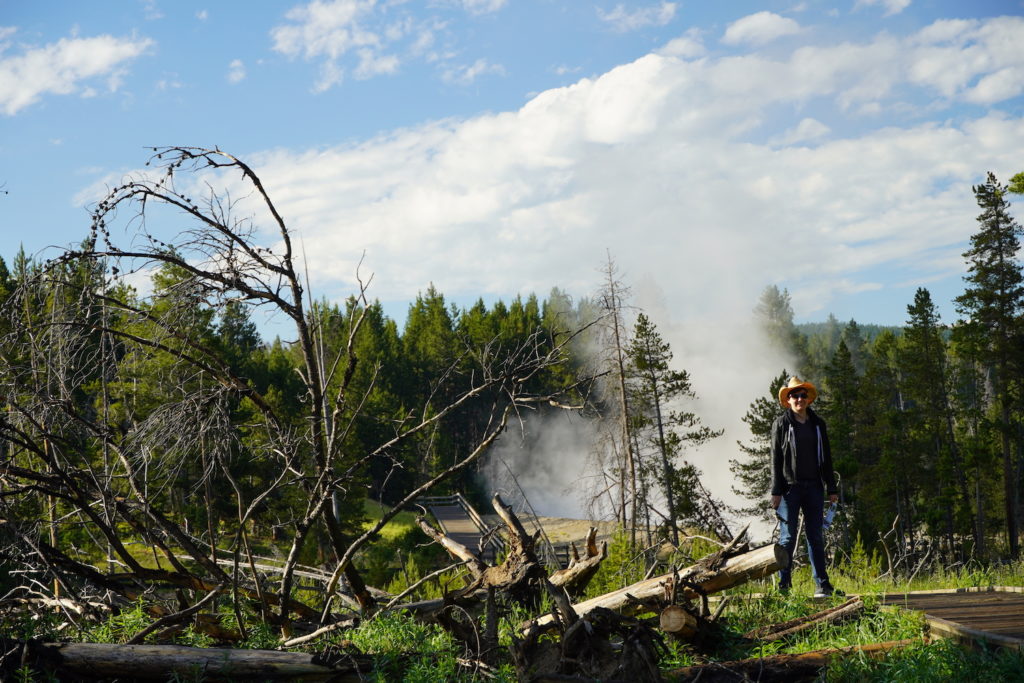 Self-portrait in steam
We had a guidebook so I was able to narrate our tour. We learned how quickly hydrothermal features can change. In the past 50 years, the formations and springs in this area had come and gone and changed temperature dramatically after several earthquakes.
Dad really enjoyed taking photos in front of the billowing steam.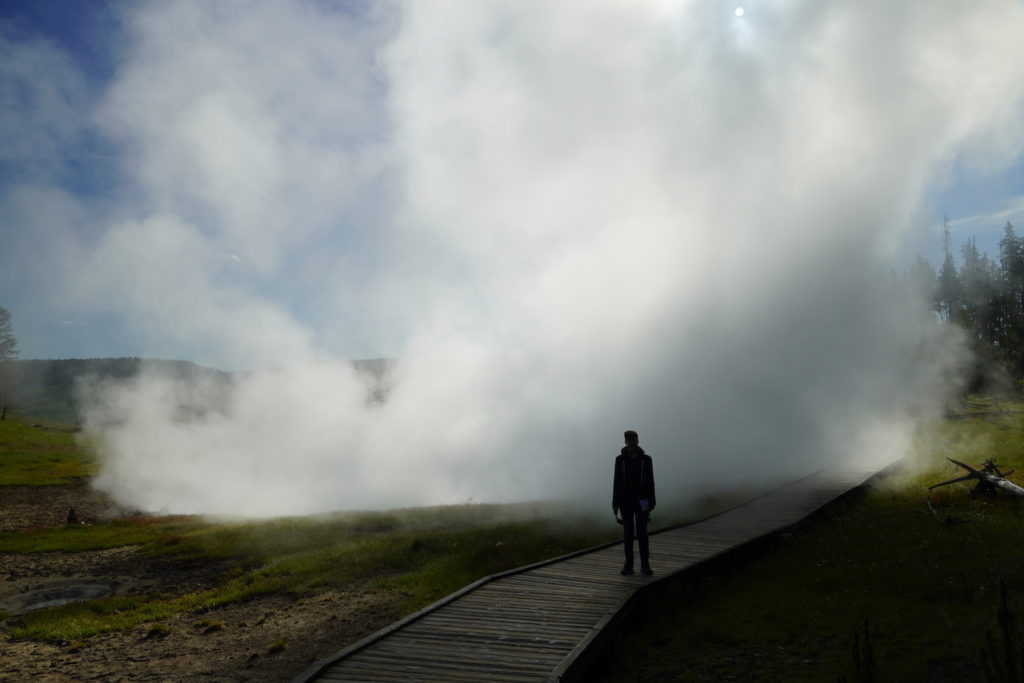 We also saw another bison up on the hill after encountering a fair amount of bison poop on the boardwalk (to be fair, there were lots of signs warning that the bison used the paths).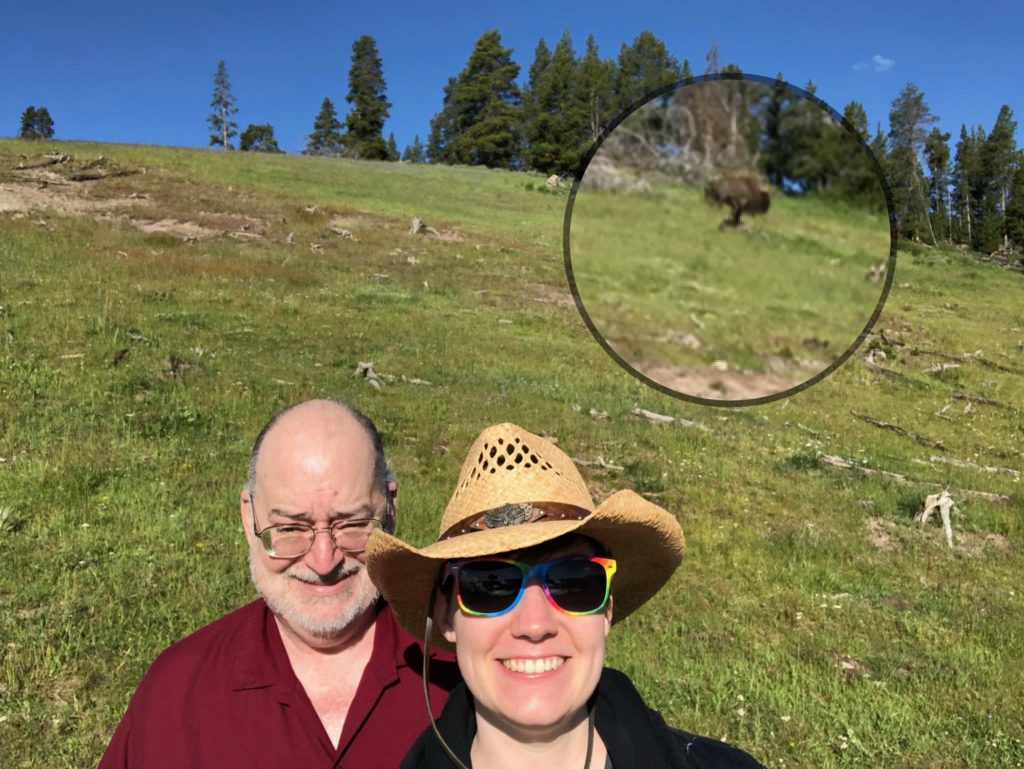 We didn't have any more specific stops planned in Yellowstone as we headed toward the south entrance. We spotted several more bison and this very impressive elk butt.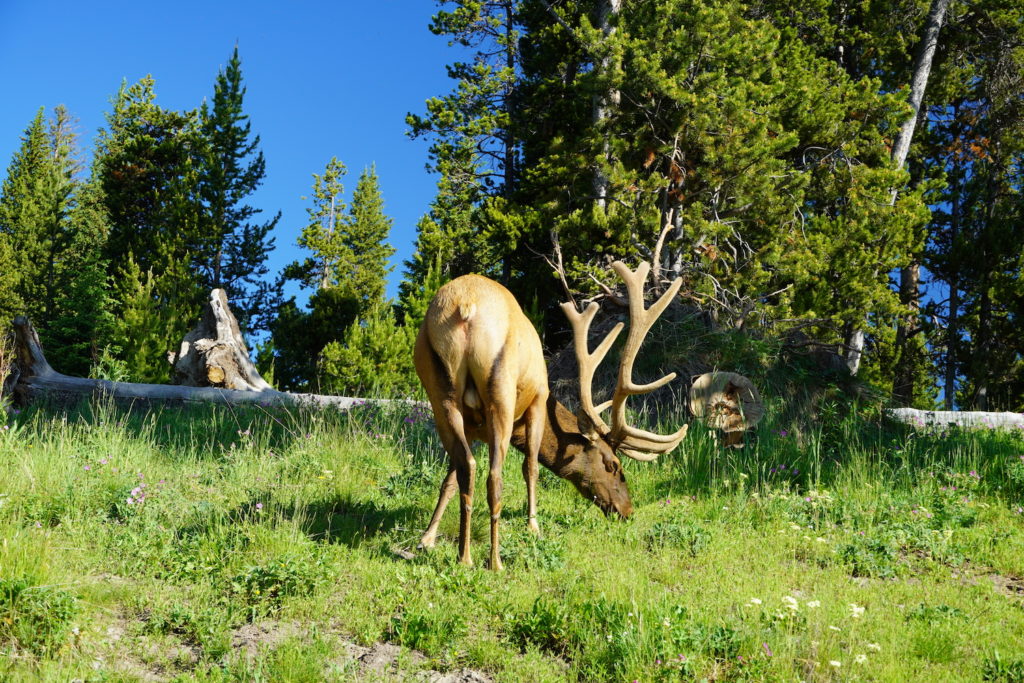 The southern entrance road was definitely less scenic than the rest of the park, though of course by this point we're pretty spoiled for stunning scenery. The temperature kept creeping up so we didn't stop again on our way out of the park till we had a bathroom break right near the entrance. Even though this is only middling scenery as far as Yellowstone is concerned it's still pretty beautiful.
From there, we had less than a hundred miles to get to Jackson Hole, Wyoming. In hindsight, we could have made it farther today since we didn't need all day in the Park, but it was nice to have a restful afternoon. We booked the hotel a couple nights ago because we were afraid Saturday night might be tough.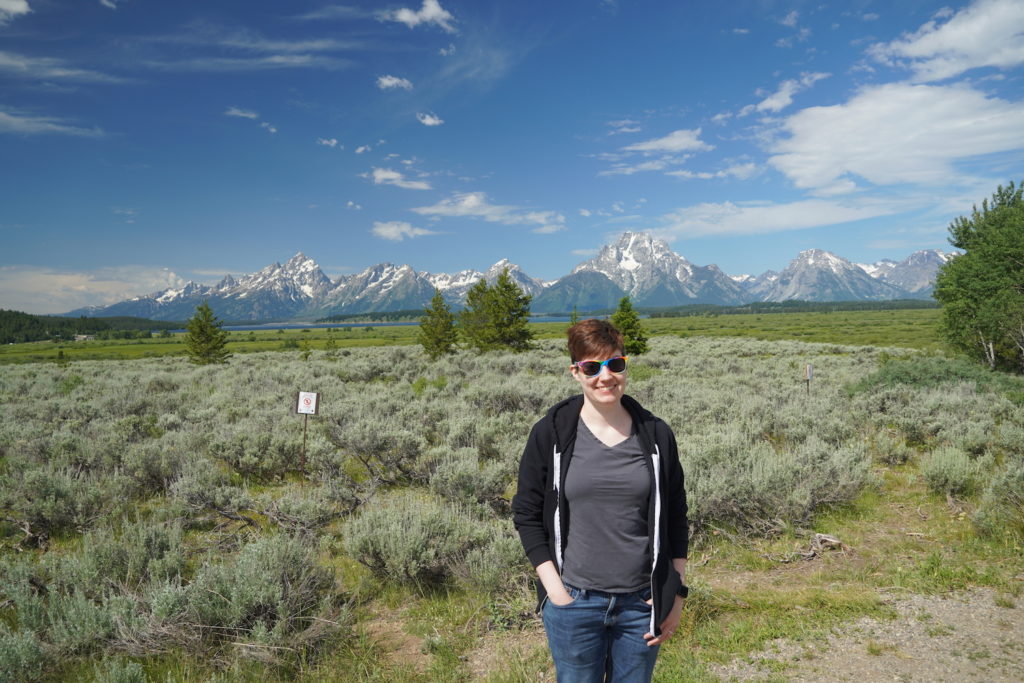 We arrived in time for lunch. We tried to go to a good looking BBQ place since we haven't really gotten our good BBQ fix on this trip, but they were serving a boring brunch menu. Instead, we went across the street and had serviceable if not stunning Mexican food at El Abuelito Family Mexican Restaurant. Dad ordered a jumbo margarita and boy did they deliver!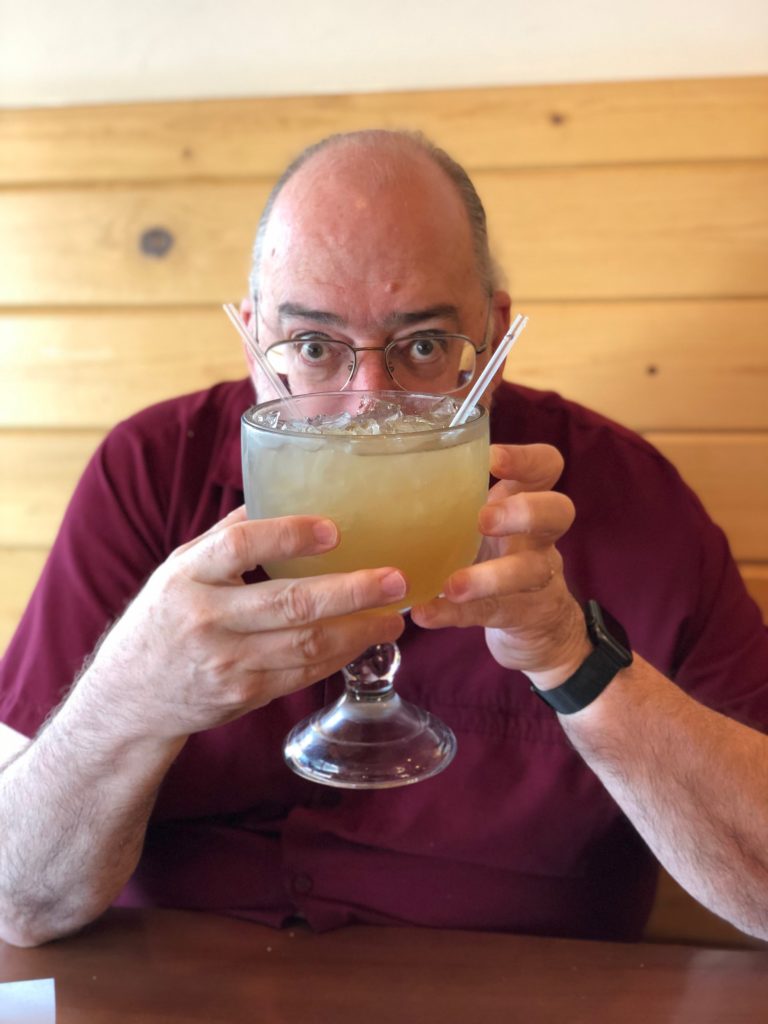 I ordered an extra straw.
We still had time to kill so we went to the art festival right next to our hotel. It was interesting to stroll through for about 20 minutes. Then we found some lovely grass in the shade to plan our next move. I think Dad would have been happy to stay there all afternoon though!
Eventually, we did get up and went to Cowboy Coffee Co. for some excellent iced coffee. Dad also needed a lens cap keeper so we found an actual camera store that sold them. I guess if any place can keep a camera store in business one that's less than 100 miles from Yellowstone is as safe as it gets.
We checked into our room and, for the second time on this trip, thought we had a broken door. It turned out it was just very finicky. The room had two doors, one exterior and one interior. Odd, but, in this case, we figured at least there was another exit!
The early morning finally caught up with me and I took a nap to revive myself for dinner. Dad identified a couple of possible places in town. We ended up sitting at the bar at the most popular restaurant in town, Trio. We split two half bottles of good wine and had a lovely evening watching the chef in front of us cook chickens in an enormous wood-fired oven.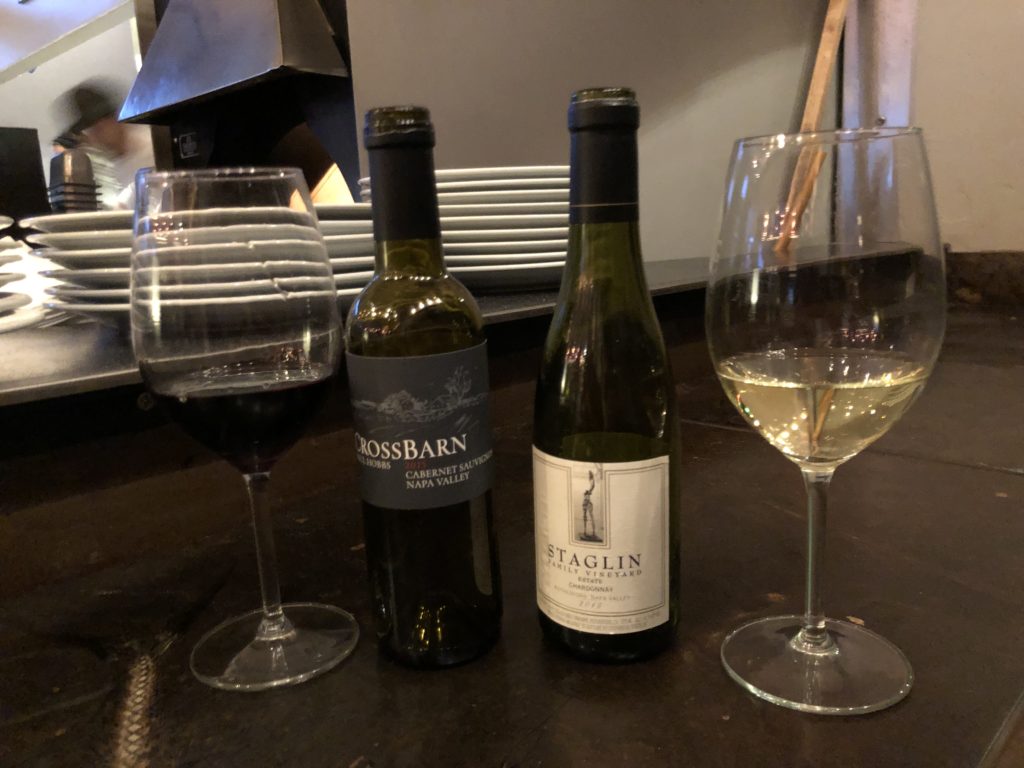 Tomorrow is another long driving day so we called it an early night.
Miles driven: ~115