West Yellowstone, MO – Idaho – Yellowstone National Park
Breakfast was available till 9:30. I was pushing it a little, but it was still only about 9:20 according to the clock in the room when I got to the lobby. Someone was already cleaning up so I wrestled some eggs from his grasp and claimed the last slice of toast. It turned out the clock was 12 minutes slow…
We had decent wifi this morning so we dawdled a little bit at the hotel. I put two things on the agenda before returning to Yellowstone: visit the Grizzly and Wolf Discovery Center and cross the Idaho border.
The Grizzly and Wolf Discovery Center lay directly across the road from our hotel so we started there. The website said if you got there early you could hear the wolves howl. Unfortunately, due to our later than anticipated start, it was closer to mid-day and already quite hot. All the wolves were napping out of view. However, our timing for the Grizzlies was perfect.
They have a Junior Rangers program for kids up to 12 years old. Every few hours, they clear the bears out of the main habitat and invite a group of about 30 kids in to hide food in the enclosure. They throw apple slices in the water and bury carrots, dog food, and other treats under piles of rocks and logs. It's a win-win for everyone. The kids get to feel involved, the bears get mental and physical stimulation, and the treats ensure the bears are visible to the guests.
We arrived right as the kids entered the habitat. We watched them hide the food and do their best Grizzly impersonation (most needed a lot of work).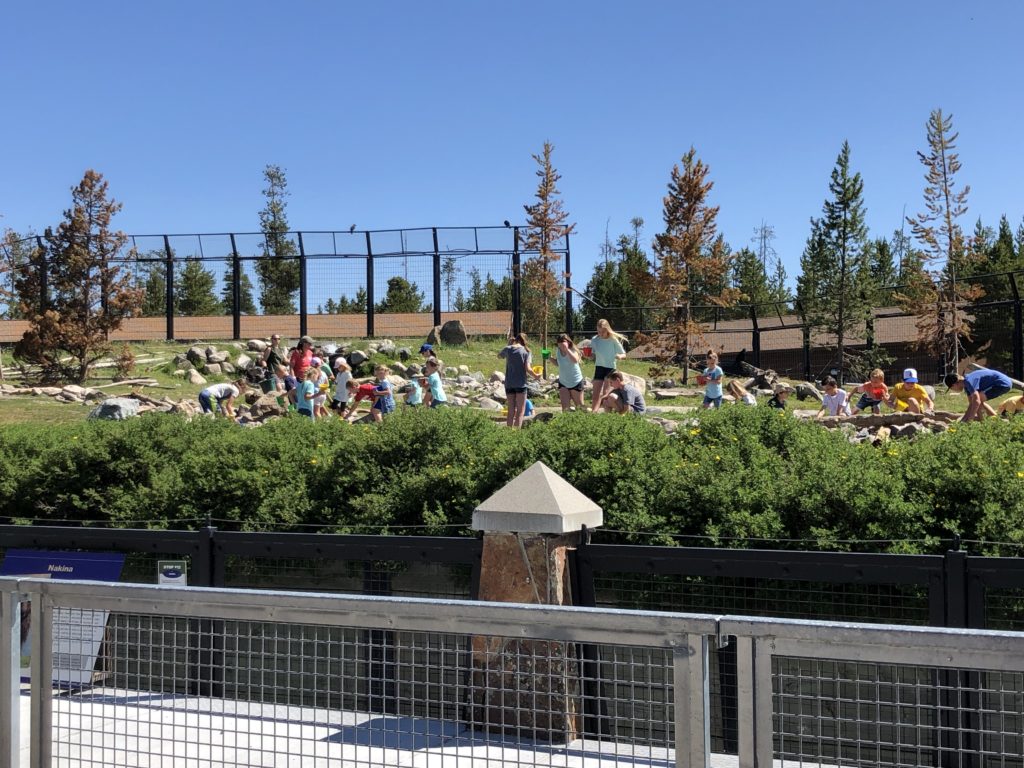 They cleared out and about 10 minutes later two Grizzlies were invited into the enclosure. We saw two female bears, Spirit and the oh-so-imaginatively named 101. Both bears had been removed from the wild due to an over-reliance on human food.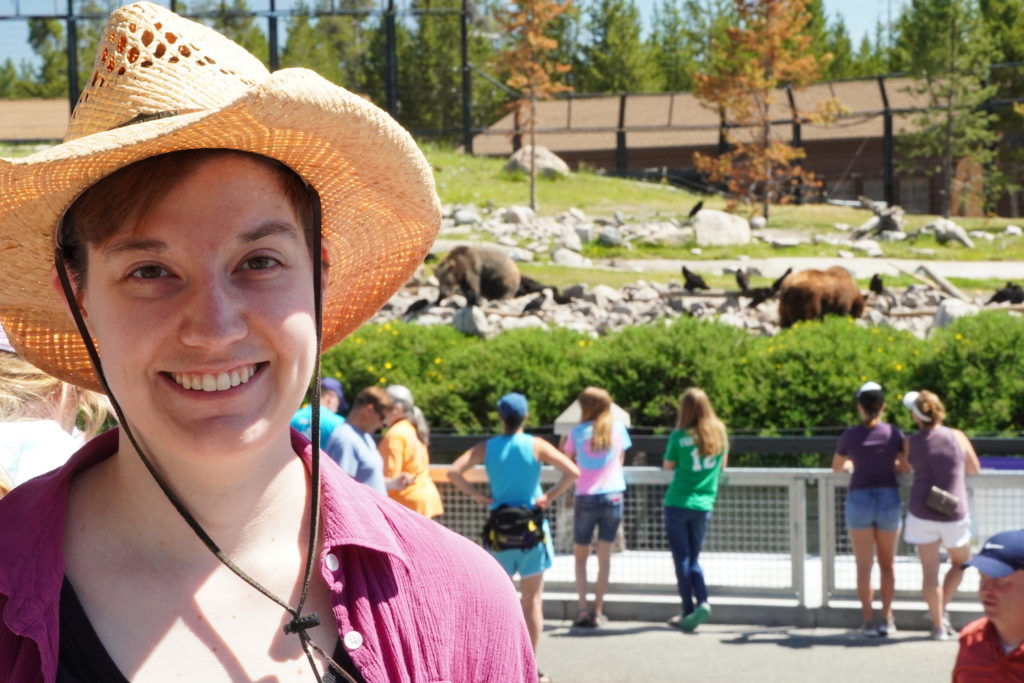 They trundled out and started investigating the new smells. I'm not sure if they were more interested in the food smells or the kid smells though. It was neat to see them, but I'm just as glad we didn't run into them in the wild.
After that, we took a 30-minute round-trip detour to the Idaho border. We missed the sign so we actually drove into Idaho and turned around. I think it counts.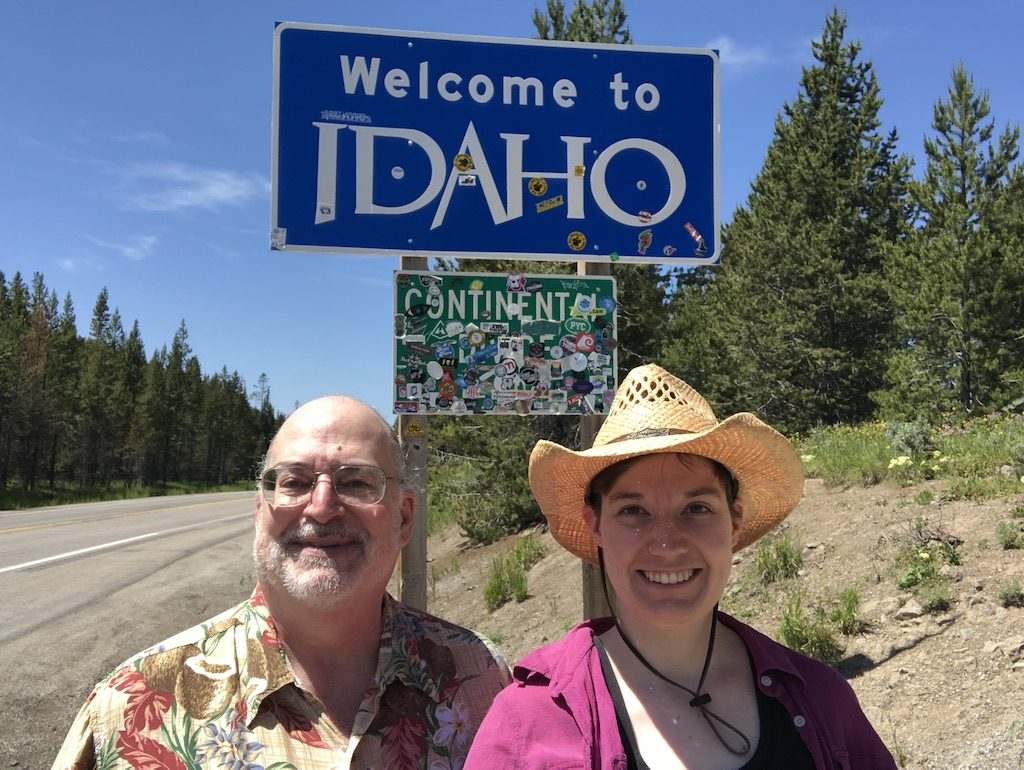 After that, we got gas and headed back into Yellowstone.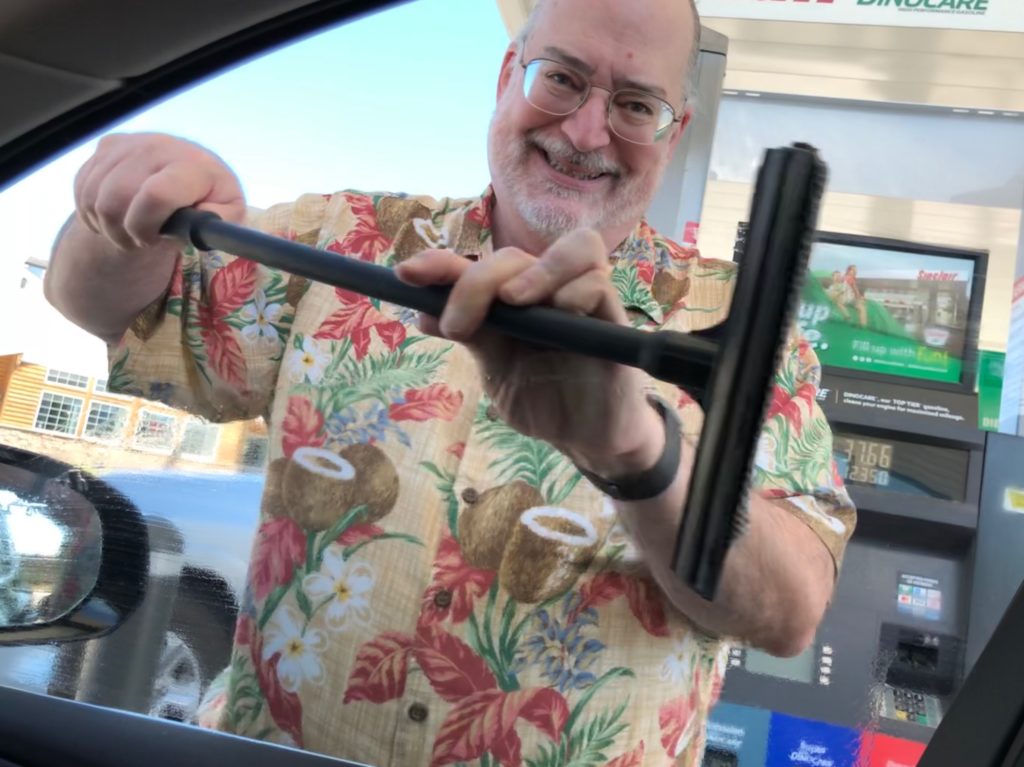 The main road basically makes a figure-eight through the middle of the park with entrances branching off at each cardinal direction. Last night, we covered the eastern entrance, the top of the bottom circle, and the western entrance. Today, we decided to start with the most touristy stop: Old Faithful.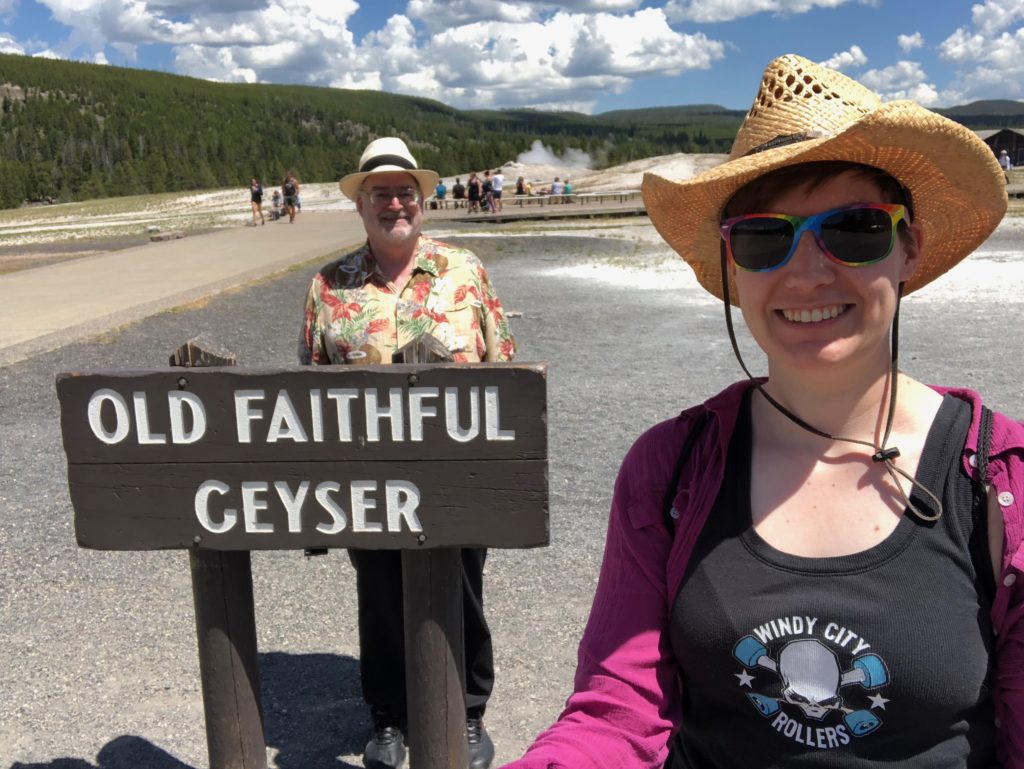 It's slightly less faithful than it used to be, but it still goes off about every hour and forty minutes, give or take fifteen. We arrived about half an hour after it had gone off. That gave us time to grab a bite at the hotel. Dad remembered it well, since it's where he stayed with his family when he was 5 years old.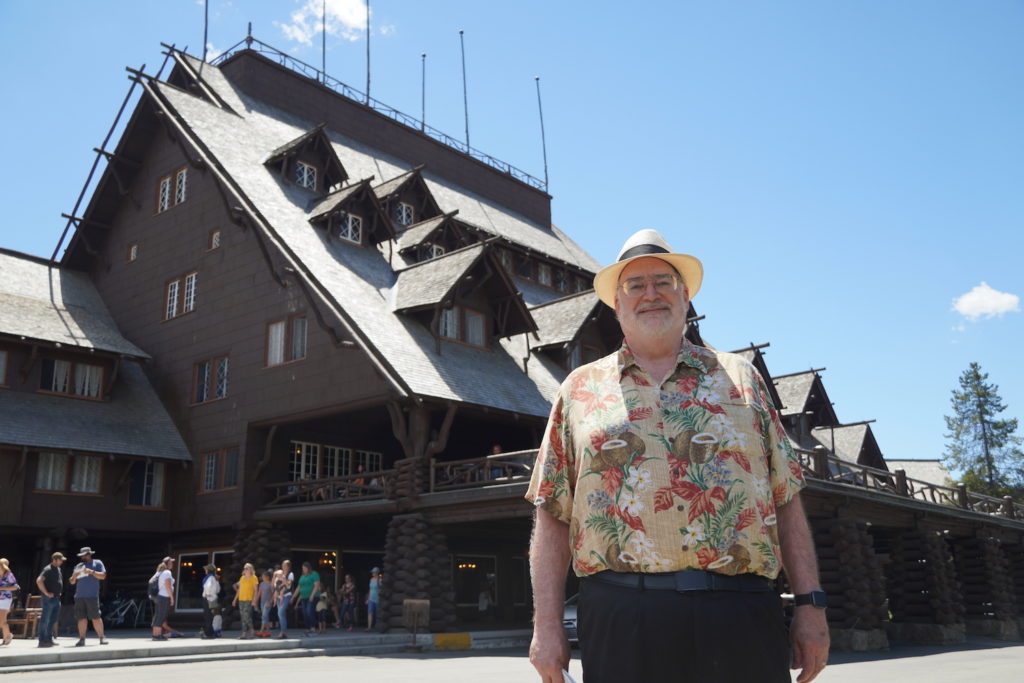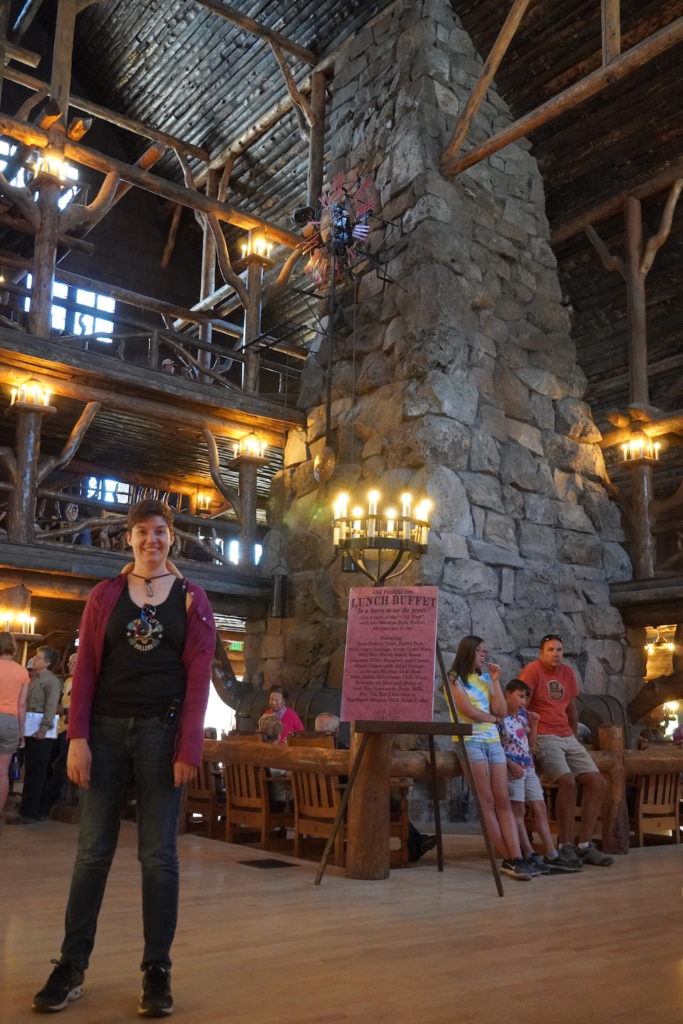 We moseyed out to the geyser a little early and it's a good thing we did. As soon as we got to the viewing ring it went off! It's an impressive geyser. Even in the extreme heat, a prodigious amount of steam billowed off the fountain.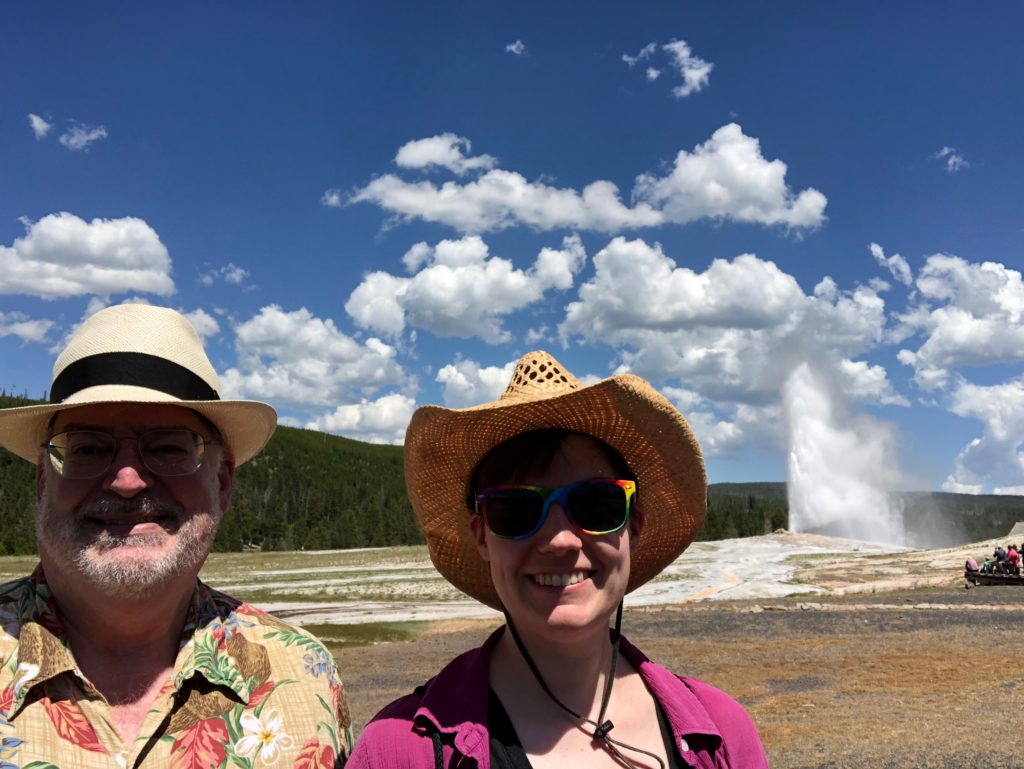 So far, Old Faithful has lived up to expectations but the bison have vastly exceeded expectations.
I grabbed some informational brochures and maps at the Visitor Center. There basically isn't cell service in the park. I don't mind being unplugged at all, but it does make navigating and answering questions a little challenging.
We stopped at another large hydrothermal area close to Old Faithful. We got out and walked along the boardwalk. I thought it was someplace I had a guide to but it turned out to be Biscuit Basin. (I never did figure out where that other place was.)
I loved the color of the bacteria mats (delightful name, no?). The leather-like formations are much more delicate and well-formed than the pond scum I'm accustomed to in Florida.
Biscuit Basin had its own little geyser that bubbled up periodically.
The most striking sight was Sapphire Pool. It's deep, crystal clear, and an unnaturally bright shade of blue.
I tried sticking my foot in the river and expected ice water. However, the river was so wide and shallow that after a morning in full sun it really was just pleasantly cool.
After that, we made our way up the western side of the figure eight. The scenery to the north is spectacular. We gained even more altitude and drove past incredible rock formations. I knew Yellowstone was beautiful, but I never imagined anything like this.
Our timing was again good because we spent most of the hottest part of the afternoon in the air-conditioned car. We didn't get to Mammoth Springs until late afternoon. To further cool things off, a storm rolling in kicked up a refreshing breeze. The storm clouds provided a stunning backdrop for our photos.
Lightning in the distance finally hurried us back to the car. The rain hadn't quite hit so we stopped for a bathroom break in Mammoth. Bonus points: we got an up-close look at a deer grazing by the restrooms.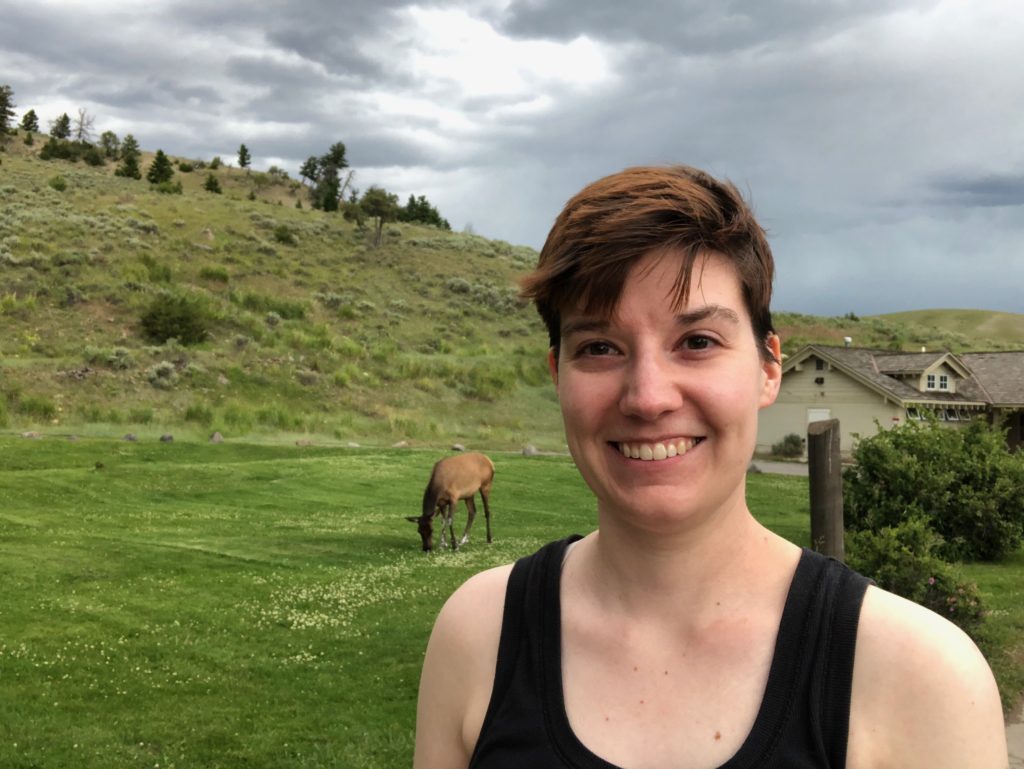 We flirted with the storm for the rest of the day. Every now and then we'd get a quick shower but we mostly stayed ahead of it until we were buttoned up for the night.
Coming across the top of the figure eight and down the side we passed through the Lamar Valley (good for wildlife but we were a bit too early). However, there was a huge back up of cars. I hopped out (since we were just sitting there) to see what had everyone so excited. It was a black bear!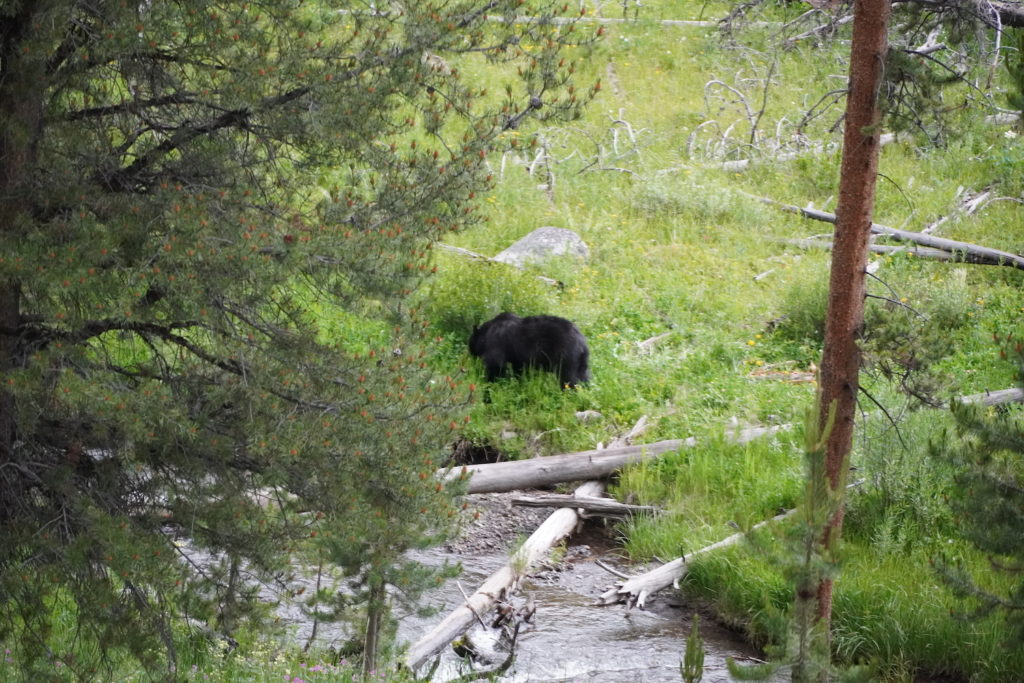 Fortunately, he was at the bottom of a deep valley so it felt pretty safe. How cool to see a bear in Yellowstone! (Still glad it wasn't a Grizzly though.)
We saw the petrified redwood tree from the car (at least we're pretty sure that was it).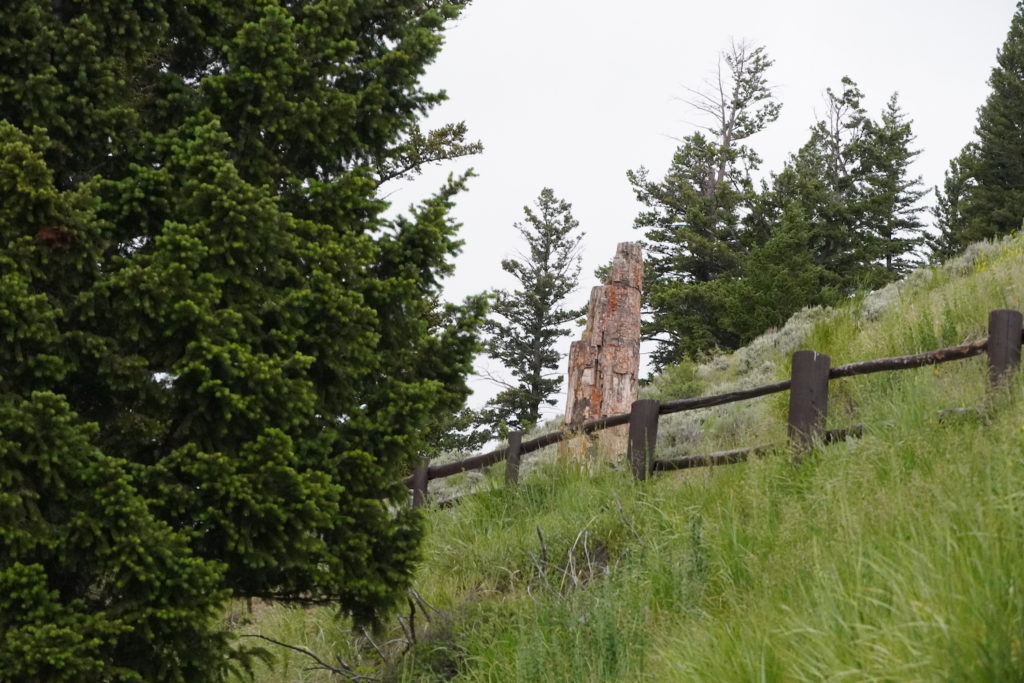 We didn't stop at Tower Falls because we didn't want to get soaked if the storm hit and didn't want to miss dinner at the hotel since dining options are limited inside Yellowstone.
On our way to the hotel, we missed our turn thanks to some bad Google Maps directions. But there was a bison chilling right by the side of the road! We would have missed him if not for the inaccurate instructions.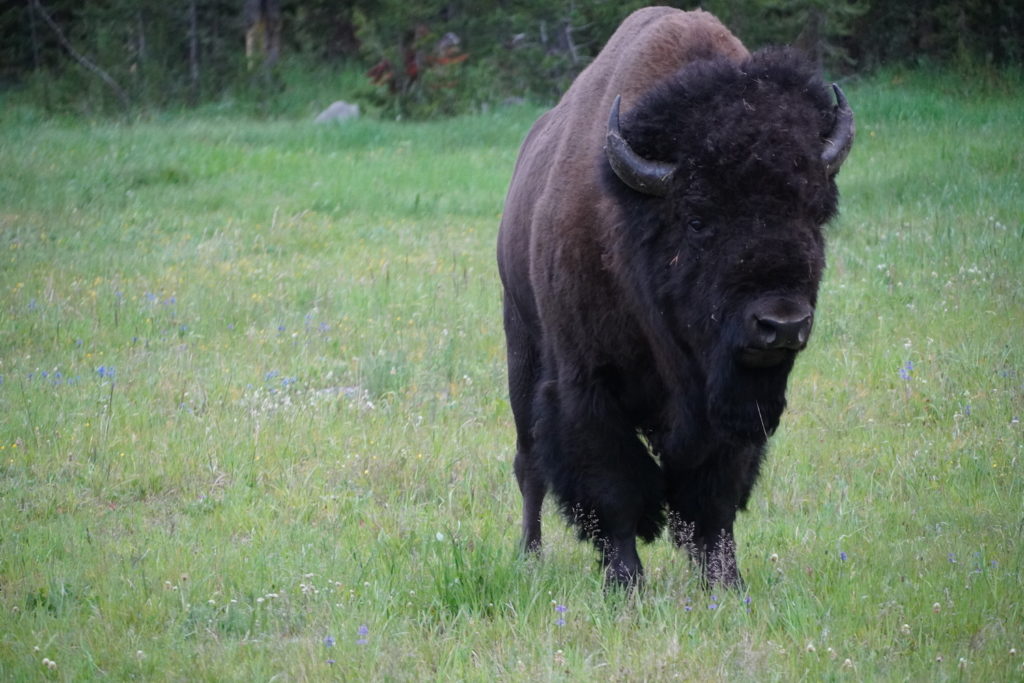 We stayed at the Canyon Lodge, a very new addition to the park. So new they're still working out some kinks. Including the fact there is only one dining room for the old Lodge, this new Lodge (which is BIG), and all the cabins. There really wasn't an easy way to walk from our building over to the dining room (which seems odd for an outdoor recreational vacation destination).
Oh, there was one other small problem too, which was that the kitchen was on fire. As we approached, a security guard stopped us and told us the building had been evacuated because of a kitchen fire. Everything looked under control, but it was going to be all night (or possibly week) before that kitchen produced any food. That meant the entire population of Canyon Village was at the general store rooting around for something to eat for dinner.
Pickin's were slim. We had ice cream. I had graham cracker and moose tracks (with peanut butter cups), so that's well balanced, right? It's got grain, protein, and dairy
We'd done such an efficient job sightseeing we didn't have too much left on our list for the next day. The only trouble is without cell or LTE in most of the park, we've had to resort to old school methods: maps and guidebooks!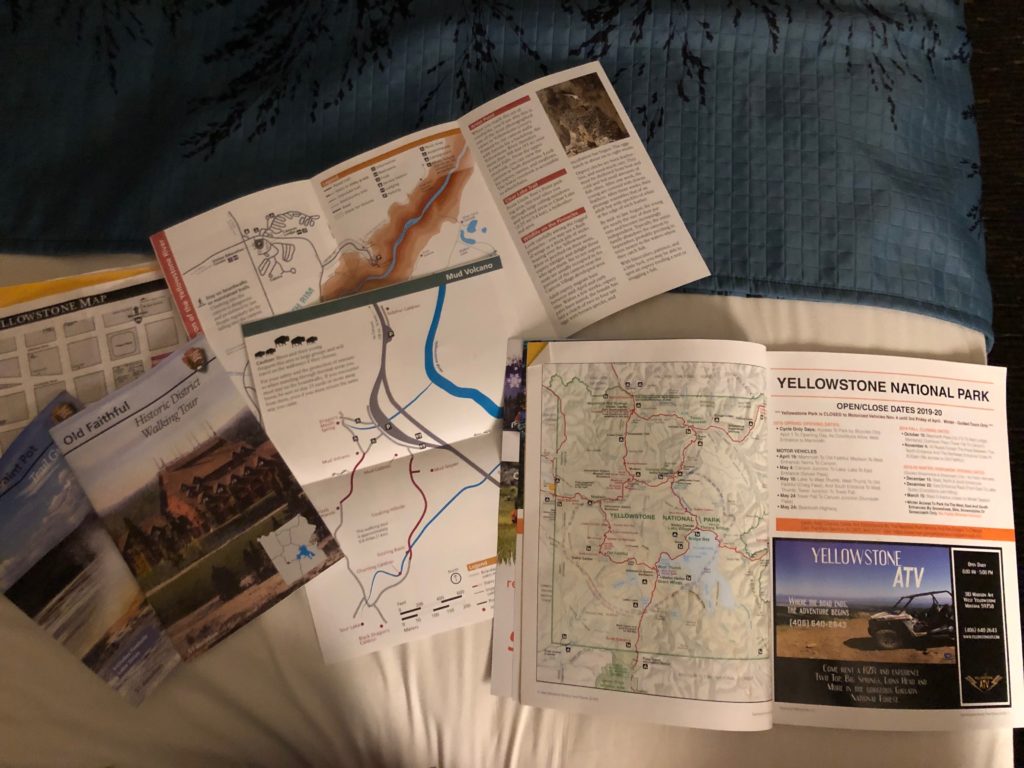 Given the midday heat we experienced at Old Faithful and Biscuit Basin and the fact most tourists are in the park between 10 AM and 6 PM, we decided to get up early and do our sightseeing before the park got crowded and hot. Plus, the animals are more active at the same time! So it was a win-win. Except for that part about the 6 AM alarm…
Miles driven: ~140