May 29: Reykjavik
I managed to stay up till about 10 PM working on yesterday's blog and then fell deeply, deeply asleep. The next time I woke, I thought I'd been out for a good four or five hours, but discovered it was only just past midnight! After another four or five hours, I woke again at 2:30 AM.
Technically, sunset is at 11:20 PM and sunrise is at 3:30 AM, but we're so far north it never gets darker than twilight!
It took me a little while to get back to sleep in the wee hours of the morning, but once I did I slept soundly till about 8:30 AM and woke feeling refreshed and pretty much on schedule. Trish snoozed for another 90 minutes while I cleaned up yesterday's blog and showered.
We headed out to grab a coffee but no breakfast because our activity today was a food tour of Reykjavik. We stopped at a Te & Kaffi near the meeting point for our tour. I actually think they are a local coffee roaster and supply the coffee at Sky Lagoon. The cups we got at Sky Lagoon had the same logo as the Te & Kaffi sign.
We absolutely lucked out with the weather today! 55 degrees F and not a cloud in the sky. We met our tour guide, Stephen, at the entrance of Harpa concert hall and embarked on our five-stop tour. It was funny to hear him describe this weather as "hot."
Our first stop was Fjallkonan, which is in an old building formerly owned by the King of Denmark. He used it to train falcons for hunting. The name actually translates to "The Mountain Woman," in honor of the first restaurant opened by a woman in Iceland. An Icelandic woman is also awarded the title once a year for impressive contributions to Icelandic society.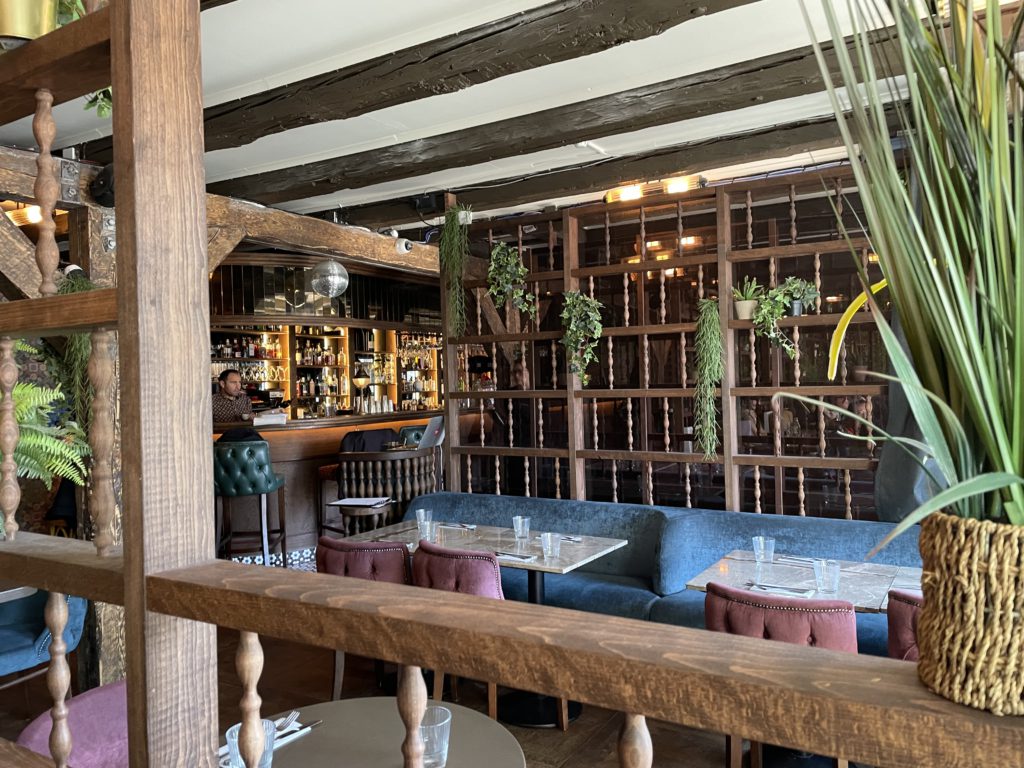 Here, we had a duo of elegant dishes, probably the fanciest fare on the tour. We had
Lightly cured arctic charr served on a chickpea flatbread with horseradish sauce, roe, crispy lentils, and yuzu elderflower dressing
Slow-cooked lamb served over Icelandic flatbread from the Westfjords with carrot purée, pickled red onions, and horseradish sauce.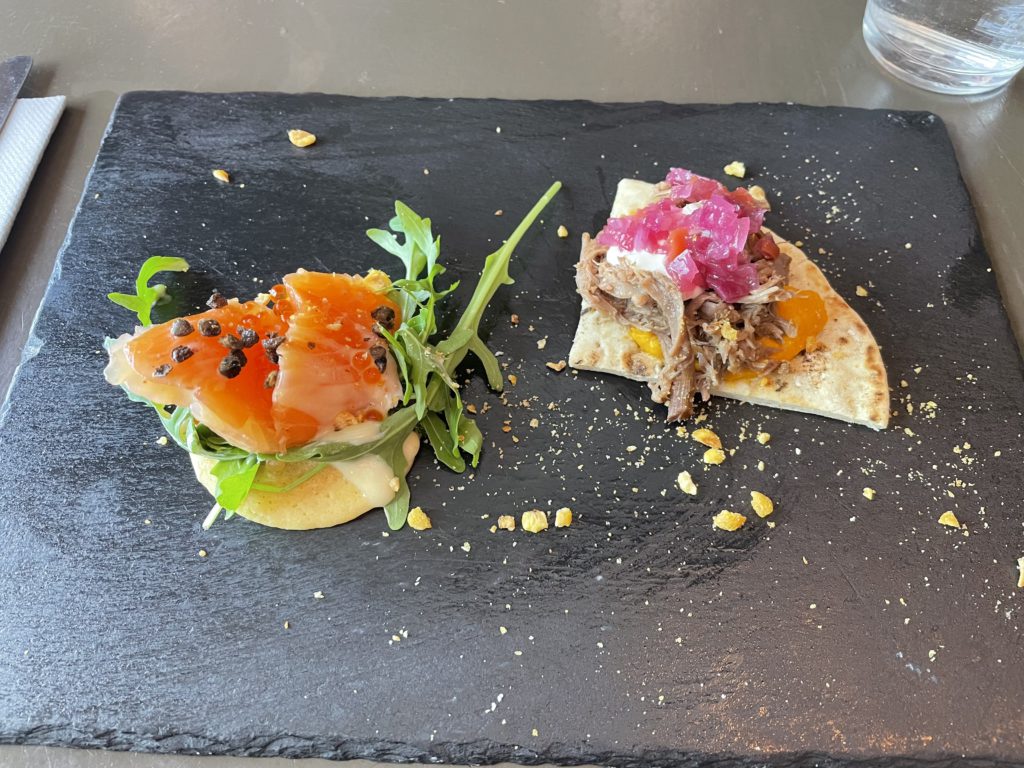 A fun tidbit our guide shared is that Iceland is strangely good at growing wasabi. Their cheap geothermal energy allows them to sustain large greenhouses for tomatoes, potatoes, and, last year, 12 whole bananas.
En route to our next stop, we passed by the tiny parliament house and a statue of Jón Sigurðsson, who is hailed as the man who got Iceland their independence from Denmark in 1944. Today, for reasons unknown, the base of the statue was decorated to celebrate 420.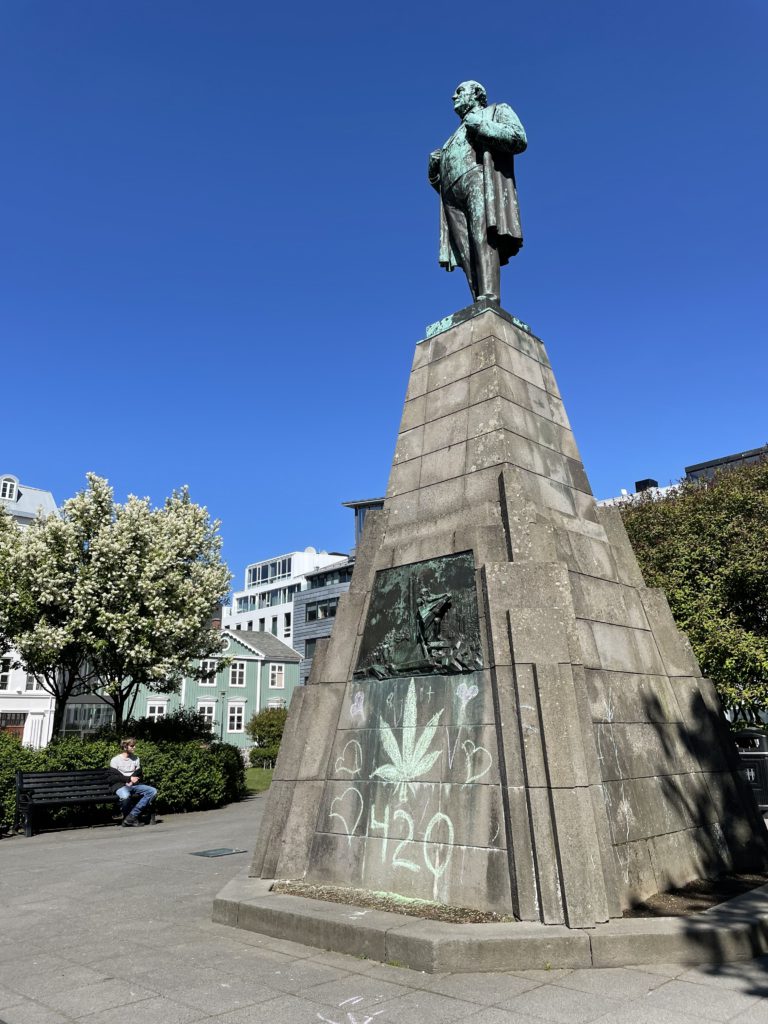 Our next food stop was Messinn, famous for having the best fish in Reykjavik.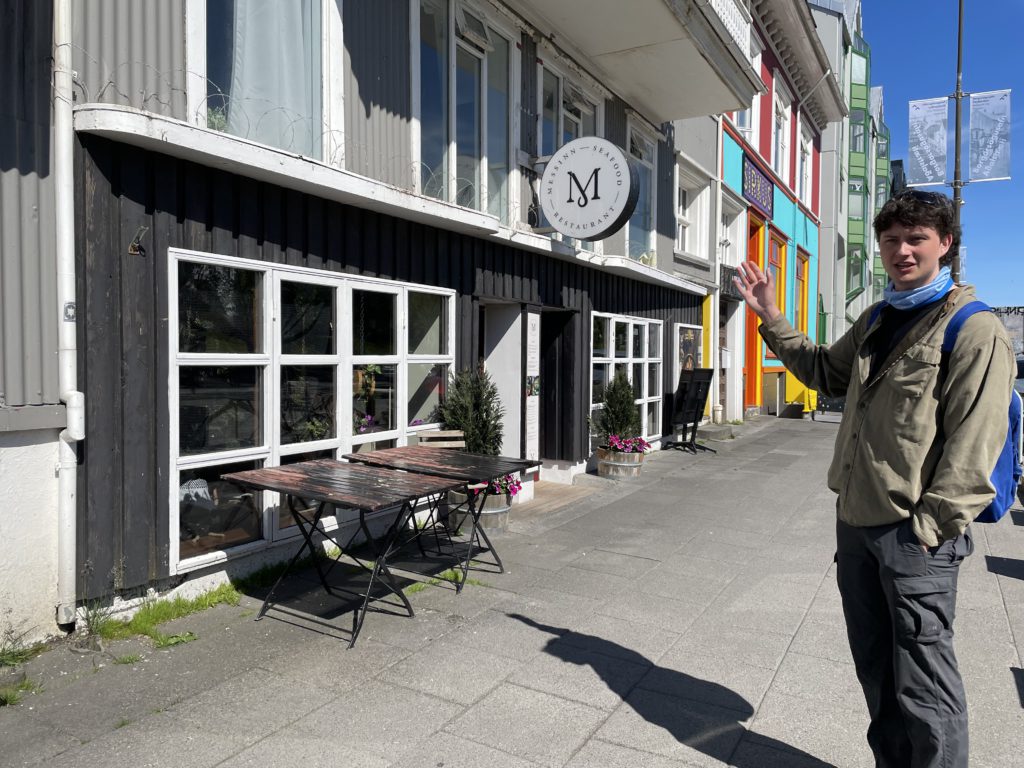 Messinn did not disappoint on the culinary front! Here, we also tried a duo of dishes served family-style and brought to the table in hot skillets. We had:
Pan-fried arctic char sauteed with butter, lemon, honey, and cherry tomatoes and served with toasted almonds and potatoes
Icelandic "Plokkfiskur," for which there is no word in English. It's basically fish mashed together with potatoes, onion, garlic, and celery. Everyone's grandmother claims to make the best Plokkfiskur in Iceland, but Stephen confessed he prefers this version, which is sauteed in white wine and served with hollandaise.
Sweet Icelandic rye bread with butter/skyr
The Plokkfiskur seemed like the Icelandic equivalent of Shepherd's pie to me; comforting and hearty. I liked it a lot!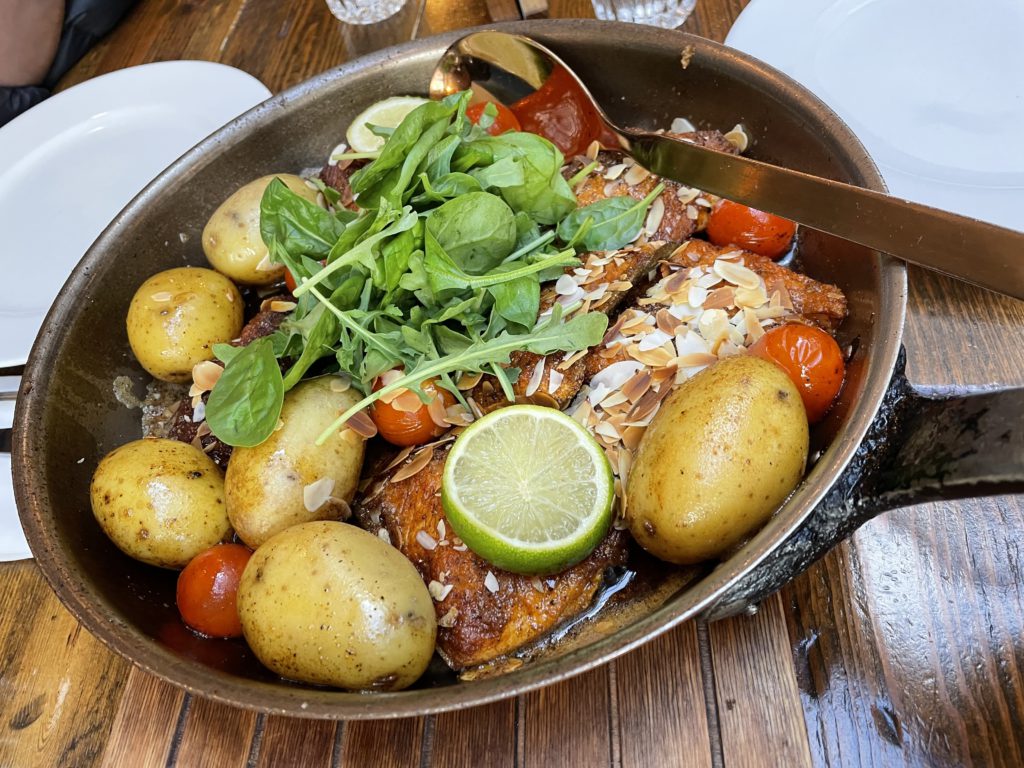 I'd actually considered making a reservation here, but given how fish-forward the menu is and Trish's feelings on cooked fish, I decided to pass. I'm glad we got to try a couple of things off their menu without committing to a full meal because Trish thought the place smelled strongly of fish. I didn't notice until she pointed it out, but I guess constantly bringing hot skillets of sizzling fish into the dining room will do that. (She actually did like the arctic char here and the sweetness the honey gave the dish.)
After this stop, Stephen told us that across the street was Reykjavik high school, which he graduated from three years ago during the pandemic. Just last night they held the first graduation ceremony in all that time so he joked that he finally "officially" graduated!
After a couple of fancy stops, it was time to go low brow: Icelandic hot dogs! We went to the most famous hot dog stand in the city. Apparently, the list of celebrities who've been here is too long to recount. But, no matter who you are, you wait in line like everybody else.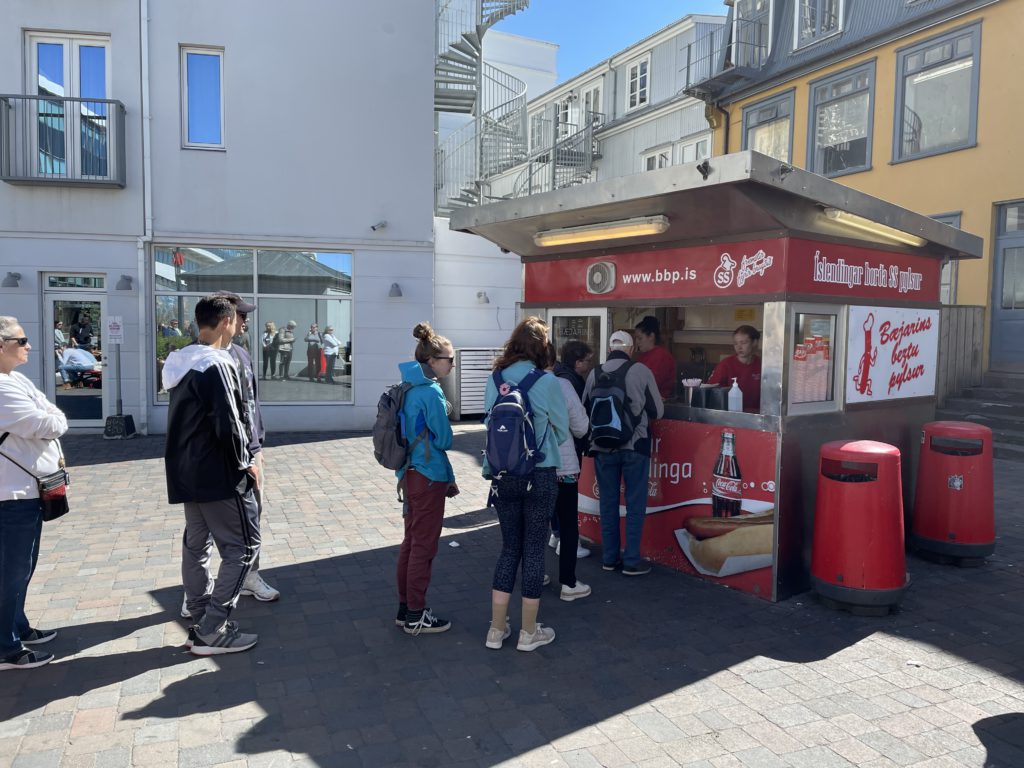 One celebrity's visit to the stand has had a lasting effect on Icelandic culture. Former president Bill Clinton ordered his hot dog with only mustard and that preparation is now known as "The Clinton."
Most Icelanders get a hot dog ("80% lamb, 20% we don't talk about" to quote Stephen) with everything: pylsusinnep (sweet brown mustard) and remoulade on top of the hot dog and raw and fried onions underneath it.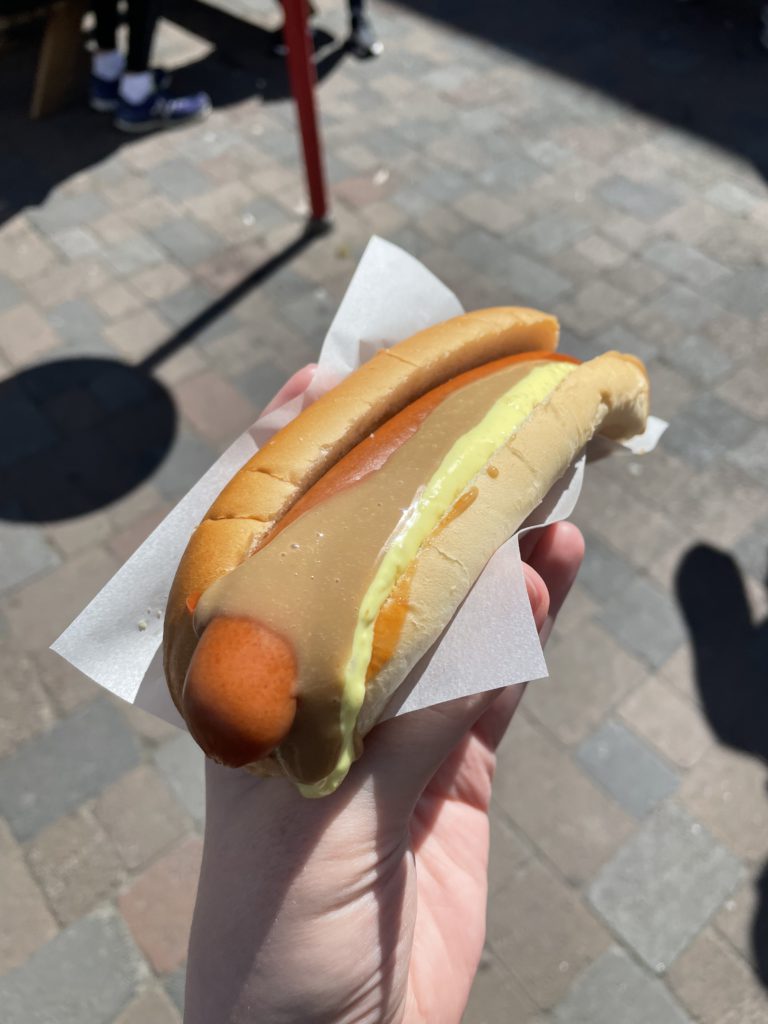 The crispy onions were a game changer! So good!
Thankfully, there was only one more savory stop on the tour because, despite doing our best to pace ourselves, we were getting pretty full. The fourth stop was "The Icelandic Bar." Despite the touristy-sounding name, the place is actually overrun with locals because they serve the cheapest beer in the city!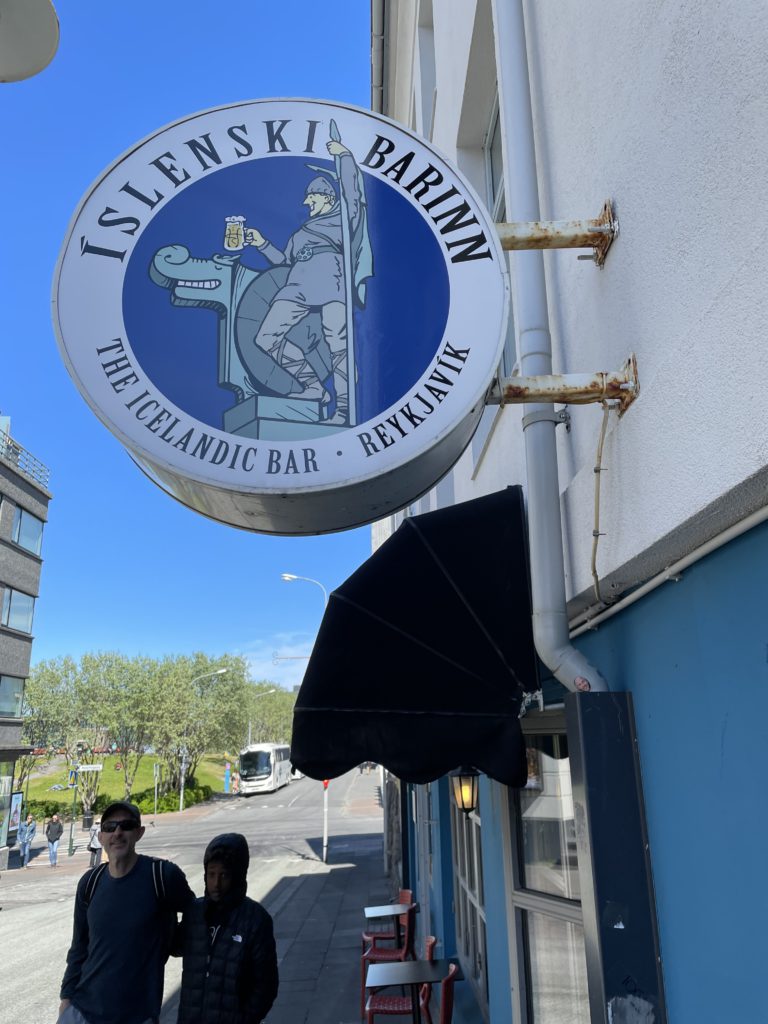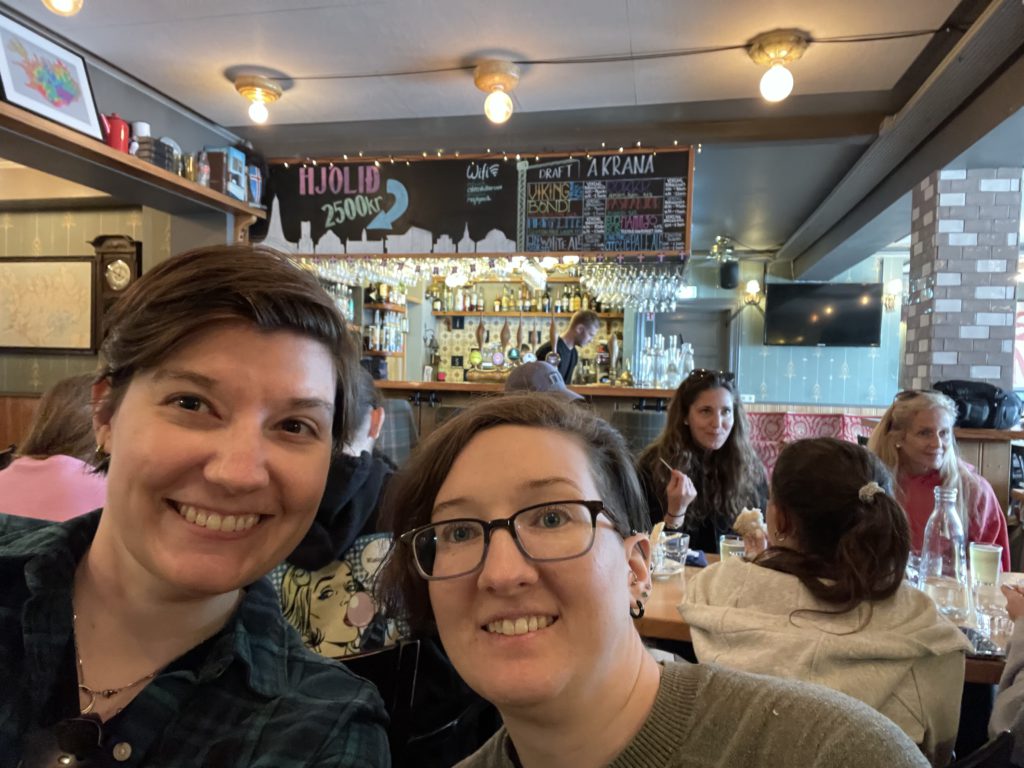 Here, the main savory dish was traditional Icelandic lamb stew, which was wonderful. (Mom, it was just like Williamsburg soup!)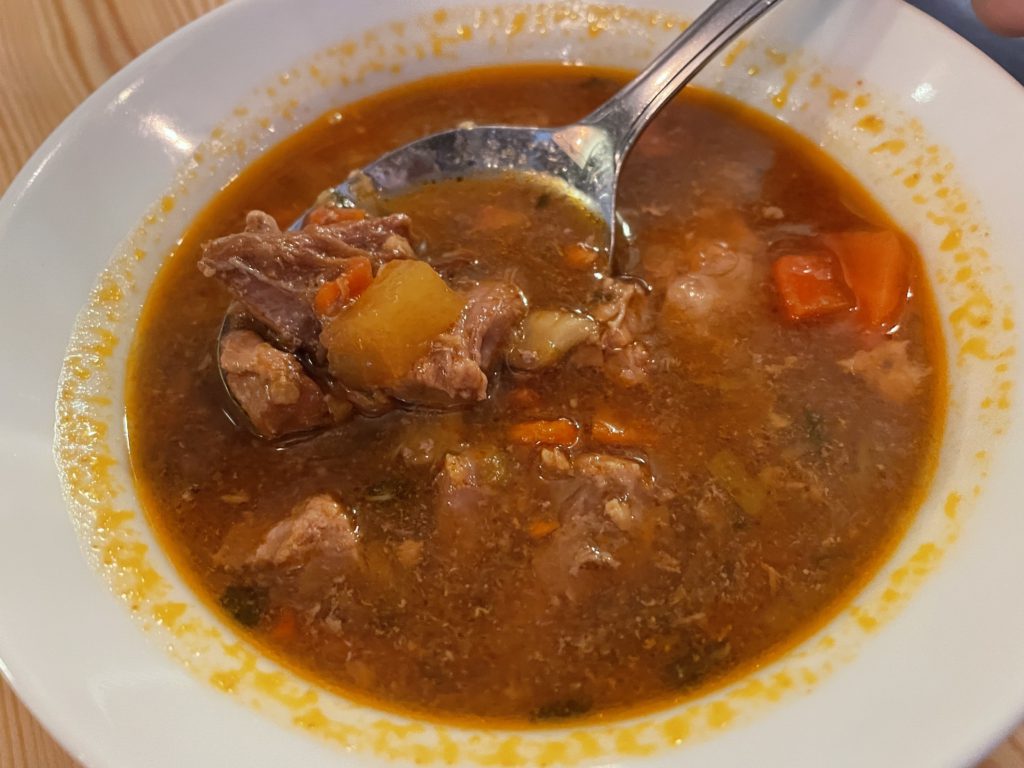 However, at this stop, they brought out the dreaded fermented shark. Do real Icelanders eat it? Maybe like once every year or two. But they sure love making foreigners try the disgusting stuff!
A word about eating shark: it's poisonous.
Yes, you read that right. Shark is poisonous. Sharks don't have kidneys to filter out toxins. Instead, they just pee through their skin. So when you catch them, they're full of toxins.
How has the nation of Iceland avoided death?
Through what I can only imagine was extremely unpleasant trial and error, they've developed a method of removing the toxins by putting big, heavy weights on the shark meat to squeeze out the pee, burying it underground to ferment for a while, and possibly other steps I tuned out because my brain was still stuck on "squeeze out the pee."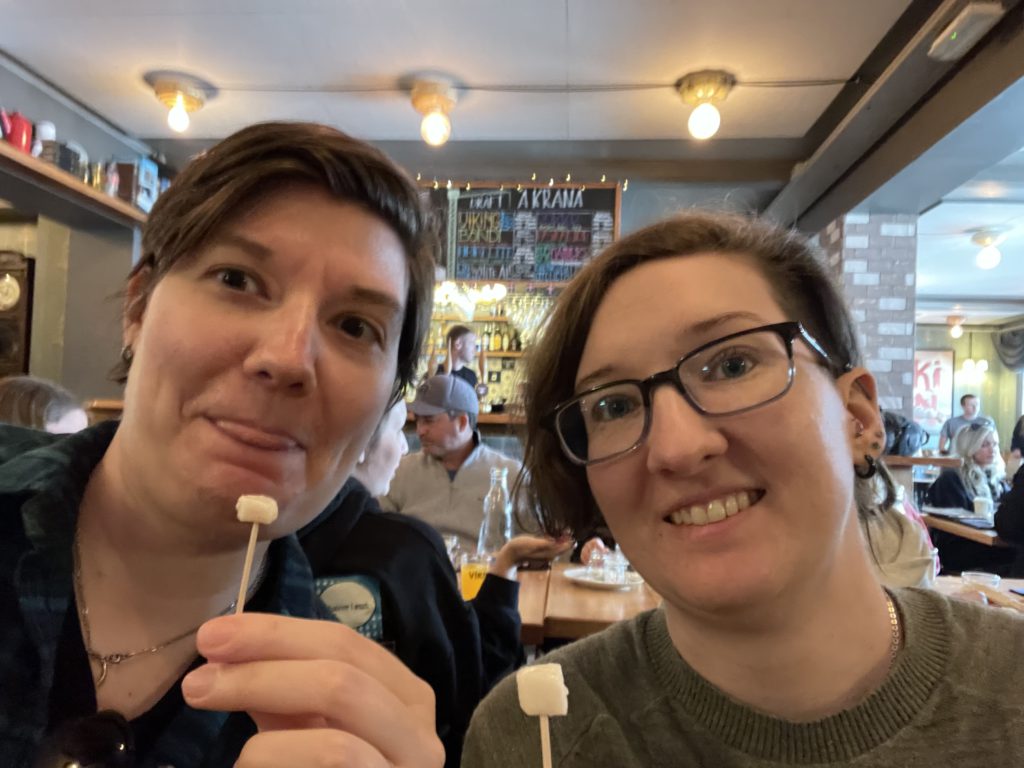 I will say, it does smell worse than it tastes. But the ammonia after taste is… well, I tried it once and that was enough for one lifetime.
Having survived the last stop, we embarked on the longest walk of the tour to get to our dessert destination. On our way, we passed through the gayborhood!
For dessert, we went to Cafe Loki, which is right across the street from the famous church the Lutherans built just so theirs would be bigger (fine, taller – but look at how it's shaped!) than the Catholics' church.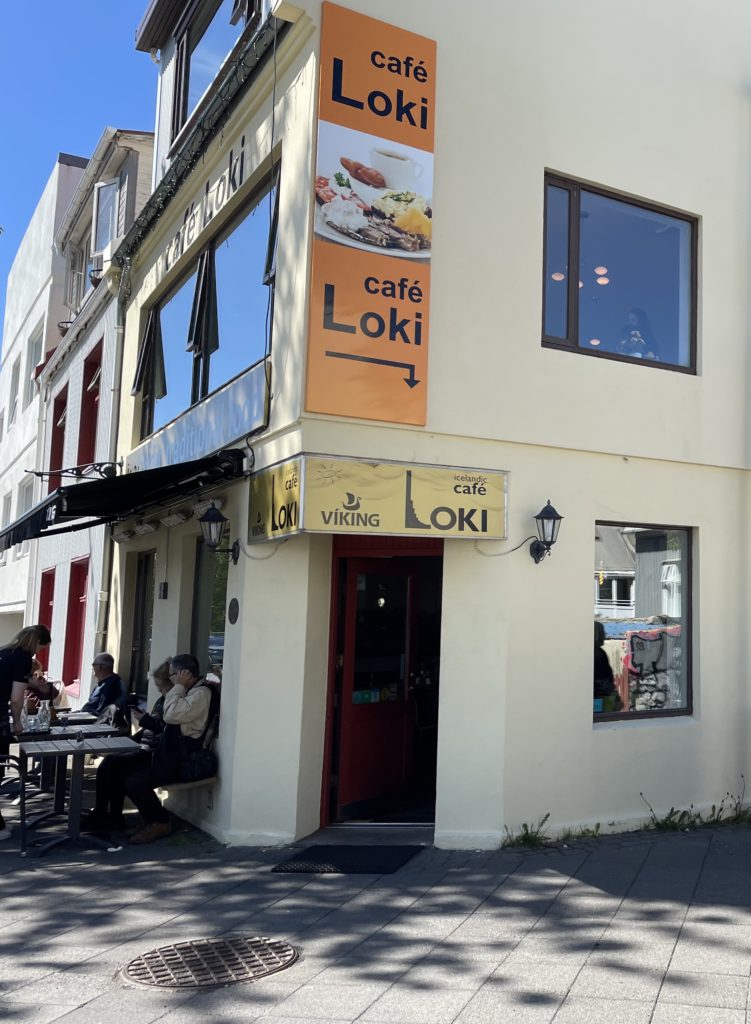 Here we had traditional Icelandic donut twists and Café Loki's famous rye bread ice cream. Trish and I were both big fans of the ice cream. The donut was substantial and Stephen recommended dipping it in our coffee.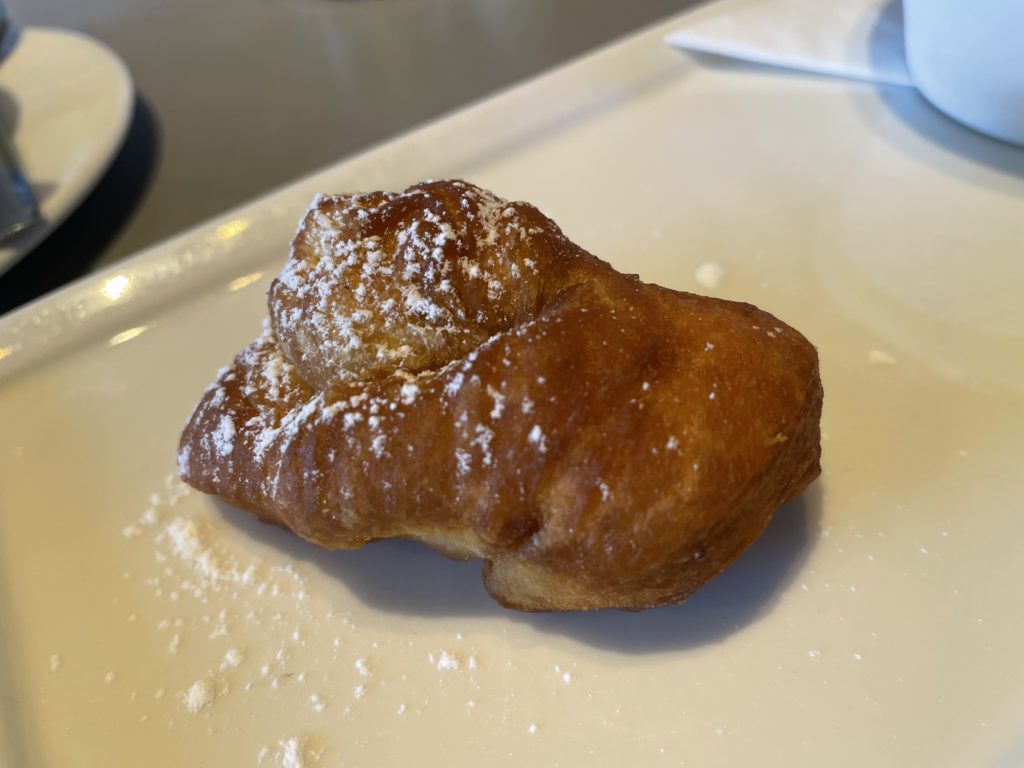 We stopped at Iceland's only flea market, Kolaportið, which only operates on the weekends. I wanted to look at traditional Icelandic wool sweaters. Wool is just so scratchy! I decided to stick with my Northface. However, I did buy earrings and a necklace made of old Icelandic coins that are worth much more as jewelry than as currency.
We stopped at a couple of small corner stores to pick up some groceries to pack for tomorrow's adventure and passed by this lovely and soft Icelandic ambassador on our way back to our AirBnB.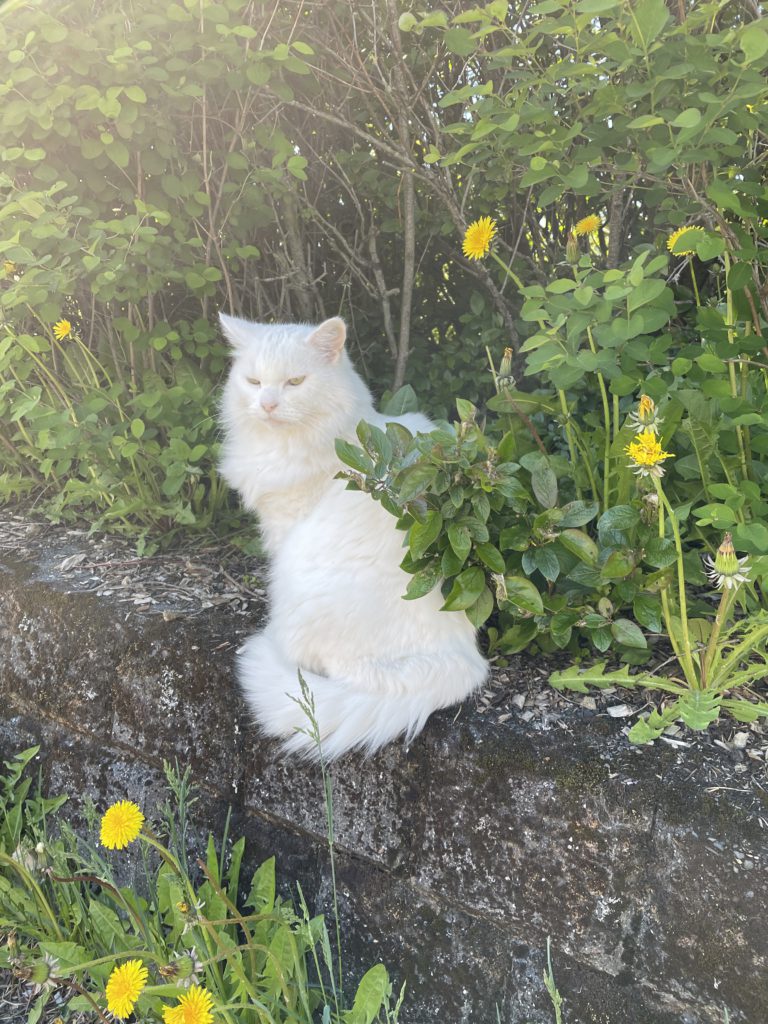 Tomorrow is going to be a big day so we decided to spend the late afternoon flopping and doing a load of laundry so we'll be ready to embark on the road trip portion of our trip the day after tomorrow.
We *thought* about going out for dinner but were just so full from our food tour…
Instead, we had a quiet night in reading. I'm listening to Jar City, which is written by Arnaldur Indriðason, probably the Icelandic author most famous outside of Iceland. (Fun fact: 1 in 5 Icelanders will become published authors!)